The Best Mattress Toppers of 2023
If you're looking for an affordable way to improve your night's comfort, a mattress topper might be the solution.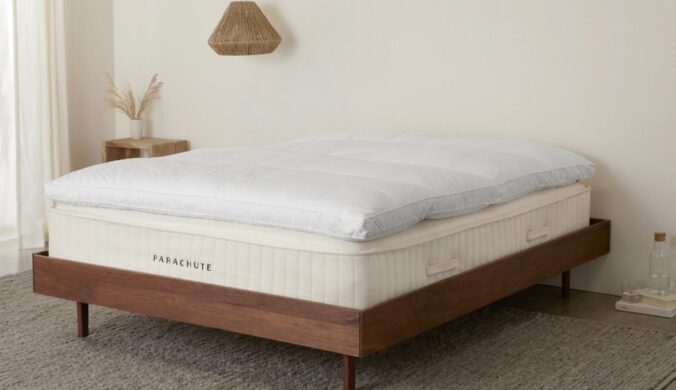 Sleep is so important for our overall health and well-being, yet many of us struggle to get a good night's rest. One way to improve your sleep is by investing in a quality mattress topper. Just like us, mattresses get tired, worn out, and aged over time. When this happens, the next thing to do is find ways to refresh the mattress before opting to buy a new one. Lucky for you, we have the perfect answer and solution to your old mattress problem, and it's not replacing them.
Mattress toppers are one of the greatest sleeping inventions that have ever been produced, coming right after mattresses themselves. They are used as extra padding on top of our worn-out mattresses to bring them back to life and make our sleeping more comfortable and enjoyable.
These toppers come in different shapes and sizes, are made of different materials, and can be just the addition you need to change your sleep patterns for the better. We have taken the liberty of researching and diving deep into the industry to suggest the best mattress topper options for you.
How We Picked
Comfort and Fit

Comfort is the number one reason for owning a mattress topper and should be the top factor to consider when selecting one. You also want a topper that fits your mattress like a glove and gives you a smooth surface to work with.

Material

We all hate uncomfortable textures and fabric that can easily irritate our skin. A mattress topper that isn't made of a suitable material cannot fulfill its purpose, which is to give you the most comfortable sleeping experience.

Size

The perfect mattress topper choice has a range of options to satisfy the different sizes of mattresses you may own. Whether it's a twin bed or a California King bed, there should be a topper just for you.

Price

You shouldn't have to spend far above your means just for more comfort. We have picked the best choices within their price ranges to give you the best value for your money.
Our Top Picks
Our Top Pick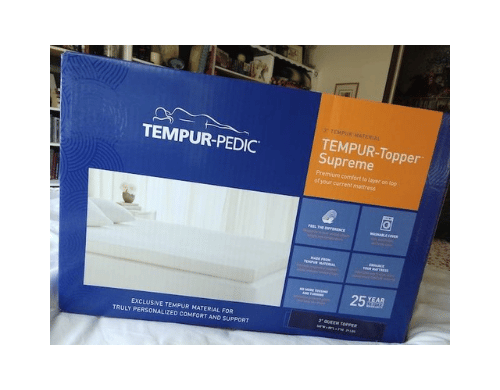 Not the most affordable choice, but the best value for money, offering responsive memory foam and luxurious sleep.
The Tempur-Topper Supreme might seem like a pricey option at first, be we assure you that it is worth it. This mattress topper is one of the best in the game and is guaranteed to give you the most luxurious sleep of your life. Its responsive memory foam Tempur material feels like a warm hug, and its breathable fabric disperses heat and leaves you cool all night. Size options range from standard twin to California king; providing a choice for different mattresses.
The most luxurious sleep for the best value for money.
Our Runner-Up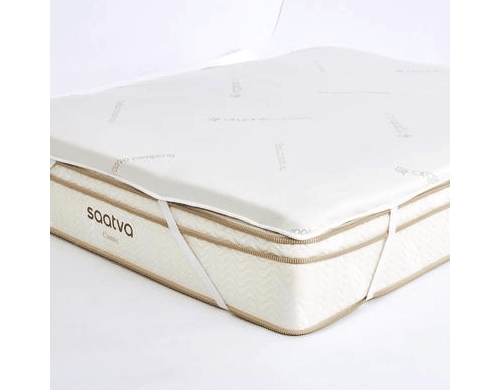 A close second that boasts of three material options, ample sizing range, and sturdy elastic bands for a seamless fit.
The Saatva Mattress Toppers come in a close second to our top pick. The Saatva company is already well-known for their comfortable mattresses and bedding options, but their toppers are truly the icing on the cake, or in this case, the mattress. The best feature about them is that they come in three different material options, a range of heights, and seven mattress size options from standard twin to split king. They also boast firm elastic anchor bands to keep your toppers in place, allowing them to seamlessly fit onto your mattresses.
Where the options never end and the comfort never stops.
Most Cost-Effective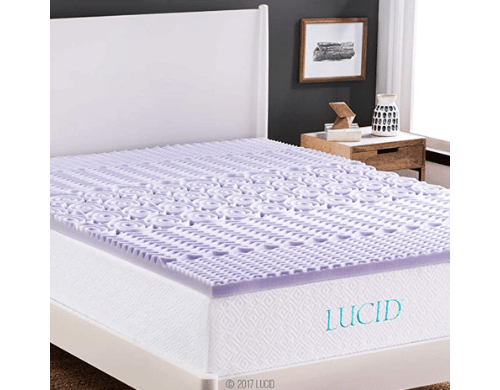 Pressure relief, comfortable sleep, and aromatherapy all in one without needing to break the bank.
The Lucid 5 Zone Lavender Mattress Toppers offer features that seem too good to be true for their price. These budget-friendly toppers are designed with five different comfort zones in mind to give you head-to-toe relief whilst you sleep. A unique quality about this brand is that they offer two material options for your 5 Zone toppers — gel and lavender. The lavender option is however our preferred pick as it offers the benefits of the plush memory foam with the inclusion of aromatherapy to soothe the body and mind.
Made for head-to-toe comfort with five zone-specific designs and the softest memory foam.
Everything We Recommend
Our Top Pick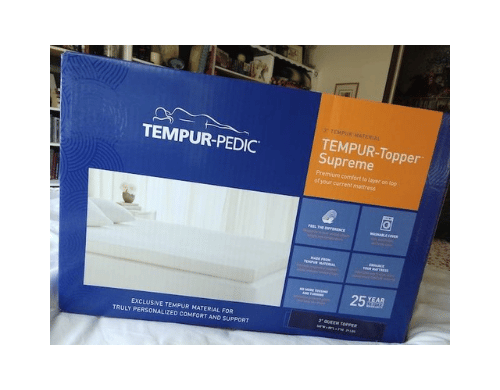 Not the most affordable choice, but the best value for money, offering responsive memory foam and luxurious sleep.
Our Runner-Up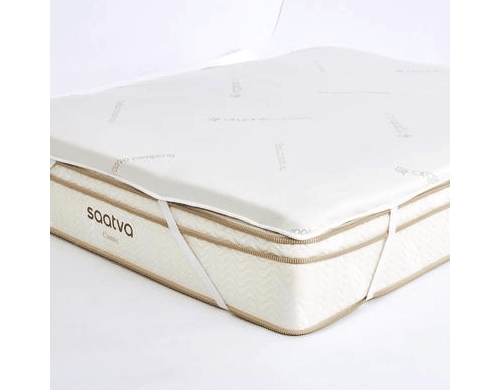 A close second that boasts of three material options, ample sizing range, and sturdy elastic bands for a seamless fit.
Most Cost-Effective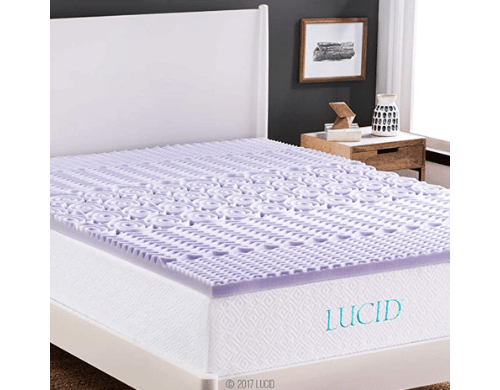 Pressure relief, comfortable sleep, and aromatherapy all in one without needing to break the bank.
$42.74
Who This Is For
Mattress toppers are for people who need an upgrade on their current mattresses without replacing them entirely. They are for individuals looking for extra comfort and body support or are just desperate for better sleep.
Mattress Toppers Vs Mattress Pads
Mattress Toppers and mattress pads pretty much function in the same way, in that they are both extra bedding surfaces that are placed on top of mattresses. Although the two are often used interchangeably, there is a considerable difference between both items.
A mattress topper is used to significantly change the feel of a mattress. They are thicker than pads and are made of more material that can aid body support. Toppers are used by people who are looking to either reduce or increase the firmness of a mattress. They are made of soft material that offers a firm enough support, causing you not to sink into it, like memory foam or latex. They are also usually made in a range of sizes from twin to California King as they are made to fit your mattress seamlessly.
On the other hand, mattress pads are used solely for the comfort they bring. If you're looking to add more comfort to your bed as well as protect your mattress from stains and dirt, then you should be leaning towards owning a mattress pad. They don't significantly alter the firmness of your mattress but rather help add a softer feel to your bed.
In conclusion, if you're interested in getting more comfort and support alongside more or less firmness of your mattress, go for a mattress topper. However if your main goal is comfort and to feel like you're sleeping on the clouds or a bed of roses without much concern for altering the firmness of your bed, opt for a mattress pad.
Is It Worth The Splurge?
Owning a mattress topper doesn't have to make you break the bank. Prices of toppers can go from pocket-friendly to out-of-pocket, depending on your needs, preferences, and budget. So if you consider elevating the comfort and support of your worn-out mattress a 'splurge' then maybe a mattress topper isn't for you.
In any case, getting a mattress topper is more cost-effective than replacing your mattress entirely and if you're a strong believer in "No price is too much to pay for maximum comfort," a topper is definitely worth the splurge.
The best of them, which we have suggested for you, offer the most relaxing comfort as well as enough firmness to give you the support you need whilst you rest. They are a great addition to those looking to elevate their current mattresses and get better sleep overall.
Why You Should Trust Us
We understand that good sleep is important for our daily functionality. With that and your comfort in mind, we found the best toppers that will upgrade your mattresses, and give you comfortable sleep, as well as maximum support, so that you can have the most relaxing rest you deserve. We also ensured that we suggested the top picks within their price ranges so you get the best value for your money.
How We Picked
There are several important things to consider before getting a future support partner and snuggle body. Some of the ones we prioritized are:
Comfort + Fit
There's no point getting an extra topping for your mattress if it doesn't add to its comfort. Nobody wants to feel worse than they previously did after purchasing an item, and that is why feel and comfort are important when selecting your future mattress topper. You want one that is plush enough to snuggle with but firm enough so you don't feel like you're sinking. Also, because these toppers will be placed on top of your mattress, they must fit just right so you don't slip or fall off with them as you sleep. While most mattress toppers don't come with anchor elastic bands, they should be dense enough to stay sturdy and not easily movable.
Material
It is important for a product that you plan on spending a lot of your time on, as well as derive comfort and rest from to be made of the best, non-irritable materials. Mattress toppers are made of a variety of materials depending on the company's choice. These materials can be but are not limited to, memory foam, down, latex, graphite, cotton, and even gel. Some companies, like Tempur, make their mattress toppers from their signature proprietary materials that they have taken their time to craft and develop. Whatever the case, your future mattress topper should be comfortable and offer support with a soft feel without stirring up any allergies.
Size
As with most things, mattresses come in different shapes and sizes. Unlike a pad, toppers also come in different sizes and any user-continuous company will make their toppers with sizing options available to all categories of consumers. So whether your bed is a twin or a queen size bed, the right topper should come in a size just for you.
Price
The price of comfort shouldn't ever have to be too expensive. You should be able to afford more comfort, support, and an upgrade to your worn-out mattress without going out of pocket. We understand that some individuals may not be able to afford the higher-end products and that is why we have selected the best options from a variety of price ranges.
Design
Your mattress topper should be designed with you as the priority. Your comfort, support, and sleeping needs should be at the forefront of any bedding product and that is why we picked products that are constructed with the best design features.
Weight
When selecting a mattress topper, its density should be thick enough to carry more than you and a second user's weight without sinking in or feeling uncomfortable. It should, however, also not be too heavy to move around with little or no support.
Easy To Clean
This factor can take a mattress topper from obsessively good to a no-go quickly. What happens when your topper gets stained or accumulates some dirt? Mattress toppers are made with different cleaning specifications. While some have a washable cover, others can only be spot cleaned or dry-cleaned. In any case, your topper should be easy to clean without too much hassle.
Durability
What's the point of spending so much money on a product that doesn't even last? That's why we selected mattress toppers that will last for years and years to come, with enough warranty to back that up.
Care and Maintenance
The best way to care for your mattress topper is to wash its covers frequently, and in the case of no covers, spot cleaning or dry-cleaning, depending on the type, is the next way to go. Toppers that have no covers are more difficult to maintain as they are more stain-prone. The recommended frequency for cleaning your toppers is quarterly or bi-annually.
There are several ways you can go about cleaning your mattress topper. It is however important to know the best method for your type and also visit its user manual for a more thorough breakdown of how to clean it. We will give you general tips on how to go about this crucial maintenance step.
Routine Cleaning:
Remove your topper from the mattress and lay it on the floor or a flat surface with a wide enough surface area, in a location that is not frequently accessed.
Vacuum it thoroughly using handheld vacuuming equipment.
Sprinkle baking soda generously over the entire surface of the topper and let it sit for at least eight hours. The baking soda helps to clean the topper while eliminating unwanted odors.
Vaccum it thoroughly once again to remove the baking soda.
Repeat the same steps for the other side.
Deep Cleaning:
Strip your beginnings and in the case of recent accidents, blot out any excess spills or liquids using a paper towel. Do not rub the liquid.
Remove your topper from the mattress and lay it on the floor or a flat surface with a wide enough surface area, in a location that is not frequently accessed.
Mix cool water and distilled white vinegar in equal parts into a spray bottle.
Spray the areas that are most affected or stain-ridden with your cleaning mix and blot out excess moisture.
Sprinkle baking soda generously over the entire surface of the topper and let it sit for at least eight hours to further clean the topper and eliminate unwanted odors including that of the white vinegar.
Vaccum thoroughly to remove the excess baking soda.
In the case of persistent stains, repeat the process.
Fully air dry your topper. We recommend leaving it out in the sun to absorb excess moisture which prevents mold, mildew, and odors.
When not in use, it is advised to store your mattress topper in a vacuum-sealed storage bag to protect it from damage while occupying little to no space in your abode. It is also a rule of thumb to keep the bag your topper came in handy so you can use it for future storage purposes.