The Best Mattress for Stomach Sleepers for 2023
Enjoy a good night's sleep the best way you see fit.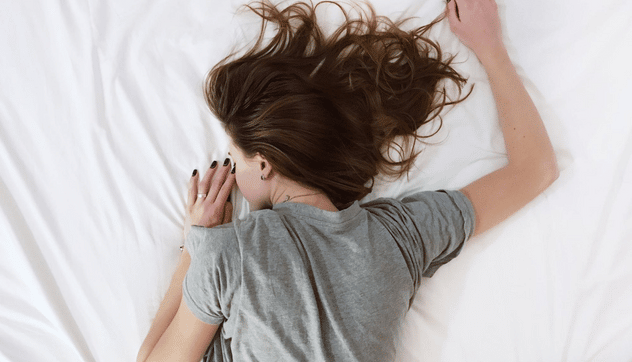 Sleeping posture is what eliminates the restless twists and turns that plague you at night and settles you into that comfortable position where you finally drift off into that long-awaited cool sleep. While some people love to sleep on their backs with their faces towards the ceiling. Others prefer sleeping on their side with a tired head resting on the pillow. Stomach sleepers, however, are of a different breed.
If you are a stomach sleeper and fall into one of the three famous face sleeping positions, you may have observed that sleeping on some mattresses leads to neck strain and, on your worst day, pain in the lower back. Although this position is not one that health professionals recommend, it is hard-wired and most people will eventually change positions during their sleep into what feels most comfortable for them.
For those who do not want to compromise their beauty sleep for their sleeping positions, our expertly written review covers the best mattresses that will give stomach sleepers a peaceful sleep without all the repercussions of stomach sleeping.
How We Picked
Size

Size is essential to good sleep. The length and width of a mattress make you feel comfortable enough to max out on the bed and enjoy a good sleep with full space for a good roll.

Comfort & Support

Mattresses are meant to be comfortable for everyone. For our stomach sleepers, we selected mattresses based on their inner material and how well they create comfort and support the body without sinking in.

Durability

Mattresses that sink are a horrible experience for all stomach sleepers. We, therefore, selected our picks based on how long the mattresses will serve you without needing to worry about a replacement for years.






Price vs Quality

Our picks were selected to cover a range of users with different budgets while also providing the best quality products. Therefore, all you have to do is match your needs to your budget and select from our picks.
Our Top Picks
Best Pick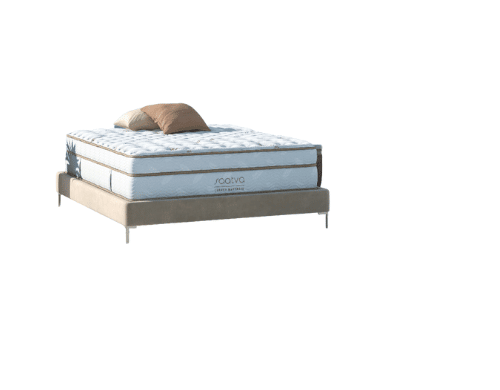 Saatva Classic provides the ultimate luxurious sleeping experience with cool, breathable cotton sheets that make every night's sleep better than the last.
The mattress features an organic cotton cover and a layer of polyfoam that make up its Euro-top. This provides a layer of support without causing substantial sinkage for individuals who sleep on their stomachs.
The Saatva is luxurious, elegant, and customizable for the perfect night's sleep. It is a hybrid mattress that blends both foam layers and Bonnell coils into pockets to create a unique feel. This combination creates a high-quality mattress that provides all the benefits of both foam and innerspring mattresses in one.
Runner Up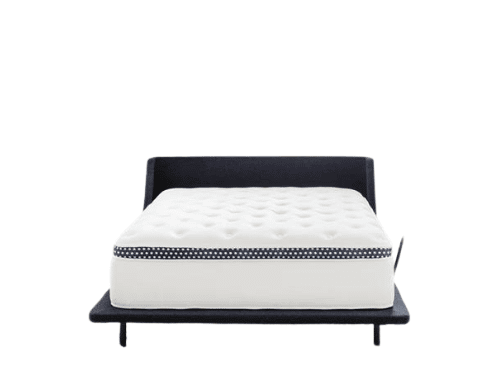 Made with special cooling material in four varieties, the WinkBed is calculatingly designed to make every lying moment a blissful respite.
WinkBed is a luxury hybrid mattress. It's constructed from two types of foam, which provide a sleeping surface that's contoured and soft, yet supportive and firm enough to keep your spine aligned.
Firm and cool, this mattress will put you to sleep at the 40th wink. To alleviate pressure accumulation in the shoulders, lower back, and hips, the mattress's comfort layer and targeted coils help provide pushback that increases body alignment.
Most Cost-Effective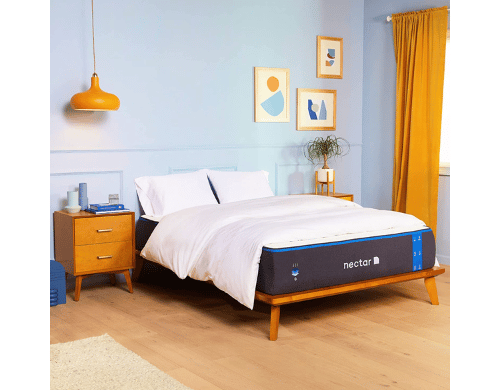 Excellent performance at a reasonable price. It comes with a 365-day warranty to back it up.
The Nectar is a premium memory foam mattress that uses a combination of high-density memory foam and microcoils to target pressure spots, absorb pressure points, and deliver the finest pressure relief possible.
The Nectar Memory Foam Mattress is designed for support and doesn't sink, shift, or slide. The Nectar is made of all foam, so it absorbs a lot of movement, yet it doesn't make noise. The mattress's layer of gel-infused memory foam increases breathability and produces a cooling effect that all users appreciate.
Everything We Recommend
Best Pick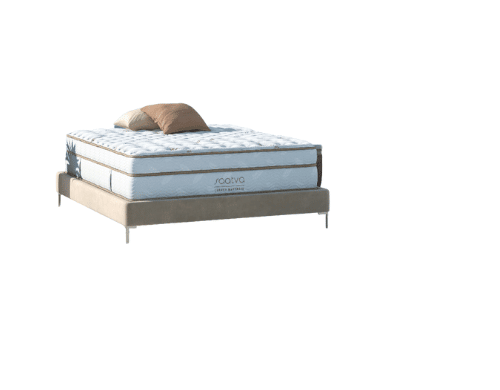 Saatva Classic provides the ultimate luxurious sleeping experience with cool, breathable cotton sheets that make every night's sleep better than the last.
Runner Up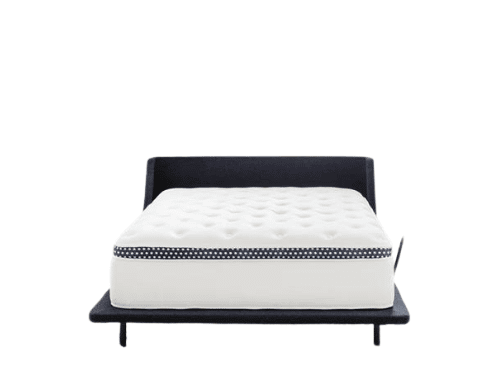 Made with special cooling material in four varieties, the WinkBed is calculatingly designed to make every lying moment a blissful respite.
Most Cost-Effective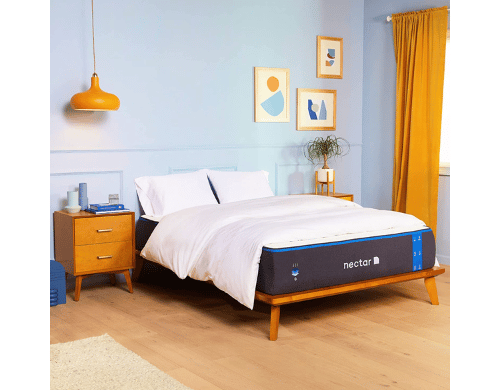 Excellent performance at a reasonable price. It comes with a 365-day warranty to back it up.
Who This Is For
If you constantly find yourself turning through the night, unable to sleep until you've found a comfortable position with your face pressed into the bed, then this review is for you. People who sleep on their stomachs find it more comfortable and tend to fall asleep minutes later. Chiropractors have also linked stomach sleeping to scoliosis and have agreed that sleeping on the stomach makes for a rewarding night. However, sleeping in that position on the wrong bed can be a very bad choice. Therefore, if you are a stomach sleeper, either through the night or temporarily, you will benefit from our list of the best mattresses for stomach sleepers.
What Key Characteristics Should Stomach Sleepers Look For In A Mattress?
If you are a stomach sleeper, you should look for a mattress that is both firm and soft enough to keep your spine in the right position while giving your chest, stomach, hips, and knees enough support. By this classification, you should look for mattresses that are between medium-firm and firm. If your stomach sinks into the mattress, it will put pressure on your lower back, which will eventually cause pain. Therefore, you need a mattress that not only supports your back but also relieves pressure points.
On the other hand, most people move around a lot in their sleep, so not having pressure-point relief might be optional. However, you will need a mattress that is not too soft or too firm since you don't want to feel like your ribs are pressing against the mattress as you try to sleep. As long as your stomach doesn't sink into the mattress and it doesn't press your ribs, you've found a good fit.
Do I Need A Specialized Mattress?
A special mattress is dependent on your particular needs. For stomach sleepers, you need specialized mattresses because constantly laying down on your stomach on a mattress that is not designed for stomach sleeping might end up causing you back pains, leaving you groggy in the mornings, not to mention how it will affect your body posture. Therefore, to have a good night's sleep and still reap all the benefits of lying down in your favorite sleeping position, you need a specialized mattress.
Why You Should Trust Us
Before writing our expert review, we made sure that we undertook extensive research, which mostly covered the disadvantages of sleeping on your stomach and the best way to rid yourself of these problems without compromising your sleep position. According to our research, we found that the biggest disadvantage of sleeping on your stomach was the strain it put on your back, neck, and shoulders. With this knowledge in mind, we made our selection based on the mattresses that had reputably eliminated these problems. Based on customer review ratings and expert opinions, we were able to make our pick with the collective idea that they provided all the benefits while eliminating the costs.
How We Picked
Size
The Sleep Council stated that the size of a person's bed can have a big effect on how well they sleep and can affect their routines the next day. To get the good sleep you deserve, you need a wide enough bed. At night, bed space helps control our body temperature, which affects our sleep cycle and circadian rhythm. For couples and others who share a bed, if you don't have enough space, you could end up getting hot, which would keep you from falling or staying asleep. Because of this, it's important to have a mattress that is long and wide enough to fit you. A mattress with enough space can also manage more tossing and turning, which might wake you up at night.
Comfort & Support
Comfort has to do with how surface pressure on a mattress is managed, while support has to do with maintaining good spinal alignment. The firmness of a mattress is determined by its grade of comfort, not its type. This might be anything from supple to squeaky-soft. In order to meet your specific requirements, mattresses are typically offered in a variety of comfort levels. Choosing a comfort level is largely a matter of personal taste, but your sleeping position, weight, and health status, which rely on mattress support, all have a role in how comfortable you'll be. Our top recommendations are, therefore, those that provide the best balance of support and comfort.
Type Of Material
When checking the material of the mattresses, we went with options that were both ventilated and appropriate for those with allergies. Mattresses with coils of cotton, wool, and latex allow air to travel through them, giving them plenty of bounce and making it simple to move around on your bed. We also examined the mattress's foundational support layers. It is discovered that polyurethane foam, latex, and/or a Bonnell, offset coil, continuous coil, or fabric-encased innerspring unit make up the majority of these components. In addition to providing the proper support for your body, these materials also help to reinforce the bed's edge, which helps to reduce motion transfer and bending while allowing the mattress to naturally breathe.
Durability & Warranty
It is recommended that some mattresses be used for 8 years, while others can be used for up to 15 years. When selecting our picks, we made sure to select mattresses that would last a long time and also came with an enjoyable warranty that allowed you to test the mattress for an extended period before making sure to settle on it as your long-term night friend.
Price
Since our pick included a cost-effective product, we decided to add price as one of the factors that influenced our selection. While the right mattress can be a lifesaver, it is not everyone that wants to set aside a large sum for this nightly investment. Therefore, we made sure that our picks covered several budgets, and with the right amount of money tucked away, you can get yourself a great night's sleep.
Care and Maintenance
Now that you've gotten the mattress of your choice, it would be great to be aware of the best way to treat these your night friends to ensure that they last for as long as you need them. Although most high-end mattresses last between 8 and 15 years, they only do so if they are well taken care of.
How Often To Rotate/Flip The Mattress
Your mattress is meant to last a long time and give you a nice night's sleep. Because it keeps the comfort contents uniformly distributed, regularly flipping your mattress is essential. Most high-end mattresses, however, are not designed to be flipped. So, you should not flip your mattress if the manufacturer doesn't recommend it.
For mattresses that need to be flipped or rotated, we recommend that you read the manufacturer's instructions to keep your mattress in tip-top shape. Some broad principles to follow if you can't get recommendations straight from the manufacturer are as follows: Mattresses made of memory foam or latex should be rotated one to two times a year. Innerspring mattresses should be flipped or rotated one to two times a year too. An older innerspring mattress should be rotated two to five times a year. For mattresses with lower density, we recommend that you rotate them at least once every three months, moving them from the top to the bottom of your bed and turning them over.
Do I Need A Mattress Protector?
Mattress protectors protect the mattress surface from spills, stains, dust, heat, and other things while also serving as protection for your body if you are allergic to the mattress's material. Also, a mattress protector is considerably easier to clean than a whole mattress. Therefore, if you prefer to keep a clean bed, want to prevent any incidental spilling, or prefer to cover the surface of your mattress for any reason, you need a cover.
How To Clean Mattress And How Often?
According to the Sleep Foundation, mattresses should be cleaned once every six months. To clean your mattress, you should first of all wash all the bedding, including the pillows. To clean the mattress, you need to determine how dirty it is. This means checking for stains, smells, or odors. To clean the mattress, you will need to choose a material that will not damage the fabric. Your best cleaning materials then should include towels, cold water, baking soda, an enzyme remover, and mild soap or detergent.
You should start by vacuuming the mattress or dusting it thoroughly with a towel. For mattresses with spills, you should use a towel and the right agent to clean them away. After cleaning, apply baking soda over the whole surface area of the mattress and then wait for a few hours before flipping and repeating. For accidental spills, you should immediately clean the mattress with the right agent as it will reduce the risk of mold, discoloration, or any other effects.
When To Replace
Most modern mattresses are made to last up to eight years, but it is best to consider changing your mattress every six to eight years. However, some mattresses last for up to 15 years. Therefore, it's important to note that this is merely a general recommendation. Before you replace your mattress, you should make sure it needs replacing. The best way to be sure is to look out for signs such as dust mites, structural defects, or general discomfort from not being as efficient as it used to be.