The Best Mattresses for Side Sleepers in 2022
Get your eight hours of sleep without breaking your back or your bank with some of the best mattress on the market!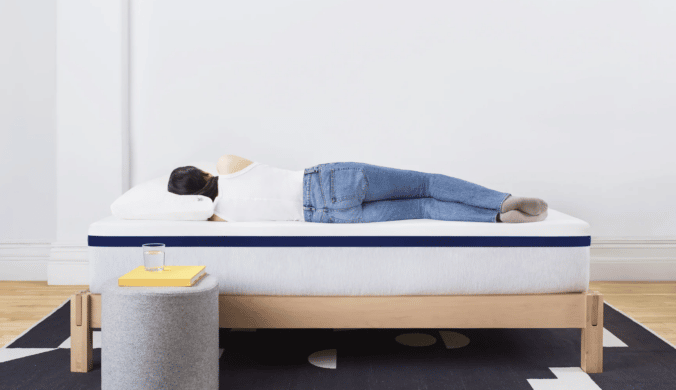 Sleep is incredibly recuperative for your body and mind! A good nap or a good night's rest will leave you refreshed, recovered, and energized to take on the day.
As a side sleeper, your preferred sleeping position is considered one of the healthiest, with benefits from reduced back pain and improved spinal alignment. However, you are prone to shoulder or neck pain if you continuously use the wrong mattress. In essence, the wrong bed is not only a health hazard, but it inadvertently reduces the quality of sleep you get. Thus, cutting into those eight precious hours you're supposed to get nightly.
Luckily, with our vetted list of mattresses for side sleepers, you can find your best-suited mattress and kiss those problems goodbye!
How We Picked
Firmness

The firmness of the mattress impacts its longevity and the relief it provides to your pressure points. We analyzed different types of mattresses and narrowed them down to these medium-firm and memory foam mattresses.

Comfort and Support

If the bed doesn't induce sleep with its comfort or support, it's not side sleeper-friendly. Side sleepers require a mattress that contours to the body's natural shape. Such mattresses offer cushioned support by aligning the spine and relieving tension in the shoulders, hips, and knees.

Size

No one wants to sleep with their feet hanging out of the bed frame, especially not a side sleeper. This is why we've curated a list of the best mattresses available in different sizes, with which the side sleeper can enjoy a lot of wiggle room.

Cost-Effectiveness

You shouldn't break your bank to get quality sleep. This is why we've sourced the best quality yet cost-effective mattresses that are equally durable.
Our Top Picks
Our Top Pick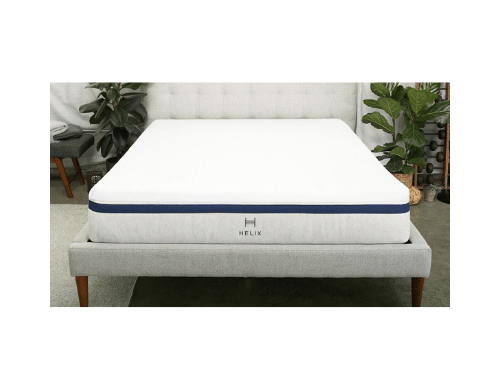 Helix Midnight is a cushioned, medium-firm mattress that offers pressure point relief and side sleeper support.
The Helix Midnight Mattress is one of the few mattresses on the market that is designed for side sleepers. With its memory foam relief layer that cushions the sleeper's pressure points, this mattress guarantees a smooth and comfortable transition to dreamland. At four size gradations, the competitively priced Helix Midnight Mattress literally has your back while you sleep, at least that's what reputable reviewers like Forbes say.
This breathable and comfortable mattress was engineered specifically for the side sleeper.
Our Runner-Up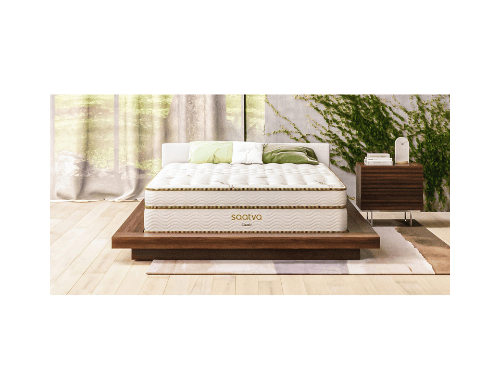 The Saatva Classic offers luxurious comfort and contoured flexibility, guaranteeing great sleep for side sleepers.
Saatva's Classic Mattress caters to different sleeping styles, especially side sleeping. Its multiple thicknesses and firmness options offer plush, cushiony comfort and tension relief to pressure points, giving the sleeper a luxurious feel. Saatva's dual-coil hybrid innerspring design gives it lifelong durability, and it is great for lumbar support. With its 365-night home trial session, this award-winning mattress is pricey but worth every penny.
This luxury mattress guarantees comfortable, lifelong use with eight-size gradations.
Most Cost-Effective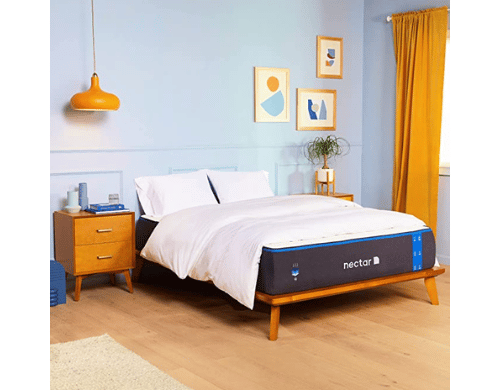 The Nectar gives a cozy yet supported feel at an accessible price point.
The Nectar mattress gives side sleepers cozy, sink-in comfort and support without breaking the bank. Its eight-size gradation offers affordability in all sizes. Nectar's high-density, gel-infused memory foam layer bestows hip relief to side sleepers while cushioning other pressure points. This medium-firm mattress checks all the boxes.
This high-quality mattress for side sleepers offers a great price in every size.
Everything We Recommend
Our Top Pick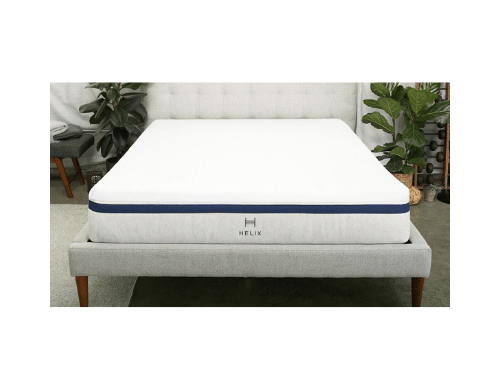 Helix Midnight is a cushioned, medium-firm mattress that offers pressure point relief and side sleeper support.
Our Runner-Up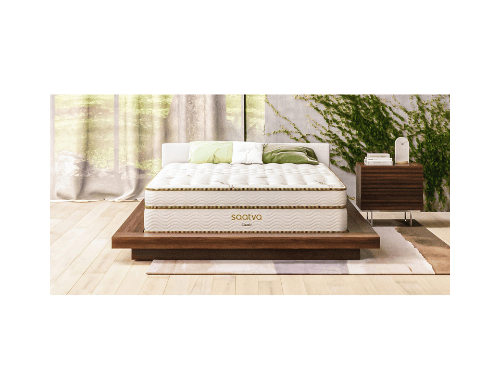 The Saatva Classic offers luxurious comfort and contoured flexibility, guaranteeing great sleep for side sleepers.
Most Cost-Effective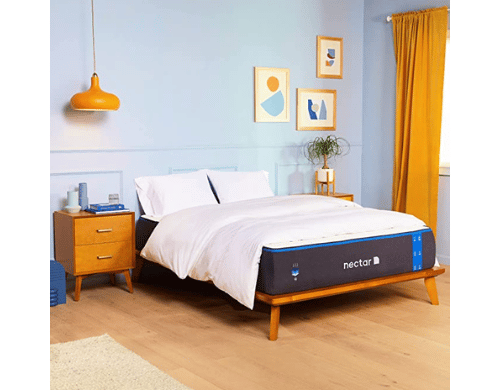 The Nectar gives a cozy yet supported feel at an accessible price point.
$512.10
Who This Is For
The products advertised here are for side-sleeping men and women who require better health and improved sleep quality.
Mattress for side sleepers vs. a regular mattress
A good mattress is the building block of a good night's sleep. With a variety of mattresses categorized into several groups like the material of fabrication or firmness, your comfort is dependent on the right choice. Due to the physical similarities, one may be unable to identify a regular mattress from one for side sleepers. However, with these pointers, differentiating them should be much easier.
The biggest difference between a regular mattress and one for side sleepers is the level of firmness. While regular mattresses can be very firm or very soft, mattresses for side sleepers are in-between. This is because, as a side sleeper, you require uniform pressure relief on the shoulders, hips, and knees. Thus, a firm regular mattress would increase the tension on these pressure points and incite pain, while a very soft one could compress the spine, further exacerbating pain. However, a medium-firm or medium-soft mattress would be perfect for a side sleeper.
Mattresses for side sleepers function by contouring to the shape of the body. They also cushion the tension areas while keeping the spine in neutral alignment. These mattresses are either memory foam or hybrids.
Is it worth splurging on?
If you could put a price on health and comfort, chances are they would have many zeros behind them. As a side sleeper, if you get the opportunity to purchase a mattress that guarantees support, comfort, and better sleep, we'd advise you to go all in. The best mattresses for side sleepers have long warranty periods during which the user is indemnified against damage due to manufacturing defects. In addition to this policy, the extensive sleep trial period offered by these manufacturers makes splurging on a great mattress worth every penny.
Why You Should Trust Us
We understand the struggle side sleepers go through to find the best mattress for their preferred sleeping position. Like Goldilocks in the story of the three bears, we know you need a mattress that is neither too hard nor too soft, but one that's just right, which you can sink into and still feel lightweight. With our knowledge of your needs, we've sourced and found the perfect mattresses that encourage sleep for side sleepers. 
How We Picked
Finding ideal mattresses for side sleepers was challenging as we had to scour through many options. However, with the customer experience ratings on each option, it was easier to weed out less favorable alternatives. These experience ratings identified the key features that great side sleeping mattresses have, from medium firmness to plush comfort and cushioned support, all the way to thickness, durability, and an accessible size to price range. 
We searched for mattresses that helped the side sleeper feel cradled while improving spine alignment. When curating this list, we identified mattresses that induce sleep with their comfort while relieving tension on the shoulders, hips, and knees. Across these selections, you'll find that lifelong durability, layered thickness, and size were critical points in our evaluation process. Your health and comfort are our top priorities, and as always, we've listed mattresses with the best deals to get you the most cost-effective option with no dent in quality. 
Care and Maintenance
How to get rid of stains
Cleaning your memory foam or hybrid mattress is easy, depending on the type of stain. For the most part, all you need to do is mix equal parts of liquid laundry detergent and water or baking soda, then dab this solution on the stained spot, leaving it to sit for 30 minutes. Once complete, rinse this off by wiping it with a damp rag, then towel dry.
When to flip
To promote even wear across the mattress surf or rotate it every three months.
Do I need a mattress protector?
Mattress protectors or pads protect foam or hybrid mattresses from spills and accidental damage. If you are prone to spilling, you might need to consider installing a mattress protector to promote the mattress's longevity.
How often do I need to change a mattress?
Ideally, memory foam or hybrid mattresses should be replaced every six to eight years. However, the mattresses highlighted here are expected to outlast this time frame. Nevertheless, if you start noticing discomfort whenever you wake up, it might be time to kiss the mattress goodbye.
Sources and Research