The Best Mandoline for 2023
Chopping fruits and vegetables can be a breeze thanks to mandoline slicers.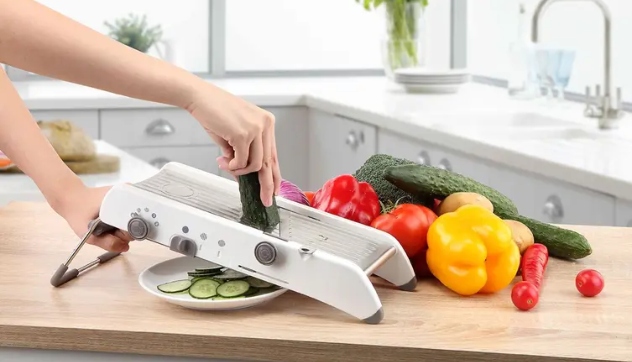 Nobody enjoys the messiness of slicing, chopping, or grating fruits and vegetables! And it's much worse with an overused blunt knife. For this reason, a mandoline slicer should be a staple in the kitchen of every home cook and chef.
Whether you're in the mood for a quick and delicious salad or some French fries, mandoline slicers are guaranteed to get that perfect cut for you. With a wide variety to choose from, it can be a difficult choice to make. Each mandoline slicer has an attractive design and features that'll get you straight into the cooking mood.
However, you'll want to make sure you get the right one with the right features suited to your needs. You could be a professional chef who frequently caters to a large crowd or family, or you could just be the average home cook looking for a simpler and tidier way to chop those fresh fruits and vegetables!
Whichever one you are, we've selected four of the best mandoline slicers that offer everything from versatility to simplicity.
How We Picked
Sharpness of Cutting Blade

What good are mandoline slicers with blunt cutting blades? To ensure that your produce is perfectly and evenly cut, it's crucial to take into account this feature.



Easy to Clean

Users can run the risk of cutting themselves with mandoline slicers that are difficult to clean. Purchasing one that can simply be rinsed or placed in the dishwasher is an important consideration.


Safety Considerations

With the sharp blades of mandoline slicers, you'll want to ensure your hands and fingers are protected. Mandolines with hand guards or simply cooking gloves are great to consider.



Cost-Effectiveness

To get the best value for your money, make sure the mandoline slicer you buy is high-quality. So choose one that fits your cooking needs and budget.

Our Top Picks
Best Pick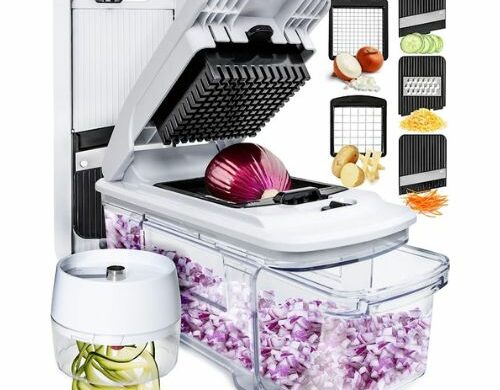 Every home cook and professional chef's favorite!
A mandoline slicer that gives you everything you need and more!


The Fullstar All-in-1 mandoline slicer leaves no stone unturned with its incredible features and add-ons! This mandoline slicer is equipped with five interchangeable stainless steel blades suited for all sorts of slicing, grating, and chopping.

It has a spacious removable collecting tray that makes slicing and chopping your produce a tidier process. In addition to several other awesome added items, the Fullstar All-in-1 comes with a compact handheld spiralizer perfect for cutting ribbons of fruit and vegetables for garnish or decorative purposes.
Runner Up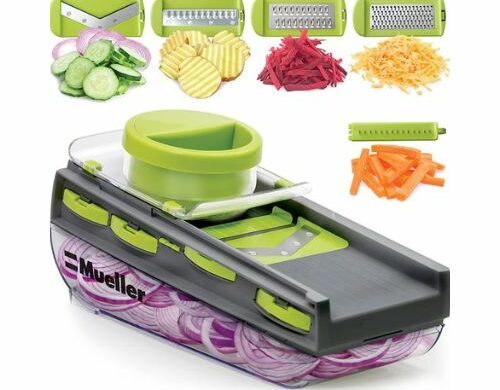 Simple and compact design with great versatility.
Looking for versatility in a single mandoline slicer? The Mueller Mandoline Pro is the one!
The Mueller Mandoline Pro offers every cook great versatility with its five interchangeable stainless steel cutting blades. Its compact design, with a dimension of 12.32 x 5.35 x 4.65 inches, makes this kitchen tool easy to store and take out whenever it's needed!

The Mueller Mandoline Pro is also equipped with a non-slip container and a safety food holder for simple and safe use.
Most Cost-Effective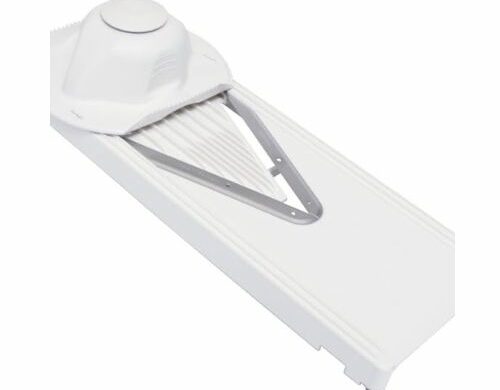 A classic mandoline slicer with V-shaped blades.
It's affordable, versatile, and perfect for just about anybody!
The Swissmar Borner V-Slicer Plus is a mandoline slicer with the most classic design. Its sharp V-shaped stainless steel blade is easy to adjust into three different sizes suited to your needs. It's just perfect for shredding vegetables such as cabbage, potatoes, tomatoes, and onions.


Everything We Recommend
Best Pick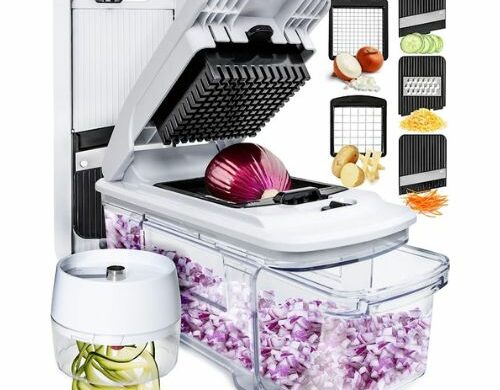 Every home cook and professional chef's favorite!
$39.98
Runner Up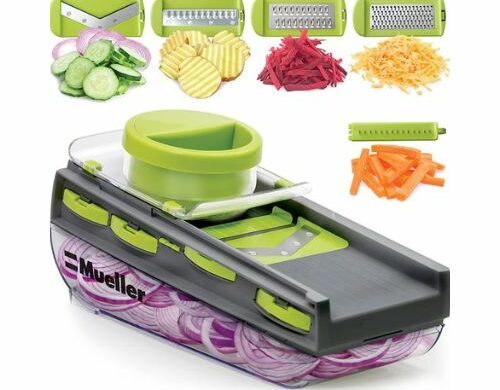 Simple and compact design with great versatility.
Most Cost-Effective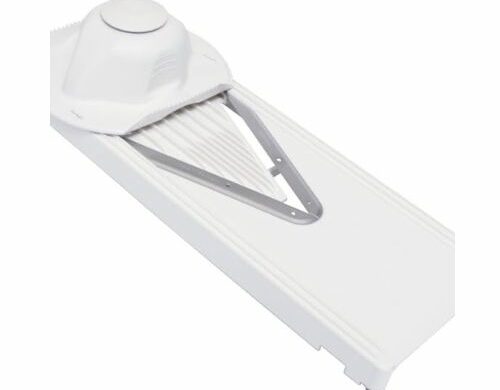 A classic mandoline slicer with V-shaped blades.
Who This Is For
The products advertised here are for those avid home cooks and professional chefs who are looking for a more convenient, precise, and flexible way of slicing, chopping, and grating their fruits and vegetables!
What is a mandoline?
Mandolines are convenient kitchen utensils used for slicing, cutting, shredding, and dicing fruits and vegetables faster and more efficiently. Different mandoline slicers offer versatility in their different blade sizes and shapes, making meal preparations a fun, yet more professional experience!
Benefits of using a mandoline over chopping or slicing with a knife
Mandolines are safer than knives in that most of them are equipped with a hand guard to hook into your produce while slicing so that your fingers don't go near the blade while in use. (This is also great because your hands stay dry and clean!).
Their blades are generally sharper and more versatile as you're able to choose your preferred thickness levels, shapes, and sizes as opposed to a knife where you're limited to straight-cut slicing and dicing only.
Meal prep with a knife may be a lot slower than meal prep with a mandoline slicer, as your product is cut at a faster pace.
Are mandoline slicers safe?
Most mandoline slicers are safe as they're equipped with a hand guard to protect your hands and fingers while in use. Your hands are rarely in direct contact with the fruit and blades.
Why You Should Trust Us
Our main goal is to recommend products to you that are of high quality, have all the right features, and bring great value for your money. Hence, we've selected only the best four mandoline slicers that are suited to every need, versatile, and affordable.
How We Picked
Just like we do with all our product selections, we've listed every key feature users look for when searching for the right mandoline slicer. With these key features, we skimmed through varieties of mandolines and selected those that offer versatility, simplicity, and affordability
From our selection, we picked mandolines that vary in size so that you can find just the right one suited to your needs – our best pick being the biggest size with more features and versatility.
With the cutting blade being the most important part of purchasing a mandoline slicer, we selected those with interchangeable stainless steel blades to add versatility to your meal prep.
Every kitchen utensil needs some good cleaning after use, and with the sharp blades of mandoline slicers, you need one that is easy and safe to clean. For this, we've highlighted which mandolines are dishwasher and hand-wash-friendly.
While dishwasher-friendly mandolines are safer, we've ensured that those that are hand-wash friendly too are easy to clean with a quick rinse to avoid cutting your hands. For your ultimate safety, each mandoline slicer listed here is equipped with a handguard – our best pick comes with additional protective cooking gloves to use for extra protection from the blades.
Each design is simple and easy to use and assemble so that you're preparing your meals in no time!
Care and Maintenance
During the cleaning or sharpening of your mandoline slicer's blade, ensure that you wear gloves to avoid accidentally cutting your hands.
Cleaning your mandoline slicer is a simple process — it's recommended that you gently wipe your blade with a cloth and warm, soapy water directly after use. Thereafter, rinse and leave to air dry or dry with a towel.
It's important to make sure that your slicer is completely dry before storage to avoid blade corrosion. Furthermore, your mandoline slicer should be cleaned thoroughly after every use to avoid food particles being stuck on the blade and leading to possible contamination.
When cleaning your mandoline slicer in the dishwasher, it's recommended to place the utensil away from other dishes to avoid damaging the blade and other dishes. Placing it on the top rack is deemed correct.
With frequent use, your blade can dull and become blunt over time. For this, sharpening can either be done professionally or by yourself with a sharpening stone. Before you sharpen, disassemble the entire mandoline slicer to have sole access to your blades.
On a flat surface, gently and quickly push the stone across the blade for about five minutes. Test the sharpness by cutting a hard fruit or vegetable. Rinse the blade under cold water following the sharpening process.