The Best Macbook Sleeve Cases for 2023
There's no doubt that these best MacBook sleeve cases are tough, durable, and dependable.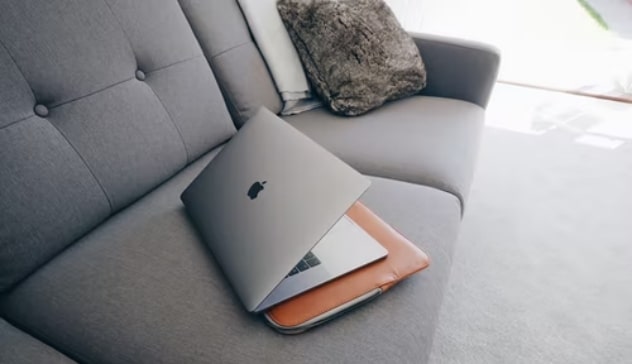 MacBooks are widely cherished, with good reason — they're sleek, beautiful, and powerful machines. However, they're also incredibly fragile. Given that there is no way around human clumsiness, you need to take care of your laptop, especially if you're carrying it with you all the time.
This is where a MacBook sleeve case comes in handy.
Whether you are constantly hitting your computer against obstacles or toting it between coffee shops, these cases should absorb much of the force thanks to their sturdy construction. Regardless of the type of case you select, you undoubtedly want it to reflect your unique taste or personality besides protecting your laptop. Here are some of our favorite MacBook sleeve cases. They include tough carryalls, elegant-looking leather pouches, and no-nonsense compact cases.
How We Picked
Support and Protection

The level of protection and support you require from a laptop case is determined by where and how you use it. If you travel a lot, you'll need a case that can withstand a lot of abuse. Furthermore, different materials provide varying degrees of toughness and defense.


Weight and Size

When looking to purchase a laptop sleeve for yourself, size and weight are important considerations. Although it is a good idea to pick a small, portable sleeve, it will be worthless if your laptop does not eventually fit in it. An excessively huge sleeve will be difficult to carry and inconvenient.

Style/Design

Your laptop sleeve can have all the functionality you need to carry your laptop, but it also needs to look stylish and professional. Aesthetics is a crucial element. Remember that picking a durable, cost-effective sleeve doesn't imply it can't be fashionable at the same time.


Cost-Effectiveness

Cost is an important aspect to take into account when selecting a laptop bag. Prices vary widely. However, the cost should be in line with your requirements. Do not just get a laptop bag because it falls within your price range.
Everything We Recommend
Best Pick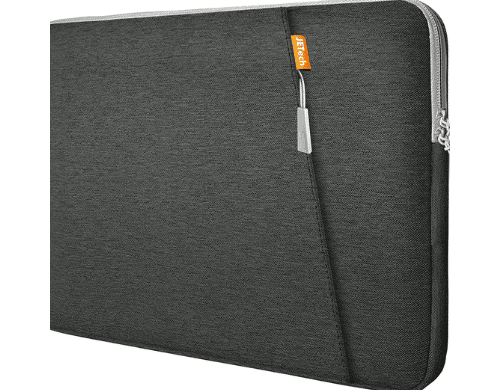 A durable sleeve with inner foam for extra protection.
$12.99
Runner Up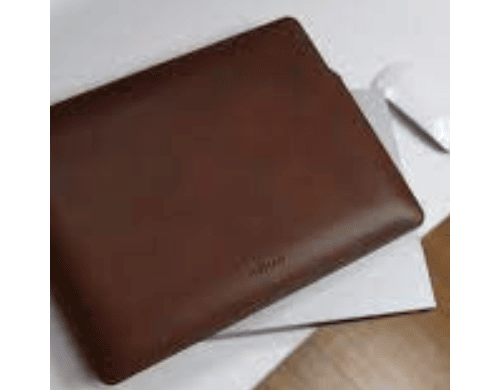 Featuring a compression-molded EVA interior.
Most Cost-Effective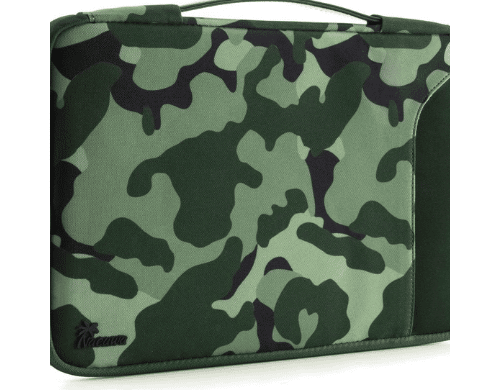 A shockproof and spill-proof laptop sleeve.
Who This Is For
If you routinely use your laptop on the commute, you should absolutely get a MacBook Pro sleeve. A sleeve won't only add a fashionable touch; it will shield your Mac from excessive everyday wear and tear.
Sleeves are also useful for people who wish to temporarily store their laptops (for instance, overnight) but don't want to expose them to factors like dust or scratches.
They are only impractical if you already have a big case on your device because most items won't fit around the huge protective versions. However, most sleeves can accommodate thin, stylish, or form-fitting cases.
What is a Sleeve Case?
Laptop sleeves, also called laptop bags or pouches, are usually made from materials such as neoprene or leather and are slightly larger than their laptops in order to protect the devices from bumps, scratches, water, and dust. They are a compact and convenient alternative to carrying a bulkier, more conventional laptop bag for protecting a laptop (or tablet).
Whether they are work bags or not, they may also fit into larger bags. This eliminates the need for two bags by allowing a laptop in its sleeve to fit into another backpack.
Why You Should Trust Us
We're not only here to advise you to get a new sleeve. We want to work with you to maximize the return on your worth. In other words, we offer you the guidance we think is best and provide candid assessments of the products and market trends. Members of the team bought and utilized these sleeves, so you can take our word for it. Additionally, we'll let you know if a product doesn't live up to expectations.
How We Picked
Size
It is important to check the dimensions of the product you want before you purchase it, especially since sleeves can vary in size and have some wiggle room to accommodate MacBooks with cases. After all, it's not enjoyable to believe you've ordered something for your 13-inch Mac only to discover you've actually ordered the 15-inch version.
Support
The finest MacBook sleeves can either have a soft or hard shell, and the one that works best for you will depend on how you carry your laptop. The soft-shelled case provides the additional cushion of support you need if you store your laptop in a backpack or briefcase. As a hard-shelled cover gives better shock-proof protection, you could prefer it if you frequently carry your laptop alone in that situation.
Protection of Laptop
A laptop sleeve must at the very least provide protection from bumps, scratches, and dust. How nicely the laptop fits within the sleeve is a crucial factor in this. In order to prevent your laptop from moving about too much when you're carrying the sleeve, the ideal case for your computer has very little room around the sides and top. However, it shouldn't be so tight that it makes putting on and taking off the sleeve challenging. We sought sleeves that were particularly designed to suit several different laptops because the fit is very critical.
Weight of Case
You will probably take your laptop bag with you most of the time, so it has to be sturdy enough to withstand everyday travels but lightweight enough not to cause strain. The fabric should also be robust and tear-resistant. Thanks to all of these characteristics, your luggage will last longer and against all odds.
Style/Design
Considering that there are basically an infinite number of sleeves in an infinite number of styles, we prioritized function in our evaluation of laptop sleeves. But once we had found a list of sleeves that worked well, we used their appearance to distinguish which would become our picks. We tried to avoid sleeves with loud colors, really gaudy branding, and odd detailing and looked for sleeves that came in several color options.
Price vs. Quality
Choose a bag that will meet your demands and provide greater value than anticipated. A laptop case that is either too big or too little might end up hurting you more than helping. You can often find items on sale in the clearance section if you're looking for something cheaper.
Material
When choosing a high-quality laptop sleeve, the material itself should be taken into account first. Options include polyester, suede, microfiber, or nylon, which are the most common. Depending on your needs, nylon is probably the most reliable option. The thickness of the notebook is another factor to consider. Thicker is a preferable alternative to take into consideration if you're going to be traveling in hostile environments or inclement weather. This design will protect your laptop sleeve better against harsh conditions.
Closures (Zip/Velcro/Clips)
We strongly advise that you pay close attention to the closures, even if it might not seem like the most apparent item to watch out for. Working with high-quality closures is ideal. Otherwise, poorly constructed closures will quickly rip apart, making the bag entirely unusable. In addition, tough closures will guarantee that nothing you keep in the bag, including your laptop, will be able to escape even if you toss it around.
Extra Pockets/Storage
Select a laptop sleeve with the extra pockets or accessory holders you want, such as holders for pens and other writing implements. You can then store everything you want in the appropriate places. Along with your laptop, you might wish to keep notebooks, documents, and other things, and some alternatives provide an organizing function where they can be stored properly.
Reinforced Edges
The bag you select must have padded and sturdy edges to withstand a rush-hour commuter on the metro or bus during the workday. You want a small, lightweight bag with strong edges to prevent the laptop from shattering or the bag from tearing easily.
Foam Padding Internally
Remember that a laptop bag differs from a standard bag in that the former is not designed to protect your laptop from jolts, scratches, etc. So, if you are certain that your laptop requires the protection of a laptop bag, go with a bag that has foam padding on the inside for extra protection.
Care and Maintenance
Although laptop sleeves offer portability and protection, the material is sometimes difficult to clean. Choosing the proper size laptop case ensures a secure fit around your device and stops it from slipping when the case is open.
Every morning before leaving the house, ensure the sleeve is closed and the laptop is secured. Doing this will stop your laptop from slipping out of the sleeve.
Avoid using laundry machines if your laptop's sleeve is made of neoprene, cotton, canvas, or any other material.
This is because neoprene, an extremely durable and rubbery material that most sleeves are composed of, is likely to be destroyed by a washing machine.
We advise using dish soap and warm water to remove the soiled areas. Start with scrubbing the spots using a new, clean toothbrush that hasn't been used before. If the entire sleeve is filthy, soak it in water and dish soap for 30 minutes.
It doesn't take a lot of soap and hot water to clean your home. Using hot water or harsh chemicals can damage the materials. When not in use, storing your sleeve shouldn't be difficult. Simply ensure it is away from liquids and dust, which might cause deterioration over time.
Additionally, avoid putting any sharp things inside or near your laptop's sleeve to avoid tearing it.