The Best Lunch Box for 2023
Invest in one of these lunch boxes and take a delicious homemade meal with you wherever you go.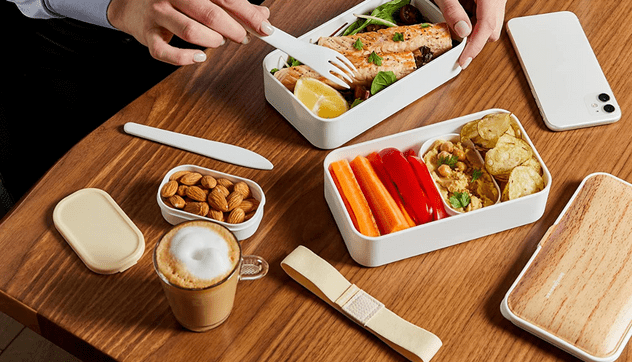 Home-made lunch is a heavenly treat in the middle of a work or school day. Packed lunches tend to be tastier, cheaper, and more nutritious. You can choose to cook up a meal from scratch, meal prep for the week, pack some leftovers, or re-work some take-away. Whatever option you choose for your packed lunch, chances are it will rock.
In the current economic season, many of us are choosing to be more frugal. This means making our own meals at home if the ingredients are cheaper. It's also almost summer and we're trying to make healthier choices to properly nourish our bodies. For the parents, you may be trying to ensure your child gets quality and nutritious meals more often.
Lunch boxes are a great investment for any household. They come in handy for lunch, carrying leftovers from parties, and even picnics. Some lunch boxes also double as Tupperware and can be used to store leftovers or pack food for guests to carry when they come to visit. Whether you're trying to be healthier or save some money, we have a lunch box for you.
How We Picked
Size/Capacity

You want a lunch box that can fit a good-sized meal but can also fit an average-sized bag. The balance can be hard to find, but we managed.

Different sections

Having sections helps you pack more variety of food and thus better quality meals. You can keep each food group or sauce separate to keep everything fresher for longer.


Insulation

You won't always be able to warm up your pre-packed food. Insulation helps your warm food stay warm. It also ensures cold cuts stay cold and edible.


Cost-Effectiveness

A lunchbox shouldn't break the bank. We wanted to ensure that you get quality without financial stress.

Our Top Picks
Best Pick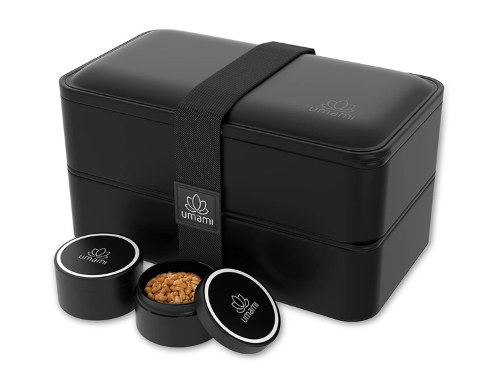 This sleek and beautiful lunch box comes with cutlery, and it's great for everyone.
It is freezer, microwave, and dishwasher safe, making it very easy to care for.
The Umami lunch box is easy to use and features a divider, sauce jar, and standard cutlery. You can pack your lunch in either or both of the two dishes provided and separate the food using the divider provided.
Runner Up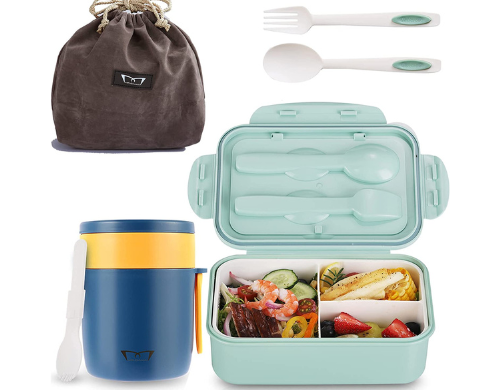 This lunch box not only comes with standard cutlery but a carrying bag and a soup flask as well.
A compact lunch box that is good value for money and provides compartmentalized storage for your lunch.
The lunch bag allows you to carry the lunch box separately or safely in your school or work bag. The full lunch box pack allows you to have a perfectly balanced meal for lunch or a picnic. The lunch box is made of microwave, freezer, and dishwasher-safe BPA-free, non-toxic plastic. The cup has a stainless steel interior that is hard to scratch. This lunch box is sturdy, convenient, and well-priced.
Most Cost-Effective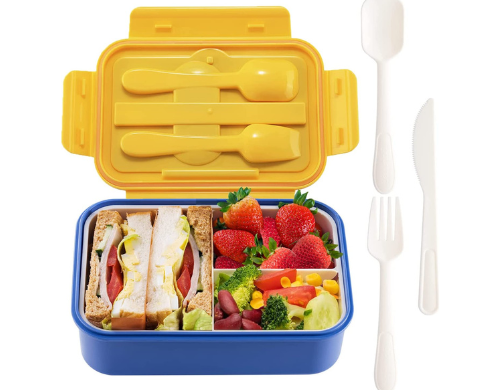 The BPA-free materials ensure it remains odorless and stain-resistant.
This simple and compact lunch box is budget-friendly and child-friendly. It comes in an assortment of colors and is easy to fit into any bag.
The lunch box has three compartments and utensils that clip onto the lid. This makes it ideal for packing lunches for children, as it is harder for them to lose their utensils. It is dishwasher-, freezer-, and microwave-safe except for the lid.

Everything We Recommend
Best Pick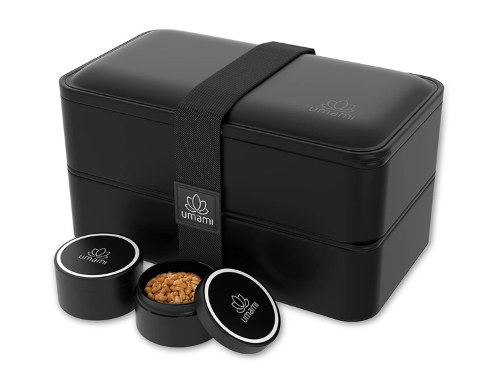 This sleek and beautiful lunch box comes with cutlery, and it's great for everyone.
$26.99 ($13.50 / Count)
Runner Up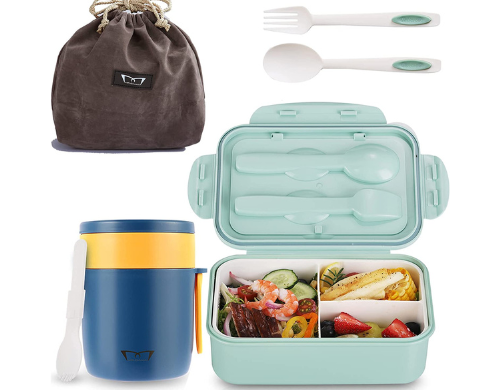 This lunch box not only comes with standard cutlery but a carrying bag and a soup flask as well.
$22.99
Most Cost-Effective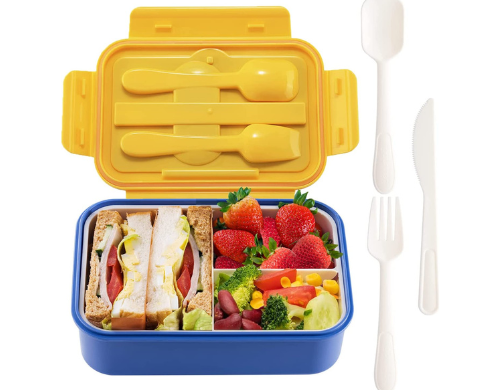 The BPA-free materials ensure it remains odorless and stain-resistant.
$12.95
Who This Is For
If you have ever wanted to carry a packed lunch, then this is for you. Whether you want to pack a lunch for a special occasion or you want to have a home-cooked lunch every day, we have the perfect lunch boxes for you.
Why You Should Trust Us
We make it a point to independently review each of the lunch boxes we recommend. We understand the hassle of getting good stuff, especially in times like this. A pre-packed lunch can save a lot of time, energy, and money. A great lunch box ensures you can have one more often. We want everyone to be able to enjoy the convenience of a pre-packed lunch. So we carefully reviewed every lunchbox we could find to find the best ones.
How We Picked
We had a strict list of things we were searching for in the lunch boxes we reviewed. These included:
Size
We wanted lunch boxes that are compact and easy to carry around. Otherwise, we know they wouldn't be used as much.
Capacity
A lunch box should be able to fit a full-sized meal. This makes it convenient for everyday use as it can be used for both snacks and meals. Although separating different food types and meal components are not everyone's priority, we prefer that you at least have the option. This way, you can decide to have a stew, some sweets, and a meal.
Insulation
An insulated lunch box offers you the chance to carry hot meals. It will also keep your cold meals from reaching room temperature. This makes your pre-packed lunches truly ready to eat.
Price vs quality
Quality is very important. We wanted lunch boxes that are durable and functional without breaking the bank. The aim is to be able to afford the lunch box and not pin it on Pinterest.
Style/design
An aesthetically pleasing lunch box is easier to carry around. It can also motivate you to prepare a lunch to carry. We believe that beautiful designs help make the day just a bit better. We wanted every lunch box we recommend to be easy to match to your everyday life.
Toxic-Free Material
If you're trying to be healthier, it's important to have toxic-free materials to carry your food. You can rest easy knowing that the lunch boxes we recommend won't be something you should worry about.
Weight
Lunch boxes should be convenient to carry around. If they're too heavy then there's a chance you'll forget them more often. Lunch boxes for children should be especially light and compact so they can fit into school bags.
Airtight
An airtight lunch box keeps your food fresher for longer. It also keeps any food from getting soggy or watered down. We ensured that each lunch box on our list was airtight.
Care and Maintenance
How to wash a lunch box
First, clean off any remaining food items and toss them in the bin. Afterward, check if your lunch box is dishwasher-safe. If it is, wash it in the dishwasher at the desired setting of clean. If not, use warm water and dish soap to clean it.
Ensure your lunch box is grease and odor-free before you dry and store it. You may have to wash it a couple of times before it is completely clean.
Preventing odors
To prevent odors, ensure that you keep only fresh food in your lunch box. Always clean the lunch box after every use. Store it without any moisture in it to avoid the growth of mold or mildew. Some lunch boxes are made of odor-reducing materials which can help keep them smelling fresher for longer. If you're storing your lunch box away for a long time, use silicone packets to keep moisture out of them.
Storing lunch boxes
All the lunch boxes above should be stored in a cool, dry place away from direct sunlight. After cleaning and letting them dry, you can wipe them with a dry cloth to ensure no moisture is left. Afterward, store them in a cupboard or drawer that remains cool and dry.
When it has food, always store your lunchbox in the fridge, cool box, or at least in a cool dry place. This will ensure that your food stays fresh. However, please note the shelf life of the food in the lunch box. This way, you know how long the food can remain refrigerated.
Can you microwave a lunch box?
It depends. If your lunch box is labeled as microwave safe then you can microwave it. However, if not, please do not place it in the microwave.