The Best Lock Box for 2023
Place your valuables in a reliable and secure lock box for future and emergency access.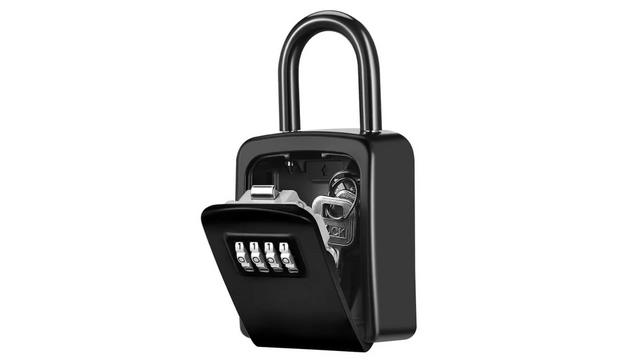 Showing off property is an easy thing to do, but once the prospective buyer leaves, with a promise to respond to the offer, the property manager is left with the job of storing the keys to the properties. Since not only properties are kept under lock and key, the world has recognized the necessity of having a unitary place to keep the keys and other items secure. Point blank, we came across the simple lock box, a gadget that is more than a solution.
Besides what banks love to provide to businesses for lockbox banking, these ingenious tools are meant to secure keys from burglary, hold them for emergencies, and, if size and capacity permit, store other items protected by a pin or code. We focused on the popular ones used to store keys that are simply called lock boxes, as they surprisingly emerged as the best locks.
How We Picked
Size and Capacity

The larger the size and capacity, the lower the cost per item due to the economies of scale exhibited by the lock boxes. However, the choice of a lock box also depends on the user's needs.

Security

Since lock boxes are designed to prevent break-ins, security features such as combination locks were looked at when identifying the best lockbox.

Type of Lock Box

The type of lockbox affects the nature, design, and style of the gadget that is designated to house keys and other items and prevents unauthorized access. The influence of this factor didn't affect ranking but was recognized if supported by customers.

Cost-Effectiveness

Lockboxes that could store an item at the lowest cost possible were ranked highly, and these costs were included in the quality ratings of these gadgets to determine the most valuable lock box per unit cost.
Our Top Picks
Best Pick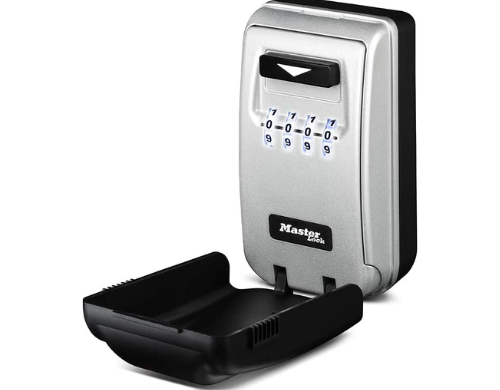 A simple, wall-mounted, and easy-to-lock one-inch deep lockbox.
The Wall-Mounted Lock Box from Master Lock offers four amazing styles for flexible and safe key storage.
Indoor areas can be locked up from the outside, and, with the help of this lockbox, you can store the keys on an external wall-mounted setup. The weather protection case prevents adverse weather conditions from weakening the lockbox. It is also easy to lock up keys in this lock box with its good combination dial that offers security. This beautiful lock box is surely our best, and we recommend its purchase.
Runner Up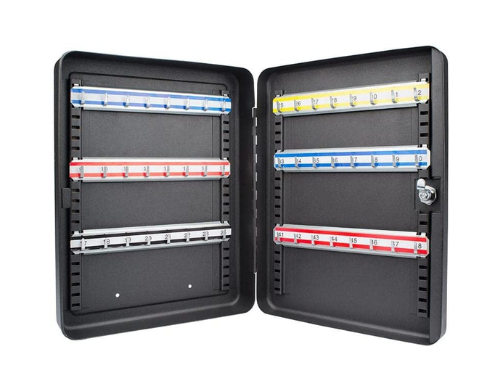 A flat panel lockbox with a beautiful matte black finish.
The Barska CB12484 is a relatively inexpensive and large flat-panel door-style lock box that can store up to 48 keys!
This lock box is large enough to fit 48 keys and is good for a property or location requiring a similar number of keys stored safely. The Barska CB12484 is a flat panel lock box that comes with the lock box's mounting hardware for easy wall attachment. Its matte black coating brings some aesthetics to a dull operational area. Since the cost of storage per key is very low, this lock box works wonders in keeping a bunch of keys away cheaply.
Most Cost-Effective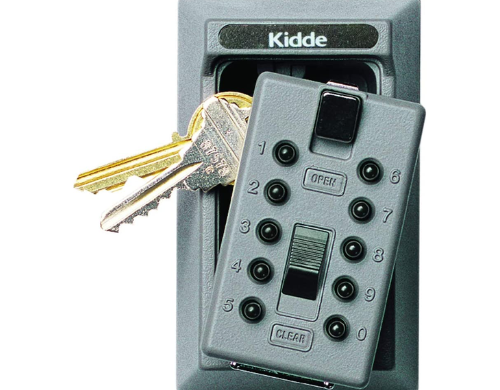 It is durable and trusted by many to hold up to five keys in its safe box.
GE Security produced this lockbox for a market needing a durable and reliable lockbox.
First made available in 2004, this lock box has been in production and has not yet been discontinued. It offers the space to store five keys, thus making it a reliable lockbox. The lock box comes with a one-year warranty to cover against the manufacturers' flaws. This vintage lockbox can protect keys, but it has a semi-antique look.
Everything We Recommend
Best Pick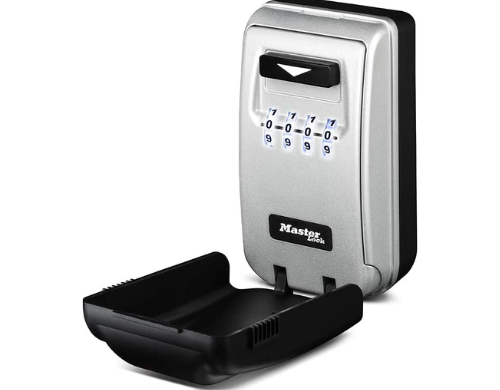 A simple, wall-mounted, and easy-to-lock one-inch deep lockbox.
$39.90
Runner Up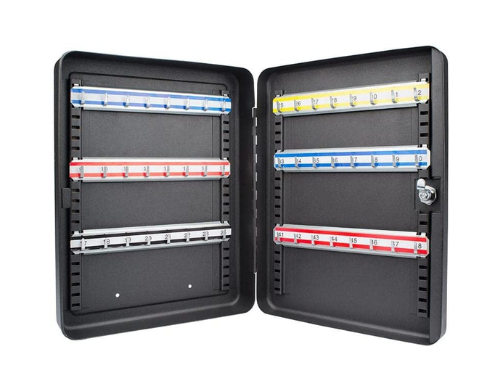 A flat panel lockbox with a beautiful matte black finish.
$59.99
Most Cost-Effective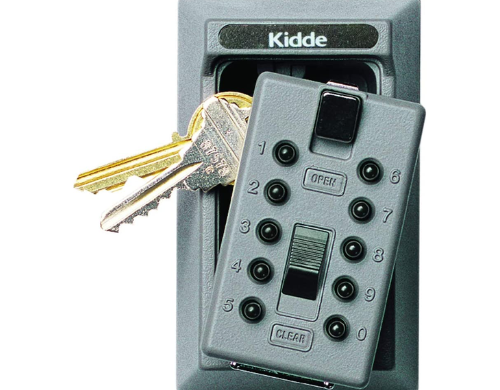 It is durable and trusted by many to hold up to five keys in its safe box.
$29.95
Who This Is For
This review is for people who require lock boxes in their homes, offices, or institutions to store, access and maintain keys and other items safely.
Different types of Lock Boxes and their usage
There are different types of lockboxes on the market, both online and offline. Some of these types are fireproof, combination, keypad, key-only, wall-mounted, biometric, and bulletproof lockboxes.
Bulletproof lock boxes
These are secure storage items that are built to withstand bullets. In the security world, such cases should pass certain certification standards, such as the UL 752 standards chart.
Fireproof lock boxes
UL fire-resistant ratings are also important in fireproof lock boxes. Fireproof lockboxes are safes that can keep out a fire, thus leading to little or no damage to stored items.
Combination lock boxes
These are lockboxes whose locking mechanisms are combination locks. The locks can be reset and changed to a combination of mostly four digits. This review had three combination lock boxes: Master Lock Wall-Mounted, Kidde AccessPoint Push-Button, and Barska CB12484.
Keypad lock boxes
Some lockboxes have a keypad that accepts a pin for them to open. These keypad lockboxes are a substitute for traditional combination locks.
Key-only lock boxes
Key-only lockboxes are lockboxes that require a key to open. These boxes depend on the safe storage of the key to secure their contents.
Biometric lockboxes
These types of lockboxes use modern technology to detect who is opening them. A person's fingerprints, iris, facial features, voice, and palm or finger veins are used to identify them by matching the data collected with records.
Push-button lockboxes
These lock boxes are protected by a code that is entered before opening and closing the lock box. To open the lock boxes, a button has to be pushed after the correct code has been entered, hence their name, the push-button lockboxes. This button is also required to be pushed to close the lock boxes.
Why You Should Trust Us
Most lock boxes that reviewers have come across have been tagged as inferior and not satisfactory while overlooking good and reliable brands. We did our research to ensure that you will never miss out on a lockbox, especially an effective one!
How We Picked
Through trial and error, we first searched for the best lockbox. The subsequent step involved a compulsory feedback analysis of customer reviews on the manufacturer's lockbox pages. This research was successful as we understood the customer better and encountered some of their experiences in using the lockbox, which included finding a goofy lock box that hinders stealing, owning a large key lock box that could fit a truck's key, and getting to use a well-built lockbox. With the data at hand and the analysis we did, we believe that you will sincerely trust us to reveal the best lock box outline.
Some of the factors we took into consideration when choosing the best lock boxes included size, capacity, style, design, type, placement, and security mechanisms. We also looked at the superficial features of the usage, durability, and portability of the lockbox. These factors contributed greatly to the price of the product, so we searched for the best deal possible.
Size
The size of the lockbox may determine how easily the lockbox can be used. We discovered that some people prefer large lock boxes as they don't fidget around with them, while smaller ones may suit people looking for smaller capacities, thus avoiding acquiring unwanted resources.
Capacity
Lockboxes vary in their capacity, with some lockboxes, such as the Barska CB12484, having a capacity of up to 48 keys! Our research found that the larger the capacity, the lower the cost per unit key stored.
Material
Metal was found to reign in the lock boxes, which is understandably reasonable due to the protection needed. Coatings that covered the lock boxes, such as in the Kingsley Guard-a-Key, helped in preventing damage to the lock box on an object and thus proved to be favorable.
Security
Multi-level
Lockboxes with multi-level security, such as requiring a combination code and a physical key, help to lower the risk of theft of the contents in a typical lockbox. Of the key lock boxes we reviewed, most tended to lack multi-level security but had effective single-level security.
Pin or Key
We searched for the locking mechanisms in lock boxes and checked if the lock boxes required the use of pins or a key. The products that emerged the best tended to be pin-based, but we would love to see lock boxes with pin-based security if consumers rank them highly.
Type of Lock Box
The types of lock boxes, including but not limited to bulletproof, fireproof, key-only, combination, keypad, and biometric lock boxes, were identified and used to classify the lock boxes in our review. This factor in our research was neutral to allow other significant aspects to come into play and point out the top lock box gadgets.
Style/Design
Different styles and designs that the manufacturer would recommend were revealed and helped to evaluate the lock boxes according to the customer's preference. This attribute also influenced the features available, with good designs and styles having more important features.
Price vs Quality
The value for money was evaluated in lock boxes. The quality-price ratio greatly evaluated the lock boxes, revealing the best lock boxes per unit price. For the key lock boxes, we ensured that the attribute of the number of keys was considered.
Usage
The place of use, manner of utilization, and the respective users helped in selecting the best lock boxes. These lock boxes had their respective ratings on their ease of use provided by the buyers, thus informing our research.
Portability
Since storage may imply stationary, we wondered if it was possible to move a lock box. Some were permanent, while others were portable, and the users of the lock boxes helped to decide on the appropriate level of portability for these gadgets.
Durability
Durability was observed in weather-protected lock boxes, while bulletproof and fireproof lock boxes tended to withstand fire and gun attacks. This factor played an important role in analyzing the length of the warranty against the expected product life.
Placement of Lock Box
Some lock boxes are purely wall-mounted, while others don't need attachments for support. This factor influenced the desirability of the lockboxes in a manner that favored the typical lockbox user.
Care and Maintenance
The contents of a lock box are only known to the lock box's owner, who stores items in the lockbox. Therefore, no one can and should inspect the lock box to determine the value without the owner's authorization. If in doubt, the owner can review such contents to gauge their value.
Due to the variety of lock boxes that are available in terms of size and capacity, we advise you to get the right box that matches what you feel you need, saves money, and prevents space and resource wastage. Place a lock box in the place where the manufacturer recommends. Please follow the necessary instructions if it should be wall-mounted.
It's very safe to have a backup of the key, pin, or opening mechanism since most retail outlets may not have a mechanism for opening faulty lock boxes and would liaise with the manufacturer for help. Until help comes, the backup should allow the lockbox owner to access their items without delay.