The Best Little Black Dress for 2023
You can never be overdressed or underdressed with a little black dress. Here are a few options to add to your wardrobe.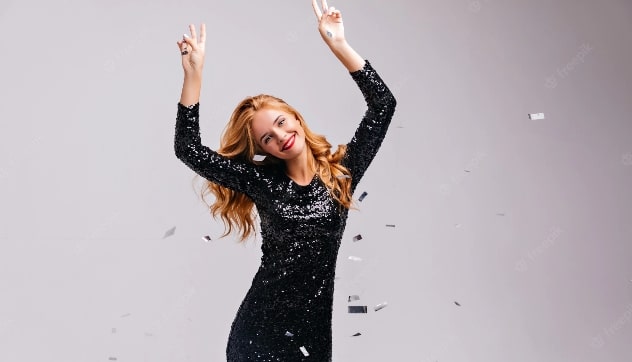 Black has the power to create a statement with minimal effort and is a form-flattering color. The little black dress is always about sophistication and elegance. Over the years, a lot of styles and fashions have come and gone, but the black dress has remained a classic.
The black dress is as timeless as they come, and there are endless ways to wear it, whether as a flirtatious short, an exquisite gown, or a chic sweater dress.
A little black dress works for so many different settings, whether you're going to a black-tie event or a local cocktail lounge. Despite sharing the same hue, little black dresses come in a wide range of styles. For one, you can select a midi dress, a cut-out design, or a piece that is suitable for a wedding.
Choosing a style depends entirely on your plans and preferences. For this reason, regardless of your taste or price range, we have given you the best little black dresses in town. Therefore, be sure to have one or two extra hangers on hand because you'll need them.
How We Picked
Easy to Style

By adding certain accessories, you may make your dress look even more beautiful. A black dress will look great with pearls, either earrings. a necklace, stilettos, a choker, and a stylish watch.

Therefore, you want to think about choosing a lovely black dress that can be accessorized simply and in various ways.

Comfort/Fit

Go for form-fitting dresses that hug your body in all the right places so you can stay comfortable. Breathable clothing will help sweat dry faster and keep your skin feeling fresh all day. Some gowns also have a drape or peplum design.

This designates a tank top-style fit for the upper portion of the dress and a skirt-like pattern with ruffles or pleats for the waist.

Dress Design

Before purchasing any black dress, inspect the design. The neckline, sleeves, slits, and fitting design all contribute significantly to a dress's beauty. Some high necklines have see-through flowery lace sewn into them for added elegance and charm.

Cost-Effectiveness

Our analysis indicates that a fashionable black dress composed of high-quality materials often costs between $120 and $595. You need to spend more if you want a quality and trendy design in your LBD because a little addition can go a long way in determining the durability of the dress.
Our Top Picks
Best Pick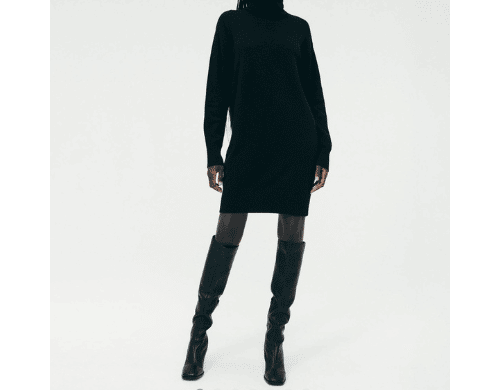 Wear the Naadam LBD to stay warm on chilly days.
A lovely, elegant, and timeless cashmere dress.
Naadam designed their turtleneck dress with a twin-sided slit to update the style, and it is made of premium cashmere. When you want to feel dressed up, you can wear this dress with heels or boots.

When you have some going around to do, you can dress it down with a striking pair of Jordans. This Naadam LBD is currently on sale, which is super exciting, but keep in mind that returns are not accepted.

Runner Up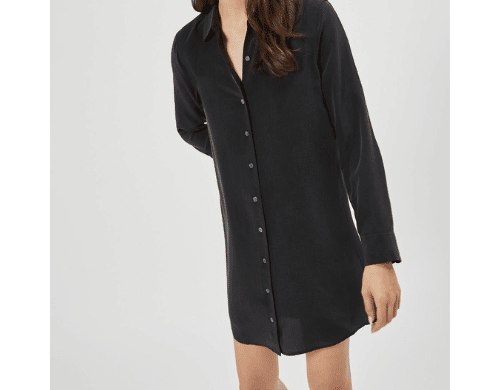 A multipurpose outfit for both work and recreation.
Wear this dress with leggings and nice shoes for a more casual look.
One of the most adaptable looks we came across is this buttery silky essential shirtdress; the simple cut screams simplicity, but the luxury quality means it can also be effortlessly dressed up.

The French seams and thick fabric ensure that the hem won't disintegrate over time. The cuffed sleeves have three functions that better enable the person wearing it to adjust the length.
Most Cost-Effective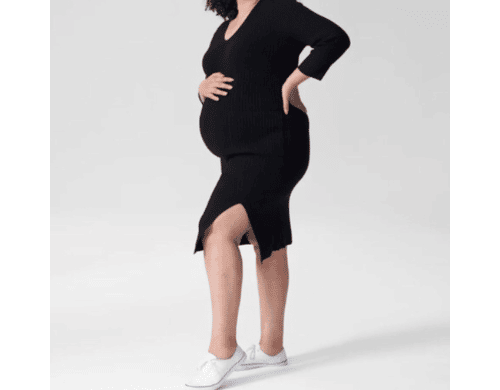 A little black dress that fits you flawlessly regardless of your size.
Wear this dress if you want to feel warm and cozy.

This cozy, thick-ribbed dress can even out any bumps while giving prominence to your best body features. Your stomach gains a fanciful importance thanks to the pockets.

They have the broadest selection of sizes of any of our options, and the pockets are big enough to accommodate a few cards. Please double-check the measurements, as the Universal Standard employs a unique size scale.
Everything We Recommend
Best Pick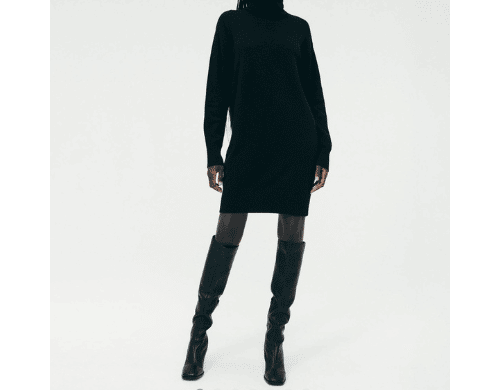 Wear the Naadam LBD to stay warm on chilly days.
Runner Up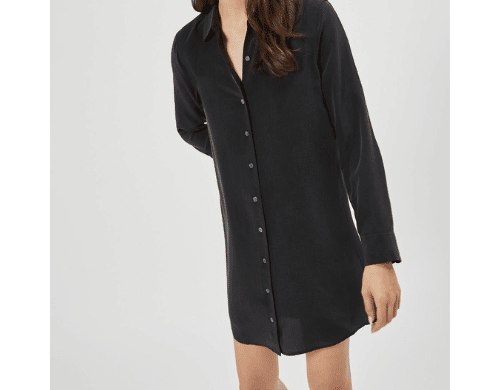 A multipurpose outfit for both work and recreation.
Most Cost-Effective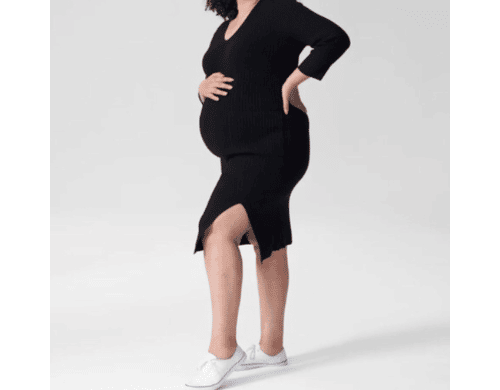 A little black dress that fits you flawlessly regardless of your size.
Who This Is For
The reviewed products are for all women as well as for men who want to give their girlfriends a cute little black dress. Everybody has their own unique preferences, but since LBDs look good on everyone, you're less likely to come across someone who hates a black dress.
Maybe the only people who genuinely dislike it are those who really love colorful dresses like to flaunt their dresses, and don't like to adopt conventional appearances.
Additionally, when you get older, you could start to feel like some colors and patterns don't look as good on you, but an LBD will always be a great option.
For curvy people, a little black dress is beneficial since it emphasizes and slims their contours, and when worn by petite or slender ladies, the LBD is immensely alluring.
Why does everyone need a little black dress?
Little Black Dresses are timeless outfits that are always in fashion. While there is always a change in fashion, this is unimportant when women wear an LBD. Any woman will admit that choosing what to wear may be difficult, even if you own a large wardrobe.
Being asked to an event or date at the last minute makes it considerably harder, and in such situations, everything seems to fit strangely. This is where you need the LBD because all it takes is a short amount of time to look like you invested days or even weeks getting ready.
When you own a tiny black dress, you won't need to shop for new clothes each time you have a work function, anniversary, or dinner to attend. Its adaptability allows you to wear it to practically any occasion.
In business settings, complete your look with a colorful business blazer and heels. For casual situations, you can wear shoes and a denim jacket. It all depends on your styling choices and the makeup you pair them with.
You can look much slimmer than you actually are by wearing an LBD. So it is an absolute necessity if you're unsure of how your body will look on some days. The hardest clothing to accessorize is colorful clothing because if you choose poorly, you could come out as overdressed or clownish. Fortunately, this problem is not present in the LBD.
You can even play around with your accessories because they are entirely black. This dress is for you, whether you like colorful accessories or simple ones that add a dash of excitement to your appearance. It makes a fantastic backdrop for each of your favorite pieces.
However, be careful not to go overboard with the accessories to prevent the dress's attractiveness from being obscured. While shopping for one, look for the newest styles and the LBD that fits your body type the best.
To emphasize your body, you can also wear Spanx underneath your outfit! There are numerous styles of little black dresses, even though they look beautiful on everyone.
The most important thing is to not be afraid to get several LBDs. You can never have too many small black gowns in your closet!
Is a little black dress business casual?
A complete wardrobe is seen to be incomplete without an LBD. Everyone ought to have a simple, attractive black dress, each of which can be worn either up or down based on the occasion. Depending on your dress style, little black dresses can also be worn to a business casual event.
For daytime work attire, the LBD can be paired with a blazer and pumps. It can be worn for smart casual or a special event like a wedding or ball with elaborate jewelry and accessories.
Why You Should Trust Us
There are a lot of attractive and stunning black dresses advertised on different retailer websites and stores, each one designed with different cuts, fits, necklines, and sleeves.
Due to the variation in brand, sizes, designs, fits, and prices of these LBDs, it can be hard to select the right one, so we have conducted in-depth research to choose the best quality, attractive, easy-to-wear and wash, breathable, and reasonably priced little black dress for you.
How We Picked
We exclusively choose clothing made of skin-friendly fabrics, including cotton, polyester, rayon, and spandex. We omitted damaged, snapped, or slack threads because they will only get worse with each wear and are a good sign of a low-quality dress' stitching.
High-end wool, silk, and cashmere dresses are typically more expensive than some of the less expensive cotton or polyester dresses we see on Amazon or eBay, but fashion analysts agree that they are well worth the price. worth the cost.
The majority of the higher-quality dresses we looked at and our favorites all require dry cleaning or hand washing.
Before purchasing any black dress, it's also important to consider the neckline. The fashion industry is currently embracing a range of necklines, including the v-neck, deep round neck, criss-cross pattern, and more.
Some of the high necklines of these dresses have see-through flowery lace sewn into them for added elegance and charm. Therefore, we choose neckline that feels the most compatible with various stylistic ideas.
You can also find various sleeve styles in black dresses; cold shoulder sleeves, short sleeves, long lantern style sleeves, ruffle sleeves, bell sleeves, and several others are among the most popular patterns in today's modern world.
We also chose a sleeveless dress because it gives your body a slimmer, more elegant appearance.
In order for everyone to discover their ideal size, most dresses are made in a range of sizes from x-small to x-large. Choosing your usual size is OK if the garment is marked as true to size. Make sure your bust and waist measurements match those on the size chart and verify the dress' length.
Black midi dresses are typically made above the knee length, but among our selections, you may also discover ones that are shorter. These items are manufactured from high-quality, cozy, and skin-friendly fabrics.
We take care to choose items from legitimate businesses because there are many counterfeit brands that provide clothing at discount prices but made of inferior materials.
Care and Maintenance
Because you can treat your clothes with an incredible amount of care during the entire cleaning process, hand washing is by far the most gentle method. Washing items that are similar in color and fabric type, or "likes with likes," can help you save time.
Firstly, to identify the fabric type, such as silk, wool, etc., read the care label as the best washing detergent can be found there. Most should work with any common liquid or powder detergent, but it may be necessary to use a more gentle detergent on delicate materials, such as light dish soap, free and gentle detergent, or fine fabric detergent.
If treating stains is necessary, gently rub liquid detergent or laundry stain remover into the stain using your fingertips and avoid scrubbing. Lay your clothing inside the water for a few minutes, pressing it down to completely submerge it after flapping the detergent in the water to ensure that it has completely dissolved. Squeeze the rinsing water on the clothing multiple times while it's soaking.
The water may change color, though this could be due to an excess of dye. That shouldn't fade the hue. Fill the sink or bowl with cool, clean water, then submerge your cloth, squeeze the liquid through to rinse, and repeat as necessary.
After that, wrap the towel and clothing together to absorb the water by laying them evenly on water – absorbing towel. Laying delicate flat to dry will help keep them from expanding out of shape, especially knits.
Your favorite outfit requires more maintenance than just a thorough dry cleaning. By properly hanging your garments, you can maintain their shape and prevent wrinkles. You may extend the lifespan of your clothing by choosing the appropriate hanger for it.
Dresses and jumpsuits should be hung using plastic or wooden hangers with shoulder grips. To ensure that they maintain their shape, keep clothes in a big box. To maintain a nice appearance for your clothing, avoid overcrowding your closet.
Hang certain clothes in another closet, or think about getting rid of the garments that are taking up a room if your clothes are so jam-packed into the closet that it's hard to take one out without disturbing others.
You can radically change the look of a classic dress with only a few modest items. By doing this, you can still maintain your sense of style while wearing it during the workweek or at numerous events.
Washing your items as soon as possible will prevent colors from fading, or even better, never at all. Water, agitational friction, detergent, and drying all help to remove that natural glow from your clothing.
To minimize fading, you must learn how to wash garments in the washing machine because hand washing and line drying aren't always feasible. The color of your garment will be completely removed in a jiffy by the sun, even though it is a fantastic and effective drying instrument.
It is simple to let garments overdry, which is terrible for any laundry but more harmful for dark and bright hues. Your colors will deteriorate if you overdry them.