The Best Lightning Cable in 2023
Looking for a dependable alternative to Apple's standard Lightning cable? We've got you covered.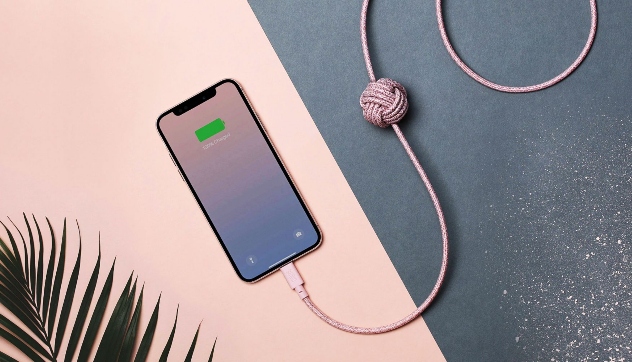 When you purchase a new iPhone, Apple offers a standard 3-foot USB-C to Lightning cable. However, several aftermarket Lightning cables are longer and more durable.
For every budget and need, we examined a variety of Lightning cables, ranging from the most durable to the shortest and everything in between.
Despite the variations among these Lightning cables, they are all of top quality. Additionally, Apple has approved each of the Lightning cables we suggest as MFi (Made for iPhone). Even while being less expensive than the cables on our list, cables without this certification run the risk of harming your iPhone or simply not working at all.
How We Picked
Charging Speed

Although iPhones can now charge at speeds of up to 30W, a 20W cable is still adequate.

The effectiveness of each lightning cable was assessed based on how it performed when charging devices to their maximum capacity.

Durability

The default Apple Lightning cable usually has a lifespan of 6 to 9 months before it starts falling apart.

We searched for cables with additional strength properties that were covered in braided nylon or Kevlar to prevent snagging and fraying while maintaining flexibility and ease of bending.



Size/Length

For on-the-go charging, some people prefer a short, compact cable, while others want a longer wire that can extend from a wall charger to a distant couch or desk. Each cable had to be available in at least two different length variants.

Cost-Effectiveness

The best Lightning cables are speedier and last a lot longer than cheap charging cables. By upgrading to a choice from our list, you're investing in an accessory that will last just as long as your phone.
Our Top Picks
Best Pick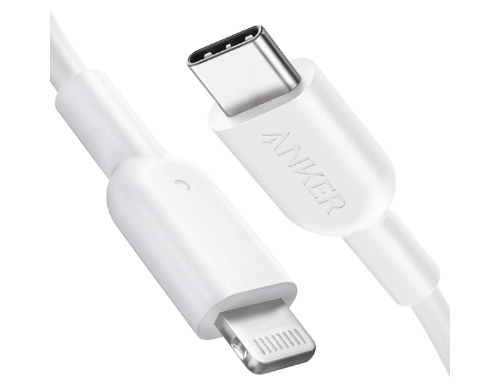 This is the best cable to suit all your charging needs.
This cable can supply maximum power to devices when used with the appropriate adapter.
The PowerLine II can charge an iPhone up to three times faster than a USB-A-to-Lightning connection. This can only be found in many of our favorite laptops, power banks, and wall chargers.

Apple has affirmed that this cable will function best (in terms of charging and data transfer capabilities) with its devices because it is MFi-certified.
Runner Up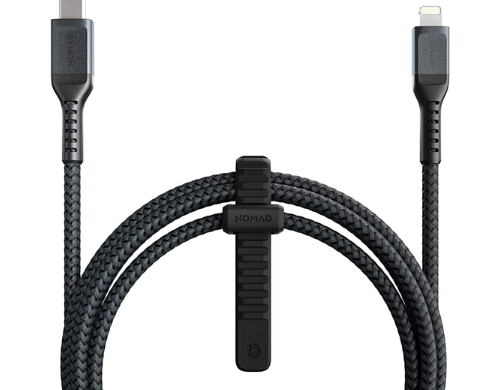 Is this a worthy alternative to our top pick? Yes, it is!
This lightning-fast charging cable has a long reach and can withstand regular use.


This Lightning cable is created from an indestructible material. Its braided wire is very strong because of a finely woven and reinforced Kevlar jacket. It charges significantly faster than the standard Apple charger and is MFi-certified, so you won't have any trouble using it.

In addition, the cable has certain practical built-in features, such as a rubber cable tie that keeps it wrapped when not in use.
Most Cost-Effective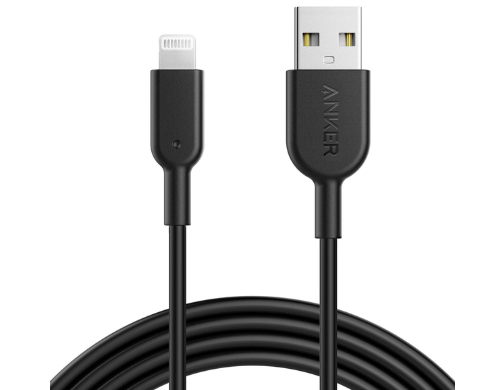 This is the deal for you if you want to get the most for your money!
This cable offers a lifetime warranty, is MFi-certified, sturdy, and comfortable to hold.


This cable is ideal for several uses because it comes in a range of lengths. The 1-foot and 3-foot versions are both portable and small enough for you to pack and carry with you.

The 6-foot model allows you to reach a desk, bedroom table, or kitchen countertop from a wall outlet without creating extra clutter. And the 10-foot variant extends even further to accommodate outlets that are difficult to access.
Everything We Recommend
Best Pick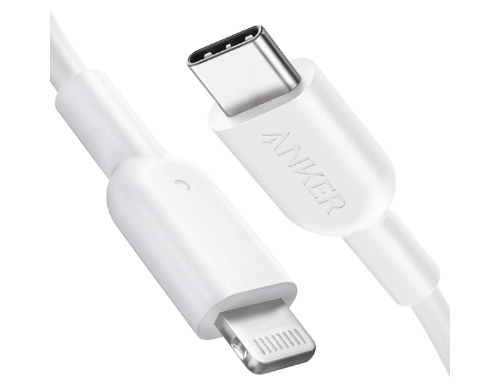 This is the best cable to suit all your charging needs.
$12.99
Runner Up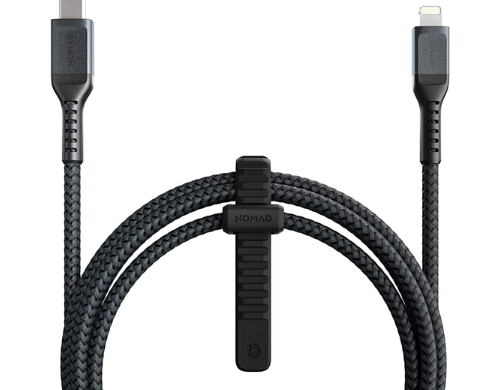 Is this a worthy alternative to our top pick? Yes, it is!
$29.99
Most Cost-Effective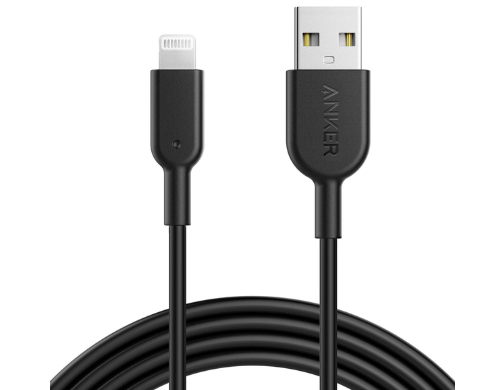 This is the deal for you if you want to get the most for your money!
$15.99
Who This Is For
Anyone in search of durable and MFi-certified lightning cables for their gadgets should consider getting the products we reviewed here.
What is a lightning cable?
Apple's exclusive cable, known as a "Lightning cable," is used with many of its products, including iPhones, some iPads, AirPods, and the iPod Touch. They can also be utilized for data transfer when connected to a laptop, for example.
You may also use a dongle with a Lightning connector to plug your headphones in via the Lightning port if you'd like to use wired audio, as few Apple products include a 3.5mm headphone jack.
A Lightning port is not included in every Apple product. The most recent models of the iPad Pro, iPad Air, and iPad mini all use the USB-C connector, which is much more common (all new Android phones and tablets have this port as well).
But starting with the iPhone 5, all of Apple's devices, including the most current iPhone 14, have made use of this connector.
Apple may soon be forced to abandon these connectors in favor of USB-C since the European Commission has suggested that this be the standard port for all devices, citing a reduction in waste as its justification.
Do lightning cables only work for iPhones?
Apple Inc. developed and constructed Lightning, a proprietary computer bus and power connector. Connecting Apple mobile devices like iPhones, iPads, and iPods to host PCs, external monitors, cameras, USB battery chargers, and other accessories requires the use of the Lightning connector.
The 30-pin dock connector, which was used with gadgets like the iPad 2 and the iPhone 4 until Lightning replaced it with 8 pins, is substantially smaller. In conclusion, Apple products are the main focus of the lightning cable.
Different types of charging alternatives
Lightning cables
The Lightning cable charging requires a lightning connector (a small connection cable used with Apple's mobile devices) that charges and connects the devices to computers and charging bricks. It remains the standard way to charge them.
The cable itself is small and has a thin Lightning adapter and a USB-A adapter on either end. It doesn't matter which direction the Lightning connector faces when plugged into the Lightning port because it is entirely reversible and is 80% smaller than the 30-pin connector it replaced.
Power banks
Power banks are characterized as portable batteries with electronics to regulate all power in and power out.
When electricity is available, they can be recharged using a USB charger and used to charge a variety of devices that typically use a USB charger, including mobile phones and other battery-operated devices. In essence, they serve as portable chargers.
They only require a USB charging interface. Power banks are available in a wide range of sizes and designs to accommodate a wide range of users and their needs.
Wireless charging
Without using a cable, wireless charging occurs when power is sent from an outlet to your smartphone. It entails a power transmitting pad and a receiver, which could be a casing that is attached to or fitted into a mobile device.
The foundation of wireless charging is inductive charging, which generates power by running an electrical current through two coils to produce an electromagnetic field. The magnetic field causes the receiving magnetic plate on the mobile device to conduct electricity when it comes into contact with the transmitter, or at least when it is within the designated range.
The built-in battery is then charged once this current is transformed into a direct current (DC).
Why You Should Trust Us
Working with trustworthy independent contractors who have years of expertise writing about lifestyle topics and product evaluations gives National Today a great deal of delight. We've tested nearly every charging option available and reviewed a variety of mobile accessories, including wireless chargers and auto chargers.
In addition to drawing from years of experience, we used professional-level techniques to gather more detailed, accurate data than we may have otherwise to be sure of the success of our picks.
How We Picked
Charging speed
Only a USB-C to Lightning cable and an 18W-plus Apple adapter (now available in 20W up to 96W, with the 140W type not recommended for iPhone) or a third-party model that supports Power Delivery is compatible with Fast Charge on an iPhone (available on iPhone 8 and above).
Regardless of the adapter it is connected to, a USB-A to Lightning cable will charge your iPhone more slowly.
Durability/material
The casing material is another aspect of design to consider. Apple's standard Lightning cables are covered in white rubber, but you may look for a more durable cable by choosing one with a braided nylon or Kevlar cover. If your pet enjoys chewing on cables, nylon or Kevlar is a must.
Port types (USB)
The newest iPhones include USB-C to Lightning cords because Apple and the larger tech sector are moving away from the more dated USB-A connectors. If USB-C is unfamiliar to you, it is a far more powerful charging standard than USB-A.
It is compatible with bigger devices like monitors and can transfer video, acting as a kind of HDMI replacement.
Size
People ought to think about the Lightning connector's shape as well. Most cords feature the usual straight connector, but some have a right-angle connector, which can withstand more pressure and makes the phone more pleasant to hold while it charges.
Length
You might choose a shorter or longer cable, depending on how often and where you charge as well as if you typically use your phone during this time. Lightning cables come in a variety of lengths, from 1 to 10 feet.
While playing mobile games or slouching far from an outlet while charging may require a longer alternative, charging while driving can call for a shorter cable.
Price vs. quality
The MFi certification should be taken into account to justify the price of a lightning cable. To improve the quality of aftermarket accessories and consumer trust, Apple launched the MFi Program.
To ensure the best performance with Apple products in terms of charging and data-transfer capabilities, Apple certifies that a third-party company's product complies with its criteria. Due to the certification, many customers have noticed an improvement in the quality of MFi goods.
Remember that Apple always charges a licensing fee to maintain control over the supply chain for accessories made by independent manufacturers.
Compatibility with devices
Instead of the more traditional USB-A connectors, the most recent iPhones come with USB-C to Lightning cables.
However, keep in mind that Apple no longer includes a charging brick with new iPhones, so make sure your cable is compatible with the charging block you use (for example, if your cable has a Lightning connector on one end and a USB-A connector on the other, you'll want a charging brick with at least one USB-A port, and the same is true for USB-C compatibility).
Care and Maintenance
Cord maintenance
Any cable can have its lifespan increased with a little bit of care. Most importantly, always grab the plug housing rather than the cord when removing a cable from a USB port.
By doing this, you lessen the strain on the vulnerable junction between the cable and the plug.
How to store
When not in use, we advise loosely wrapping cables as opposed to folding or otherwise aggressively bending them. Tight coils and folds can harm the cable's metal wires, reducing its lifespan and causing the cable to function incorrectly.
To correctly store your cables, Anker includes hook-and-loop fasteners with the majority of its products. These fasteners enable a loosely coiled wire to maintain its shape for small storage.
More advice for securely storing your cords may be found in our guides to the finest desk organizers and bag organizers.
Preventing port connector damage
The most frequent reason why your phone isn't charging when plugged in is usually faulty charging wires. Charging cables are repeatedly wrapped, unwrapped, and bent because some of us are unable to operate without having our chargers with us wherever we go.
These may cause harm to the charging cord. To prevent damage to the port connector, try to avoid these.
Why does my charger connect but the battery still goes down?
The software on your phone occasionally fails to identify that it is charging even when your charger and power adapter are working properly, preventing the battery status meter from changing. The solution is to switch off your phone.
You may also perform a hard reset on your phone by pressing the volume and power keys at the same time. Next, try charging it; if it works, the charging process may have been the issue.
Ensuring the charger has the adequate amount of wattage input and output for your device.
The amperage is what ultimately determines how quickly a charger will charge your smartphone. Look for a wall or car charger that delivers 2100 mA of current at 5 volts (or whatever voltage the gadget you're trying to charge is spec'd at) if you want to charge something more quickly.
Do not overcharge your device
In some circumstances, it serves no purpose to leave your gadget plugged in overnight. By doing this, you're lengthening the time it spends on the charger and hastening the deterioration of its battery.
Although a charger shuts off the power when your phone reaches 100%, it will still top off the charge throughout the night. As a result, your phone is continuously bouncing between a full charge and a little less than a full charge.
Your phone's ambient temperature may increase as a result of these trickle charges, which may eventually cause capacity loss. Since a high voltage stresses the battery, it is preferable to avoid a complete charge.
Electronic safety
Avoid charging your device using faulty cords or chargers to avoid a fire, electric shock, injury, or gadget damage. When using the charging cable, make sure the USB connector is inserted into a power adapter that is compatible before plugging the adapter into an electrical outlet.
When being used or charged, the iPhone, the charging cord, and the power adapter should all be kept in a well-ventilated space. When the charging cable is connected to a power source, avoid prolonged skin contact with the connection and charging cable as it could lead to irritation or harm.
Avoid sleeping or sitting on the connector or charging cable.