The Best Light Therapy Lamp in 2023
Mimic sunlight to help your body be in sync with the natural light-dark cycle.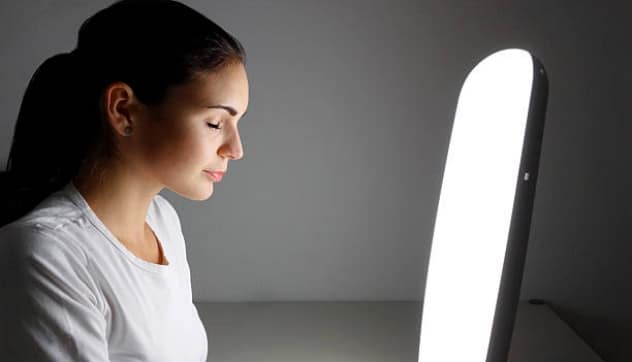 When the sun is out, people are generally nicer and they laugh more. If in a funky mood, enter a playfully colored room, wear colorful clothes, or simply turn on a light therapy lamp. But how does this work? What sparks off change once there is color and light?
Since ancient times, the sun has been placed at the center of society's activities such as farming. Temples were built to honor the sun and, more importantly, to bask in it by civilizations such as the ancient Egyptians.
This fascination with the sun sparked a slew of scientific breakthroughs. Scientists were able to isolate light that is beneficial to the skin and can help treat diseases like dementia, depression, or seasonal affective disorder without disrupting the circadian rhythm.
With that in mind, here are the best light therapy lamps on the market today.
How We Picked
Adjustability with Brightness and Colors

The perfect light therapy lamp produces up to 10000 LUX and is relatively bright. We looked at how adjustable these lights were to suit different needs. Different light colors have different benefits so the larger the color range the better the lamp.

Health Benefits (UV-Free)

As much as light is beneficial, some aspects of it, such as the UV rays are harmful to the human skin over time.

Blue light is more effective in calming the user but is harmful to the eyes. Therefore, there is a need to have a filter to protect the user.

Portable and Compatibility

What benefits do you intend to harness from the light therapy lamps and how often? The answer to this will help you decide on the size, ease of usage, and carriage of your ideal lamp.

Cost-Effectiveness

No matter how amazing a product is, its price will determine who has access to it. It is always important to look around for better prices.
Our Top Picks
Best Pick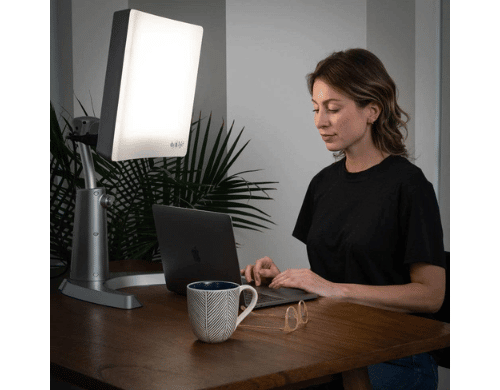 Wide area coverage.
This option may be more expensive than others, but it is completely worth it.
We like how this lamp covers a large area while remaining portable and flexible.
Runner Up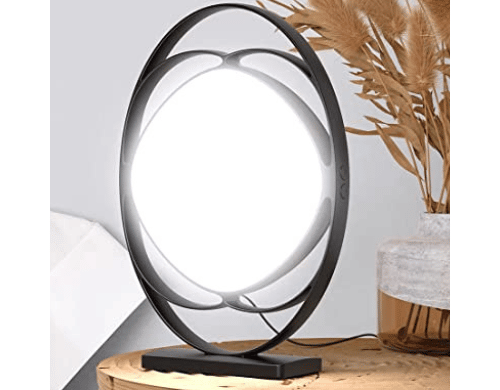 Aesthetics meet functionality.
This lamp's design and price are particularly appealing to us.
The lamp occupies a small space and can go on your desk or your room dresser.
Most Cost-Effective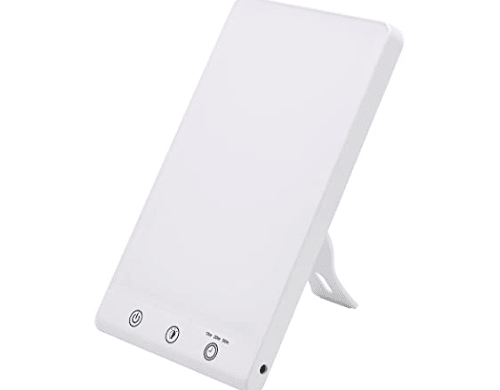 Affordable and effective.
This is perfect for your pocket and your health!

We like the price of this equipment and its effectiveness as well. This is perfect for getting the job done while on a budget.
Everything We Recommend
Best Pick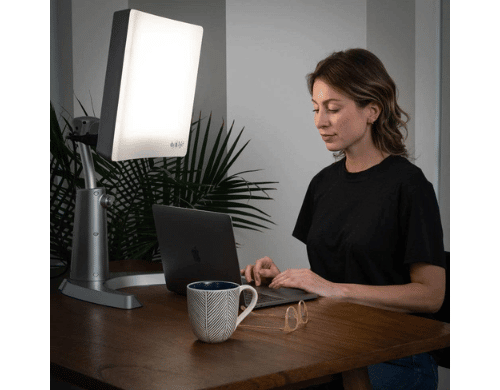 Wide area coverage.
$119.99
Runner Up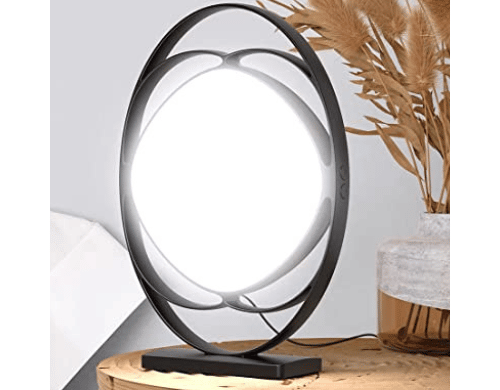 Aesthetics meet functionality.
$49.99
Most Cost-Effective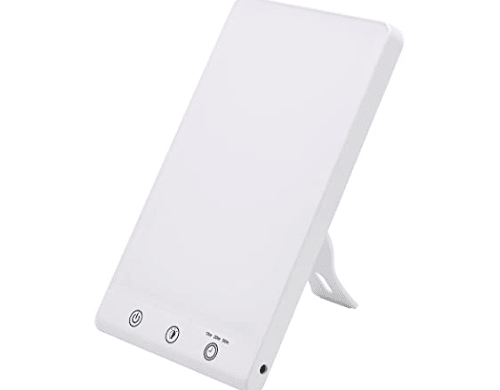 Affordable and effective.
$33.22
Who This Is For
If you hardly go outside or just leave your house to your office, which is another enclosed space, then you are not getting the proper amount of natural sunlight required by your body and cells.
If your skin has breakouts, you need a pick-me-up, or you are diagnosed with ailments ranging from mental to physical well-being, then you need to invest in these lamps.
Are light therapy lamps worth it?
Statistics place the average American at spending 90% of their time indoors with no direct exposure to sunlight.
In this current fast-paced environment where people are working indoors for extensive hours, very few get to bask in natural light and that is where an investment in this technology is worth going.
What is SAD?
We cannot talk about light therapy without mentioning SAD. SAD stands for seasonal affective disorder. This means that you become sick due to seasonal changes. The disease needs to be diagnosed by a certified doctor who will look at your medical history and run tests.
A person with SAD experiences mood changes and depression at certain times of the year, from around fall and it gets worse during winter because of the reduced light.
Do light therapy lamps work for other mental health issues?
Light therapy lamps stimulate serotonin secretion in our bodies. Serotonin is a feel-good hormone that is activated by a variety of factors, including sunlight, which produces vitamin D, which then converts to serotonin.
People with mental health issues have low serotonin levels and this is where therapy lamps come in handy. They help the patient get better without needing to go outside which can heighten issues such as anxiety.
Issues of Light Therapy for Bipolar Individuals
While light therapy is a mood booster for people with depression, the results might not be as desired if the individual has bipolar as it may trigger mania.
Specialists are still studying how light therapy can be used as a treatment. We suggest that before purchasing a light therapy lamp, consult your doctor, especially if you have bipolar.
Why You Should Trust Us
In a world where you are bombarded with news, we take the time to research and validate all claims made in this article. We went a step further and read product reviews by users and compared them to what the brand stated they offered.
You have our word that we put a lot of research time into this article and we only picked what we saw was perfect for you.
How We Picked
Bearing in mind that we were looking for the right light therapy lamps for our clients, we used various categories and the first determinant was Price. How much will you spend on this lamp and will it be a worthwhile investment?
We, therefore, offered a range so that you can pick what best suits your needs.
We looked at the lamps that provide full health benefits against their counterparts and price range.
Given that the main purpose of these lamps is therapy, we were keen to look at the UV exposure and the steps taken to prevent these rays from damaging your skin.
Some lamps allow you to regulate the brightness and intensity of the LED bulbs. This is especially useful for people who have light sensitivity but also want to soak up the benefits of light. The therapy light can then be converted into a regular reading light after the first 30 minutes.
We also looked at the ease of setting up the device given that most of the lamps are for personal use.
The size and weight of the lamps are also factored in given that there are different sizes for different needs. For instance, if you travel a lot you might want a compact, portable lamp for convenience.
Some lights have a wide range of colors to choose from. You can opt for either warm or cool and this allows for personalizing the light therapy experience. Still while being multifunctional, some have alarm clocks or functional features such as phone charging slots or USB ports.
Some have aesthetically pleasing designs that elevate the feel of your rooms.
Care and Maintenance
Before purchasing a light therapy lamp, make sure your doctor has given you the okay. Particularly if you have a history of bipolar disorder or are taking medication that may make you photosensitive.
When you purchase your 10000 LUX light therapy lamp, read through your user manual so that you connect it correctly and can reap all the benefits. Use the lamp as soon as you wake up for 20 to 30 minutes.
However, do not stare into the light as this might be strenuous to the eyes. You should see the change in your body in two weeks or so. Use the light for as long as you need to.
Most lamps will come with a blue light filter to protect your eyes and an anti-glare feature for the lamp as well.
However, if the light still affects your vision, see an optician.
When you need to clean your space, ensure that the power socket and your equipment are turned off to avoid any accidents associated with electricity.
You can then use a damp cloth or sanitizer to clean the outside of your lamp. Do not touch any exposed wires.
If you are moving your lamp, take care of your wires and cables by loosely folding them after a wipe-down with a damp cloth. Ensure that they are well placed to avoid any electrical accidents.
You can ensure that your bulbs are clean by wiping them down using a damp cloth and then following that up with a soft lint-free wipe. Make sure that the lamp has been switched off for a while before you commence with this cleaning.
If you need to change your bulbs, look for the same ones from your lamp manufacturer to avoid equipment malfunction.
Always store your equipment in cool and moisture-free spaces. Preferably, keep it in its original packaging, that way you can keep dust off it as well.