The Best Leggings of 2023
Check out our list for the best leggings for running errands, yoga, exercising, and everyday wear available on the market!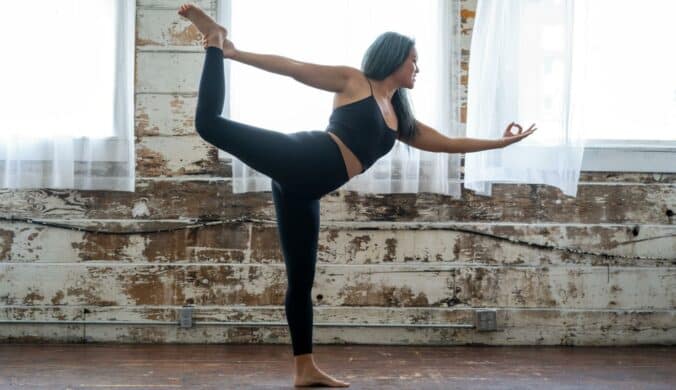 Finding comfortable, breathable, and convenient leggings can be a task. You spend a lot of time looking for the perfect leggings but end up with one that is oddly shaped or doesn't fit well.
Some ladies have given up the search and moved on to other pants, but the fight is not over yet for you. As challenging as it is, you can still find the perfect leggings to wear any time. From bold colors, fun prints, basic cotton, crop, full length, spandex to polyester and everything else you'd desire in a pair of leggings. We have taken the time to research, test, and evaluate some great options on the market today.
How We Picked
Material

A good pair of leggings are made from the perfect fabric like cotton. It should be breathable, high quality, and long-lasting. We choose only leggings that feel great when wearing and don't fade after washing.

Comfort and Fit

Leggings are best for comfort. Most are for running errands, yoga, exercising, and relaxing. We picked the leggings that offer you maximum comfort and fit like a layer of perfect skin.

Durability

Finding the right size of leggings is challenging. But when you find a good pair, you need it to be durable and long-lasting. That way, you can be comfortable, and the seams won't bust when bending or stretching.

Cost-Effectiveness

You can find the perfect leggings within your budget. It's best to decide what you're comfortable spending on a pair of leggings first, then look within that range.
Our Top Picks
Our Top Pick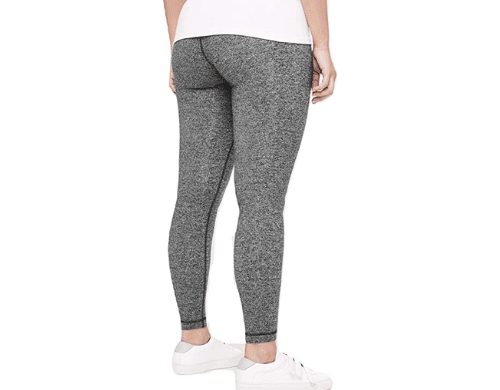 Lululemon Wunder Under Yoga Pants are designed with a high-rise fit and flat seams to provide 360 degrees of unrestricted movement.
Lululemons leggings are made from high-quality stretchy fabric for extra comfort. The leggings are soft and perfect for ladies of different sizes and shapes. The pants are soft and supportive around the waistline. They tuck everything at a high waist and make you look slimmer and fit. They are also breathable and sweat-wicking to prevent embarrassing stains or odors after your exercises. In addition, you get waistband pockets that can hold your cards and pocket keys.
This cottony-soft high-rise take provides you with the extra boost of confidence you need when stretching your limits.
Our Runner-Up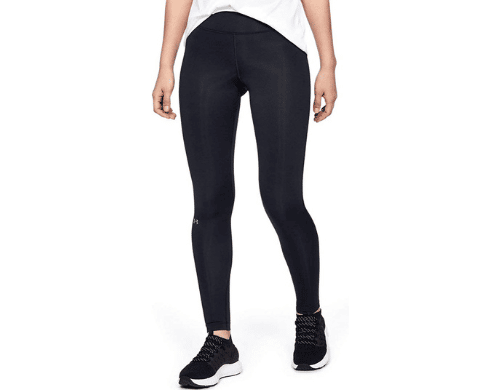 These compression leggings have a nice tight fit and are double-layered for warmth.
These Under Armour leggings are made of 7% polyester and 13% Elastine for maximum comfort. It has an elastic closure around the waistband to ensure it doesn't make your tummy uncomfortable or have a visible break around the waist. The leggings are also designed with compression features to ensure the pants fit like an extra layer of skin. The material is also lightweight, warm, breathable, and smooth.
It comes with an ultra-warm base layer that keeps it dry and warm without riding up.
Most Cost-Effective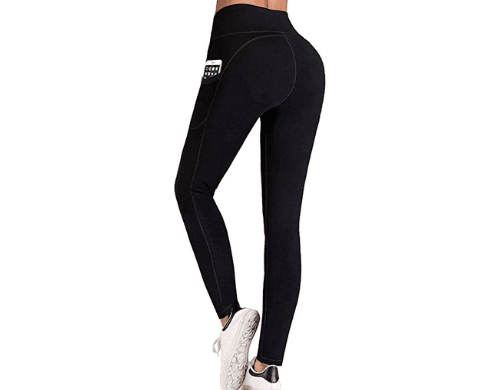 Soft, non-see-through pants with compression capabilities.
Iuga yoga pants are a lifestyle brand designed for your comfort and high-end style. They are made of high-quality material that is super soft, comfortable, and stretchy to promote support and extra compression. They are also thick and non-see-through to avoid the oops moment when you step out on a sunny day. The stretchy feature makes them convenient for yoga and exercise. They are also made with durable stitches that won't bust open when stretching or using gym equipment.
These pants are soft, comfy, and non-see-through promoting compression and support with their four-way stretch material.
Everything We Recommend
Our Top Pick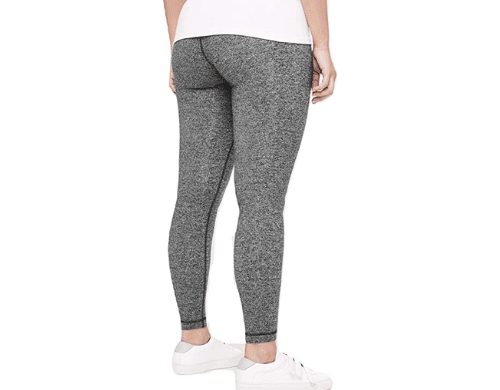 Lululemon Wunder Under Yoga Pants are designed with a high-rise fit and flat seams to provide 360 degrees of unrestricted movement.
Our Runner-Up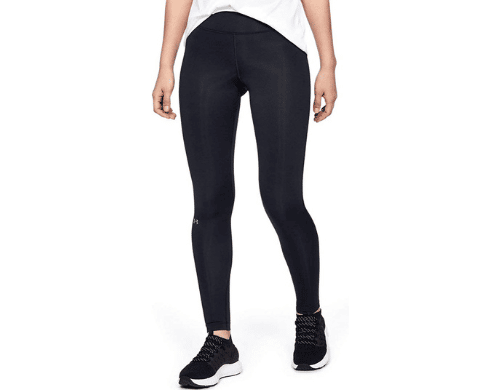 These compression leggings have a nice tight fit and are double-layered for warmth.
$54.99
Most Cost-Effective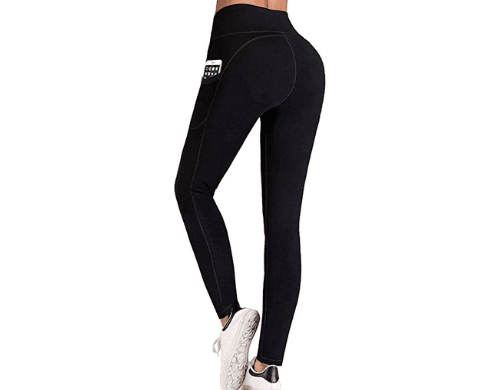 Soft, non-see-through pants with compression capabilities.
$23.99
Who This Is For
Leggings offer ultimate comfort by giving you a second skin feeling. Every modern woman's wardrobe ought to have a pair of leggings. Even though not everyone loves dressing up leggings as 'on-display' pants, they are good when layered under sweater dresses or dresses with ankle boots, tall boots, ballet flats, etc.
This article is for women looking for ultimate comfort when biking, yoga, in-house wear, running, and cardio work from leggings. Leggings come in different styles that offer gentle shaping and don't feel tight or leave red marks on your waist.
Leggings vs. Tights – is There a Difference?
Tights are somewhat different from leggings. The main difference between the two is that leggings are opaquer compared to tights. Thicker opaque tights often have 'see-through' in them. Additionally, leggings are footless while tights are sheer and cover the foot – tights are usually worn under another garment. Some manufacturers also refer to footless tights as leggings.
Is It Worth Splurging On?
The average American spends more than 3 percent of their disposable income on clothes and workout clothes.
Spending on workout wardrobes can be quite expensive; some decisions are better than others. For instance, investing in a pair of leggings that will last for years of yoga or workout makes a lot of sense.
You can splurge on leggings, but only quality pairs fit you well because leggings can be pricey.
Why You Should Trust Us
We all know customer reviews on products are very important, and they influence the decisions of new customers about whether to consider a product or not. To understand more about how customers who have used leggings from various brands think, we reviewed customer reviews from famous stores selling leggings. These reviews expose the true nature of the materials that brands use to make the product and how they affect customers' experience with the products. We focus on various textile types brands use to create leggings and how they improve the product's overall rating.
How We Picked
It is essential to note that not every legging is best for everybody as we all look for different aspects in a product – comfort, type of material, unique design or size, etc. In this guide, however, we discuss the unique features that make up the best leggings.
Material/Fabric
Leggings come in different fabrics, from matte ones to shiner ones. Some leggings that have recently become fashionable are made of faux leather. However, the look you go for depends on how you intend to wear them. The feel of the fabric in leggings when you touch and wear them is very important. We focused on material that would retain its feel and shape through many washes and wears– be it stretchy or compressive. Leggings that felt too hot and slack in support did not meet our cut.
Comfort + Fit
A good pair of leggings can feel nice to the touch, but that won't mean a lot if they are uncomfortable and fit you well. Some customers seem to like well-paced leggings that seem to fill well. Additionally, a pair with the correct sizing does not sag in the crotch or look baggy in the knees and stays put in all workouts and activities,cut one of the best.
Please note that leggings have the same size labeling conventions as other categories of clothes, such as jeans.
Sizes
Sometimes, the sure way to find leggings that fit you is by determining why your current pair is not working for you. How does your crotch area seem to appear?
Is it too much pooled when you put it on? If it is, that size does not fit you, and you should consider sizing down. Moreover, when you walk or perform a yoga pause in leggings, they should not pinch or pull. The best leggings should maintain their shape when used on different occasions, so they do not pool too much in your crotch area.
Design/Style
Everybody has their design or style. Some modern leggings have more seams, panels, and pockets that you can choose. Some of these features may be pure designs, but some features add to the overall performance of the legging – for example,they help gently shape the body. Athletic leggings have pocket designs for storing devices and keysand keeping your hands free when working or running. Quality leggings have pockets on the waistband so that your lower is somewhat freer.
Durable
As some quality leggings can be expensive, you will save a lot if you pick a durable pair. Moreover, running or cardio workouts call for durable pairs of leggings that can power through your workouts. Durability depends entirely on the material and fiber that make the garment. While you may not need a durable legging since you don't perform power workouts, a snuggling pair may wear off quickly. Depending on the occasion, we considered durable leggings that have quality material so that they may last longer and save on future costs.
Performance – As Activewear
You need pairs that feel good during your active hours as they would at rest.
How quickly do they dry out after a sweaty exercise? Are they relaxing and soft during the activity? Do they maintain their shape during exercise? You wouldn't want leggings that slip when running or bending over in your yoga session because they are low-rise. We recommend high or medium-rise leggings for yoga and fitting ones for athletic purposes.
Price
Since we are all on a budget, it is important to find a deal when purchasing leggings. Be warned when purchasing very cheap leggings, as they may become transparent or loose after a few washes and buggy in the crotch area or legs.
Regardless, some brands offer good prices for some of their quality leggings, so we considered brands that offer such deals.
Care and Maintenance
How to wash and dry
Use a sport-specific detergent since many leggings are made from a mixture of materials. Add minimal liquid soap or detergent when cleaning your leggings so that no excess is left on the legging, which might hinder sweat-wicking features in some. Use cool water since many fabrics cant withstand high temperatures and may break down. However, you might need to check your care label before a hot wash. Please don't put your pair of leggings in the dryer as it can weaken the stretchy fabric and may start hanging. Instead, hang them over a laundry rack or clothesline. If you must use the machine, some have options that do not use heat, which can be safe.
Is it machine washable?
Yes. It is perfectly harmless to have your pair of leggings in the washer but inside out and choose a gentle cycle with a low final spin setting; hence you avoid exposing the fabric to excessive abrasion.
How to store and where when not in use?
You can fold your leggings and store them in a dresser drawer. Alternatively, you can hang your leggings with other pants in your closet. You can also separate them by color. Depending on your storage preference, rolling up your leggings can be great. To roll, start folding them in half by placing one leg over the other. Repeat but bring the ankle up to the waistband so they fold at the knee. Then roll them up to finish. Use storage boxes or shelves to keep the rolled pairs upright.