The Best Leaf Blower for 2023
Affordable leaf blowers for easy removal of debris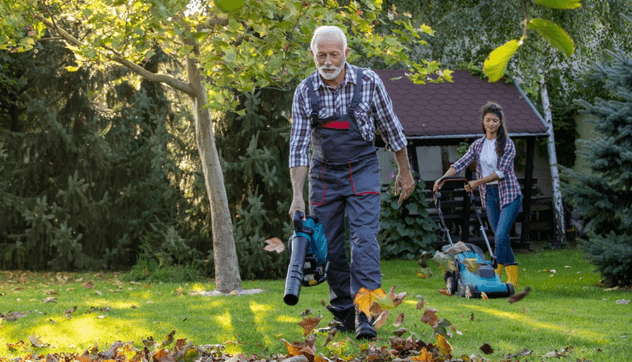 You probably have considered buying a leaf blower if you want to keep your yard in good shape, especially if your property is subject to the whims of the seasons. Grass clippings may be easily removed off driveways with leaf blowers, and they can even be used to remove snow from decks. If you're short on time, leaf blowers are a fantastic purchase. Rather than painstakingly raking and clearing your yard of debris, you can whip out your leaf blower and finish the task in a matter of minutes. Leaf blowers are available in a wide range of designs and sizes, from lightweight portable devices to heavyweight machines of professional quality. Your particular demands, such as what you plan to use the blower for, the size of the area you need to clean up, and your budget, will ultimately determine which leaf blower is best for you.
When using the wrong leaf blower, you could feel like using a rake only to move the few leaves that have fallen on your front lawn. With this in mind, we have developed a variety of options that are accessible on the market to give you a full buyer's guide. You should be able to discover a solution, regardless of whether you need the mobility to manage vast amounts of leaves, the strength to move moist debris mounds, or just occasional assistance cleaning off the patio.
How We Picked
Power/Blowing Strength

The blowing power of a cordless blower will have a big impact on how you utilize it. Some might work wonders for helping you with fall leaves, while others might be limited to modest sweeping. Always choose models that have larger CFM and MPH capacities. The higher these measures are, the simpler it will be for you to remove heavy trash in a shorter amount of time.


Size + weight of Blower

It can be exhausting to use a leaf blower if it is too heavy for you. While weight and power are often inversely correlated, there are many backpacks and handheld leaf blower designs that are light without compromising performance. All of our recommendations have been weighted such that they won't exhaust you.


Width of blowing range

When selecting a leaf blower, the blowing distance is a crucial deciding factor. You can cover more terrain at once with a larger blowing range, which makes it simpler to quickly clean huge areas.


Cost-effectiveness

A dependable leaf blower doesn't have to cost a fortune. To help you make the best value for your money, we chose leaf blowers that strike a mix between price and performance.

Who This Is For
These leaf blowers are intended for both professionals and homeowners who are searching for a quick and effective solution to tidy up their lawns or other outside areas. A leaf blower can help you achieve your goal, whether it is to quickly remove enormous quantities of lawn clippings, clear your driveway, or do any other task.
Are Leaf Blowers Worth It?
Leaf blowers can do a lot of things that rakes and mowers can't, in addition to working more quickly and with less effort. Blowers can be used to remove leaves from dense ground covers as well as pine needles from gutters, dust from garages, and grass clippings from driveways.
Wired vs Battery-Powered vs Gas-Powered Leaf Blower
Leaf blowers with cords are lightweight because they don't need batteries, are affordable, and have an endless runtime. They are perfect for backyards with outlets within 100 feet of your work area. They deliver power that is almost as powerful as motors fueled by gas. To utilize them, they must be connected to an outlet, so keep that in mind.
Gas leaf blowers offer tremendous power and the benefit of being cordless. Gas-powered models are the best option for large properties that need an endless range and long running times, as well as for homes without readily available power outlets. However, most of the gas blowers have two-stroke engines, which necessitate mixing gas and oil during routine servicing.
Usually less expensive than fuel variants is a leaf blower that runs on batteries. Battery leaf blowers typically cost less since they are less feature-rich and provide less power.
Furthermore, a rechargeable battery leaf blower is much lighter than a petrol-powered one, making it simpler to handle. Additionally, you are not constrained by the distance you may move with them because they are cordless. You won't have to use ear protection when using battery-powered leaf blowers because they make a lot less noise than gasoline-powered ones.
States in the US Where Leaf Blowers are Illegal
Thousands of American cities and counties have passed regulations that limit or outright prohibit the use of leaf blowers. Leaf blowers may only be operated during certain hours of the day in some locations, while gasoline-powered models are outright prohibited in other locations. The many rules all work to reduce noise and air pollution, even though different places have varied regulations. Several states, including California, Colorado, Illinois, Massachusetts, New Jersey, New York, Texas, and Vermont, have laws that expressly address leaf blowers.
Why You Should Trust Us
To gain a clearer understanding of the information relevant to the products, we took the time to read a lot of reviews and customer comments. By considering factors such as blowing power, range, cost, size, and weight of the blower, we were able to compile a list of leaf blowers that are useful.
How We Picked
Power/blowing strength
Your next buy should have sufficient power, but you also need to pick a product with a good balance of the other two factors. The two metrics you should pay attention to are the MPH (miles per hour) and CFM (cubic feet per minute), both of which are high and have similar values. More leaves can be blown away at once with a higher CFM. Moving heavy garbage or damp leaves will be made simpler by a greater MPH. Examine these two figures in conjunction with one another to determine the power of a leaf blower. To make sure that it will be simpler to remove the leaves, we have made sure that our selections adhere to this standard.
Width of blowing range
The blowing frequency is a significant determining element when choosing a leaf blower. A greater blowing range allows you to reach more ground at once, making it easier to speedily clean vast areas.
Size + weight of the blower
The benefit of a leaf blower is that the air blast does the entire job, saving you from having to strain your arms and back with all that combing. It follows that you're doubtful to take up a leaf blower that weighs a ton. Feather-light leaf blowers are easy to carry for extended ages of time. On the other hand, heavier models could call for further frequent breaks and exhaust your arms. A feather-light model is the finest leaf blower for you if weight and weariness are issues. To help your leaf-blowing design from getting tiresome, we took into account the size and weight while choosing our choices.
Cost-effectiveness
You don't want to buy yard equipment that is so expensive that it would nearly be cheaper to pay someone to perform the work for you. It might be good to get a less expensive model if your yard is modest or not overrun with leaves. Our wide range of choices consists of affordable leaf blowers.
Ease of use
Due to their smaller weight and ease of movement around obstacles without risking injury or tipping over objects, handheld blowers are simpler to handle than walk-behinds. In general, robust yet portable leaf blowers offer the greatest advantage, effortless transportation, and potent performance. While selecting our products, we took user-friendliness into account.
Design/style
It's not uncommon for yard work to last all day. Additionally, while you're working hard in the heat, little things that you previously didn't give much thought to like how comfortable it is to use your tools become crucial. Examine the possibilities tailored to your requirements if you're looking for a leaf blower that is comfortable to use. Perhaps you require a portable blower with a balanced weight, an ergonomic grip, or a strap with padding. Our range of options has been carefully selected to include unique and attractive elements that adhere to your standards.
Warranty + durability
There ought to be a limited operating warranty included with all leaf blowers produced by reliable companies. This guarantee covers production flaws and other issues that are a direct result of poor production. We made certain that our selection of options includes a warranty.
Care and Maintenance
How to clean
Cleaning your tools is the simplest and most obvious approach to maintaining them. Always read the user handbook before using a leaf blower. The device should be disassembled by the user handbook. It will also be helpful to examine the specific items you'll be cleaning and determine their solubility.
When working with the nozzle or the exterior surface, pure water can be helpful. It's doubtful that anything will break or damage any paint. However, exercise caution when using electrically powered blowers, and read the user guide before applying any liquids.
In general, you should use a towel or rag for cleaning because it does the least damage. Use brushes only when necessary, such as when cleaning dried muck, as they might harm softer surfaces. Tube brushes are useful, particularly for the nozzle. In particular, for the internal components of electric blowers and air filters, compressed air cans may be useful.
Where and how to store when not in use
If the leaf blower is not stored properly, several of the parts may quickly become damaged. To protect the wiring system from rusting and other damaging factors, a leaf blower ought to be kept in a cold, dry location.
The garage is typically the best spot for individuals to keep their leaf blowers. You may easily install the leaf blower to a wall-mounted tool rack if you have one. Additionally, you want to keep them away from regions that receive direct sunlight.
Safety instructions for use
You should dress appropriately to help ensure safe operation whether you're using a gas-powered or battery-powered blower. You should put on the proper clothing to operate your blower properly. This comprises heavy-duty, non-slip work gloves, eye protection that meets regulations, and either ear muffs or ear plugs for hearing protection.
Use the battery and charger that are recommended for your specific blower model whenever using a battery-powered blower. Remove the battery from your blower when it's not in use and keep it somewhere separate and out of the sun.