The Best Lawnmower for 2023
Spare yourself any unnecessary stress and use these lawnmowers to maintain your grass lawn and fields in the perfect state ever!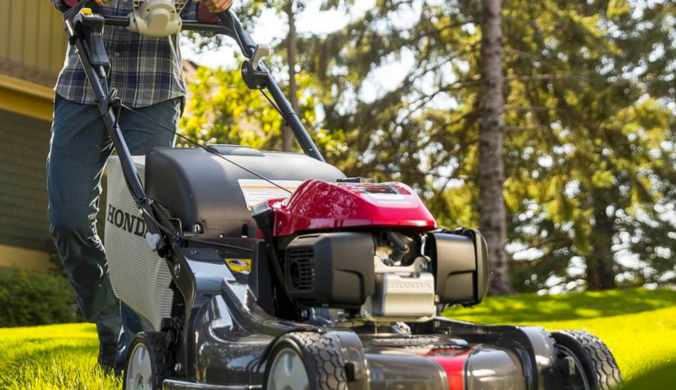 Since you've got a neat backyard with some grass on it, let's think of how you can maintain your backyard's landscape! Besides mowing, weeding, and watering you need to do lots of work to have it in the best condition possible! You may use a leaf blower or a lawn aerator but we're suggesting that you focus on one of the most amazing things ever invented for your landscape – the lawnmower.
A lawn mower does the chopping of long grass patches, trimming of well-kept parks, mowing of grass to an acceptable height, maintaining the height of the grass in desired fields, grooming lawns of grass, and moving in all directions with the help of rollers or wheels by the pushing of their handles or direction of their steering wheels as they maintain the desired grass level.
As you may encounter different kinds of lawnmowers, we worked hard to make your selection of one an easy thing.
How We Picked
Durability

We selected lawnmowers that proved they could last for a minimum of 10 years under careful maintenance and proper usage.

Performance and Ease of Use

Since one of the advantages of using a lawnmower is the ease of use we gauged this attribute coupled with performance.

Style and Design

The look developed by the manufacturer of each lawnmower was evaluated against ergonomics and work delivery.

Cost-Effectiveness

The price-to-value ratio was used to test the ability of lawnmowers to be durable, viable, and useful to society.
Our Top Picks
Our Top Pick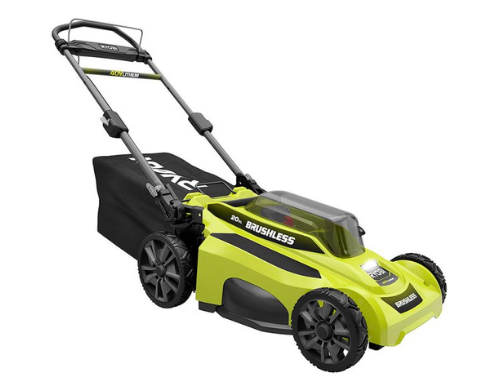 RYOBI offers a time-saving lawn mower through its 40V Cordless Battery Walk Behind Mower.
The RYOBI 40V Cordless Battery Walk Behind Mower has revolutionized the practice of mowing grass through electricity. This lawn mower offers a 40-volt lithium-ion battery that offers enough power to mow the grass without the need for a direct AC connection. The high customer ratings confirm that this lawnmower is the best tool in landscape maintenance.
Save ample time when you cut grass.
Our Runner-Up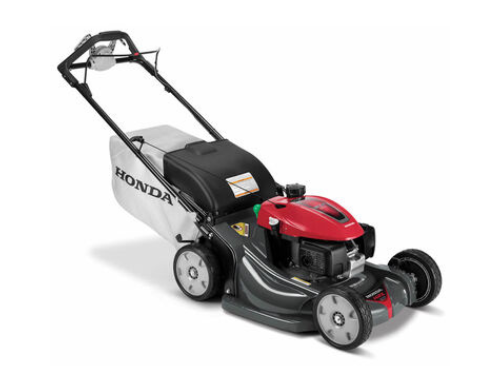 Honda created the self-propelled Nexite lawn mower that suits motivated people.
This lawn mower seeks to serve motivated persons with the help of its self-propulsion. It boasts of the variability of speed through its Select Drive® feature to aid the grass cutter by reducing the workload at hand. The HONDA Nexite Select Drive Self-Propelled Lawn Mower uses a four-in-one Versamow System™ that facilitates its mowing function.
Self-propelled top-performance quality landscaping tool.
Most Cost-Effective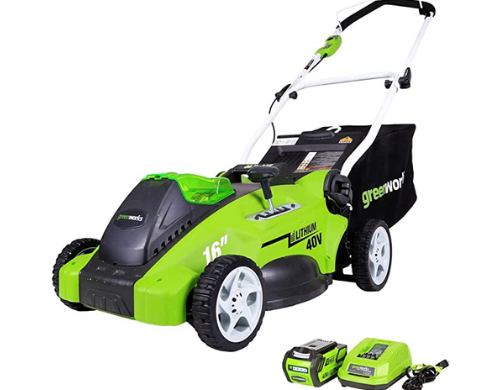 The Greenworks 40V Cordless Lawn Mower is a cheap and easy way to mow a grassy backyard.
The GREENWORKS 40V Cordless Lawn Mower is an easy way to mow your lawn. With two hours of changing time it allows you to cut through the grass while protecting the environment. It features a light deck that allows you to maneuver easily through smaller yards.
Ease your day with a value-for-money mower.
Everything We Recommend
Our Top Pick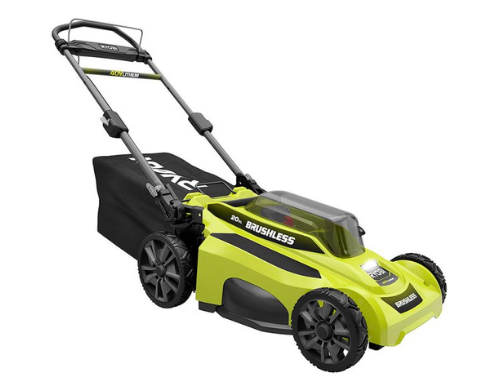 RYOBI offers a time-saving lawn mower through its 40V Cordless Battery Walk Behind Mower.
Our Runner-Up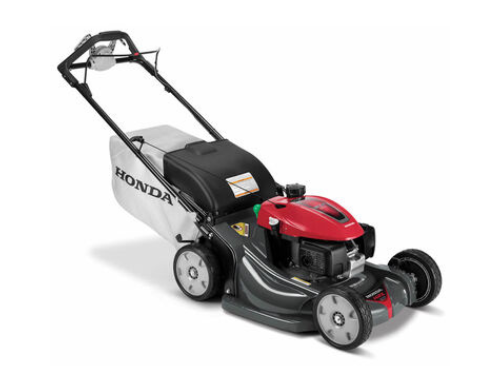 Honda created the self-propelled Nexite lawn mower that suits motivated people.
Most Cost-Effective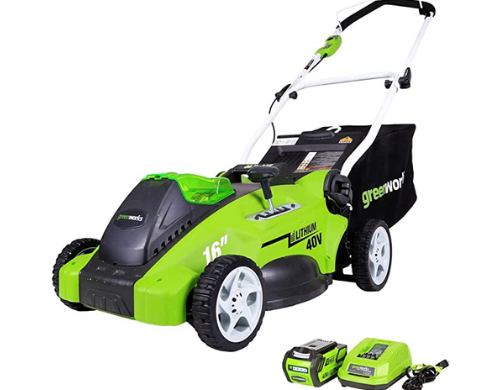 The Greenworks 40V Cordless Lawn Mower is a cheap and easy way to mow a grassy backyard.
$319.99
Who This Is For
Lawnmowers are tools designed for parties willing to mow down grass or plants rather than use other traditional implements like slashers to tackle such overgrowth.
Different Types of Lawnmowers
All lawnmowers can be classified as reel lawnmowers or rotary lawnmowers.
Reel lawn mower
This is a lawnmower that uses a reel – a cylinder – of rotating blades to cut grass and other plants that require mowing.
Rotary lawnmower
This lawnmower uses a single horizontal blade to cut plants, most often grass, in a rotating motion.
Is Gas or Electricity Better for a Lawnmower?
Gas is better for a lawnmower as it tends to make it more powerful than a lawnmower powered by electricity. An electric lawnmower is very expensive to maintain due to its higher-priced spare parts when compared to a gas lawnmower.
Why You Should Trust Us
Focus has been placed greatly on marketing string trimmers and chainsaws that are not convenient for cutting rolling fields of grass. Due to this, we researched lawnmowers that are required to maintain your backyard.
How We Picked
As we researched for the right lawnmowers to use on your property, we came across a wide range of available products. Our research approach was through meeting customers in the marketplace who were also searching for the best after using several brands. Customers preferred durability in a lawn mower to enjoy its performance quality and speed for an adequate ROI. The experiences that the customers had included learning how to use a lawn mower, falling in love with their lawnmowers, sharpening the lawnmower's blades, and saving huge amounts of money. We believe that you will place your trust in us as we're backed by this first-hand data.
Our study also looked at how easy it was to sharpen a blade, whether the lawnmower was electric or gas, the comfort offered by the handles of the lawnmower, and the ease of maneuvering the machine. Our top picks had to feature ergonomic handles, acceptable styles, and designs, adequate cutting width, a functional grass catcher, and if cordless a very powerful battery and flawless charging experience. Our selection included choices that included the view of the most frugal members of our society by gauging the cost-effectiveness of the lawnmowers.
Durability
A lawnmower may last for at least 10 years and you may feel that you've got a good run for your money after about four years of use. Therefore, we tested the length of the useful life of each lawn mower.
Performance Quality
We searched for lawnmowers that were rated as high performers in cutting all sorts of mowed plants; an essential quality to its operability.
Speed
Statistics indicate that the average speed of a lawn mower is about the jogging speed of a human being. Thus, the lawnmower's speed had to pass our jogging-speed test.
The sharpness of Blades
The degree of sharpness of blades in lawnmowers was similar to that of a butter knife, which we used to evaluate the efficiency of the lawnmower in mowing grounds.
Electric or Gas
The fuel and power source of every lawn mower was scrutinized and classified as either electric or gas by both clean energy advocates and conservationists.
Ease of use
The ease of use, in particular, maneuverability, was expressed by the users of lawnmowers to vote for the best lawnmowers.
Comfort
For lawnmowers with riding capabilities, we chose the most comfortable options according to reports from frequent users of these items. This attribute was also measured in other kinds of lawnmowers.
Ergonomic Handles
Based on scientific research, we tested if lawnmowers had ergonomic handles that tilted at a comfortable angle of between 45° and 70°.
Style/Design
The styles and designs available for lawnmowers were identified and tested if they promoted the practice of mowing lawns effectively.
Price vs Quality
The value-to-price ratio was our main test that evaluated if our picks were either cost-effective or -ineffective.
Size of lawn
The size of the lawn recommended based on the cutting width of a lawn mower, was used to evaluate the best lawnmowers.
Cutting width
Since the recommended size of the cutting width of a loan mower is 14 to 72 inches, we used this range as a benchmark for picking the top lawnmowers.
Cutting catcher
We searched for the presence of the cutting catcher in each lawn mower. Customers helped in informing us of the effectiveness of the cutting catcher.
Power/Battery Life (if cordless)
The best electric lawnmowers were tested if they could last for at least 30 minutes to cut from a third to half an acre of grass fields.
Length of cord (if corded)
Based on power ratings, we verified if lawnmowers could enjoy lengths of cords up to 100 feet long.
Care and Maintenance
To prevent lawnmower injuries, avoid placing your fingers near the bottom of the lawnmower, or even lifting it from that side. In the case of a lawnmower blockage, you can use the kill switch to turn it off in an emergency or switch it off the traditional way and then remove the blockage by inserting and using your hands. Ensuring your lawnmower's blade is sharpened, if it requires sharpening, hire professional hands to assist you or do it with a file and wrench in your garage.
Store your lawn mower properly to prevent your lawn mower blades from breaking and rusting. Lookout for any obstacles such as roots, holes, stones, and excessively long grass before mowing your lawn. You're encouraged to mow in a circular pattern for ease in avoiding obstacles and mowing around them.