The Best Knife Set for 2023
A solid knife set can make all sorts of kitchen tasks easier and safer.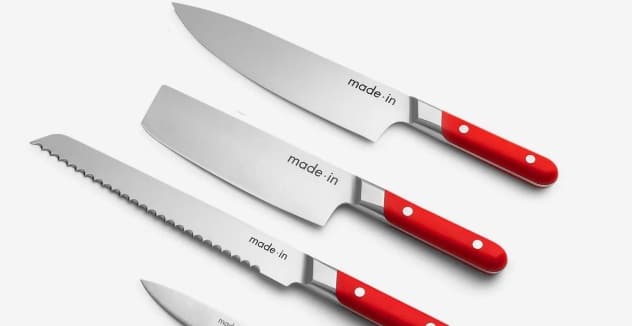 Knives are one of many essential tools in the kitchen. If you enjoy cooking, then you know that having a good set of knives is essential. While some knives are designed specifically for cutting meat, others are better for cutting vegetables or cheese. Investing in a good set of knives is the best way to get the most out of each knife.
A knife set provides you with a choice of knives for usage; with a comprehensive set of knives, you can simply cut anything with the appropriate knife. To help you get rid of the old practice of cutting various components with the same knife, we've recommended some great options.
How We Picked
Type/sharpness of blade

The purpose of a knife is to make you cut with ease, so a sharp knife is a must. And, the sharper the better. We also recommend the complete knife set that includes knives for various uses.


Type of handle

The handle of your knife should be robust and solid so that you may cut things easily and safely. A knife with a sturdy and solid handle is less likely to slip away and cause an accident.


Includes most necessary knives

As previously said, we will provide you with a knife set that comprises a variety of knives for use. The chef knife and other handy tools are included.


Price

The point of investing in a knife set is that you don't need to spend a fortune on a knife. We picked the knife set that gives you good value for money.
Our Top Picks
Best Pick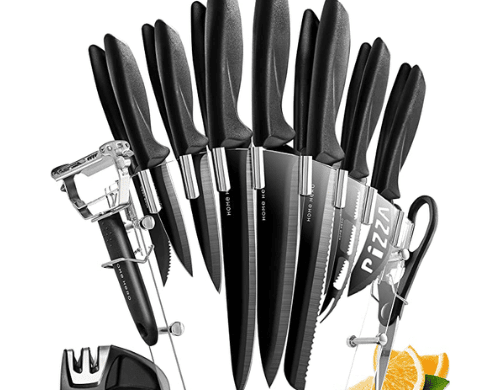 A non-sticking black coated knife set
All-in-one complete set, ideal for all your chopping needs.
This set has 17 non-sticking black coated knives that provide a wide range of blades for usage with a non-slip Polypropylene grip to ensure safety. providing you with the greatest and most comprehensive knife set for your kitchen in a single set. This Home Hero Kitchen Knife Set is the perfect choice for your home and kitchen.
Runner Up
Knives with strong and firm handles.
Superior stainless steel blades for precision and accuracy
The Cuisinart Color Pro is a knife made from superior stainless steel and has a strong and firm handle that gives you comfort and steadiness while cutting. This knife set is also available in two different colors for your preference of color.


Most Cost-Effective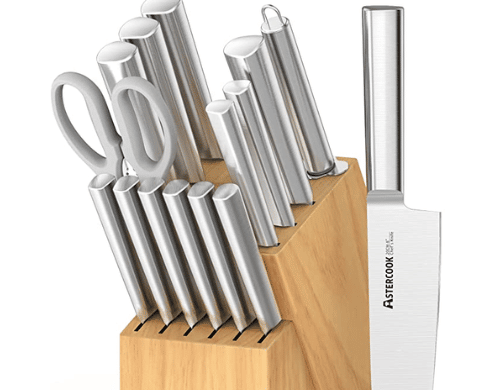 A German stainless steel knife set.
Also makes for a great wedding gift for your friends or Mother's Day gift for your mother, or a gift for yourself!
A knife set made from german stainless steel that helps you cut effortlessly and comfort with an elegant coating that covers both the blade and the handles, offering sharpness and durability in its knives. This is the knife set that will present you with a great value for money with its 15 choices of knives available for use.
Everything We Recommend
Best Pick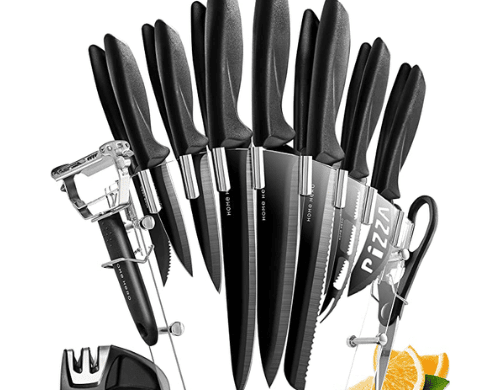 A non-sticking black coated knife set
$42.99
Runner Up
Knives with strong and firm handles.
$59.45
Most Cost-Effective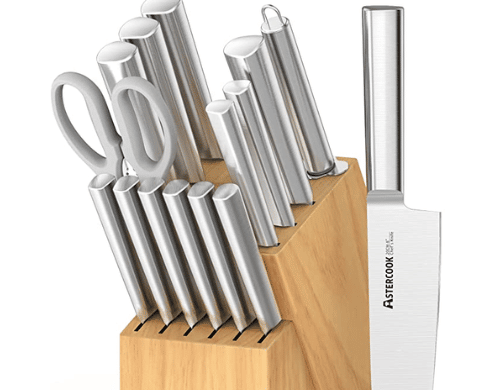 A German stainless steel knife set.
$49.99
Who This Is For
This review is for those who are looking to get a knife set for their kitchen applications. Investing in a kitchen set is arguably better than buying a single knife separately, it saves you the hassle and money.
Knife Sets vs Buying Individual Knives
While getting a single knife looks cheaper at first, you end up spending a whole lot more for different types of knives. Buying a knife set is a fantastic way to enter the culinary world of sharp things, but it's easy to forget that you're not just buying a set of knives — you're buying a set of knives plus a stand or block, plus some kitchen shears, plus a sharpener.
Does It Make For A Good Gift?
Getting a knife set for a gift is a good idea as it Is a useful kitchen appliance that can be used every day. From newlywed couples to parents' wedding anniversary, getting them a knife set as a gift surely is a smart idea.
Why You Should Trust Us
Before making our picks for the best knife set that we can recommend to you, we take the time to gather various information regarding the knife set. We make sure that the recommended knife set has good quality, provides you value for money, and most importantly, is safe to use.
How We Picked
With all the variety of knife sets that were available for purchase on the internet, we picked only those who passed our selection criteria. There are some standards that we implemented before we can have our picks of the recommended knife set. Here is how we pick these items for you.
Firstly, we picked the knife sets that have at least 10 pieces of knives in one set. This includes primarily the chef knife, bread knife, carving knife, paring knife, and steak knife. Some of our picks even come with a sharpener or a scissor. Of course, there are other types of knives like santoku knives that were also in our points of criteria.
The next thing that we demand is the handle type of the knife. This also becomes an important thing as a good and strong handle will ensure you a strong and non-slip grip, thus reducing unwanted accidents. Materials like polypropylene and stainless steel were the pick for the handle type we are looking for.
And then the design of the knives itself. We picked the knife set that contains knives with a sleek design because a well-designed knife could help you cut things with ease without any trouble. Speaking about the design, we went with compact-sized knives that fit well in your hands, not too big or too small, it's also lightweight but still capable of cutting through things.
Our picks of knife sets also give you excellent value for money, you can get various types of knives without having to splash the cash without compromising the overall quality of the knives. They are easy to use and store, durable, and safe for use. These are a glimpse of how we selected these knife sets for you. We only aim to give you the best quality products in the right place. Now, let's get to know our recommendations.
Care and Maintenance
Taking care of your knives is a must, to prevent the knives from deteriorating due to wear and tear, or even rust. We are going to tell you how to take care of and maintain your knives so that they're sharp and ready to use.
Wash Your Knives After You Use It
The first step to maintaining a good knife condition is to wash it after use. Using it after each use keeps the knives clean and also hygienic, it also removes the smell and other unseen particles that may leave your knife blunt. You can wash the knives manually in a sink using a sponge or simply put them inside a dishwashing machine.
Store Your Knives In A Sheath
It's highly recommended that you store the knives in a knife sheath or a stand that hides the blade part of your knife. This prevents the oxidation that could result in rust in your knives. Luckily all of our picks for knife sets include a stand where you can safely store your knife blades.