The Best KitchenAid Attachments for 2023
With these attachments, you can get more out of your KitchenAid stand mixer.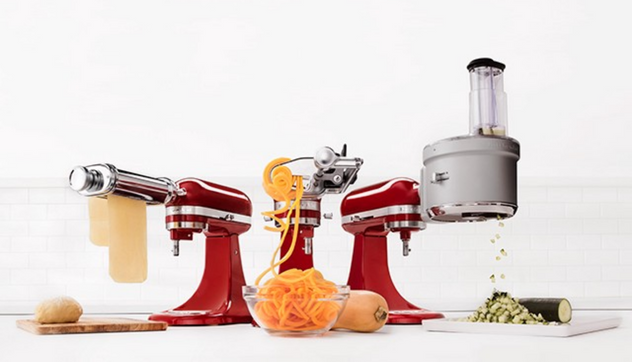 With the right attachment, you can turn your KitchenAid into an adaptable kitchen workhorse. It has a wide range of functions that can assist you in everything from mixing dough to shredding. Whether you're a beginner or a seasoned chef, stocking up on the right KitchenAid attachments will be a crucial asset in your bag of tricks. So which are the most useful attachments? Let's take a look.
How We Picked
Type of Attachment

It is critical to select the right type of KitchenAid attachment depending on your needs. Using the appropriate one will assist you in achieving your best output.

Material and Easy to Clean

Because each attachment is made of a different material and is cleaned differently, it is critical to select a KitchenAid attachment that is simple to maintain and keep clean.

Compatibility with KitchenAid Appliance

Several brands now sell attachments that extend the mixer's functionality beyond the bowl. Everything from blenders and food processors to juicers and food grinders can be found. You can select one for yourself based on your cooking requirements.

Cost-Effectiveness

The majority of KitchenAid attachments are not cheap. If cost is a major consideration when purchasing a new piece of equipment, compare the attachment you're considering to other stand-alone machines that carry out the same job.
Who This Is For
The ability to quickly convert your mixer into anything from a meat grinder to a pasta maker with the help of an attachment can be helpful if you have a small kitchen or limited space. Millions of professional and home chefs alike rely on their KitchenAid attachments to create a variety of delectable dishes and baked goods. The stand mixer becomes a potent and adaptable compact appliance with the addition of a wide range of attachments and accessories.
Different types of KitchenAid attachments
It could be challenging for you to select the one that is appropriate for what you're baking if you aren't an experienced baker. Since it may be used to thoroughly mix almost any combination, the flat beater is possibly the most adaptable. A dough hook is your best bet when working with denser doughs like bread, pizza, or pasta. Any other sort of mixer attachment could cause the mixer to overheat and break. However, a balloon whisk will make creating airy mixtures easier and more effective if you're baking large quantities. Finally, when working with components like honey and cream cheese that tend to stick to the bowl, using a flex-edge beater will be really helpful.
Are KitchenAid machines worth it?
You should spend every penny you have on your KitchenAid appliance. Although it initially seems like an extravagant investment, its effective operation and durability allow it to pay for itself over time. The KitchenAid stand mixer is a workhorse that is also aesthetically pleasing. These practical baking and culinary tools are not only well-made and durable, but they are also quite popular and in high demand. Compared to physical labor, they are more effective and thorough. Simply set a timer, turn on your mixer, and return as soon as everything is prepared. Additionally, stand mixers have a wide variety of attachments and may be used for more than just baking. Although a KitchenAid stand mixer is pricey, those who own one will tell you it is well worth the investment.
Why You Should Trust Us
We want to make sure you have the best products and make the most of what you already have. We chose a broad lineup for side-by-side investigation and comparison after conducting a thorough analysis of the most popular and well-known options currently available on the market. To help you navigate the confusion and get what you need, our team of professionals thoroughly analyzed each product we recommended.
How We Picked
Although KitchenAid produces more than thirty attachments for its stand mixers, not all of them are equally important for everyday use. A few are a little too specific to warrant testing. The list was whittled down to the attachments with the greatest likelihood of being useful. To test out every function of each attachment, we used each one in a variety of tests. We experimented with the pasta press's various forms and the meat grinder's various coarseness settings. We grated a variety of cheeses with varying textures, as well as a variety of veggies, using the shredder.
We checked to see if you would use this attachment frequently enough to justify the space and cost, or if you would go for your typical kitchen tools instead, leaving them to gather dust. If the appliance added a new function, we took into account how well it met our expectations for stand-alone equipment. Even if we don't mind spending six hours on superb baked pasta, we recognize that not everyone wants to prepare meals on par with those of a restaurant chef. Using these attachments only requires a quick learning curve before you start reaping the benefits, unlike learning a new cooking technique or cuisine.
Care and maintenance
Luckily, the KitchenAid attachment and all of its accessories were designed to be quickly and simply attached to and removed from the mixer. All you have to do is fully raise the mixer's head while unplugging it from all power sources. After cleaning the mixer shaft, attach the specified attachment. Now that the mixer head and plug-in have been lowered, you can begin baking.
A KitchenAid attachment can survive for many years, if not decades, with careful care. The mixer may be customized with more than fourteen removable accessories, making it a flexible tool for baking and cooking. With soap and warm water, you can easily clean the mixer and its attachments. Put a little oil on the spring and pin, move the spring up and down a few times, and you should be able to attach attachments without any problems. You must periodically check the clearance between your beater and bowl to avoid chipping the polyester covering, which is either white or a soft silver color. When baking, a KitchenAid accessory can make all the difference. A KitchenAid makes the procedure simple, whether you're making a cake or mashed potatoes as a side dish. If you know which KitchenAid attachment to use, you'll always end up with fresh, delectable results.