The Best Kitchen Towels for 2023
It's time to swap out your worn-out kitchen towels for a set of plush, incredibly absorbent ones.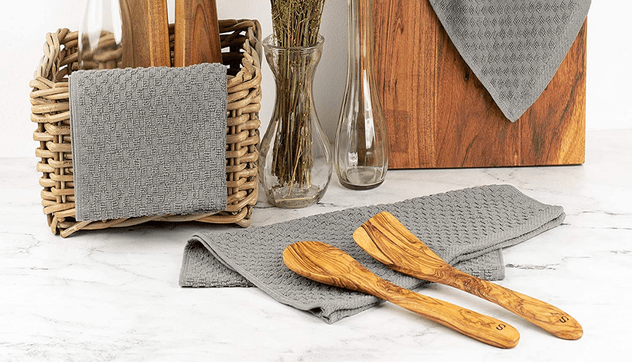 Kitchen towels are handy items to have around the house. They do an awesome job of keeping things clean and dry. However, not all kitchen towels are created equal. At first glance, a kitchen towel set may seem like a simple product, but there are several factors to consider when selecting the one that matches your needs. With endless options available, making the best choice can be overwhelming. Through intense research, we have compiled a selection of top-performing products so you can take your pick with ease.
Kitchen towels are designed to be used in various situations, making them one of the most versatile kitchen items you'll own. They are great for absorbing liquids, cleaning up spills, drying cutting boards and dishes, and holding hot plates and pots.
Ready for a new kitchen towel set? Dive into our list of top picks that will instantly upgrade your space.
How We Picked
Absorbent Material

The absorbency of towels is not only important for drying your dishes and surfaces, but also for cleaning up any kitchen spills with ease. Highly absorbent kitchen towels make for a pleasant user experience.

Size

A larger kitchen towel gives you more flexibility in terms of being able to fold it into numerous layers. This allows you to use one towel for multiple purposes. Large towels also give you more surface area to work with when drying any wet items.

Durability

Having to constantly replace kitchen towels is frustrating. That's why we bring you the very best options that will serve you for a long time, guaranteeing you peace of mind.

Cost-Effective

When buying a kitchen towel, it's essential to go for one that gives you the most value for your money. Spending more on a top-quality towel than the cheapest you can find is a good investment.
Our Top Picks
Best Picks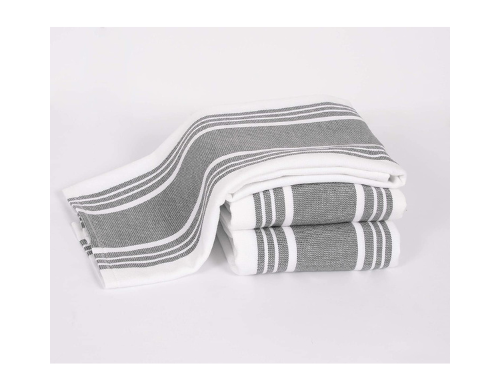 Enjoy luxury in the kitchen with these premium cotton dish towels.
You'll adore these chicly striped kitchen towels if you are not a fan of plain kitchen towels. A hanging loop is also included for easy access or display.


All-Clad's premium cotton dish towels will make you feel like royalty as you use them. They are made from soft yet highly absorbent 100% pre-washed woven cotton and come with quality stitched hems. These dual-purpose towels feature a lint-free, flat-weave cotton side perfect for drying glassware and dishes. The other side is made of absorbent, terry-weave cotton, which enables these kitchen hand towels to soak up spills in no time. Being 25% larger than standard dish towels, these products from All-Clad provide a larger surface to get the job done quicker.
Runner Up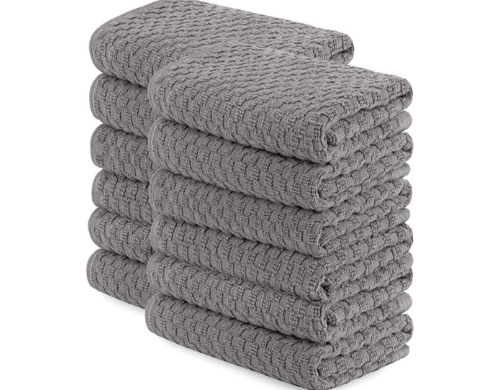 Wealuxe offers super absorbent and multipurpose towels that are a joy to use.
The 100% cotton dobby weave construction of these Wealuxe kitchen towels makes them incredibly soft, highly absorbent, and quick to dry.
They are also multipurpose, so you don't need multiple towels for drying dishes, wiping hands, or general kitchen chores. This set comes with 12 towels, so you'll always have a clean one ready to use. What's more, you'll enjoy the luxurious experience for longer thanks to the White Classic's complimentary 2-year extended warranty by Wealuxe.
Most Cost-Effective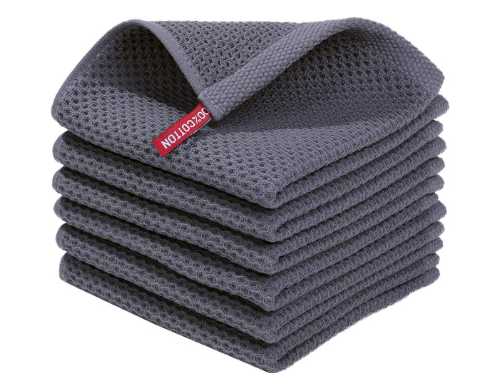 Homaxy's soft and highly absorbent kitchen towels are easy on the pocket and get the job done perfectly.
These towels are soft and comfortable to use because they are made of 100% cotton waffle weave, which is gentle on your delicate cookware.
These Homaxy dish towels combine softness, durability, and absorbency to give you an enjoyable experience when using them in the kitchen. Due to the unique honeycomb design, these towels are durable, lightweight, breathable, and highly absorbent. You can count on them to handle all your wiping, drying, and cleaning tasks in the kitchen.
Everything We Recommend
Best Pick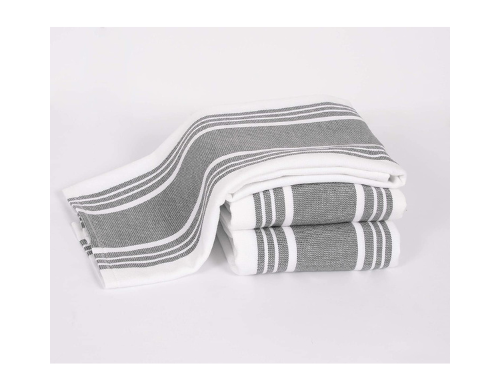 Enjoy luxury in the kitchen with these premium cotton dish towels.
$27.53 ($9.18 / Count)
Runner Up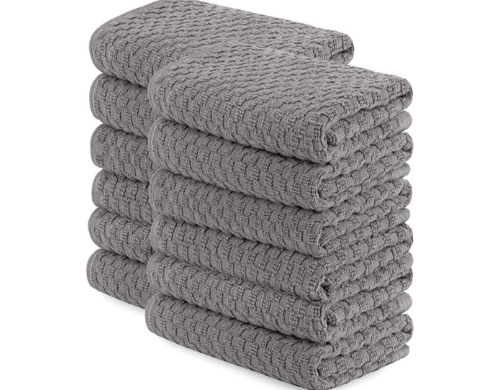 Wealuxe offers super absorbent and multipurpose towels that are a joy to use.
$24.99 ($2.08 / Count)
Most Cost-Effective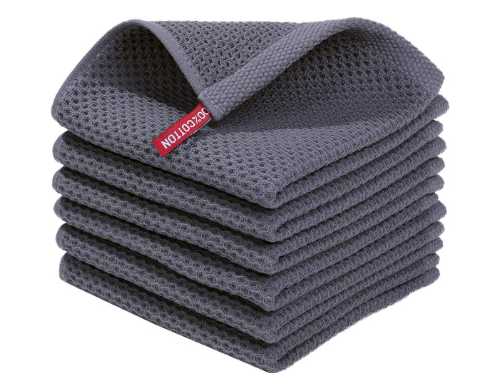 Homaxy's soft and highly absorbent kitchen towels are easy on the pocket and get the job done perfectly.
$9.99 ($1.66 / Count)
Who This Is For
If you are looking for quality towels to keep your kitchen sparkling clean and even amp up your decor, these products are for you.
Kitchen vs. regular towels — what's the difference?
Kitchen towels are typically more durable than bath towels because they're designed to handle more frequent use and rough handling, such as wiping kitchen surfaces.
Why You Should Trust Us
Kitchen towels are more than just for getting the job done — they should be durable and complement the aesthetic of your kitchen. This is why we present you with the best options you'll be proud to add to your space.
How We Picked
There are numerous brands of kitchen towels available today, which can make choosing one for your needs a daunting task. You can rest easy, though, as we've done the legwork. We looked at towels with highly absorbent materials, suitable for cleaning up grease and drying your hands and dishes effectively. Also, we picked towels in different designs and sizes, meaning that no matter your preferences, you'll find the perfect towel to match your décor and needs.
The tradeoff between price and quality can be tricky when it comes to kitchen towels. Our research puts your mind at ease since these products give the best bang for your buck. All the towels are made of durable, long-lasting materials, so you know your investment is solid. Their construction and thread count makes them easy to wash and a real pleasure to use. These kitchen towels will be the perfect addition to your kitchen!
Care and Maintenance
All these kitchen towels are made of machine-washable fabric, meaning they're easy to keep clean. Wash them on a normal or delicate cycle without bleach or fabric softener. Tumble dry them on low or on a hanging line in the shade. Avoid ironing the towels. Following the care instructions will ensure they stay in good shape for longer.
When you're not using the towels, we recommend storing them folded in a dry place to prevent the growth of mold. The towels must be completely dry before storage for the same reason.