The Best Kitchen Scale for 2023
Cooking is an art form. To precisely measure ingredients, you'll need an authentic kitchen scale.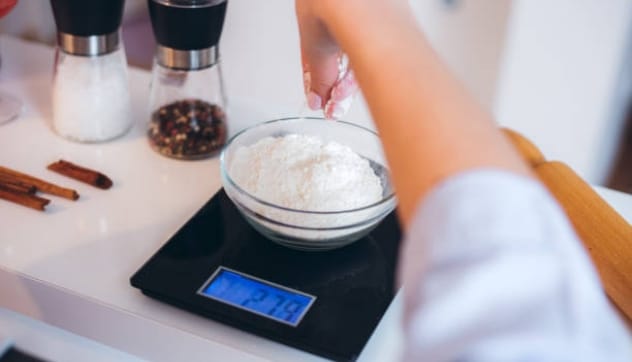 A kitchen scale will always come in handy when weighing your ingredients, whether you're making your favorite cookie recipe, trying to make the ideal cup of espresso at home, or finally making your first sourdough starter.
While there is no substitute for expert intuition and legendary eyeballing, there are times when you need the accuracy of a scale.
The array of scales available today can make choosing one a difficult task. To find the best scale for all of your kitchen needs, we tested several models with a range of prices and maximum capacities.
Check out our carefully selected picks of the best measuring scales for your kitchen.
How We Picked
Accuracy

The main purpose of a scale is to consistently and accurately weigh ingredients, so inaccurate scales were eliminated from consideration right away. However, those that offered precise measurements in both metric and conventional units made it to the list of our top picks.



Fast Measurements

With a preference for simple designs and displays, which minimize confusion, our picks are among the fastest and most accurate scales on the market. They remain powered on for longer than most others before automatically shutting off.

Size

Our tester appreciated the super lightweight, compact size type of scales that didn't take up much counter space during use and are easily stored away.

Price

To accommodate various budgets, we tested many models with prices ranging from $9 to $60 in order to find your ideal scale.

Our Top Picks
Best Pick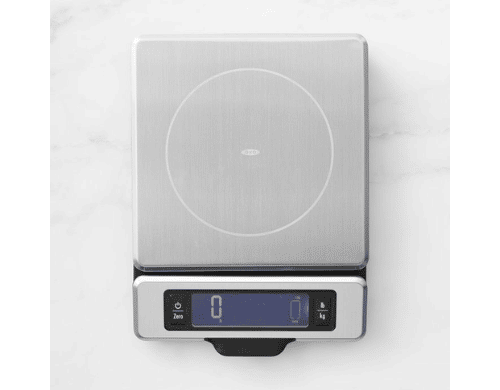 This is probably the best you'd get out there.
Our winning scale went above and beyond to further invent an improved version of the original.
This OXO Stainless Steel Scale topped every test because it is consistently accurate, has a practical design, and has advanced functions. The only scale with a pull-out display, maximum weight, and battery life indicators, as well as the longest delay before the scale shuts off automatically.

The digital screen makes it simple to see in dimly lit areas or when the sun is blaring, and the stainless steel surface is long-lasting and simple to clean.

Runner Up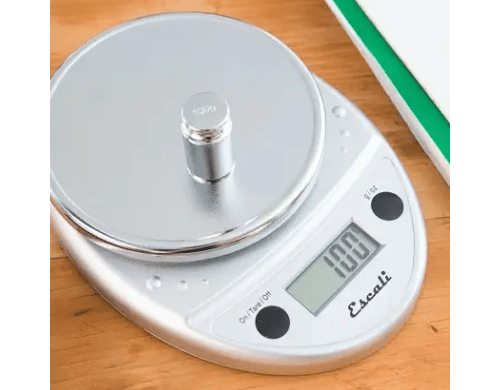 The scale is compact and lightweight, so it won't take up much room in a drawer or cabinet.
With almost instantaneous readings and a significant delay before auto shutoff, this device is precise to the gram.
The Escali scale might not have all the bells and whistles of the OXO scale, but for half the cost, it's still a great kitchen workhorse. It features a simplistic design with straightforward buttons and an easy-to-read display.

We discovered it to be precise to the gram, with very instantaneous readings and a significant delay before auto-shutoff.

Most Cost-Effective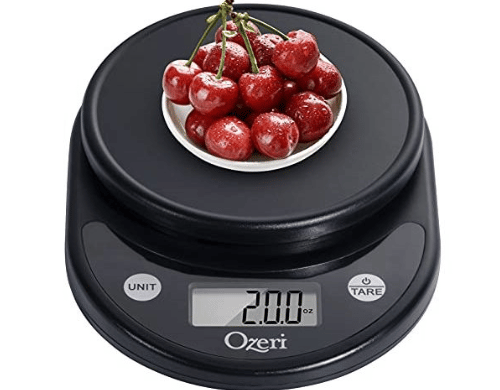 This scale's polycarbonate casing is available in a range of hues and designs.
With an affordable price tag, this scale positions itself as a strong competitor for permanent countertop occupancy.
It takes up a little less room than the Escali scale because it is a little smaller. It also comes with a much shorter warranty and has a much shorter auto-off period, as well as a slightly slower weight reading speed.

This device is lightweight and has a compact footprint, making it convenient to carry around or store in a small kitchen drawer.

Everything We Recommend
Best Pick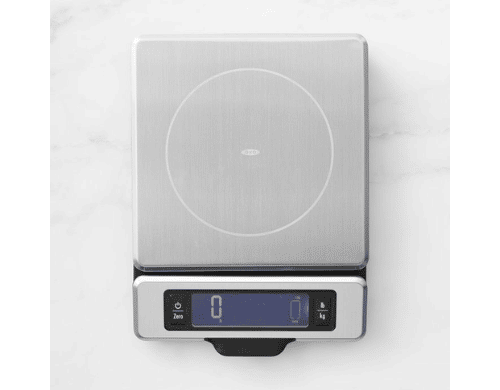 This is probably the best you'd get out there.
$55.95
Runner Up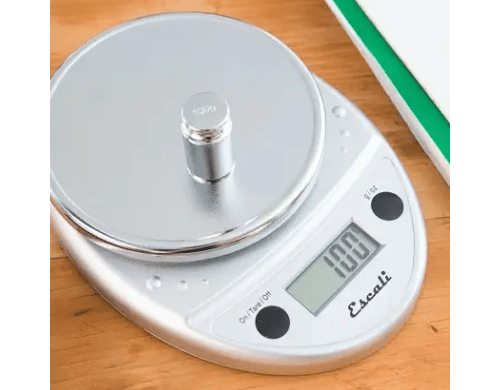 The scale is compact and lightweight, so it won't take up much room in a drawer or cabinet.
$24.95
Most Cost-Effective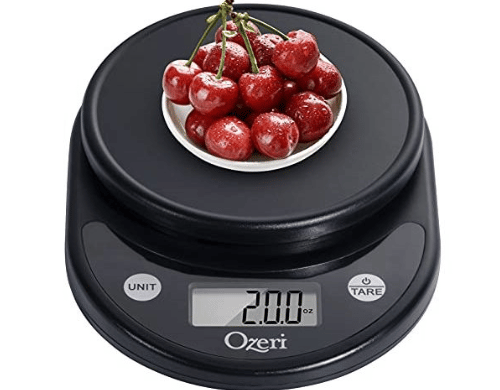 This scale's polycarbonate casing is available in a range of hues and designs.
$10.24
Who This Is For
Anyone wishing to improve their kitchen experience should consider the products being advertised here.
Digital vs. mechanical
When buying a kitchen scale, modern digital models as well as mechanical or analog types are both available. In contrast to mechanical scales, which rely on a set of springs to measure weight, digital scales are powered by batteries or an electrical outlet and utilize internal computer technology.
Your ideal kitchen scale will depend on a variety of factors, including your budget, your needs for durability, storage convenience, and the simplicity of cleaning. The majority of home cooks and professional chefs prefer using digital kitchen scales because of their easy features, inexpensive price, and small, portable form.
An excellent backup option is a mechanical kitchen scale, especially if you require a scale that can operate without batteries or an electrical outlet.
Do I really need a kitchen scale if I'm not a baker or into fitness?
There is a good reason why people who buy scales don't regret their decision. Using a scale speeds up and simplifies cooking while improving measurement accuracy. Check out some of the reasons:
Easy cooking: You generally simply eyeball it when a recipe calls for a pound of Brussels sprouts, right? The use of a kitchen scale eliminates the need.
It's perfect for any recipe that calls for a certain quantity of fruits and veggies because it can be nearly impossible to measure such ingredients in any other way.
The appeal of a scale goes beyond its accuracy, as avid bakers will attest. It's the difference between needing to clean multiple large bowls after using a teaspoon, a tablespoon, four measuring cups, your liquid glass measuring vessel, and other items, as opposed to simply one large dish.
A scale can also be used to measure food for health purposes. How many of us load one, two, or three servings of protein into our "healthy" lunches by eyeballing it? If you're watching that type of stuff, you can portion out your snacks and be a little more cognizant of your caloric consumption.
Why You Should Trust Us
National Today takes great delight in working with reliable independent contractors that have years of experience writing on lifestyle subjects and product reviews.
We have published dozens of buying guides in many industries and are knowledgeable about the factors that customers and chefs should take into account before selecting a new purchase for their culinary endeavors.
To write this piece, we reviewed a ton of customer reviews and did a ton of research on the top kitchen scale solutions that are accessible both offline and online.
How We Picked
Accuracy
We calibrated five-gram, ten-gram, one-hundred-gram, and five-kilogram weights and used them to test each scale's accuracy.
To make sure that accuracy wasn't affected by where the weight was placed on the platform, the weights were tested numerous times on both the center and each corner of the scales. The bulk of the scales consistently provided reliable results.
Fast measurements
We timed how quickly the scale responded when we added or removed weights to gauge speed. Once a weight was on the platform, we timed how long each scale remained on before automatically turning it off.
Additionally, we used each scale to bake a batch of pumpkin muffins, noting any peculiar characteristics or usage specifics like whether the scale will turn off if you unintentionally press the tare/power button twice.
Size
We sought scales with platforms of a reasonable size — ones big enough to comfortably accommodate a mixing bowl or bag of onions, but not so big that storing the scale would become problematic.
For us, this meant using scales with platforms that were between five and a half and 12 inches across.
Design/style
Digital scales are now available in a wide range of colors and materials; some are designed to be very portable, while others need to remain stationary on your kitchen counter.
While some scales operate best with a tared-out bowl or tray on the scale platform, others function best with removable trays that you may use to weigh materials directly.
A huge LED readout with a backlight and a very small digital readout with a backlight are both available. In particular, if you are cooking with children or don't want to put on your reading glasses, we advise the latter option for convenience.
Price
Like anything else you'll buy for your kitchen, prices can vary substantially. The cost of a new kitchen scale can range from $10 to $60, so being aware of what you want is essential.
A less expensive, more basic scale will work just fine if you've never owned one before and want to experiment with baking by measurements or portioning out your weekly meal prep.
Choosing a scale with a wide weight range and increased precision will unquestionably be worth the extra money if you want to measure huge batches of food for large gatherings, special occasions, or more professional culinary settings.
Measures ounces and grams – also less than 1 ounce
For smaller items like extracts or baking powder, the majority of kitchen scales available on the market can read a minimum of 1 ounce or 28 grams. For larger components like a full squash or a turkey, the most common limit is 11 pounds.
Find a scale that is sensitive enough to deliver readings as low as .001 ounces or .03 grams if you need to weigh out extremely minute quantities like salt or yeast.
Capacity
Most digital kitchen scales are battery-operated. We advise choosing a battery type that will be simple to find in the future, such as AA or AAA.
A scale that requires a difficult-to-find battery or one that is more challenging to install, such as flat button batteries that frequently require a screwdriver, should be avoided.
Some more recent scales on the market only require USB charging, eliminating the need to add batteries or buy more batteries in the future.
Easy to clean
We covered each scale in flour to see how easily it could be cleaned, then observed how easily it could be wiped using a towel.
Your scale won't ever come into contact with this much dirt unless you're cooking in a dust storm, but it helped us identify which models had an excessive number of crevices where grime may collect.
Some scales featured detachable plates that you could use to wipe off any flour that managed to sneak underneath.
Sturdy – has rubber feet
Choosing a steady scale was crucial as well; it shouldn't tip over or move around the counter whenever a button is hit.
When we tried to push tare or change units, many of the lightweight scales quickly fell over and bounced around on the counter; this was especially evident in ultra-slim models.
The Escali Primo was able to utilize a lightweight design successfully without having this flaw. Little rubber feet assist in stopping the scale from sliding around on counters — a handy but somewhat uncommon feature.
Care and Maintenance
How to keep it clean
Wet, dirty goods shouldn't be weighed directly on the scale; instead, put down some parchment or plastic wrap for easy cleanup.
When the scale is removed, use a hot towel to remove any leftover grease or food from the buttons and the platform. Never clean a scale by placing it directly under running water.
Cord care/electric safety
The number-one rule of precaution will be to avoid contact with water (this includes any accompanying wires/cords) except the dish pan. Before cleaning, make sure to always turn off the balance display.
Do not let any substance penetrate the interior parts of the balance; instead, wipe the dirt away from the opening in the center. The balance should be reassembled, turned on, and tested to ensure proper operation.
Where and how to store when not in use
When the scale is off, avoid storing it or allowing it to sit without any objects on it, because this can do serious harm as well.
Even while some scales can be recalibrated, they are frequently not completely accurate, so don't rely on them. It's probably time to change the batteries if you suspect your scale is providing you with inaccurate readings.
For the most accurate readings, keep your scale on a flat, firm surface at all times.