The Best Kids Water Bottle for 2023
Find the perfect water bottle for your child or preteen.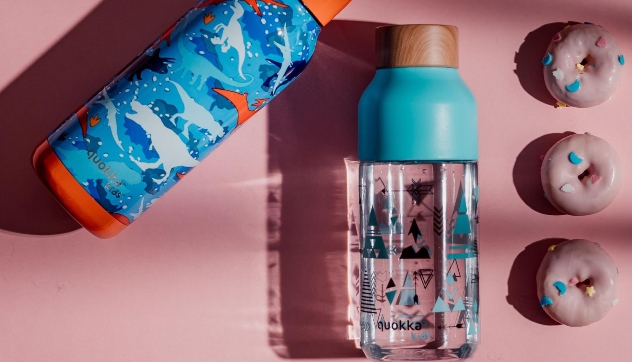 Are you looking for a water bottle for your child or teen? We found the best ones on the market. Finding a water bottle for kids is a challenging task. Children are notorious for their ever-changing minds and their love for bright and beautiful items.
They often bypass practical items for things that look good. Furthermore, they are playful, fast, and forgetful. This means that anything you get for them must be durable and memorable. We kept this in mind while we trolled the internet for kids' water bottles.
How We Picked
Lid Type and Spill-Resistant

Children are still learning to perfect their motor and reflex skills. Having a tight-fitting lid and spill-resistant bottle makes it less likely that they'll spill their liquids.



Material and Odors

Different materials have different smells. This odor can impact the smell and taste of the beverage inside your child's water bottle. Kids are less likely to drink from smelly bottles.


Style/Design

Children are attracted to beautiful and unique things. They will likely use and remember a water bottle that appeals to them aesthetically. Also, design determines the ease of use of any water bottle.



Cost-Effectiveness

The bottle you purchase for your child should be durable. However, children outgrow things quickly. Finding a well-priced, durable bottle is the most cost-effective solution.


Our Top Picks
Best Pick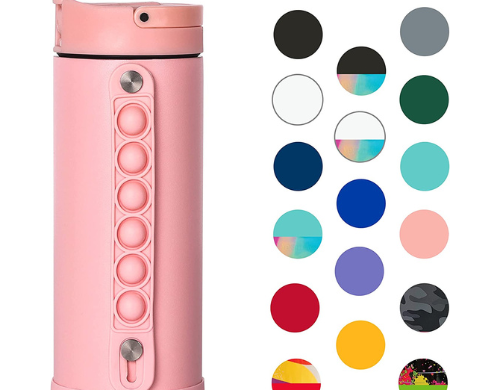 The perfect bottle for all children but especially younger children or children who fidget a lot.
A triple vacuum-sealed, shatter-proof water bottle with a pop-it handle.


The Elemental 14-ounce water bottle comes with a pop-it handle to heighten focus and release stress. It is fully shatterproof and leak-proof as well. The bottle is triple-vacuum sealed to ensure the best temperature control a water bottle can give you. It is light and easy to carry around.

Runner Up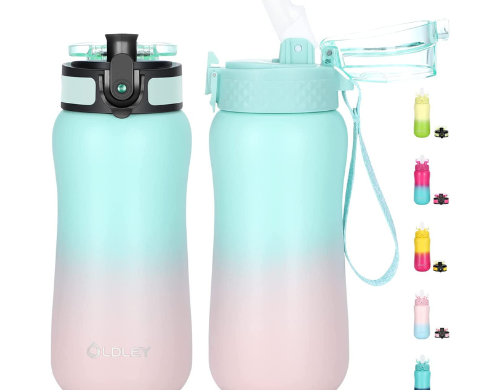 A sweat-proof and leak-proof bottle with a wristband.
If you want a beautifully-designed water bottle for older kids, the Oldley Water Bottle will work well.

This ergonomically-designed bottle is easy to carry around with a wrist strap. It is fully leak-proof with seal rings around the lid. The straw lid provides strong suction, and a second fast-drinking chug lid allows you to enjoy a cold beverage when thirsty.

Most Cost-Effective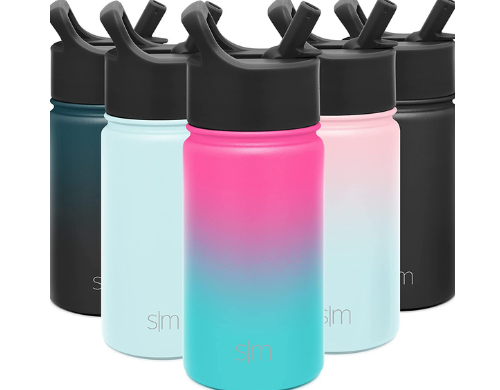 Keeps beverages at ideal temperatures for hours.
An easy-to-use, affordable vacuum-sealed bottle.


The Simple Modern Kids Store offers you multiple colors and designs to choose from with these vacuum-insulated bottles. They carry 14 ounces and have straw lids. The bottle is affordable, and the beautiful colors make it fun for younger children to carry.

Everything We Recommend
Best Pick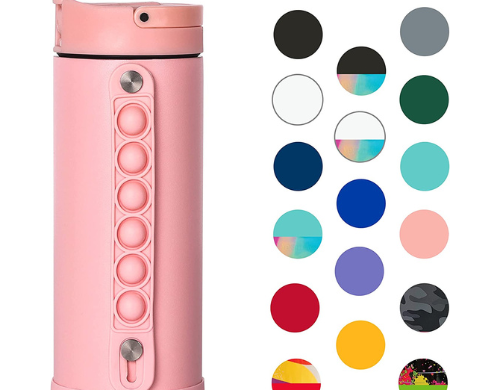 The perfect bottle for all children but especially younger children or children who fidget a lot.
$19.92
Runner Up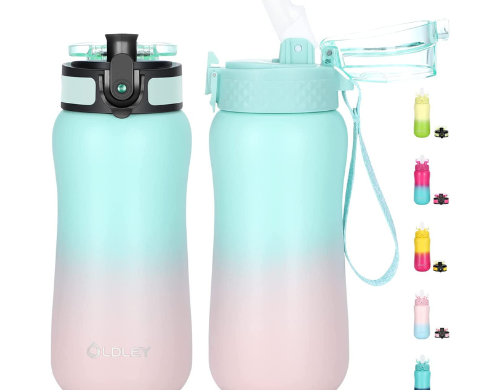 A sweat-proof and leak-proof bottle with a wristband.
$17.99
Most Cost-Effective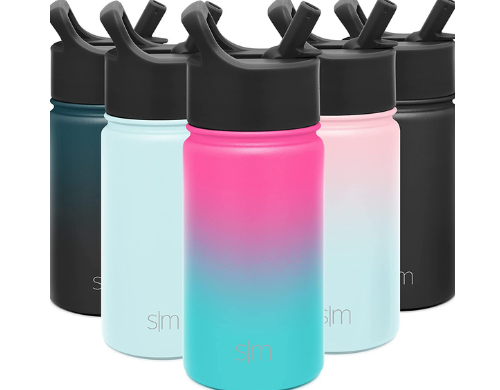 Keeps beverages at ideal temperatures for hours.
Who This Is For
This list of the best kids' water bottles is for everyone who needs to buy a child a water bottle. From parents to aunts and uncles, this list will help you find the perfect water bottle for the child in your life. We searched the internet for recommendations for water bottles that can be used by children and teens of all ages.
Different lid types for kids' water bottles
There are many lids available. They include cork stoppers, metal bottle caps, droppers, spray tops, sports caps, and flip-top lids, to name a few. For kids' water bottles, most manufacturers use screw-top lids.
This is because they are easy to put on and take off, and they are also easy to clean. If a manufacturer chooses to use a different kind of lid, it is likely the bottle will be impractical for children.
The screw-top lid can be a straw lid or a chug lid. Straw lids are safer for younger children as they prevent choking by controlling the amount of liquid drank in one sip.
However, depending on the suction, they can be annoying and hard to use depending on the suction. Chug lids allow for fast drinking, which is unsafe for younger children.
Plastic vs. stainless steel bottles
Both plastic and stainless steel bottles are great options. Plastic bottles are cheaper, lighter, more widely available, and easily replaceable. However, they are more likely to crack when dropped. Plastic also scratches easily and is often not dishwasher-safe.
Plastic bottles are never vacuum-sealed and thus cannot maintain the temperature of the beverage you keep inside. Also, plastic is not good for the environment.
On the other hand, stainless steel bottles are slightly more expensive, dent when dropped, and are heavier. However, these bottles are more durable and thus can withstand being dropped repeatedly, as children do.
You can find vacuum-sealed stainless steel water bottles that will keep your child's beverage at the perfect temperature. Stainless steel is also safer for children and the environment as well.
When compared, stainless steel bottles are the better alternative. Our list contains the best stainless steel kids' water bottles. However, a BPA-free plastic bottle will work well if you are in a pinch and cannot find one.
Why You Should Trust Us
Finding a water bottle for your kid can be tricky. Children of all ages are very icky and often trade practicality for looks. As a parent, this gets frustrating because you know the item will quickly become a burden, and your child will complain it doesn't work well. We understand this struggle.
We want children to be diligent about their hydration, and we know it is easier when water bottles are attached to them. Our team took it upon themselves to scour the internet for water bottles that will not only impress kids but also perform well and keep them hydrated.
How We Picked
We selected our best kids' water bottles using a few key criteria:
Size
Big bottles are not exactly ideal for children. They can get heavy, and it is easy for a child to forget them or get overwhelmed. We wanted compact, smaller bottles that are easier to fit into standard school bags.
Portability
A child's water bottle should be easy to carry around. It should be light, have a handle, and preferably have an attachment mechanism so you can attach it to their bag. The portability of a bottle determines its rank on our list.
Capacity
Larger capacity bottles might be great for older children, especially teens. However, for younger kids, bottles that hold just enough without being too big are great. For this reason, we looked for bottles in the 14 to 16-ounce range. These bottles can hold enough for both young and older kids alike.
Durability/material
We had one goal in mind- to find good stainless steel bottles. While plastic is great, stainless steel tends to last longer, hold fewer scratches, and is easier to keep clean. Also, a stainless steel bottle is likely to be vacuum sealed for maximum temperature control. Stainless steel bottles can take many hits and even get passed down from child to child if the need arises.
Odor
Bottles made from high-grade materials are less likely to have an odor. We wanted bottles that smelled okay, even after a few washes.
Lid type
We weren't looking for a specific lid. However, the lid is needed to keep beverages from spilling. The easier the lid was to remove and wash, the better the bottle. Also, lids that allowed for suction or fast drinking ranked well.
Anti-spill or leak
Spilling and leaking are the worst, especially for kids' bottles. Since the water bottle will most likely be stored with books and clothes for school or events, the bottle must be leak-proof.
Depending on customer reviews, we ranked the bottles in terms of how leak-proof they truly were. Some bottles were not truly leak-proof, as they leaked when tipped, while others were tightly sealed and ensured no spills in any position.
Style/design
A beautiful and unique style makes a water bottle fun. When buying a water bottle for kids, fun is an important factor. It can help our child remember to drink water. Furthermore, unique designs make the bottle easy to remember and spot.
Your child is less likely to forget the bottle and more likely to find it when they misplace it. Bottles that offered better designs and colors ranked higher on this list.
Price vs. quality
We are often willing to pay a higher price for better quality. Better quality guarantees durability, so we won't need to replace the item soon. With the water bottles we reviewed, we ensured that the price matched the quality of the bottle.
Wrist strap
A wrist strap is a great accessory for a bottle. It makes it more fun. More importantly, it makes the bottle easier to carry. Whether or not a bottle has a wrist strap determines its ranking on our list. Wrist straps make it easier for younger children to carry their bottles around. They can also be tied to a bag to ensure the bottle is not forgotten.
Easy to clean
A clean bottle is essential for the health of your child. We wanted to recommend bottles that are easy to clean. The easier a bottle is to clean, the more you or your child will clean it. We want to promote healthy practices, and having a bottle teeming with bacteria is unhealthy.
Easy to open
The ease with which a bottle can be opened will determine how kid-friendly it is. Bottles that are harder to open are more suited toward teens, while easier-to-open bottles are great for pre-schoolers. We evaluated the e
Care and Maintenance
Caring properly for the water bottle of your choice will ensure its longevity. Here are some tips to consider:
How to clean
Each water bottle comes with its own cleaning instructions. Some are dishwasher safe and some are not. Some bottles can be washed with hot water, and others cannot. Generally, use cool water, dish soap, and a bottle brush to clean the inside of the water bottle. Use a scouring pad to clean the outside and let your bottle dry thoroughly. Follow the individualized care instructions.  
How often to clean
Clean your child's water bottle after every use. If they are carrying it to school, encourage them to rinse it out before refilling if they are of age. After school, ensure you properly clean and dry the water bottle. 
Bacteria like moisture and warmth, which a water bottle provides in abundance. Leaving the water bottle unwashed for several days can cause mildew growth. This will lead to a bacterial infection when your child eventually uses the bottle to drink water. 
Preventing plastic or metallic tastes or odors
If you do not follow cleaning instructions, your child's water bottle can develop a plastic or metallic taste or scent. Ensure you read the care instructions carefully on each bottle. Some bottles are not dishwasher safe, and some cannot be washed using hot water. Follow the instructions without discrimination to avoid causing leaks.
To keep your kid's water bottle from smelling. Let it air dry by placing it on a dishrack, drinking side down. Make sure all the water has run out before you store it. You can also use silica gel packets to keep moisture out of the bottle when storing it.
An additional way to keep metallic and plastic odors off the water bottle is by using baking soda. The pH of baking soda makes it an effective cleanser. Once a month, use two tablespoons and two cups of hot water to soak your water bottle after you wash it. Rinse out the mixture and dry your bottle.
Lastly, do not keep the water bottle for too long. You can repurpose it into a plant or pen holder after a certain number of years. Sometimes the taste and odor come from overuse. Stainless steel bottles can last much longer than plastic ones, so it is better to invest in those.
Using a wrist strap
Wrap the wrist strap around your child's hand as often as it can. If the bottle has an adjustable wrist strap, adjust the strap to fit. Please do not make it too tight, as this can stop blood circulation around your child's hand.
Check that the strap is easy for your child to unfasten. It is advisable to avoid using the wrist strap for children below 12 as they can easily forget how to loosen it.
Dealing with leaks
Consider investing in a leak-proof bottle. These bottles ensure no liquid seeps out, even when the bottle is not upright. However, if you notice leaks, tighten the bottle top. If you still notice a leak, check that the bottle is not cracked. 
Do not drink if the bottle is damaged or leaking. Use food-grade silicone sealant to seal a crack. Once the sealant cures, you can use the bottle. But only do this once. If there are multiple crackers, reuse the bottle for something else and purchase a new one for your child.