The Best Kids Lunch Box for 2023
Even when they are away from home, your child can still enjoy delectable homemade treats thanks to these lunch boxes.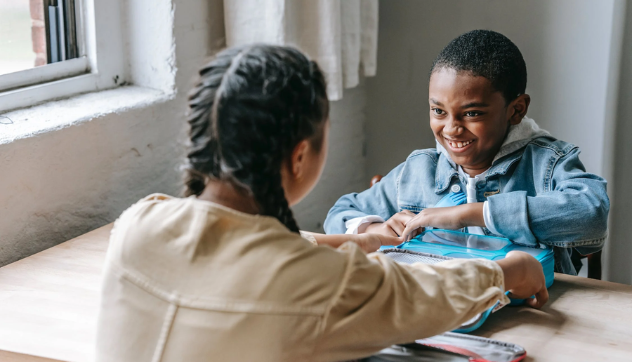 It is no secret that children go through different stages of food acceptance and tasting as they grow. A child who once ate everything may begin to reject other dishes as they become more aware of their tastes for different textures and flavors. Some children even develop a specific rejection of mixing foods together and will only accept them when they are properly separated, even when their juices do not touch each other. Taking these details into account is essential when sending them to kindergarten or elementary school; this is where choosing a good lunch box for children becomes necessary.
Whether your child is a picky eater or doesn't mind if all their lunch gets mixed up, it's important to pick a lunch box for kids that is sturdy and can keep food fresh for longer. It should also have an anti-leak design both internally and externally, and, of course, be attractive to motivate your child to follow a healthy diet. The best lunch boxes can motivate you as the child's parent to make more nutritious and varied meals for school.
How We Picked
Material

Studies have shown that we must be especially careful with the materials that come into contact with our food, especially if they are plastics. For this reason, we make sure that every lunch box we recommend is BPA-free and is classified as grade 5 PP.

Size

A lunch box needs to be the right size for kids to carry it around easily and big enough to hold enough food for their lunch at the same time. For children between the ages of three and seven, for example, choose lunch boxes that have a long shelf life. Some lunch boxes are categorized by age based on their capacity.

Durability

Some children are more careful than others; however, they all have something in common: their lunch boxes do not survive more than one school year. For this reason, pick a durable and sturdy lunchbox that will remain with your child for many years, and you will only have to replace it as their nutritional needs increase.

Price

The price of lunch boxes is increasing due to their popularity, which has been taken advantage of by different brands. It is crucial that we choose models that fit our budget, are of excellent quality, long-lasting, and meet our purchasing requirements.
Our Top Picks
Best Pick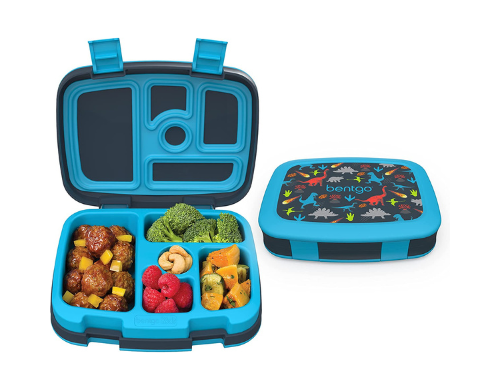 With a leak-proof bento design, it's ideal for kids of all ages.
This box has five compartments that are precisely the right size to sate a child's appetite and motivate them to enjoy a nutritious meal.
Bentgo Kids is one of the best brands of lunchboxes for children in America. It not only has different patterns that are pleasant for the little ones, but its designs meet the needs of the most demanding children, as it prevents the different portions and their juices from mixing with each other.
Runner Up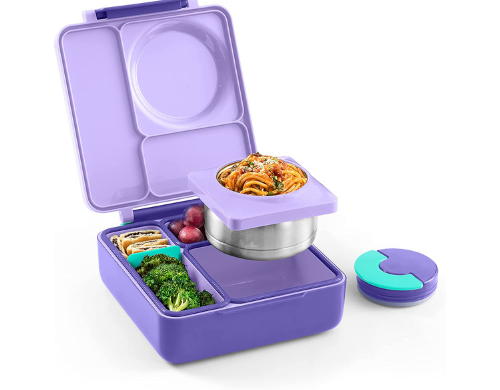 This lunch box has two temperature zones. It keeps food hot or warm and cool or cold in the same space for greater comfort and freedom for children.
If you want to send healthy and varied lunches to your children, this lunch box will help you do it.
With two temperature zones, it allows you to send hot dishes and keep them hot until lunchtime, as well as cold dishes such as fruits, cookies, or small side dishes for which temperature is not a big problem.
Most Cost-Effective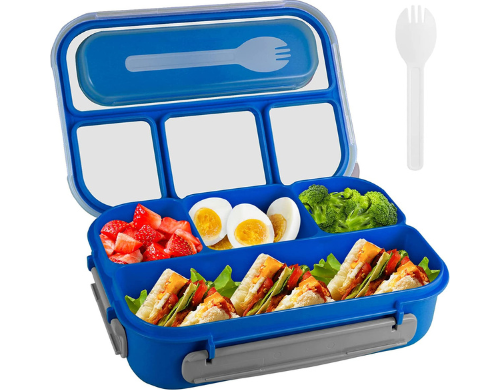 You don't have to be concerned about chemicals leaching into your child's food because this bento lunch box is made with food-grade materials.
This multipurpose lunchbox, which has compartments for different types of food and a leakproof design, is great for adults, kids, and toddlers.
This lunch box is made with high-quality and food-safe materials (grade 5 PP material) and is completely BPA-free, so you can trust your child's health. Due to its bento-style design, it has four divisions to place different kinds of food and give your child a varied and healthy lunch.
Everything We Recommend
Best Pick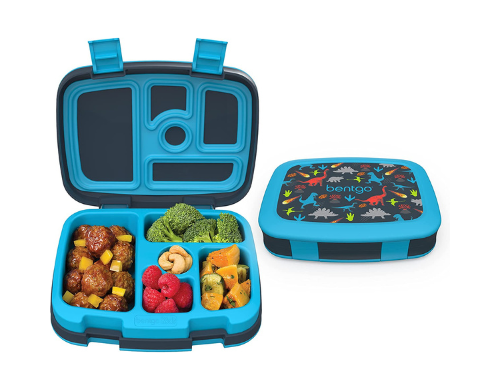 With a leak-proof bento design, it's ideal for kids of all ages.
$29.99
Runner Up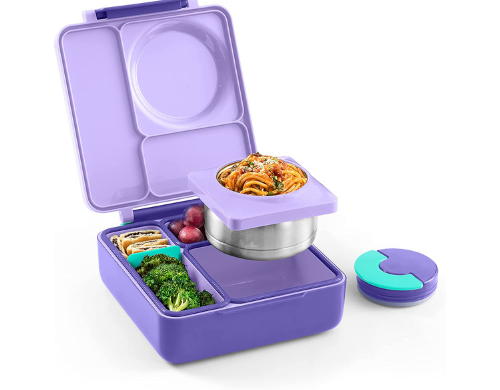 This lunch box has two temperature zones. It keeps food hot or warm and cool or cold in the same space for greater comfort and freedom for children.
$44.95
Most Cost-Effective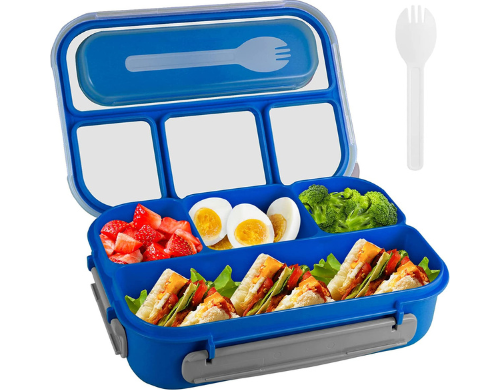 You don't have to be concerned about chemicals leaching into your child's food because this bento lunch box is made with food-grade materials.
$11.99
Who This Is For
Lunch boxes are for all parents who want to offer their children a balanced diet. These accessories help you prepare homemade and natural food for your child and thus reduce the consumption of ultra-processed products and sweets that can negatively affect their health. We must also emphasize that the consumption of homemade food is not only healthy for the child, but it will also teach him good eating habits that will remain throughout his life and will help him be a healthy adult. At the same time, lunch boxes are an excellent option for children with certain food restrictions, whether caused by allergies or intolerances, as they allow parents to protect them from the consequences of these health conditions while providing them with the necessary autonomy to develop freely at school.
Fabric vs. steel lunch boxes
Throughout the history of lunchboxes, great favorites have been steel and fabric lunch boxes. Steel lunch boxes tend to be very durable and are considered to be the great classics and favorites of children of previous generations. These types of lunch boxes had unique and attractive designs, especially in cartoons of the time. Nowadays, they are in disuse because they tend to be noisy when dropped and are not very durable; they are also prone to leaks, especially if they have suffered falls and blows.
Lunch boxes made of fabric are comfortable, very flexible, and lightweight. Many lunch boxes include some containers with children's motifs, but you can also include some of your own. They are especially recommended to include bento boxes.
Are bento-style lunch boxes better?
They are currently a big trend, especially for the great image they provide once you have finished preparing them with food. For this reason, they are very popular on social media, where you will find many moms and dads organizing bento-style lunchboxes for their children. This type of lunchbox is very convenient for both parents and children; not only do they make it easy to distribute different types of food in each compartment, but they are also the most resistant to spills and easy to open, especially for the little ones.
Bento-style lunch boxes are also an excellent choice for children who are picky eaters, encouraging them to eat while respecting their preferences and encouraging them to introduce new foods into their diet.
Why You Should Trust Us
Children's nutrition is a fundamental aspect of their development. A properly nourished child will not only grow up strong and healthy but will also increase his or her opportunities, especially as they relate to studies and sports. With this in mind, we have evaluated a wide variety of designs, from the popular bento-style lunch boxes to the classic lunch boxes made of fabric.
We also considered different buying criteria, from the basics like material, size, and capacity to the ones that matter most to parents: durability, ease of cleaning, and stain resistance. We also consider buyers' comments, so we make sure we only recommend the best models; if you don't like them, you can use our selection criteria to choose the lunch box you need.
How We Picked
When choosing the best lunch boxes for kids, we considered the following buying criteria:
Material
Plastic lunch boxes dominate the market; however, it is possible to find other materials that can meet your needs. If you are interested in reducing the use of plastic in your routine, we recommend opting for models made of stainless steel or biodegradable materials. If you decide on a plastic lunch box, remember to check that it is free of bisphenol A or BPA. The products usually indicate explicitly if they do not contain this compound; this way, you will guarantee your child's health.
Size
Consider the age of your child and the foods you will include in it. The size of the portions to be sent and the weight they can carry in their lunch box depends on your child. Brands often indicate the ages for which they are recommended. It is advisable to choose a size that they can handle easily and that will be functional for several years, such as those lunch boxes recommended for children from 3 to 7 years old; that's almost four years of useful life in which you will not have to buy a new lunch box.
Capacity
As previously stated, it is critical to consider your child's age and the amount of food they consume in their lunches. Choose lunch boxes that can hold your child's food without spilling or squeezing it (which can demotivate them and lead them to avoid food), and the space should be enough for your child to handle their food, especially if they like to exercise their autonomy and want to cut their food.
Stain resistance
This is critical, especially for parents. Some children prefer to keep their lunchboxes clean, so selecting one with high stain resistance will help them clean up any stains that may occur on their own. However, not all children clean their lunch boxes, and that task is left entirely up to the parents. A lunchbox with high stain resistance will be easy to clean and will not absorb sauces, odors, or colors that will affect its appearance and upset your child at mealtime.
Type of seal/zip
Remember that your child will be the one to open the lunchbox, so choose ones that are simple for him or her to open, depending on his or her age and hand strength. Check the ease of opening and, of course, teach your child the necessary technique to open the lunchbox. Also, evaluate that it is simple and safe; some accidents may occur when it is complicated to open and close a lunchbox.
Price
Lunch boxes tend to have a high price, so we recommend that you closely evaluate the brands of the model you have in mind. Generally, there are excellent brands that offer lunch boxes with excellent features and a long life span so that you will not have to make this investment again for a long time. However, most lunch boxes tend to be very affordable for most budgets.
Design/style
Your child should be involved in this aspect; be durable, and respect their tastes. You can choose several designs that you consider easy to open, easy to carry, easy to clean, durable, and suitable for your child's age, and encourage them to choose between them. This way you can maintain a degree of control and ensure that you pick a durable and age-appropriate lunchbox for your child while encouraging them to make decisions on their own and offering them a degree of autonomy.
Easy to clean
Some lunch boxes are dishwasher safe, as you simply place them in the machine and let the equipment do the work for you. If you are concerned about the water consumption of a dishwasher or do not have one, you can always select plastic or metal models that are easy to clean and do not absorb too many stains so that you can wash it easily using water and antibacterial soap.
Durability
Even the most careful children can damage their lunch boxes when playing with them, using them, or transporting them; this is normal. For this reason, it is advisable to choose models that are very resistant to bumps and easy to handle; in this way, you not only guarantee that the lunch box will have a long useful life but also that your child will not suffer accidents during its use and consequently cause any breakdown or damage.
Care and Maintenance
How to keep clean
Mold and odors are some of the things that often form in school lunchboxes, this can discourage children, as the smell can affect their appetite or alter their perception of food, but this is the least of your problems. Mold and bacteria can cause dangerous illnesses in children, even endangering their lives. That's why it's important to clean your children's lunch boxes every day to keep the space clean and reduce the risk of infections and stomach illnesses. To spotless a lunchbox, just follow these steps:
Fill the sink with warm water and pour in some dish soap, then shake the water until it starts to foam.
Put the lunchbox in the sudsy water and wipe the inside with a sponge or a clean, soft cloth until there are no traces of dirt or odors.
Use a cloth dampened in water to rinse the lunch box, wipe it until there are no more soap residues, and then dry the lunch box with a clean towel. Finally, just let the lunch box dry completely and then store it in a dry and clean space.
Is it dishwasher-safe?
Some lunch boxes are dishwasher-safe. Simply place them in the machine and start a wash cycle. To achieve this, you should make sure that the lunchbox manufacturers indicate that the boxes are dishwasher safe. That way, you'll save time on cleaning and be able to dedicate it to your children or to preparing nutritious and excellent recipes to surprise them at lunch.
How and where to store when not in use
When the lunch box is not in use, such as during school vacations, it is advisable to store it in a dry place away from sunlight. This will protect the plastic or fabric from deteriorating and losing its color. Good care will help a quality lunch box have an extended life span.
In the event of rips or tears
Fabric lunch boxes tend to suffer rips or tears relatively frequently. If you wish to reduce your consumption levels and consider that you can use it for its lifetime, you can try to repair the damage.
To start the repairs, you should measure the tear, then choose a yarn of a similar color to the damaged area. Measure three or four times the length of the tear or rip in the thread, and then double this measurement. Cut the thread, insert it into the needle, and start joining both ends with a side-to-side stitch. Depending on your skill, the seam will be more or less noticeable. If you're feeling creative and it's a child's lunch box, you can try creating embroidery to hide the damage or disguise the stitching.
How to get rid of stains
Lunch boxes can easily get some stains, either due to contact with food or the school environment. The most common stains tend to be from ink, paint, sauces, and colorful juices. Each type of stain should be treated according to its characteristics; for example, ink can be removed with milk, paint with alcohol, and stains from sauces and juices with vinegar. Never ignore stains, much less place them in the dishwasher without removing them first, as the heat of the water will only contribute to the stains clinging to the fibers of the lunch box with greater strength.
How to get rid of the odor
Lunch boxes tend to absorb bad odors with constant use, and these can make your child uncomfortable at mealtime. To get rid of them, just dampen a tissue in vinegar and rub vigorously all over the surface, then spread baking soda on it and let it sit overnight. The next day just rinses, and the lunch box will be as good as new.
If you wish, you can prepare a mixture of baking soda and vinegar, moisten paper towels in the mixture, and fill your lunch box with them. Let it sit overnight, and the next day, just rinse it. Repeat these steps if you consider it necessary. It is recommended that you clean the lunch box on weekends. You can soak it in a mixture of baking soda and vinegar or baking soda and water to prevent any bad odor from building up.