The Best Kids' Face Masks for 2023
Let your little ones rock these fun and stylish masks to protect themselves from anything bad in the air.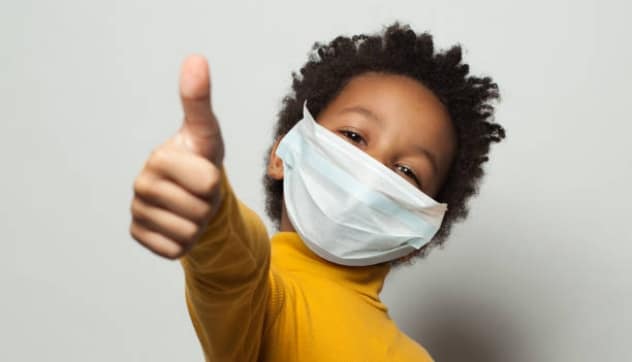 There are so many pollutants and bacteria in the air that we breathe. We understand why it's important to protect your loved ones in the best possible way.
In the wake of COVID-19, the CDC still recommends that all children, vaccinated and unvaccinated, continue to take the necessary precautions to stay healthy and protect those around them. One of the easiest ways to do so is by wearing a face mask.
The market is awash with thousands of kids' face masks, and finding those made with the uttermost care can be a daunting task. Unlike adults, children may be offset by the tiniest of issues concerning a face mask without a clear understanding of the importance of such a mask.
This is why we took our time to surf the market and find the best face masks for your little angels, considering plenty of factors that we have outlined below.
How We Picked
Strong Filtration

A mask is only as useful as its filtration efficiency because that is the main reason for wearing one. If a mask does not offer excellent filtration, then your child will still be exposed to some pathogens.

Considering how social and playful children are, finding a highly efficient mask is important to keep them safe.

Comfort and Secure Fit

The best masks for kids should have a secure yet comfortable fit. The mask should cover the nose and mouth completely.

Children will easily get rid of a mask that causes the slightest discomfort to their faces.

Style/Design

Children are very picky when it comes to what they want. To ensure that your child enjoys wearing their mask, allow them to pick a favorite color, design, or pattern.

You will have an easier time keeping your child safe if you are willing to buy what they like.

Cost-Effectiveness

Kids can go through masks so fast. You may want to buy masks in 50 or 100-piece boxes. This is not only convenient but also a wise financial decision. We also considered the price per mask as a comparison between options.
Our Top Picks
Best Pick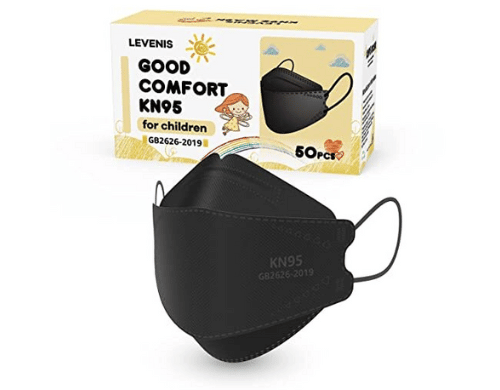 Made of non-woven material and has elastic adjustable ear loops
This KN95 face mask comes in cool color options and offers your child 95% filter efficiency.
If you are looking for a high-efficiency face mask, this choice will serve you well as it has 95% efficiency. It is made up of 4 layers to provide maximum protection and comes in a wide array of color options for you to pick from.

This right here is among the most efficient face masks on the market right now, perfectly suited for your child.
Runner Up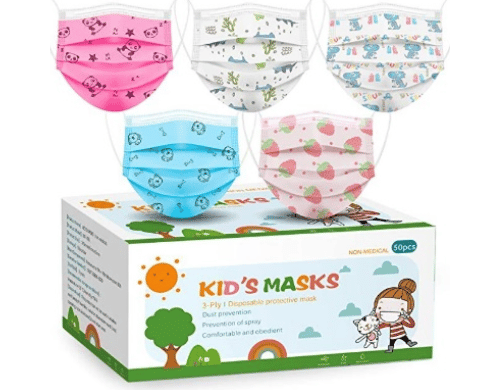 Best suited for both boys and girls aged 4-12 Years.
This option offers you 50 pieces of disposable face masks that come in different patterns, perfect for your little ones.
This packet of face masks comes with a wide array of colors and patterns for your child to choose from to match their outfit! It has a super soft feel against the skin, and the universal design makes it a perfect fit for children specifically.

The ear straps are designed to be comfortable and minimize pressure on the ears owing to their superelastic nature. The nose strip easily allows for adjustments to fit your child's face.
Most Cost-Effective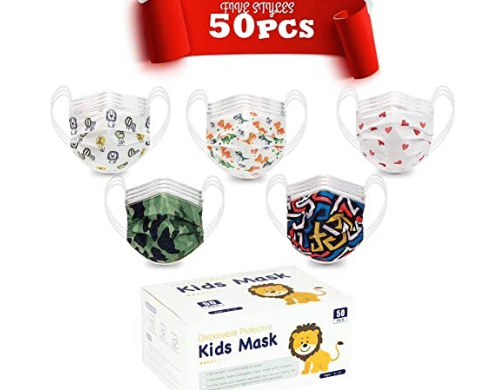 Lightweight and comfortable to wear for the little ones.
You get a pack of 50 face masks with five different lively and loveable patterns.
It is light in weight and perfectly comfortable against your child's face too! The universal mask design means that it can fit most children perfectly regardless of gender.

The soft ear hook doesn't put unnecessary pressure on the ears of your child, and the memory steel bar fits their nose shape to give a perfect fit!

Everything We Recommend
Best Pick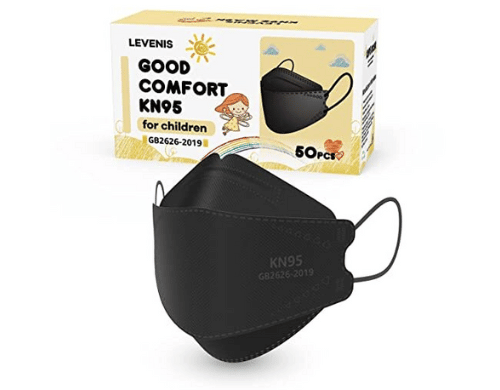 Made of non-woven material and has elastic adjustable ear loops
$19.99 ($0.40 / Count)
Runner Up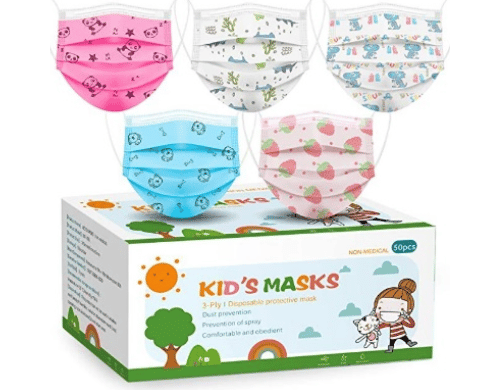 Best suited for both boys and girls aged 4-12 Years.
$6.99 ($0.70 / Count)
Most Cost-Effective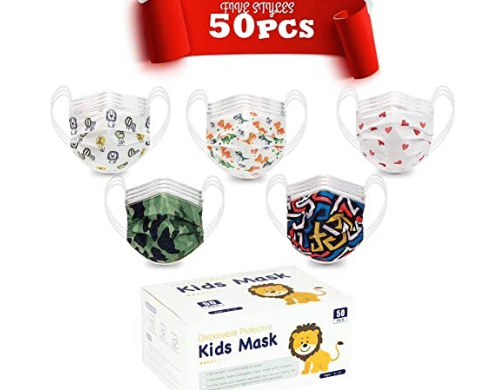 Lightweight and comfortable to wear for the little ones.
$9.99 ($0.20 / Count)
Who This Is For
This review is for any person, guardian, or parent who is looking for the best face mask for their children to wear with ease and comfort. It is also targeted at anyone looking to buy colorful and vibrant masks that are more suited for kids.
Does my child need a different type/size of face mask?
Most children have strong opinions about which masks they want to wear. The factors that drive those opinions can involve colors, patterns, or how soft the interior is against their faces. If there is a high-quality mask that they willingly put on for school, that mask is probably the best.
Why You Should Trust Us
The market is full of options that claim to be the best brand or claim to be offering the best product out there.
We all know that experience is the best teacher, and we have taken our time to go through the customer feedback of people who have experienced the products firsthand to get a clear picture of their functionality and how useful they are.
This list will help you narrow down your options.
How We Picked
We had a number of factors to consider as we did our evaluation to pick the best product that would suit your needs. These include the following:
Strong filtration: You should use a quality-made three-ply surgical mask made from melt-blown fabric and validated to have higher filtration — not all surgical masks are equal when it comes to quality, so pick what best suits your loved ones.
Internal second-filter: Experts have recommended the use of layered face masks as they give you a better chance of staying safe from the Covid-19 virus. These multi-layered face masks protect you by filtering out germs, bacteria, and other dust particles as compared to regular pieces of cloth that do not offer such protection.
Breathable material: Since children are ever active as they play and move around, heavy breathing is imminent. Thus, it is extremely important that you choose a face mask that does not cause difficulty in breathing. This will allow you to keep your masks on for a longer period and can also help them to stay calm and relaxed when you choose a mask with breathable fabric.
Comfort: Your child's skin is going to be in contact with the mask you purchase for an extended period. It is, therefore, important to pick a comfortable material that does not irritate them or cause any itchiness. The ear strips should also be elastic but not too tight. The nose pincher is also important to consider as it determines how well the mask sits on the face.
Secure fit: During this period of Covid-19 and air pollution everywhere, wearing a simple face mask is not enough to keep your child protected.
The face mask should be easy to wear and should also offer a comfortable fit against the face. The whole purpose of wearing a mask is useless if it doesn't fit their face properly and leaves gaps on the sides or the top. Therefore, ensure that the mask fits the face properly.
Style/design: Different masks have different styles of making and designs too. The 3-ply masks are the most common, but the limitation of these masks is that they don't fit tightly around the mouth and nose and thereby allow potentially infectious particles to float around the edges, unlike the KN95 design.
Durability: It is paramount that you pick a durable mask for your kids, especially since they tend to touch them a lot during the day as they go about various activities. The ear straps should be durable enough to hold up for the entire period of use.
KN95 design: Although experts have suggested healthcare workers should be the ones to use these N-95 masks, others can also wear them while going to crowded places. These masks are usually disposable and cannot be used more than once. Some may also be reusable. You can also find these masks in a size to fit your kids.
A final important tip that can help you choose the right face mask is whether it is reusable. Since we need to wear face masks daily, using a washable and reusable mask can help save a lot of money and time.
Care and Maintenance
How to properly wear a face mask
A face mask should properly cover the nose, mouth, and chin areas of your face at all times.
The ear loops should be adjusted to provide enough elasticity that allows for comfort but does not cause unnecessary pain to the ears or cause discomfort either.
Teach your children how to put on and take off a face mask
It is important to teach your children how to properly put on and take off a face mask. The correct procedure should be as follows;
Wash your hands before and after touching the mask. Touch only the bands or ties when putting on and taking off your mask. Make sure the mask fits to cover your nose, mouth, and chin.
If you adjust the mask to cover those areas, wash your hands before and after. Make sure you can breathe and talk comfortably through your mask. Reusable masks are washed after each use. If the mask is disposable, discard it when visibly soiled or damaged.
Mask etiquette
It doesn't do you or anyone else any good if your mask is hanging down beneath your nostrils or doesn't fit right. Teach your child that their mask should cover their nose and fit snugly under their chin and against their face.
Once the mask is off, they should fold it in half so the clean part of the mask (the inner portion of your mask) is facing out. They can place the mask in a paper bag or another clean receptacle.
Do not touch it unnecessarily and do not remove it when in public
Your child should be sure to wear a face covering whenever they are in an indoor or outdoor setting that is not your home and where you cannot ensure 6 feet of social distance.
It is important to avoid excessively touching the mask as they go about their activities.
If washable, how often to wash
If the mask is washable, it should be washed after every day or period of use to ensure that it is as clean as possible. Caution should be taken when washing masks, and proper chemicals and procedures should be used in such cases.
Do not wear a damaged or broken face mask
A damaged or broken purpose will not serve its initial or intended purpose in the right way. Such a mask should be disposed of and replaced with a new mask before going out into public.
If tags or straps or nose pinch have broken, the fit of the mask will be compromised
It follows that when the nose pinch or straps have broken, the mask is not effective since the fit is compromised, meaning you inhale unfiltered air as compared to when you have a fully functional mask.