The Best Kids' Bike Helmet for 2023
These best kids' bike helmets combine breathability, fit, and style.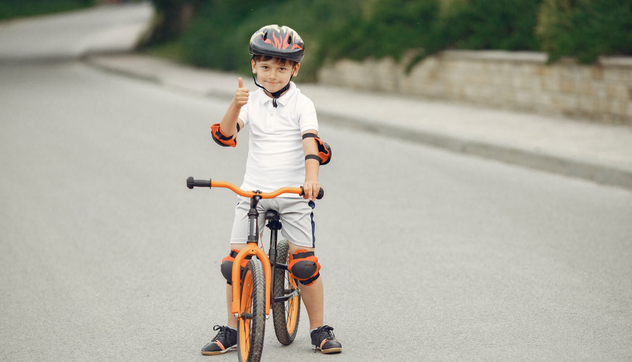 Biking is fun, but safety comes first! The need to have your kids properly equipped and protected for outdoor activity cannot be overstated. Most biking injuries occur because a child either isn't wearing a helmet or is putting themselves in a potentially dangerous situation. These serious injuries can be avoided or at least reduced if they have a helmet on. As a result, it is necessary to provide one for them. And with kids, it has to be the right one!
With so many kids' bike helmets out there, it might be tricky to find one that suits your young rider. To help you find the best bike helmet for your child, we have compiled some great options.
How We Picked
Fit and Size

Helmets only work if they are the right size and if they are fitted properly. A kid's helmet must be fitted precisely to offer maximum protection. As such, we considered those with features and engineering that make for adequate tightness and fit for it to sit squarely on your kid's head with a combination of a dial mechanism and removable padding as kids' helmets are not one size fits all.

Comfort

To have your kid put on a helmet for every single ride, it sure has to be comfortable. Properly designed helmets will have ventilation vents that enable airflow to cool the head, and the inner padding shouldn't be too soft or too hard so that it makes a snug fit on the child's head. As such, we have found the most comfortable helmet for your little one.

Type of Material + Strap

Kids' helmets are made from lightweight materials. It's critical to choose one with a sufficiently rigid outer shell that isn't too heavy but still looks cool. Kids also prefer brightly colored helmets with straps that tuck securely under the chin rather than being dangly and loose.

Price

When it comes to the cost of kids' helmets, you can indeed get your kids protected for just a few bucks, and spending more won't necessarily get you safer helmets, but if you care about more than just safety, you might have to spend more to get helmets with added features such as those that use rotational mitigation technology and are made to flex upon impact.
Our Top Picks
Best Pick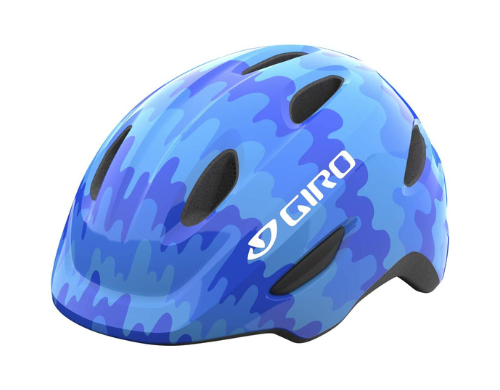 Fantastic head coverage that secures a snug fit no matter the bumpy terrain.
A sturdy kids' helmet that utilizes the Multi-Directional Impact Protection
System to redirect energy in case of a crash.

You can't go wrong with the very lightweight Giro Scamp helmet that comes in an extra-small (XS) size that is suitable for head sizes between 45 and 49 cm. It also has a great size adjustment dial to accommodate various head sizes and growth.
Runner Up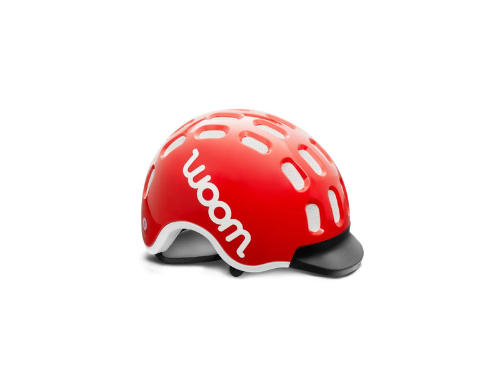 Woom Kids' helmet is cozy and warm and comes with an innovative visor that is designed for added facial protection.
Woom takes comfort to the next level with dial-adjustable knobs that ensure this helmet stays squarely on your child's head during bumpy rides.
The Woom Kid's Helmet features a child-friendly magnetic closure system that is easy to use and ensures zero pinching of skin or hair. What's more, the outer shell is made of lightweight in-mold polycarbonate with an EPS foam inner shell, plus its innovative Visor not only protects from sun and rain but also maximizes cushioning in the event of a fall. Totally adorable!

Most Cost-Effective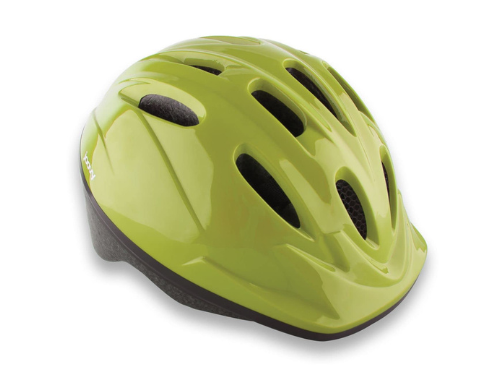 This helmet is a perfect combination of lightness, breathability, and style that your kid would love.
Joovy Noodle comes with an adjustable-fit sizing dial, a sun visor, a pinch guard on the chin strap, and 14 vents to keep your young cyclist cool all through the ride.
The Joovy Noodle kids helmet is available in two sizes; small (18.5"–20.5") and medium (20.5–22"), offering you the versatility you need. Also, prepare to have your kid use it for a really long time because it is sturdy and comes in seven vibrant colors; black, blue, blueberry, greenie, orange, pink, and red which are bound to be adored by all kids.
Everything We Recommend
Best Pick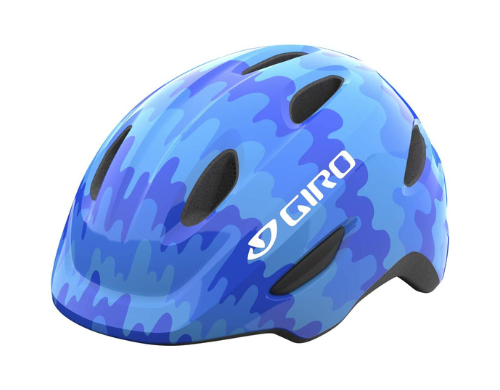 Fantastic head coverage that secures a snug fit no matter the bumpy terrain.
Runner Up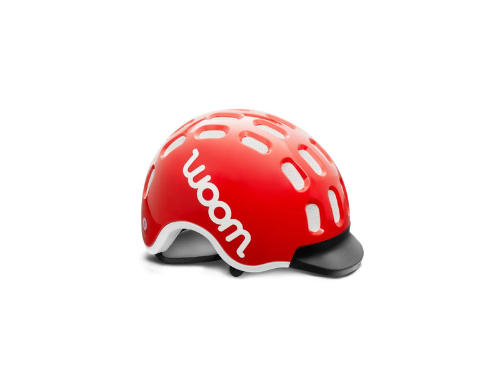 Woom Kids' helmet is cozy and warm and comes with an innovative visor that is designed for added facial protection.
Most Cost-Effective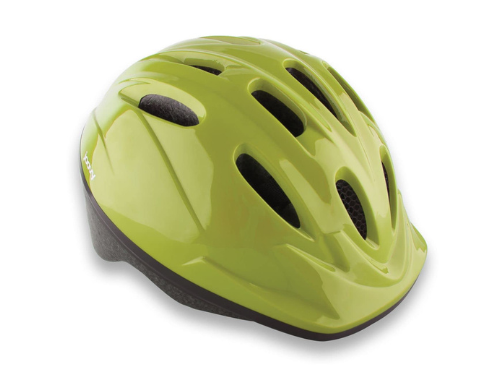 This helmet is a perfect combination of lightness, breathability, and style that your kid would love.
Who This Is For
The products advertised here are for different kinds of young riders who need a helmet that can offer good protection against direct skull injuries during biking and for parents who want their kids well protected as they go biking without having to put up a fight with them over an undesired helmet.
Kids' bike helmet vs. a regular helmet: which one offers better protection?
Regular helmets are usually full-faced, offering overall head (and face) protection. However, certain aspects might be disadvantageous to young riders, especially because it wasn't originally customized to suit them. Firstly, there is the problem of fit; as it has been said, helmets only work if they are the right size, and regular helmets run the risk of not adequately fitting the little ones.
Secondly, there's also the problem of the weight associated with regular helmets, which causes discomfort and should be removed. Kids' bike helmets are much more carefully designed to fit their tender heads, while regular helmets do not take this factor into consideration. Regular helmets, particularly those with full face covering, also provide the kids with reduced sound and visual awareness, limiting their alertness and consciousness as they ride around.
Overall, kids' bike helmets offer more protection as they are engineered primarily for a child's safety and protection and come with a construction that conforms to the anatomy and general personality of children.
Why You Should Trust Us
With so many kids' bike helmets on the market to choose from and the need to protect your children with the proper safety equipment, We have, after much research, found you the best kid's helmets that meet consumer products' safety standards and provide all-around head (and face) protection without sacrificing comfort and affordability, as well as aesthetics and styling, which are indispensable with children.
How We Picked
Finding the right bike helmet for your young cyclist requires finding a perfect fit that is comfortable, durable, acceptable, affordable, safe, and easy to use. Taking these into account, we checked for products that house such appealing features and scoured through various online markets and review hubs, learning from verified users' experiences with the various product types. We considered the type of material used in engineering them, which invariably determines their strength, durability, and safety. Some of our picks come with a Multi-directional Impact Protection System (MIPS) designed to redirect rotational force upon impact, thereby preventing concussions and brain injuries. 
With the understanding that feature-packed shouldn't mean heavy, we selected those helmets that were relatively lightweight. We evaluated their ventilation provisions, the suitability of the inner pads, as well as the adjustability and safety of the straps. Each helmet in our selection has a variety of adjustable dials to accommodate different head sizes and growth. And knowing from experience that getting kids to wear their helmets won't be a problem if they like it, we picked helmets that come in a variety of colors and kid-friendly designs.
Care and Maintenance
Guide your kids to always wear the helmet correctly, it shouldn't be tilted too far back so it can prevent their face from smacking the ground in case of a fall. Instead of being dangly and loose, the chin strap should always be comfortably tightened and tucked securely under the chin. Avoid the use of domestic and commercial cleaning agents on the helmet. To clean your kid's bike helmet, a small amount of PH-neutral soap or detergent should be used and rinsed afterward in clean water. It should always be stored in a cool, dry, and chemically neutral place and shouldn't be stored when wet to prevent odors.
Last and most importantly, always replace your kid's helmet after it has been in a crash or accident of any sort, even if you don't see any visible damage. Helmets are designed to absorb a single impact, after which the protective features have been compromised.