The Best Keurig Machine for 2023
Boost yourself with a cup of coffee easily with a Keurig machine.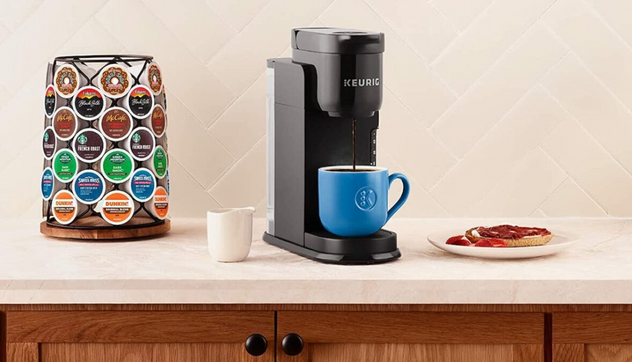 Coffee is a popular beverage that many people can't do without. In offices, schools, and homes, coffee lovers can't run their days without drinking a cup of coffee. There are different types of coffee and they all have their fan bases. People take coffee because of its ability to boost their energy levels and fine-tune their focus. The customized top layer of some coffee can brighten your day.
If you want to get into the coffee enjoyment journey or you are already a lover but you want quick and satisfying coffee, then you need a Keurig machine. A Keurig machine brews the perfect coffee in less than one minute. There is a Keurig machine for every type of coffee. You just need to know your favorite coffee that brightens your day and get the Keurig machine that will brew it for you ASAP.
How We Picked
Purpose and Frequent Usage

An excellent Keurig machine will do for you whatever purpose you assign to it. We picked top-notch and efficient Keurig machines that can make strong shots of coffee. They don't get easily damaged due to frequent usage. Every brewing process of these Keurig machines delivers superb and dreamy cups of coffee.

Cup Size and Capacity

Some people don't go for this kind of machine because they believe that they are pre-programmed to deliver a certain amount of coffee. This belief is a fallacy when it comes to these Keurig machines. These machines have an excellent capacity to brew coffee in different cup sizes that range from four - 12 oz.

Speed and Noise

The main point that distinguishes Keurig machines from other traditional coffee pots is speed. The selected Keurig machines brew a soothing cup of coffee in less than a minute. That's not all! They are also engineered to do the brewing with minimal noise.

Cost-Effectiveness

No machine is expensive when it does its work effectively and that's what Keurig machines do. Keurig machines deliver a mouthfeel and well-balanced cup of coffee in a quick turnaround time. These machines have numerous cup sizes that satisfy your needs every time. They are durable and easy to use.
Who This Is For
These selected Keurig machines are for coffee lovers who want a quick turnaround delivery of super enjoyable coffee. These machines are suitable for homes and workplaces.
What are Keurig machines?
Keurig machines are push-button coffee machines that brew single-cup coffees in less than one minute with the use of plastic pods called Keurig cups or K-cups. A Keurig machine uses a plastic pod known as K-cups which houses the coffee for a single serving. Keurig is a company founded by John Sylvan and Peter Dragone in 1992 to make coffee available in every office in America. 'Keurig' is a Dutch word and it means excellence.
What is the difference between a Keurig machine and a standard coffee maker?
The difference between a Keurig machine and a standard coffee maker is its convenience. With a Keurig machine, you enjoy a quick and well-brewed cup of coffee any time, any day. Keurig machines were created to eliminate the problem of bitter, stewed, and stale coffee sitting in pots in offices all morning. If you want speed and convenience, then a Keurig machine is better than a standard coffee maker.
Are Keurig machines worth it?
If you are a casual coffee drinker, then you need a Keurig machine. Keurig machines are easy to use. You just pour water into the water tank, pop in a pod, push the start button, and in less than a minute, you have your cup of coffee. The Keurig machines produce excellent cups of coffee in little time and during the entire brewing process, they don't use much energy. They use less than one-half the power of most conventional drip coffee makers.
Why You Should Trust Us
The Keurig machines have faced many objections in the previous years and we aren't here to play the pity card. For convenience and enjoyment, we have decided to put together top-notch Keurig machines that deliver soothing cups of coffee. We did thorough and unbiased research and in-depth analysis and we ended up with these four awesome machines that excelled in all our tests.
How We Picked
In our quest to give you the best and most cost-effective Keurig machines, we scoured through many professional reviews and customers' feedback. With the guidance of these professional reviews and genuine customer feedback, we were able to handpick four energy-efficient Keurig machines that deliver awesome coffee.
These selected Keurig machines suit every purpose that you want to use them for. These machines are well-sized and can withstand the stress of frequent brewing. They have sufficient water reservoirs to brew more than one cup. These Keurig machines are well-designed, quick, and make little or no noise during the brewing process. Some of these machines are manual while some are programmable but the two types have a maximum temperature of 192°F. These machines feature excellent preset timers, programmable auto brew, a digital LCD, and a strong brew button.
Care and maintenance
Do not submerge the machine in water
If you want to fill your Keurig machine, take a cup and pour water into the reservoir. Don't submerge the machine in the water because this will damage the Keurig machine.
Dealing with leaking
Most Keurig machines leak due to clogging. When you don't descale your machine regularly to clear the calcium deposits, it will cause most Keurig machines to leak. If descaling doesn't solve the leaking problem, then check for where the machine is leaking. If the seal of the valve of your machine is broken, it may cause leakages. If that's the case, you just need to replace the seal. If the water reservoir of a Keurig machine is cracked, you may need to repair or replace the tank. Lastly, don't overfill the tank as this may cause leaking and eventually damage the machine.
How to set up
Most Keurig machines are already coupled together from the factory. You just need to proceed to use it to brew the coffee that you want. If you want to use a Keurig machine for the first time, remove the water reservoir and rinse it with cool and clean water. After cleaning the reservoir, fill it up with clean water. Once the water is filled up, hit the power button and let the water boil. Then, proceed to run a brew cycle without Keurig coffee pods and discard the water. After the cleaning process, you can now proceed to brew your first beverage. Choose a mug and place it in a drip tray. Select a pod, lift the handle of your Keurig machine and insert the K-Cup pod. Make sure that the K-Cup is used with the foil. Close the lid and make sure it is securely closed. You need to select the brew size that you want by pushing the brew size button and then, wait for one minute and your cup of coffee will be ready.