The Best Kettlebell for 2023
Lift weight with comfort and confidence.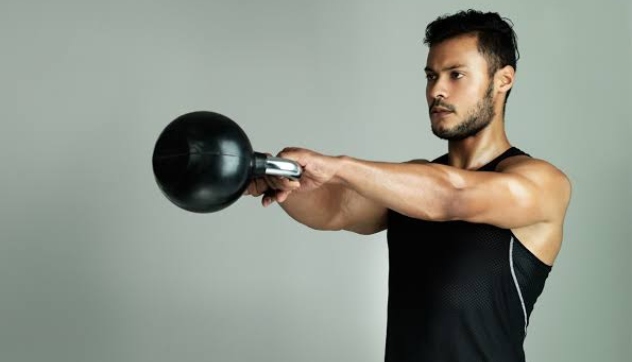 Exercises using a kettlebell range from grip strength training to endurance drills that work a variety of muscle groups to increase strength and size. Kettlebells are a wonderful tool for enhancing core strength, balance, and explosiveness since they have a kettlebell's center of gravity, which is very different from a dumbbell's.
When it comes to growing muscle, burning fat, and toning, kettlebells are one of the most adaptable exercise equipment. They are also lightweight, affordable, and simple to store, which is an advantage. This short guide will help you get the most out of each kettlebell session. You will learn everything you need to know about kettlebells in this article, though, so that you can make an informed decision.
How We Picked
Weight and Bell Style/Type

You should know the capacity of your strength, so you don't have one that is too hefty. Also, depending on the purpose for the use, style comes into play.



Size for your fitness goals

The goal for which you are weight training has a big impact on the type of exercise you should do and the number of kettlebells you should use to achieve it.


Handle Width and Thickness

The kettlebell's handle is crucial since it enables you to select the right kettlebell for your exercises. Choose one that is easy for you to grasp securely.


Cost-Effectiveness

Although Kettlebells are more portable weight lifting equipment, other equipments are a better substitute. However, spending a fortune on it may not be ideal.

Our Top Picks
Best Pick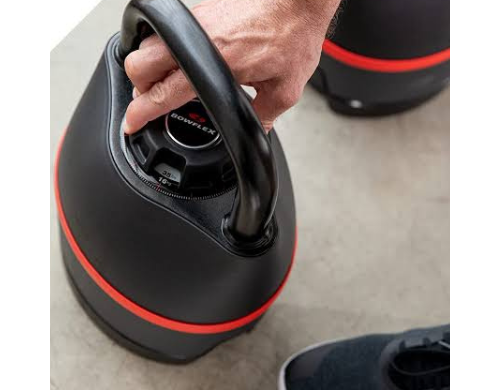 Although expensive, it does give room for multiple uses.
The Bowflex SelectTech 840 has a weight selection dial and an ergonomic handle.


Due to the practicality, streamlined style, and high quality of this model. The kettlebell's weight ranges from 8 to 40 pounds, and you can change it with the easy turn of a dial, providing a brilliant way to save space. As a matter of fact, the single adjustable kettlebell replaces six separate kettlebells.

Runner Up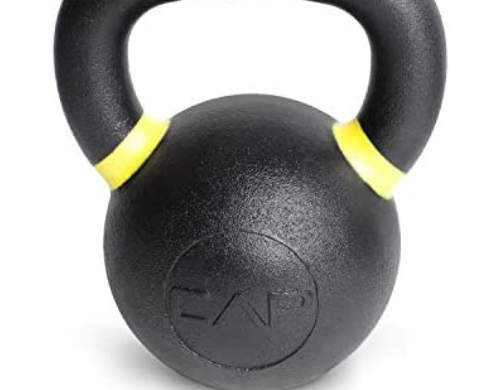 Best for working out the entire body or targeting particular muscles.
The CAP Barbell has a wide-opening handle and provides an excellent full-body workout.


The CAP Competition Kettlebells are color marked for simple identification and come in a variety of sizes. CAP carries the size kettlebell you need, whether you are a fitness aficionado or just starting out. The following lb. weights are offered in this CAP kettlebell group: 9, 13, 18, 26, 35, 44, 53, 62, 70, 80, 88.

Most Cost-Effective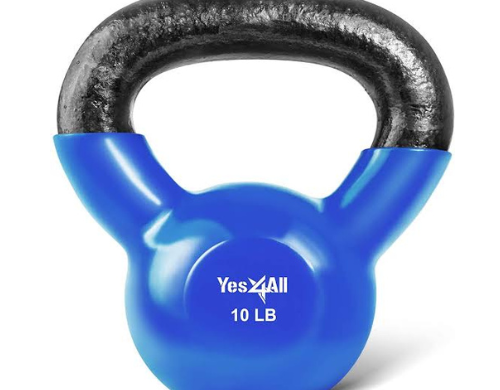 While it is durable and great for beginners, it is also cheap.
The Yes4All Vinyl is encased in vinyl to stop corrosion, boost longevity, and lower noise.


This model has no seams, welds, or other weak points because it is made entirely of solid cast iron. Even in tough conditions, it is great for indoor and outdoor use. You may choose the ideal weight for your training or degree of fitness because it is also offered in 5, 10, 15, 20, 25, 30, 35, 40, 45, and 50 lbs.

Everything We Recommend
Best Pick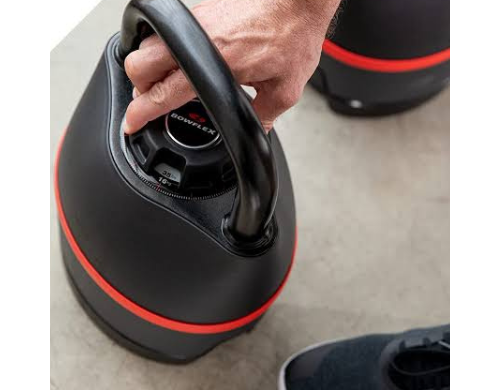 Although expensive, it does give room for multiple uses.
$129.00
Runner Up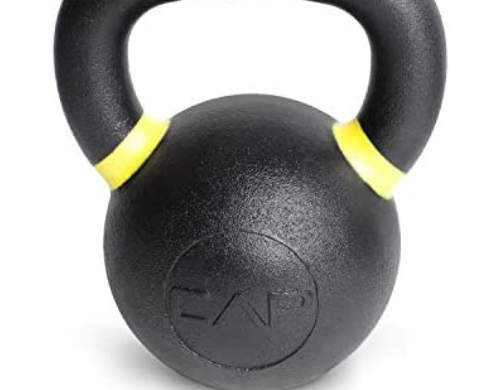 Best for working out the entire body or targeting particular muscles.
Most Cost-Effective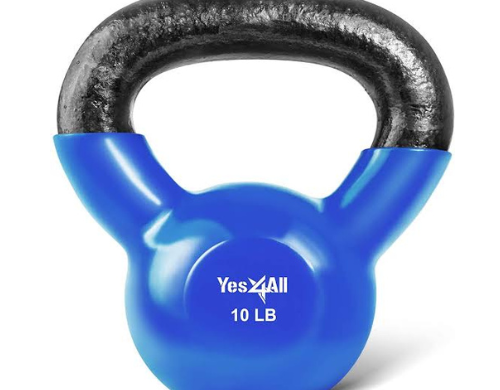 While it is durable and great for beginners, it is also cheap.
Who This Is For
This guide should likely be taken into consideration if you have ever considered exercising indoors and employing the best tools for a better experience.
What exercises can you do with kettlebells?
You can burn more calories using kettlebells than with dumbbells because of their unique design. You can push them, tug them, twist them, swing them, and make them leaner, stronger, and more powerful. They are also easier on your wrists than dumbbells.
In addition, gravity pulls straight down instead of slanting side to side like a dumbbell because of its offset weight. Exercises done with kettlebells include ballistic movements that combine aerobic, strength, and flexibility training. Kettlebells are the primary piece of equipment used in the weightlifting discipline known as kettlebell lifting.
Different type/style of kettlebells
Cast Iron and Competition kettlebells are the two fundamental sorts of kettlebells in the huge world of kettlebells that you should be aware of whether you use them frequently or infrequently.
The Cast Iron Kettlebells are made from a single, solid piece of metal, and as they get heavier, they get bigger. Their grip is also large, making it possible for you to utilize two hands if necessary, making all those double-handed exercises now feasible. They are typical kettlebells with a wide grip to fit both hands. They are ideal for home gyms, CrossFit, and novices.
Competition kettlebells, on the other hand, have slightly slimmer and smaller handles and are perfect for persons with little hands or those who favor one-handed swings. They are made to be operated with just one hand, and regardless of weight, the size and form remain the same.
Why You Should Trust Us
We have observed a sizable quantity of terrible incidents and negative testimonials from gym devotees. We also recognize that you could choose to work out your muscles at home whenever you like rather than going to the gym. However, you must select a piece of equipment that is more dependable and long-lasting, in this case, a "Kettlebell."
We went to a few gyms and observed several models. Fortunately, we were able to speak with respected trainers and regular kettlebell users and acquire their opinions. We were able to distinguish between the several models accessible by using their training objectives and capabilities as our guides. To give our research more legitimacy, we also expanded it to include markets and reviewed portions.
How We Picked
Weight
Instead of risking injury by lifting too much weight when you're first starting with using a kettlebell in your workouts, start slowly and increase your strength. Starting with 4 to 6 kg kettlebells will allow you to use the weight for both upper and lower body workouts when you first begin your training regimen.
For intermediates, we suggest a 10 kg kettlebell since it will enable you to proceed to routines like the kettlebell swing, which is wonderful for addressing the lower body while simultaneously pushing your core and fostering stability in the muscles of your shoulders and lower back.
So, as you progress with your training routine, you may also want to upgrade the weight of your kettlebell.
Bell type
Kettlebells can be fashioned of cast iron, steel, or aluminum. Even though they are composed of the same material, not all kettlebells are created equal. The grade of the material utilized has an impact on a kettlebell's durability. Even kettlebells with a rubber coating are possible. Kettlebells made of rubber work well at home.
Whether you plan to exercise at home or in a commercial gym, your choice of kettlebell material will depend on how experienced you are with weightlifting and whether you're a novice or a professional.
Size of bell for your fitness goals
The motivation behind doing weight training is a huge factor in how effective it is. because it affects the workout you should do and the size of the kettlebell you should use to achieve your aim. You don't need a big kettlebell for burning calories and weight loss; a portable one will do. However, if the goal is to improve strength and build muscles, large size may be advised.
Handle width
The worst scenario is having your kettlebell slip out of your hands in the middle of a workout. You ought to look for a handle that is wide to prevent this. This will not only make it easier to hold, but it will also provide you with enough room to hold it with both hands.
Handle thickness
You must be able to handle your kettlebell to gain the most benefit from it. Therefore, you should pay attention to the size and thickness of a handle. Choose one that fits nicely in your hand, allows you to grip it securely without putting undue strain on your muscles, and keeps your wrist straight. If the handle of your kettlebell is too thick or large for your palm, it may slip off during lifting.
Price vs Quality
The prices of the majority of kettlebells will be comparable. To ensure that the more expensive options are worthwhile investments and the less expensive options retain a certain level of quality, we made sure that both. When evaluating a kettlebell's pricing, we take into account several elements, including its construction, warranty, user feedback, and testing procedure.
Style/Design
Touching the handle should feel smooth and not overly harsh. When held in the rack position or pressed overhead, the bell pulls on the skin, therefore it should only be painted and not covered in any kind of plastic. Furthermore, it's prone to deterioration with time, especially if you ever leave your bells exposed to the outdoors. Choose a bell with a typical round shape instead of a quirky new age bell that tries to distinguish out by having a unique shape.
Feet or Stands
Are they needed?
The kettlebell's base should be naturally flat and free of any connected rubber or plastic bases. Unfortunately, stands will severely dig into your arm and your torso when you're using the kettlebell, even though they can be useful for preventing marks on your floor. You most likely receive a kettlebell that naturally rests on the ground without the aid of any substance.
No sharp edges
In general, smooth handles are more difficult to grip than textured ones, especially when swinging. Check for sharp paint flecks that protrude from kettlebells and look for any small nicks where the handle links the body that could cut into your hands.
Care and Maintenance
No sharp edges
Even though you would still use powder coating, you should avoid any kettlebells that have sharp edges or poor finishing. Badly made kettlebells will severely diminish the enjoyment you get from exercising by banding up your forearms and destroying your wrists.
Handle thick enough to grip without being difficult
While shopping for a thick-handled kettlebell, be careful not to get one with an excessively thick handle. The kettlebell handle will likely be a little too thick for you if you can't wrap your fingers completely around it. Finishing repetitions of an exercise can be quite difficult when using a kettlebell with a grip that is too thick since it will soon wear out your forearms.
To grip a kettlebell safely and securely with two hands if your hands are large, seek for a kettlebell with a handle that fans out in both directions. However, if your hands are little, go for one with a smaller handle rather than a thicker one that can be more difficult for you to hold.
Keep toes, feet, and any personal items away from the area in which the bell may fall if dropped
You should most likely have adequate workout space if you want to avoid a terrible training experience. By doing this, you'll be able to keep your feet and other valuables a far way from the region where the kettlebell might come off.
Where to store
The best kettlebell storage solution is a stand or rack that keeps your kettlebells off the ground while allowing you to remove and reposition them with ease. You can either utilize a rack designed exclusively for storing kettlebells or search for another rack that lets you store other tools as well.
Cleaning the handle
You should generally immediately wipe off any sweat or powder from the handle before doing a thorough cleanup. This is crucial to maintaining the quality of your kettlebells as well as good hygiene. After that, you may simply spray the handle with a disinfectant and wipe it down with a microfiber cloth. Before storing your kettlebells, you must use a microfiber cloth to completely dry off any remaining moisture.
Preventing wear on the handle
Over time, coatings can deteriorate; corrosion can result from even the smallest nicks and scratches. Make sure to keep the pieces clean and add more protection as needed.
However, keeping your kettlebell handle dry at all times, even after cleaning, is the simplest way to stop it from wearing. Another option is to paint the handle with additional layers, however, this process demands some degree of painting experience.