The Best Karaoke Machine of 2023
With these machines, you get to enjoy karaoke at your convenience.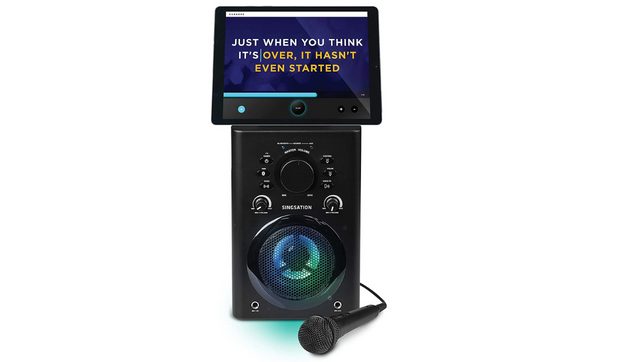 In the 1970s, a group of businessmen asked a popular Japanese musician to record his songs for them, replacing his voice with lyrics to which they could sing along. Later on, in a separate event, an orchestra group went on strike and in their place, this form of singing was used this is where Karaoke, which means empty orchestra, got its name from. Karaoke was introduced in places of entertainment and eventually in karaoke boxes, which were accessible to the general Japanese populace. Eventually, this gem spread into Canada and the Americas alongside other continents.
The global karaoke market is valued at $10 billion. The expansion of this industry has seen an increase in karaoke bars and the eventual purchase of karaoke machines for personal use. We undertake the task of finding the best machines for you so that all you have to do is enjoy your musical art form!
How We Picked
Sound Quality/Volume Control

The sound quality produced by your karaoke machine determines how enjoyable your listening and user experience will be. You also want to control the audio range of your device so that it isn't too low or unnecessarily loud.

Size/Portability

You need to be able to fit your Karaoke machine into your space without it taking too much of it. If you are able to easily move it around, then it becomes more convenient.

Ease of Use

As with most electronics, the initial setup can be tricky and that is why the manual comes in handy. You don't want a machine that is complex to operate because this becomes cumbersome.

Cost-Effectiveness

You need to ensure that the machine you purchase falls within your budget range. There are machines available for a comfortable pocket price.
Who This Is For
Do you love Karaoke? If you answered yes, then this article is for you. There is no need to keep spending money at Karaoke bars when you can carry the fun home with you. With this machine, your whole crew can have fun together in a private space and this allows for spontaneous karaoke hangouts at your convenience.
Do I need a full audio set-up to use/have a karaoke machine?
A karaoke machine comes with an inbuilt audio system that doesn't need reinforcement for the most part. The machine comes with speakers and a microphone as its basic components. You don't need to hook up the machine to anything external for audio backing unless you want a certain sound or volume range that it otherwise cannot achieve.
Do/can karaoke machines record?
Some machines come with a recorder that allows the singers to record their audio over the songs' tracks. This allows for a playback option and is perfect for keeping memories. You might need to pay a bit more than you would for a basic karaoke machine set up but we think that it would be worth it.
Why You Should Trust Us
A lot of hours were spent on the research aspect of this article, which is something that we take great pride in. Various articles were combed through, which informed us about the current machine market, and then the customer feedback led us to this compiled list.
How We Picked
We reached our conclusion on the best karaoke machines by using various elements as our guidelines. We examined the sound quality of the entire system. This includes the speaker and microphone sounds, their feedback range, how clean or crisp the sound is produced, and the area covered by the sound. This last aspect determined how loud the machine was and most importantly, the volume control capacity of the machine. A handheld remote or ease of increase and decrease of volume is fundamental.
The Karaoke machine you decide to get should fit comfortably in your space. There are some which are small and portable and thus perfect for cozy spaces. If you will be moving your machine around then you need to consider its weight and general portability so that you don't damage your machine. You can find a karaoke machine that is perfect for any space so consider this before making your purchase. 
The higher the machine quality, the higher their prices because of all the features that they have or simply because of the sound quality that they can produce. This should not discourage you from purchasing a karaoke machine because even when you are on a budget, you can still find a great device. 
A machine that you purchase for pleasure should not be difficult to use so that you can keep enjoying it. Ease of use is necessary, especially for the days when the karaoke is fuelled by both alcohol and the love of music or for the karaoke machines made for children.
There are various designs of karaoke machines in the market such that anyone can find what is to their taste and preference. Some machines are very simplistic in their design, others minimalist and others flamboyant. 
Some additional features to look out for when buying a karaoke machine include WiFi or Bluetooth connectivity which allows the speakers to play music from any laptop or phone. This means that cables are not necessary and this reduces the overall bulkiness of your machine. It also means that you can enjoy a variety of music by playing tunes off the internet as opposed to only using the existing prerecorded music. A USB connection port is necessary for ease of charging or even for connection with other auxiliary devices such as an amplifier where necessary. 
An interactive system that has a lyric screen is essential to the art of Karaoke, making the whole experience very enjoyable. You don't need to read off another screen for lyrics, particularly where microphones are involved. You want a good microphone that is compatible with your machine and is not bulky when moving around during your performance. 
A machine that can record and playback your karaoke tunes is perfect for memory-making and is generally a great addition to a great karaoke session. The recordings can be held on a CD, or memory card. Or an SD card, which you can later use to transfer the music files for better storage on a hard drive or an online drive.
Care and Maintenance
As a rule of thumb, always read the instruction manual that comes with your machine. You need to know what parts come with it, how to assemble and to care for it. General machine malfunction can be avoided with proper usage of the instructions manual, which may vary from one brand to the other. 
Some people are super sensitive to various components of sound, for instance, an autistic person. You need to ensure that you know your audience and then proceed to use your remote wisely. A number of machines have funky colors that might blink and so the decision as to what works for you and your audience is solely yours. 
While setting up the machine, follow the manual instructions to avoid any damage. Make sure that you also adhere to the set-down storage instructions so that you can guarantee your machine's longevity. Keep the karaoke machine clean by dusting it with a damp cloth often and then letting it air dry before storing it away. You can spray rubbing alcohol on the microphone after usage and then let it dry in order to disinfect your device.
If your karaoke machine is cabled, retract it or remove then fold it then proceed to store the cord in a cool and dry place. When in use, make sure that no cables are hanging by laying them flush against surfaces. You can ensure that they remain so by taping them down to minimize the risk of injuries. 
The better care you take of your karaoke machine, the longer you get to enjoy its usage. Store it in a cool and dry space if it is portable. If not, cover it to avoid dirt building up on it.