The Best Jump Rope of 2023
Enjoy alternative cardio workouts with these best jump rope. .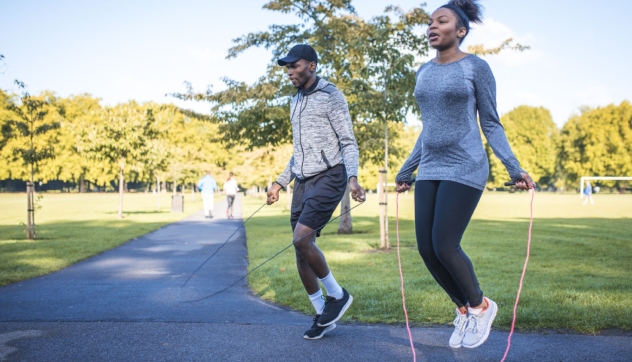 The jumping rope is one of the most popular pieces of exercise equipment in the world. A jump rope requires little space, provides an excellent cardio workout, and is super portable. Jumping rope helps you in several ways, including releasing your energy, improving endurance and stamina, and strengthening your arms and legs.
It is undeniable that using a jump rope also takes effort to get used to. That's why we reviewed a wide selection of jump ropes that can provide comfort through a comfortable grip, smooth rope loops, and reasonable prices. We also provide options that children can use. Let's dive in!
How We Picked
Material

We've reviewed jump ropes made with various materials, from PVC to nylon to steel wire. Each material has its benefits and is best suited for different environments.


Comfortable Handles

Jump ropes are frequently used in challenging environments, so having a rope with padded, comfortable handles is helpful. We consider the shape, size (diameter), and surface texture to be components of the material because they all contribute to user comfort.



Size + Weight

We pay attention to weight and size, which can broadly represent such things as user expertise, usage requirements, and user age.


Price

We choose jump ropes at the best prices among competitors' products with the same qualifications. We call it a good price-to-quality ratio.


Our Top Picks
Best Pick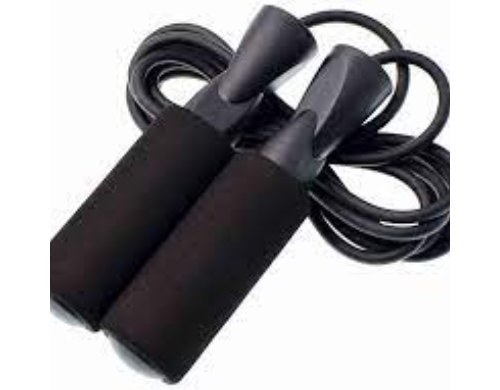 Measuring in at 9 feet and 8 inches, this jump rope is long enough for most people.
XYLsports Jump Rope is suitable for beginners and outdoor use.

The XYLsports Jump Rope is one of the best-selling jump ropes on Amazon, offering the best quality for general use. It has padded handles for a better grip in case you perspire a lot and is made of very durable PVC. This jump rope is appropriate for beginners because it lets you swing the rope around freely.

Runner Up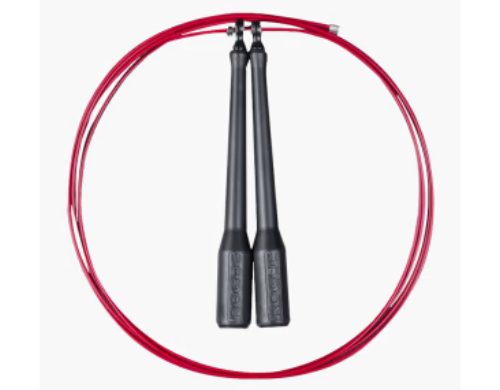 Great innovative speed jump rope.
The Rogue SR-1 Bearing Speed Rope is equipped with two-point rotation and allows it to be swung very quickly without losing its comfort.


With its unique two-point rotation, the Rogue SR-1 Bearing Speed Rope is designed for speed jumps. This PVC-coated steel wire jump rope provides a quick and smooth swing. This is most likely the fastest-swinging jump rope we've reviewed.

Most Cost-Effective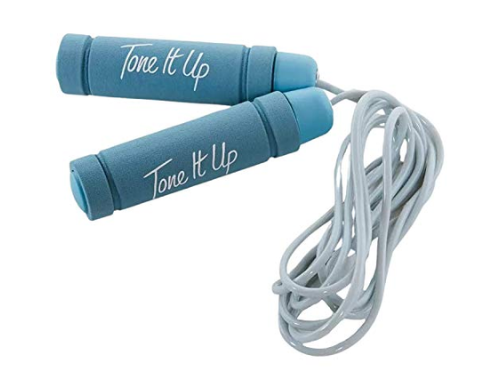 An affordable jump rope that's lightweight and easy to use
Tone It Up Jump Rope offers various advantages despite its affordable price; lightweight, soft grip, comfort, and ease to use.


Tone It Up Jump Rope offers various advantages despite its affordable price; it still provides all the basic jump rope needs. You will be pampered with a lightweight, soft grip, comfortable, and easy to use.

Everything We Recommend
Best Pick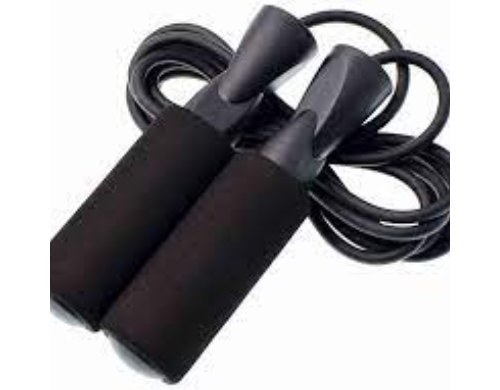 Measuring in at 9 feet and 8 inches, this jump rope is long enough for most people.
$7.99
Runner Up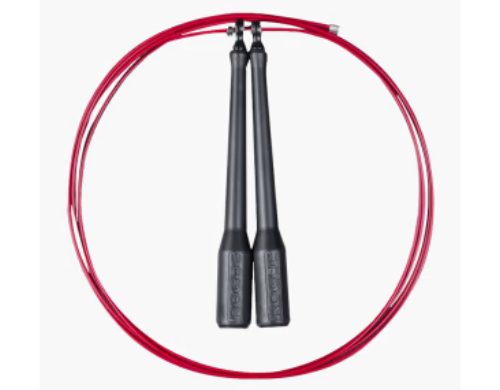 Great innovative speed jump rope.
Most Cost-Effective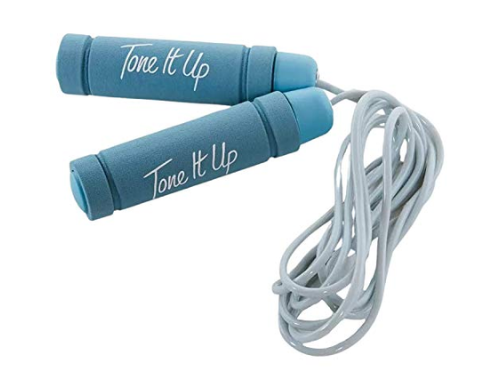 An affordable jump rope that's lightweight and easy to use
$9.99
Who This Is For
The jump rope product we advertise is for anyone who wants their additional cardio training program to be achieved using a product at the best possible price.
Jump rope vs. running
A definite similarity between jumping rope and running is that they are both economical cardio exercises; of course, this does not include running workouts on a treadmill (where it comes at the expense of affordability). In addition, both also require the use of the muscles of the lower extremities for propulsion; where the number of impacts on the lower extremities is relatively the same, which means that they have a similar potential impact force.
While the difference may lie in the space required to do so, jumping rope takes up less space than running (except on a treadmill). In terms of muscle use, jumping rope involves gripping the shoulders, biceps, triceps, and forearm flexors to control the rope. Meanwhile, running requires more use of the buttocks (hip extensors).
Is it worth it?
Jump rope training is an efficient and economical option for training your intensity and endurance. It even takes up less space than a running cardio workout should. What's more, you can bring various combinations to your jump rope exercise, such as jumping rope on one leg alternately. This will open up more space for you to emphasize certain muscle areas.
Why You Should Trust Us
We cross-referenced information from various sources to determine which product offered the best deal for us to advertise. Our references range from various leading product reviews, expert opinions, and user reviews on platforms like Amazon. We independently analyze and consider the analysis of opinions and reviews to verify our knowledge regarding jump rope products that interest us.
How We Picked
Material
We advertise various types of jump ropes that have different materials based on the type. Our selection of freestyle ropes generally uses PVC material, vinyl plastic cord, and nylon. As for our selected speed ropes, all of them use PVC-coated steel wire material.
Comfortable handles
We pay attention to the shape and size of our selected jump rope handle, as they represent the size required in general. The texture of the handle is also important for us to increase comfort during use; we chose a jump rope with a handle that can help prevent slipping during use.
Size of the rope + weight
In general, the ideal length for a jump rope is 3 feet longer than your height. As for data from the Centers for Disease Control and Prevention (CDC), the average height for American men over the age of 20 is 5 feet, 9 inches, while that for American women over 20 is 5 feet, 3.5 inches. Our selection of jump ropes can at least represent this average height.
As for the weight of the jump rope, we pay attention to the type of exercise that is generally desired. For fast jumps, use a lighter rope (0.5–1.5 pounds) and a heavier rope for endurance and muscle building (2 pounds and up).
Durability
Generally, ropes made of iron wire material wear out faster when used outdoors or on concrete. But in general, the jump ropes that we advertise have good durability as long as they are used in places that are suitable for the type of jump rope in question.
Can be used indoors and outdoors
The jumping rope that we advertise can be used indoors or outdoors, but unfortunately, some rope materials are not suitable if they rub against concrete. One of our selected jump ropes, the XYLsport Jump Rope, uses a matte rubber plastic material on the rope that provides resistance to the rope if it rubs against the concrete.
Care and Maintenance
How to keep clean
You can clean them by simply wiping the handles and straps after use, especially if they have been used outdoors. Use a damp cloth to remove dust and dirt from your jump rope.
When not in use, where and how should it be stored?
When not in use, you can roll your jump rope up to the diameter of the reel, which is as big as the handle. Then tie the rope in a twist to prevent it from falling apart. Then store it in its case to protect it from dust and temperature fluctuations.