The Best Juicer for 2023
The market is a wash with many types of juicers, but only a few are worth buying.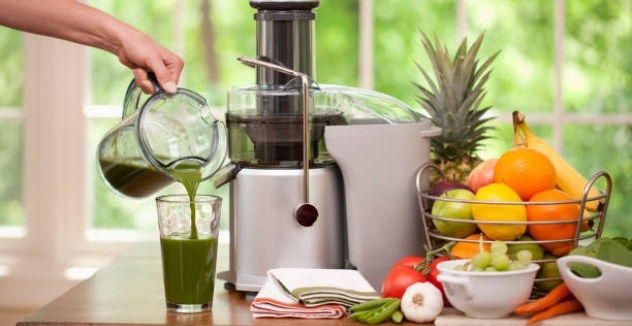 Juicing is one of those healthy trends that isn't going away anytime soon, thanks to the growing popularity and research proving the numerous health benefits of consuming raw fruits and vegetables. If fresh juices are a part of your daily routine, a reliable juicer is a must-have.
Juicers not only make juice extraction easier, but they also include several processes and technologies to assure smooth operation and maintenance. Centrifugal juicers, cold press juicers, and electric juicers are among the most popular types. But you're probably wondering which juicer is right for you.
You're in luck because this article covers the best juicers on the market to help you make an informed buying decision.
How We Picked
Capacity

The capacity is important since the container used to collect the juice will influence the size of each juicing session. You might benefit from the ability to save some for tomorrow.

Easy to Clean + Use

Almost all juicers are tough to clean and the best juicing machines are the most challenging. The more parts the juicer has, the more parts you must clean.

Warranty

A warranty is a subtle way for a manufacturer to inform you that the product works. And, an extended warranty for your product is important because it protects your investment and gives you confidence.

Price

Higher pricing implies higher juice output, more features, and an easier-to-clean appliance. It is important to invest in a brand that offers high quality at a low cost.
Our Top Picks
Best Pick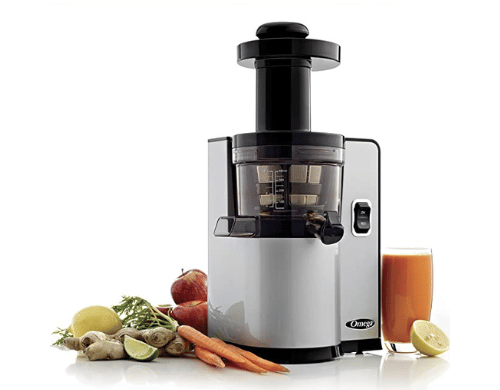 For better tasting juice.
Strong and capable of juicing a variety of fruits and vegetables.
It is a powerful, multipurpose juicer that allows you to satisfy your demands by making juices, smoothies, and sorbets.
Runner Up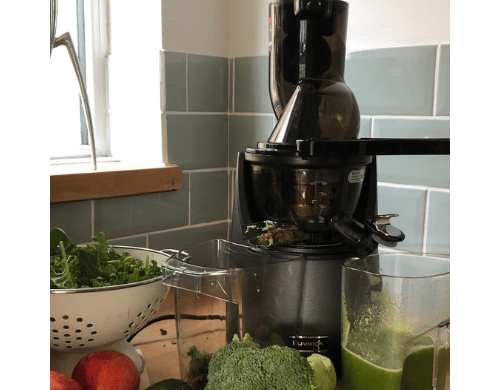 For a quicker and easier juice extraction.
Extracts every last drop of juice from the pulp.
The Kuvings JMCS technology claims 10% more juice than any other brand and it is beautifully designed.

Most Cost-Effective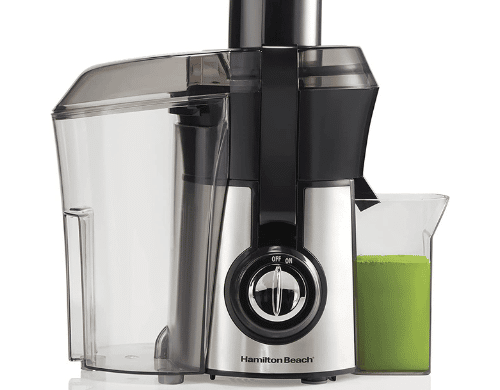 Affordable yet powerful.
Efficient and cheap when compared to heavy-duty brands.
The extra-large three-inch feed tube can accommodate full fruits and veggies.
Everything We Recommend
Best Pick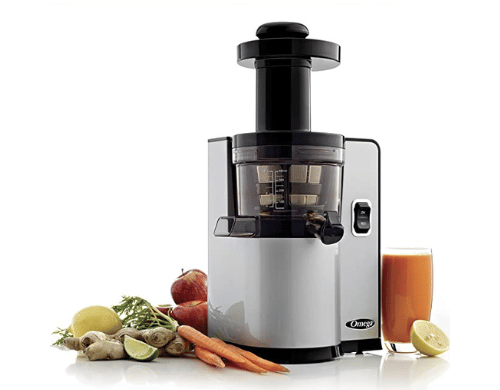 For better tasting juice.
Runner Up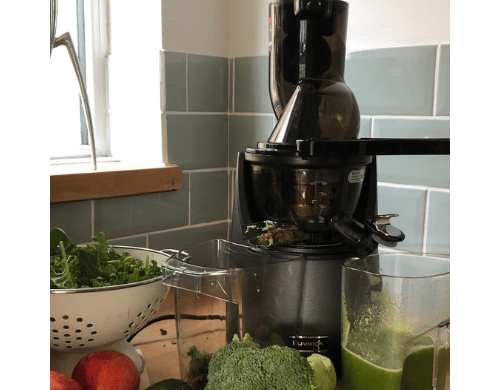 For a quicker and easier juice extraction.
$629.99
Most Cost-Effective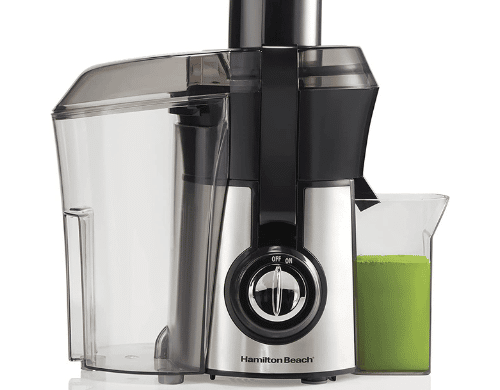 Affordable yet powerful.
$48.66
Who This Is For
Making a pleasant drink from the juice of fruits and vegetables is a terrific way to get more fresh food into your diet. If you don't prefer eating a broad variety of food types, juicing may ensure you still receive all the vitamins and minerals your body requires.
A juicer is also an excellent choice for folks who don't have a lot of time to prep fruits and vegetables.
Juicers vs Blenders
A juicer extracts the juice from fruits and vegetables by crushing, grinding, or squeezing the liquid out, leaving just the thin juice and none of the fiber behind. Blenders do not separate components; rather, they blend them to create a thicker consistency.
Is It An Essential Kitchen Appliance?
The nutritious advantages of fruits and vegetables are evident, but purchasing juice at a juice bar regularly may be rather expensive. However, by juicing your fruits and veggies at home, you can offset the cost of your habit.
Why You Should Trust Us
Selecting a juicer that matches your needs and fits your budget might be difficult. But we have found the best quality juicers at an affordable price. We'll provide you with a list of four of the top juicers on the market today and go over some of the most important things to take into consideration while buying a juicer.
How We Picked
It is important to select the best juicer for your needs. The cost of a juicer, and the time it takes to maintain it, are both considerable expenditures. A cold press juicer is more costly, but it will save you money in the long run if you drink juice regularly.
To make the process easier, we combed through previous customer experiences with various types of juicers and gathered their feedback on the value of their juicer. These experiences covered the cost of the juicer the length of the warranty, the extra features, and the number of cups that can be made. Because creating a juice takes time, it is crucial to select one that is large enough to make more than one glass.
We looked through a variety of juicer products to ensure that the price you paid was fair. A good juicer should extract as much juice as possible from an ingredient without sacrificing flavor. That is, it should be able to extract the taste of the fruit or vegetable without being hampered by pulp, fiber, or skins.
We're seeking a machine that's simple to assemble and disassemble for easy cleaning. The noise it makes is also important because you do not want to wake the whole house when you are making juice.
Care and Maintenance
It is critical to clean your juicer after each usage. Both centrifugal and cold press juicers can obtain fragments of pulp and skin caught inside the juicing chambers, and if these are not cleaned after each use, bacterial and mold growth might occur.
Juicers contain many parts, so it's vital to completely remove all of the components involved in the juicing process – but if you have a centrifugal juicer, be careful as the blades for chopping up fruit and vegetables are sharp. Check your user handbook first if you intend to put everything in the dishwasher; not all juicers come with dishwasher-safe parts.
Always thoroughly inspect mesh strainers after removing them from the dishwasher to ensure that all fruit and vegetable fibers have been removed.
To clean your juicer, all you need is a little dish soap. Fill a sink or bucket halfway with warm, soapy water. Then, start cleaning with a towel or a sponge. Start slowly since some elements of a juicer, such as the mesh strainer basket, are delicate. After that, fill your sink with clean water. Then, arrange all of the components so that they are immersed. Wait a few minutes before rinsing each portion and setting it aside to dry.
While your juicer parts are drying, use a moist towel to clean off the remainder of the juicer machine. If there are any spots where food has crusted, you can use a harder brush to remove it. Turn them upside down and wait until all of your pieces are completely dry before using them again. Because the pieces might be tiny, it's better to air dry them. As a result, you may wish to wait a few hours to verify that everything is completely dry.
It's a good idea to disassemble it first if you don't juice frequently. Take it apart and check all of the internal components to ensure that no mold has formed while it has been idle. Check for mold or mildew odors as well, and if in doubt, thoroughly clean it before using it again.