The Best Jeans for Men in 2023
Jeans are a staple of men's fashion, and you can wear them with anything from a t-shirt to a sports jacket.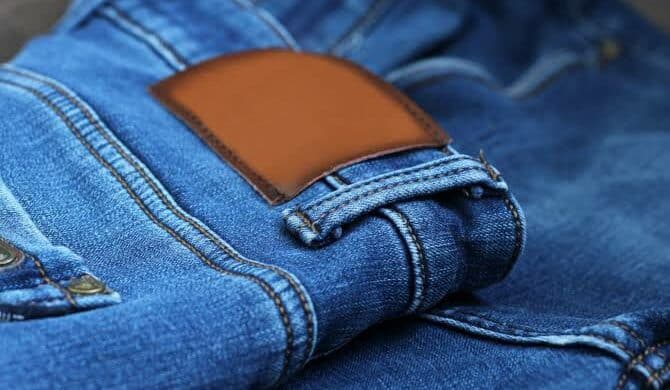 It doesn't matter if you're a casual or a formal guy, you need a good pair of jeans. They are the most versatile clothing items for men because they can be worn with just about anything. Men's jeans are available in a wide array of fits, washes, and styles. And the biggest task is to find one that fits just right and flatters your body type.
You know, looking super good can also brighten your day. It even boosts confidence. With a nice outfit, you can make the whole world smile and like you. You will receive many nice comments like: "You look amazing," "I love your outfit," "Where can I get those jeans?" and so on. There are more than a thousand different cuts and types of jeans out there. If you're looking for the best jeans for men but you're not sure where to start, these reviews will make it easy for you to find the perfect pair.
How We Picked
Size

Size is an important factor you need to consider when getting jeans. There have been occurrences where people like jeans and they don't fit them. It is important to know your measurements before purchasing jeans.

Comfort

Killer jeans should fit you perfectly and give you comfort. It shouldn't be too tight around your waist so that when you sit for a long time you don't have any marks around your waist. Your ankles should move easily in your jeans. We have carefully selected jeans that will fit you perfectly and comfortably.

Style and Design

Besides color, it's important to choose jeans designed to fit and flatter your body type. There are four most common designs of men's jeans: slim fit, straight leg, skinny, and tapered leg. These designs are great and fit for any occasion, depending on your taste.

Cost-Effectiveness

Men's jeans have served a lot of powerful men over the years. They have been the greatest companions of men on any occasion. Pick any top in your wardrobe and experience how exquisite a pair of jeans will complement it.
Our Top Picks
Our Top Pick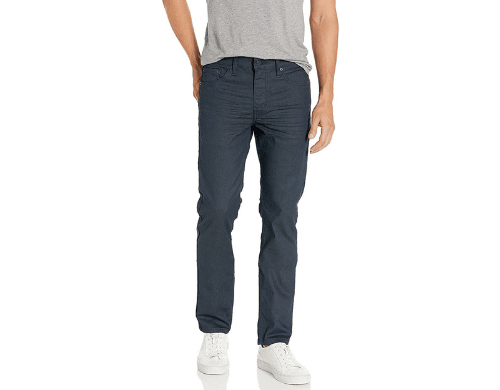 A dashing slim-fit jeans that give you more room to move.
The Levi's Premium 511 slim-fit jeans are a fashionable pair of jeans that are made with top-grade cotton and elastane. It sits perfectly with no stress or harm on men's waists. A pair of Levi's Premium 511 Slim Fit Jeans is slim straight from the hip to the ankle. It is available in many sizes and colors. Every variant of these jeans fits any top. It is safe to say that these jeans are tailored specifically for you.
A premium pair of jeans that bestow confidence and handsomeness on every man.
Our Runner-Up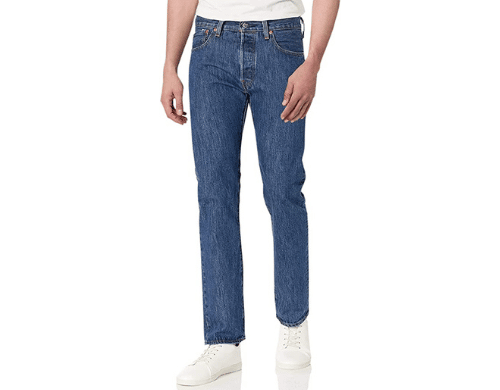 This 1873 original is still going strong and looking sharp in the present day.
The Levi's Men's 501 Original Fit Jeans are excellent original fit jeans that are purely made out of cotton. They are the best straight-cut jeans of the past decades and still maintain their prestigious reputation. The jeans sit comfortably on the waist of every man that knows his measurements well. These jeans feature a button fly fastening, which has been in use before the invention of the zipper.
An old pair of jeans that still gives an exquisite taste.
Most Cost-Effective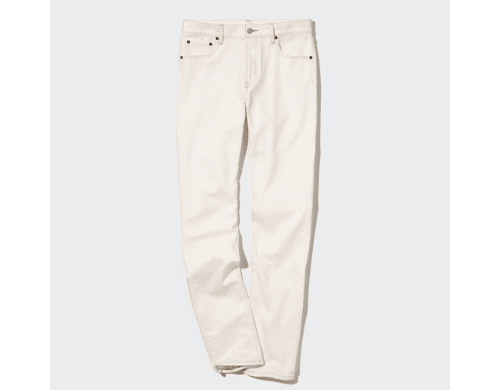 Affordable jeans that have original denim looks and great comfort.
Uniqlo Men's Slim-Fit Jeans are made with a thin and strong fabric. It has five pockets with enough space to accommodate your phone, wallet, and other accessories. There are various sizes for different people. It comes in different sleek colors that make every man look more handsome and cute. If you want slim-fit jeans at an accessible price, then you should get these jeans.
Although comfortable and in a wide range of sizes, you won't spend much on this choice.
Everything We Recommend
Our Top Pick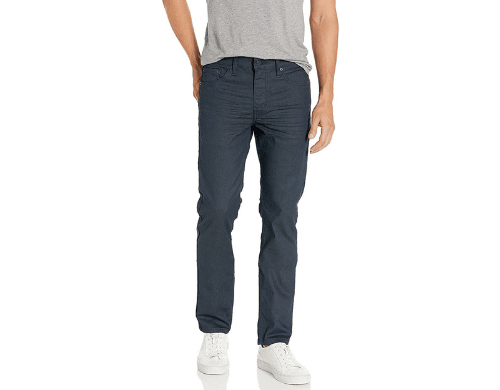 A dashing slim-fit jeans that give you more room to move.
Our Runner-Up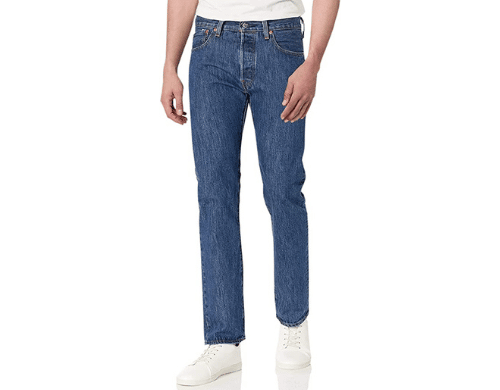 This 1873 original is still going strong and looking sharp in the present day.
Most Cost-Effective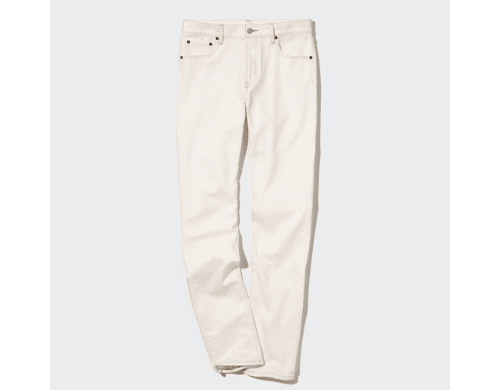 Affordable jeans that have original denim looks and great comfort.
Who This Is For
Jeans are for every man that loves to dress fashionably. These picks are for men that want to upgrade their fashion game. These jeans are for men that love high-quality jeans that have modern and flawless designs and impeccable fits. They don't wear out easily and they don't bleach due to too much laundry.
What are pant breaks?
Pant breaks or the break of the pant refers to the fold or creasing of fabric that occurs at the bottom of the pant leg as it rests on the shoe while you're standing. It is the section that breaks the clean line of the trouser drape and, with that, it earns the name. Longer pants have been discovered to have more breaks, while wider pants have fewer breaks. When it comes to pant breaks, trousers can be classified into four groups: full break, half break, quarter break, and no break.
Why You Should Trust Us
It is extremely painful when you put in all your money to get jeans and the jeans fail to meet your expectations. We have heard of such stories – painful. We don't want any man to undergo such an experience. That's why we pulled in all our resources to create this list for every man out there that wants first-rate jeans that fit them and last a long time. In the section below, you will know how we picked it and understand that we did it in your best interests.
How We Picked
What people say about basic products such as jeans (clothing) matters. That's why we considered professional opinions and previous user reviews of many jeans. Professional opinions from store managers, stylists, fashion writers, and designers that know the A-Z of jeans guided us in picking these four lovely jeans on our list. We checked previous user reviews from two trusted platforms and made sure we got the best jeans.
We checked the sizes of these jeans and they are okay because they had numerous size ranges that you can pick from. The same judgment can be passed on to the length of the chosen jeans. They are available in different lengths so that no one misses out on these impeccable jeans. We reviewed the materials and discovered that the materials used on these four jeans are superb fabrics that are durable and easy to wash. These jeans give top-notch comfort to every man that wears them. Sometimes, manufacturers use spandex, elastane, or Lycra to add some stretch to the jeans. They are sleek and beautifully cut. There are different styles of jeans, and every one of them has its perks. All of our picks have something in common – 100% comfort.
All the jeans on our list offer great value that supersedes the money you are paying. They have sufficient pockets that fit every alpha male and can contain your essential accessories. The belt loops are strong and wide enough to get you going now and then.
Care and Maintenance
How to wash jeans
Before we go into the steps, you should know that gentle washing is the best way to wash jeans to avoid bleaching. Now, let's get to the steps. The first thing you should do is sort your laundry and pack your jeans separately. Turn your jeans inside out and zip them up so that they won't wreak havoc. It is preferred that you use laundry detergent when washing your jeans. Also, sort jeans according to their colors; do not wash pink jeans with blue jeans. When everything is in order, put your washing machine on a soft or gentle cycle and use the coldest water option. We will advise that you shouldn't dry your clothes with a dryer – unzip and air-dry your jeans. If you want to use a dryer, do it on low heat.
How often to wash jeans
It is advisable to wash jeans every five weeks. If you wear your jeans frequently, then every 3-4 weeks. You may be thinking that this is absurd. If you wash jeans every week, you will end up destroying the quality, shape, and color.
Removing stains from tough fabrics
Gentle machine washing is a good option to remove stains from tough fabrics. If the stain still proves stubborn, use a solution of 50% vinegar and 50% directly on the stain, not the general jeans. After removing the stain, then wash generally with laundry soap and water.
Dealing with rips or tears
Fixing rips or tears in jeans isn't a tough task. You can fix rips or tears in jeans with an iron-on denim patch that matches the color of your jeans. Place the patch on the hole and seal it with the adhesive or sew the edges using a thread that matches the color of the jeans. If your jeans rip open with no fabric lost, you can sew the opening with your hands. Get some fabric mending tape and use a hot iron to seal the opening inside out. Then, stitch the rip's edges and trim off any excess fabric.
Sources and Research