The Best Ironing Boards for 2023
Enjoy a smooth sailing laundry experience with sturdy, well-cushioned ironing boards!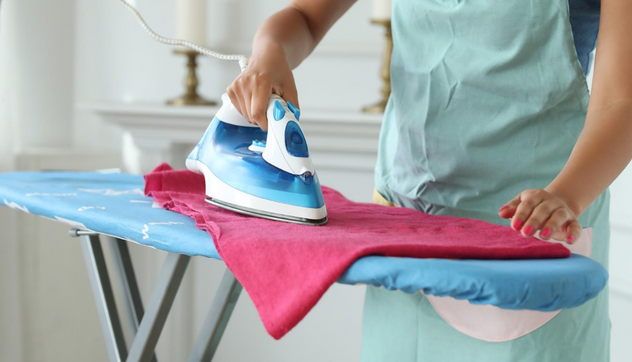 There is this confident awesome feeling that comes with wearing a new dress, or a dress that feels well packaged. And asides from the out of the box smell that we love, a great contributor to this feeling is how smooth it feels and looks. If you cherish that smooth confident feeling you get from new clothes or you just love your shirt looking smart and crease-free then you should consider an ironing board.
Even with the help of washing machines, the stress that comes with laundry cannot be overstated since you still need to smooth out those wrinkles to be able to wear the dress. And while irons are good contributors, where you do your ironing goes a long way in providing a smooth and comfortable ironing experience.
How We Picked
Sturdy

The sturdiness of an ironing board is an important feature to consider because while ironing you would be applying pressure on the board and the board should be stable enough while in use.

Size of board

Depending on your need the size of the board would matter more. Regular models have a surface of about 48 inches long by 14 inches wide—perfect for most tasks but you might need a wider board for a larger piece of clothing

Height adjustable

Ironing boards have standard heights however, depending on the average height in your home the height flexibility of the ironing board is a very important factor— especially if you have users with wide height differences.

Price

Great quality is always worth the investment. However, good ironing boards are highly-priced, which is why we looked for boards with great value for a great price. To ensure you get your investment's worth
Who This Is For
This review is for you who has a small-medium size space and who wants an ironing board to ease the laundry stress.
This review is also perfect for you who has a small-medium size home with larger clothes (like sheets etc)  providing you with the best options, so you can make an investment you would enjoy using!
Do I need an ironing board?
No, and yes!
If you already have a good stable surface with the right amount of cover, you might not need an ironing board.
However, if you worry about wrinkles on your clothes even after you press them or you already spend a ton on professional pressing services and you want to save money then you need an ironing board.
Think of it this way…
As a working-class, a student, or a business owner, looking good takes a good amount of effort and ironing is one of them. Asides from getting a good iron, an ironing board provides you with a stable well-padded surface to ensure your cloth is wrinkle-free!
Everyone has a set of dresses that seems "un-pressable" you heat the iron and yet the cloth still has creases all-over. A well-padded ironing board might be the solution you need. Some ironing boards come with ergonomic designs to allow heat to circulate well enough and get your clothes in good shape.
Compact table vs free standing vs fixed wall – which board is better?
None! Well, in the real sense all of them are great. There is no better board, only a better option for you—  depending on your available space.  
Freestanding boards are traditional boards with metal and cushioned material tops. As the name implies they are freestanding and stand tall from the ground to a table height or higher. They take up a lot of space when they are set to be used, so they are ideal for you with enough space to spare. However, they fold down flat for easier storage. This type of ironing board is built to be sturdy and lightweight. They are also more expensive.
While compact or tabletop ironing boards have shorter legs than freestanding models, they are designed to sit on a table or counter. These ironing boards are perfect for those who live in smaller homes because they are easy to set up and carry around. However, due to their compact nature, they might have smaller board sizes. They are less expensive than the freestanding model.
Built-in also known as wall/door-mounted boards are iron boards that use the wall/door as their support instead of having legs. They are installed on the door/wall, it can fold down when needed and stay flat against the wall when not in use. This type of ironing board is also very convenient in smaller houses where space is limited, as they can be installed in the smallest available space. However, because it's built-in you can't move it around meaning you can only use it in one place.
Iron vs steamer
Iron is a good way to straighten your clothes, they provide flexibility in heat control and help you to efficiently remove difficult wrinkles from the clothes. However, they stand the risk of burning the cloth if the iron isn't regulated properly and some iron is also heavy. 
A garment steamer does not need an ironing board. A steamer takes the creases out of the cloth without touching the material. Handheld garment steamers seem to be more convenient than irons as they are lightweight, require little space, and the chance of burning the item of clothing is very low.  However, with steamer creases cannot be pressed into fabrics. Also, only selected clothes can be straightened with a steamer as items like wool would get burnt.
Why You Should Trust Us
To find the best ironing board, we researched boards from trusted and verified brands, user reviews, and compared values across considerable prices. We looked for ironing board features ideal for small-medium sized homes, considering your budget, needs, and specifications (tabletop, freestanding or built-in ). Plus…
We want to be a small part of the reason why you are confident and comfortable in your wrinkle-free clothes
How We Picked
Size of board – surface area
A regular ironing board has a surface of about 48 inches long by 14 inches wide. And while this size is great for most ironing jobs, sometimes you might need more area to iron larger items such as sheets or curtains. This means more space Here we suggested options up to 58 inches long by 18 inches wide. However, you should know that the more surface area there is, the more storage space it would need and it might also be heavier.
Sturdy and stable
The sturdiness of an ironing board is an important feature to consider because while ironing you would be applying a lot of pressure on the board. You would want a board you are confident in to handle the pressure while you iron. And given that the board should be stable enough while in use, your prefered models should go the extra mile to ensure that the ironing board doesn't wobble while in use.
Height adjustable 
Depending on the average height in your home how high or low an ironing board can go is a very important factor— especially if you are taller or shorter than average. A tall ironing board makes ironing difficult and impractical, while ironing boards set too low are very stressful to use and can cause back pain. While a lot of ironing boards have an average height of 37 inches, this height range might be too low for tall people, so here we prioritize boards that can go lower and higher than 37 inches for easier use.
Weight 
Most ironing boards are lightweight. If you will need to move the ironing board around to use then you would want a model that is as lightweight as possible. However, some lightweight boards are also less durable than heavier more stable options. Here we looked for lightweight boards with sturdy construction.
Design/style
While there are various designs and styles, we looked for ironing boards with a more practical design like iron rest/trays. Ironing boards that have a tailored area to rest a hot iron can help prevent accidental burns, or serve as the iron holder while you arrange the clothing to be ironed. This is not a must-have but having it would help a lot. The iron rest zone or iron tray serves as a place to store the iron safely when it's hot so that it isn't at risk of toppling over.
Easy to store
When looking for the ironing board for your home where and how you store it is very important—you would not want it getting in the way. If storage is key for you the best option to consider is a built-in board. They fold up flat against the wall or door when not in use. While tabletop is the next portable option. A few traditional freestanding options are also less space demanding. Here we looked for ironing boards that fold flat, making them a lot easier to store.
Care and maintenance
Wash your ironing board as regularly as you can to prevent dirt and junk from accumulating and sticking to the clothing you're ironing. Most ironing board covers are machine-washable and you can just dust down the legs or wash them with water if need be.
Always fold down your ironing board after use and store it in spaces with minimal contact to avoid stepping on it by accident. Also, store in a clean dry area to avoid stains on the cover that could then stain your clothes while you iron.