The Best iPhone X Case for 2023
We've saved you the trouble of searching for the most effective and stylish iPhone X cases for protecting your phone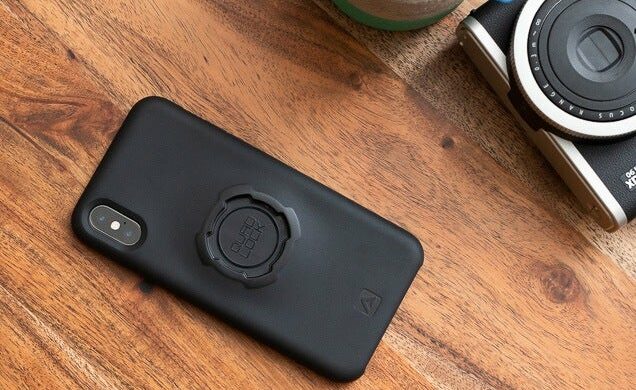 Even though the iPhone X has been available for a few years, you should still take every precaution to keep it secure and protected. We always have our phones with us, whether we're going to the gym or going out. As such, it's crucial to have an iPhone X case to prevent a dropped phone from costing you a lot of money.
Besides protection, a phone case is a style statement. Different cases may be suited to different people, which is why we have come up with a few of the best iPhone X case options for you to consider.
How We Picked
Protection

The dexterity and hardiness of an iPhone X case are important to think about as this is what will be protecting the phone. We have looked for iPhone X cases that are made from the best and strongest materials.

Size and Thickness

The size and thickness of an iPhone X case will determine how easy it is to pack or hold your phone. The cases that we have provided are just the right size to fit where needed.

Style and Design

As the iPhone X case will be covering the back of your phone, you will want one that is styled to your preferences. We have provided an assortment of cases to suit many styles.

Cost-Effectiveness

No one wants to fork out a ton of money to purchase an iPhone X case, but you also want to be sure that you have a high-quality case. We have found some items that meet a happy medium.
Our Top Picks
Our Top Pick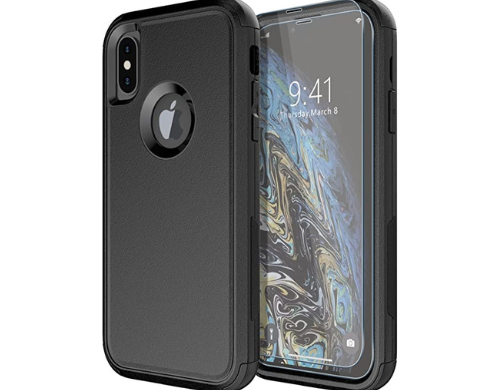 Diverbox has developed a case that is both incredibly efficient at absorbing shocks from falls and stylish.
This sturdy iPhone X case has a number of features that will guarantee your phone is completely protected. It is made from silicone, plastic, and rubber, which ensures that the case is flexible while still fully protecting the phone from any damage or general wear and tear. One of the greatest features of this phone case is the raised lip on the exterior, which ensures that if your phone drops, it will not land directly on the screen. Along with this, it also contains outer layers which are designed to absorb any shocks that may come from the fall.
This is a durable iPhone X phone case with different built-in features.
Our Runner-Up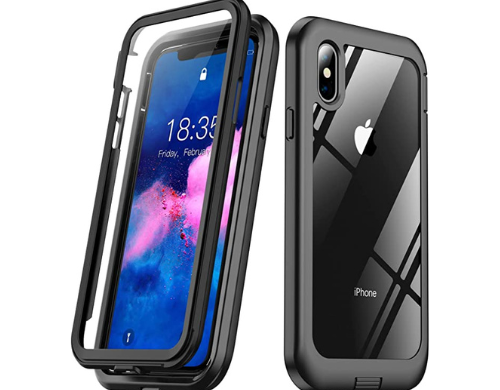 Eonfine has used materials to design a case that will withstand hard impacts.
Eonfine has developed an outstanding iPhone X case to ensure that your phone is fully protected, and they even include a screen protector. In terms of effectiveness, this case has gone through military-grade testing and can withstand drops of up to ten feet. It has been built using thermoplastic polyurethane material, which absorbs the shock of an impact when hitting the ground. It has a screen protector that is built into the case, which protects the screen of the phone from any scratches.
A reliable and strong case to ensure your phone is properly protected.
Most Cost-Effective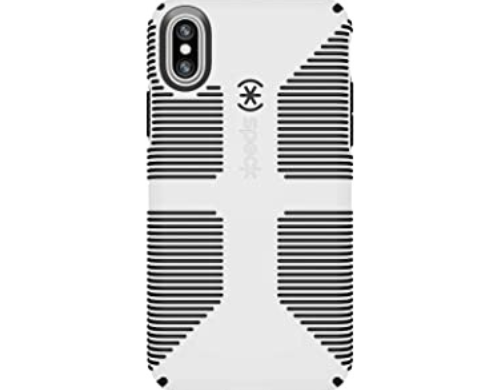 This Speck iPhone X case has raised edges to protect your phone and will not break the bank.
Buying an iPhone X phone case that is effective and strong does not have to cost a ton, and this is proven by the Speck Products CandyShell Grip Cell Phone Case. This iPhone case has been designed with raised edges along the lip of the case to ensure that if dropped, the screen will not receive the full impact of the fall. These outer edges are designed so that they do not impact the quality of the sound that comes from the phone or the quality of photographs.
This is a cost-effective protection tool for your iPhone X.
Everything We Recommend
Our Top Pick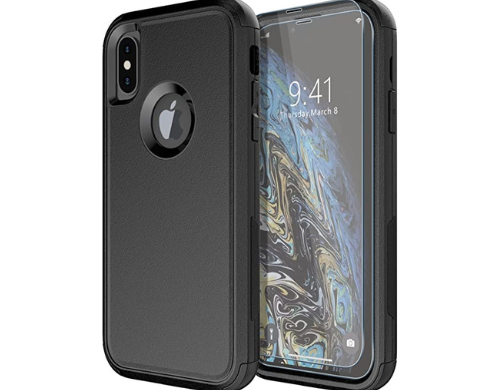 Diverbox has developed a case that is both incredibly efficient at absorbing shocks from falls and stylish.
$13.99
Our Runner-Up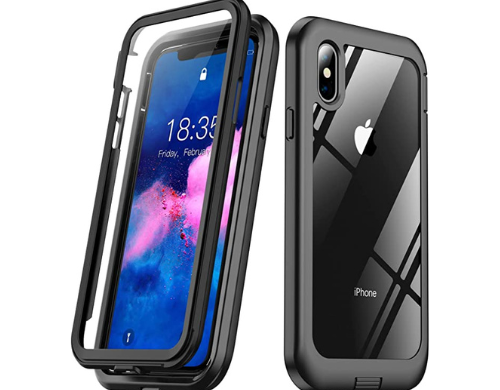 Eonfine has used materials to design a case that will withstand hard impacts.
$14.99
Most Cost-Effective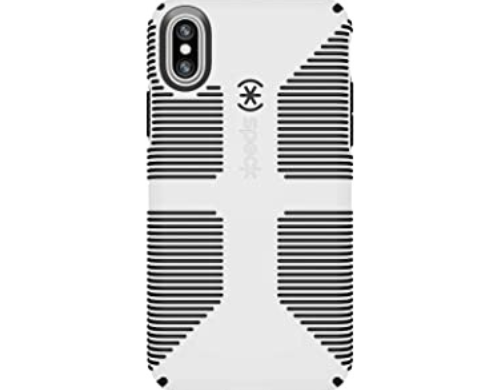 This Speck iPhone X case has raised edges to protect your phone and will not break the bank.
$8.98
Who This Is For
These iPhone X cases are for anyone who is looking for a way to protect their phone and ensure that falls and general wear and tear do not damage the device.
Why You Should Trust Us
An iPhone X is an expensive piece of technology, and very often, the quality of general cases can cause them to be damaged when they fall. As your phone is with you for most of the day, preparing for accidents that are bound to happen is vital to ensuring that your device remains in good condition and functions well for years to come. We have been on the hunt for the best iPhone X cases that money can buy, helping you to make more informed choices when it comes to the protection of your device.
How We Picked
We have come up with a list of some of the best iPhone X cases on the market, offering you information on different products and their unique features. We have done a ton of research on the different aspects of iPhone X cases, looking at what makes a phone case more durable and the different products currently on the market today.
One of the things to be sure that you include in your purchase is a screen protector if the case does not already come with one. A phone case protects the device from accidents that are bound to happen. Whether your phone drops from your hand or even from a greater height, you want to ensure that it will come away safe and with no damage. While the back of an iPhone X is very important to protect, when purchasing an iPhone X case, you also have to think about how the screen and the buttons along the side of the phone are protected. A fall that causes shock waves to run through the phone can often lead to damage to the screen and the buttons, so finding a case that protects these parts of your iPhone is incredibly important.
The size, thickness, and weight of the phone case are important to consider, and we thought about these aspects as we looked at different products on the market. These aspects impact where you can keep your phone, be it in a handbag or even in your pocket. A phone case should not be intrusive or too big, as this can affect where you are able to store and keep your phone. A case that fits perfectly on your device and is not too heavy or too thick is vital when it comes to size.
Another component that we took into account during our research phase was the style and design of the phone cases. As these covers are going to cover the back of your phone, we wanted to make sure that they were stylish. Along with the style and design of each of the products, durability was also an important factor for us to consider. While we are sure that you do not want to pay an excessive amount for a phone cover, the strength and durability of the cases we picked were extremely important. We believe that each of our options combines cost-effectiveness and durability.
Along with being cost-effective and durable, the overall functionality of the case needs to be well constructed. As an iPhone X has buttons on the side of the phone, a camera, and a charging point, your case should allow for these to all work without having to remove it. Ease of access was an incredibly important consideration that we made during the research process.
Care and Maintenance
Your iPhone X case should fit your phone perfectly to ensure that it functions effectively and does not break. Be sure to look into the type of phone that you have and its size while deciding on which of the cases you should purchase. Along with size, functionality is incredibly important, and to maintain both your phone and the cover, we do recommend using a screen protector.
Phone cases should be cleaned regularly to ensure that they do not degrade and look shabby. Wiping down your case with warm water and a cloth at least once every two weeks would be a great way to ensure that your iPhone case lasts. Be sure to avoid any sort of bleach product when cleaning, as this can degrade the case and distort the color.
As I am sure you are well aware, phones can be extremely expensive to replace, and finding the best and most effective products to get the job done is important. To ensure your phone does not break, do not use a case that has been broken. When a case breaks, the shock absorbers may not work correctly, which means that a fallen phone could equate to you venturing to your nearest Apple store for a new one.