The Best iPhone 13 Charger of 2023
This collection of the best iPhone 13 chargers feature a USB-C port and will quickly juice up your phone in no time.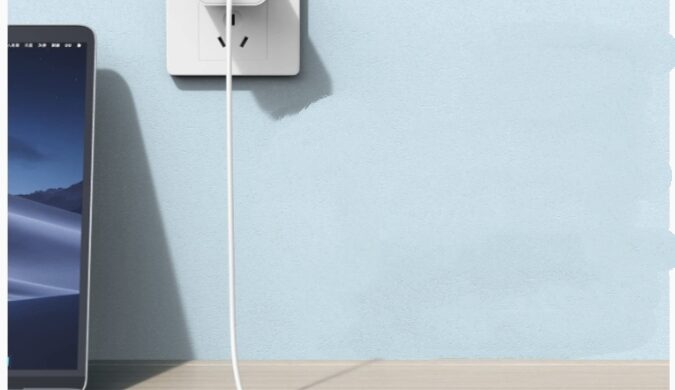 The iPhone 13 series is the fifteenth generation of smartphones from the iPhone collection. Unfortunately, Apple does not include a brick in the box. This means you inevitably have to buy one separately. While there are many iPhone 13 chargers on the market, finding an excellent option among so many variants can be difficult.
We all understand the importance of having a fast, sturdy, and reliable charger. We've spent a significant amount of time researching the best iPhone 13 chargers on the market for you. Read on to find an excellent choice for your phone.
How We Picked
Wired or Wireless

Given that they provide a constant current to your smartphone, wired chargers can charge devices more quickly. Wireless chargers may be a little slower, but they reduce cable clutter around your desk or nightstand. It is important to choose a charger that matches your needs and lifestyle.

Charging Speed

Charging speed is the amount of time taken by the charger to deliver power efficiently. It is important to choose a charger with fast charging capabilities, as this little choice can tremendously improve your daily life. Among our picks, you would find chargers that hit up to 50% battery capacity in less than 30 minutes.

Port Type (USB-C)

The USB-C connector is fast becoming the standard charging port. Luckily, the iPhone 13 comes with a USB-C lighting cable that is compatible with most USB-C adapters.

Cost-Effectiveness

iPhones and all other Apple accessories don't come cheap. You don't want a cheap charger that becomes incompatible with your device a few weeks after purchase. It's crucial to invest a little more and purchase a quality charger that will serve you well. Lucky for you, we've found affordable iPhone 13 chargers with quality components.
Our Top Picks
Our Top Pick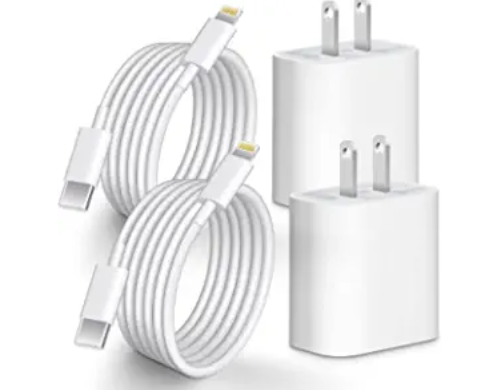 A compact and travel-friendly charger that is compatible with numerous Type C devices, including the iPhone 13.
The AISNI iPhone 13 charger is built for portability, with a foldable design for easy transportation while traveling or camping. Its USB-C port ensures a smooth and trouble-free connection. This charger is made of high-quality materials and provides fast charging speeds, while its durable construction ensures long-lasting performance.
This Apple-certified iPhone 13 super-fast charger is highly rated by thousands of verified users across the globe.
Our Runner-Up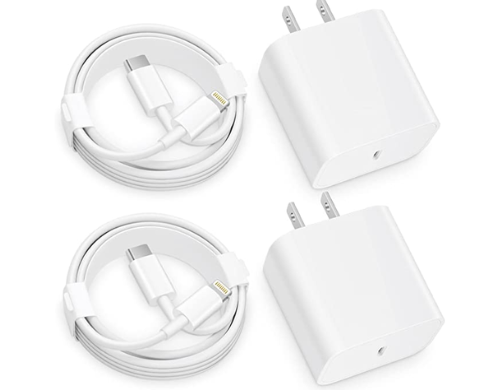 This is a 20-watt USB-C charger that offers fast and efficient charging with no overheating.
You can't go wrong with the Juusmart iPhone 13 charger. From its portability to its durability, the Juusmart promises you value for your money. Manufactured with the original Apple chip, this charger is capable of offering fast and efficient charging that is about three times the speed of a 5W charger.
An iPhone 13 charger with a charging speed that offers ten times more charge than the PC USB port.
Most Cost-Effective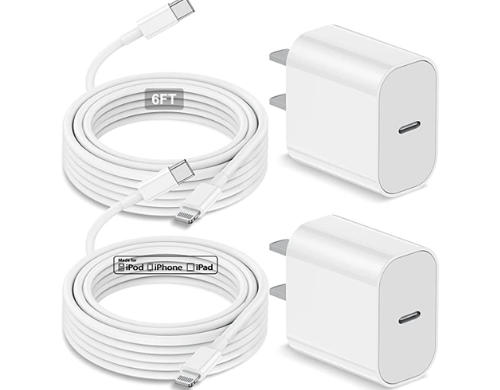 An MFI-certified lighting charger that ensures your device is charged safely and quickly.
This fast charger optimizes the iPhone's battery health while charging it up to 50% in under 30 minutes. The compact size means you can quickly fold it up and take it with you wherever and whenever you are on the go. It is made from fireproof materials, ensuring excellent heat resistance. At this price, it is an excellent charger.
Designed to be a time-saving and efficient charger, the Hcoob iPhone 13 charger comes equipped with a 3.0 USB-C power delivery port.
Everything We Recommend
Our Top Pick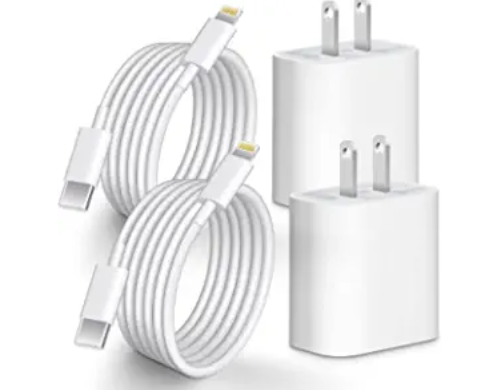 A compact and travel-friendly charger that is compatible with numerous Type C devices, including the iPhone 13.
$23.98
Our Runner-Up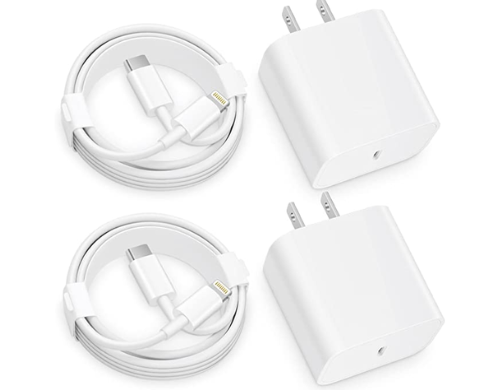 This is a 20-watt USB-C charger that offers fast and efficient charging with no overheating.
$19.99
Most Cost-Effective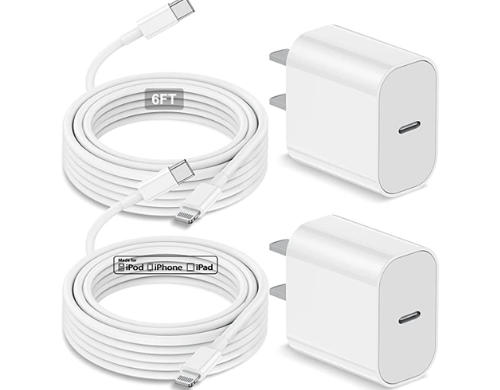 An MFI-certified lighting charger that ensures your device is charged safely and quickly.
$19.99
Who This Is For
The products advertised here are for users of the iPhone 13 looking for an excellent charging option that is reliable and efficient.
Is a charger included with the iPhone 13?
No. Just like the iPhone 12 that came before the release of this model, the iPhone 13 does not include a charging brick. Apple stopped including both chargers and earphones in the boxes of its devices a few years ago. Some iPhones may feature a USB-C or lightning cable, but apart from that, no other accessory is included.
Can I use any charger to charge my iPhone?
We can't deny that many situations necessitate the need to quickly charge your iPhone 13. This can be daunting when the need is urgent, especially since Apple isn't including a charger at all in the box of the new iPhone 13. The good news is that, apart from the chargers manufactured by Apple, there are tons of reliable alternative chargers. However, since not all charging cables are created equal, it is not advised to charge your iPhone with any charger. You must use the proper cable that offers a good fit and can adequately charge your battery unless you are using the wireless option. Care must be taken when using different chargers, as many cheap chargers made of poor-quality materials and cables can impair your phone's battery and weaken its overall performance. So for best results, get a suitable charger from a reputable brand that supplies a sufficient amount of watts that your phone can handle at a given time.
Why You Should Trust Us
National Today takes great satisfaction in researching and offering excellent product choices from reputable brands. Many iPhone chargers on the market today are of mediocre quality at best and do not last long. From overheating to slow charging, many iPhone 13 chargers out there would not offer you value for your money. As such, we have found the best iPhone 13 chargers that will ensure your phone is protected from damage due to overcurrent and overvoltage.
How We Picked
Finding the perfect iPhone 13 charger requires finding one that offers excellent charging speed, is sturdy, reliable, and of good quality. Everyone who uses a mobile phone knows just how frustrating it can be to use a slow charger that takes hours to completely charge their devices. Putting up a charger that overheats is also very unpleasant and can harm your phone. So to ensure that you get value for your money, we selected the best iPhone 13 chargers that are durable and well-made while offering impeccable quality and smooth charging.
To arrive at our picks, we scoured through the reviews of thousands of buyers from recognized global stores like Amazon to identify chargers that are of high quality yet affordable. Among our picks, you'll find iPhone 13 chargers that can offer up to 20W of power, charging your device up to 50% in just 30 minutes. We looked at wireless chargers as well as wired models, deciding to focus on the consistency of the wired chargers for our top picks.
All our selected chargers are durable and have excellent ratings across multiple online markets. We checked for iPhone 13 chargers that are portable, so you can easily fold them up and take them with you wherever you want to go. We have selected chargers with efficient power consumption, which means they will remain significantly cool during usage while offering fast charging at the same time. We checked different review hubs, read verified users' experiences with different iPhone 13 chargers, and came up with chargers that feature up to two USB-C ports, which means you can charge your iPhone 13 and any other device that supports this feature at the same time with excellent speed.
Care and Maintenance
Please avoid using your charger if the cable is damaged. Dissent from consistently overcharging your phone, as this has detrimental effects on your battery. Your phone requires up to 14 days to learn your charging habits before Apple's Optimized Battery Charging system will be automatically engaged. Ensure that your phone is properly connected before allowing it to charge. If your phone isn't charging after a proper connection, check for obstructions in the charging port and clean it out with compressed air.