The Best iPad Pro Keyboard Case of 2023
Upgrade your iPad Pro to a notebook with one of these; the best iPad Pro keyboard cases available on the market!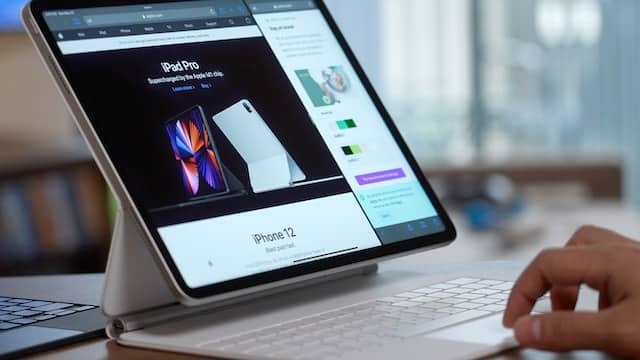 What if you could use your iPad Pro as a laptop? Wouldn't that be amazing? With remote work on the rise, we are constantly looking for ways to stay productive even on the move. And, adding an iPad Pro keyboard case to your iPad is the simplest way to turn your powerful iPad into a mini Macbook.
These cases, in addition to allowing you to type on any computer keyboard, add a layer of security to the iPad. And, given the price of the iPad Pro, this is not something to overlook. We put in the research, time, and effort to find the best iPad Pro keyboard cases that will quickly bring out the versatility of the iPad.
How We Picked
Fit and Security

The iPad Pro is available in two sizes; 11-inches and 12.9-inches. Ensure that you purchase the correct iPad case. And proper protection goes hand in hand with a great fit. As a result, we looked at cases that were perfectly molded to fit every inch of the iPad.

Lightweight

A sturdy but light keyboard case makes portability a total breeze. To strike a balance between weight and durability, we looked at keyboard cases made with a combination of rubber and tough plastic.

Style and Design

While style is subjective, design has an impact on the functionality of any case. Magnetism, adjustability, and accessibility were among the key design features we examined. These features are significant because they enable you to use the iPad both as a tablet and a laptop.

Cost-Effectiveness

You should not have to break the bank to buy the best iPad Pro keyboard case. We looked at stylish, functional, and dependable cases with a decent price tag.

Our Top Picks
Our Top Pick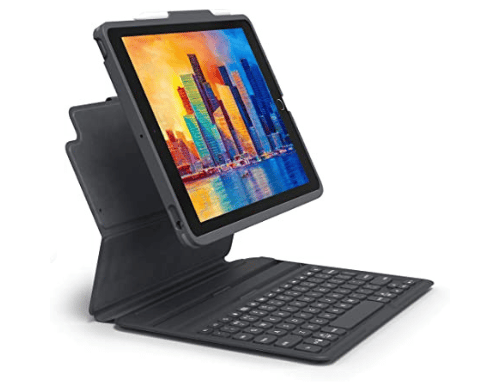 Zagg Pro Keys offers the best flexibility and functionality across all iPad Pro cases.
The Zagg Pro Keys' detachability ensures that the keyboard case is easy to store, while its polycarbonate material makes it durable. Best of all, protection from accidental long drops is guaranteed thanks to the rubberized edges, button covers, and corner bumpers. A magnetic closing mechanism keeps your iPad safe and secure. This case comes with a stylus holder, so you'll never have to fear losing it.
This choice strikes a perfect balance between price and quality.
Our Runner-Up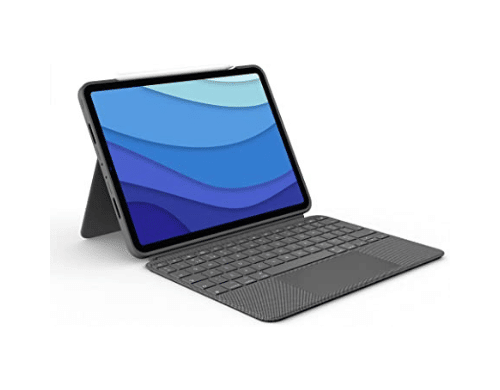 The Logitech Combo Touch brings sturdiness and versatility to your typing experience.
The Logitech Combo Touch iPad Pro 11-inch Keyboard Case is worth its weight in versatility and sturdiness. This slim and easy-to-carry keyboard case also offers a magnetic holder for your Apple Pencil. Its viewing options are great for various uses too. The color range for the case is limited, but that just means more space for the best case stickers!
A well-built keyboard case that's worth the hefty price tag.
Most Cost-Effective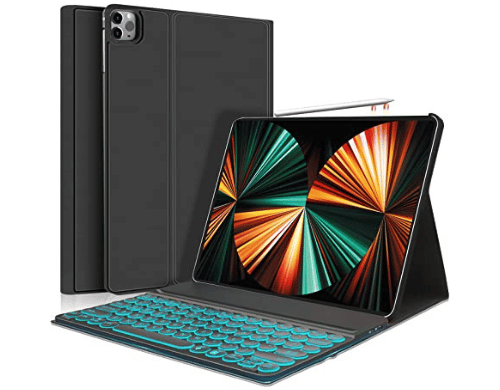 The Boriyuan case is a slim fit with excellent versatility to suit your mobile computing needs.
The Boriyuan case takes mobile computing to all new levels without breaking the bank. Its versatility lies in the case's ability to switch between viewing modes easily and attach and detach magnetically. With its slim design, you can take it anywhere! It is Bluetooth-compatible and provides perfect access to all ports.
This keyboard case offers an attractive design without the hefty price tag.
Everything We Recommend
Our Top Pick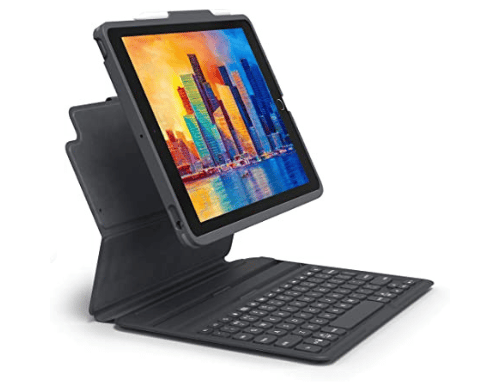 Zagg Pro Keys offers the best flexibility and functionality across all iPad Pro cases.
$79.99
Our Runner-Up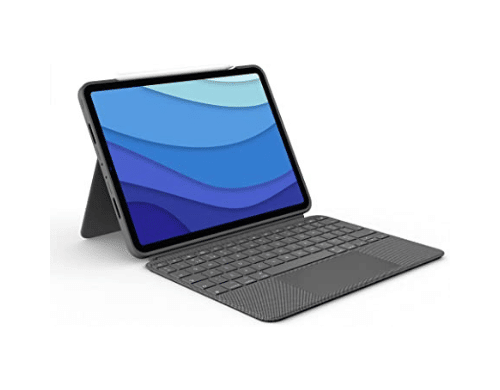 The Logitech Combo Touch brings sturdiness and versatility to your typing experience.
$169.99
Most Cost-Effective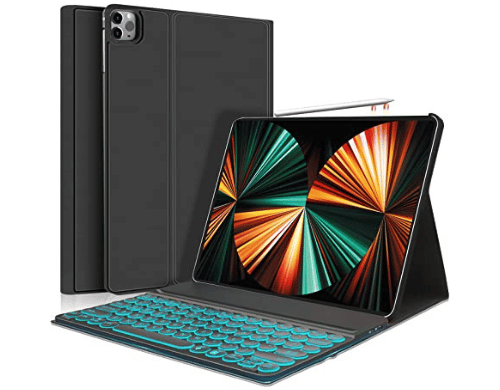 The Boriyuan case is a slim fit with excellent versatility to suit your mobile computing needs.
$49.99
Who This Is For
The products here advertised are for all individuals who are looking to take their iPad keyboard case use experience to new heights!
Do I really need a keyboard case?
Yes, you do need a keyboard case. If you're an avid iPad user, there's a good chance you're familiar with its larger size — and not just in terms of height. The tablet is also significantly thinner than its predecessor. This makes it easier to hold and use with one hand, but it can make typing on the device difficult. That's why a keyboard case is an absolute necessity. Besides, these cases add a layer of protection to the tablet.
Smart vs. magic keyboard for your iPad
A Magic Keyboard provides a trackpad, which is a major advantage over the smart keyboard, for which you will still need to attach an external mouse to achieve the same function. In terms of efficiency, a magic keyboard is a better option. The smart keyboard lacks backlighting, so you won't be able to use it in a dark room or bed without disturbing your partner.
The magic keyboard is attached magnetically to your device, which makes it easier to charge both devices and travel easily. The Magic Keyboard is heavier, though, and pricer, so these are the things to bear in mind when choosing between the two.
Why You Should Trust Us
The market is saturated with the best picks for keyboard cases. We know quality, price, usability, and versatility are of great importance to our readers. As such, we've done extensive research and reviewed each product to the same criteria, offering you a choice of the best fit for you.
How We Picked
Finding the right Pro keyboard case for you wasn't easy, especially considering the wide range of usage for the variety of lifestyle needs you all have. To make the process easier, we paid great attention to what previous customers had to say about the products we reviewed. We took into account whether previous customers were using their Pro keyboard cases for studying, professional use, to assist in their hobbies, or if they were simply looking for something to keep their leisure use device safe. With all of these first-hand opinions coming from a wide range of Pro keyboard case users, you can be assured that we'll help you find the perfect item for you.
Your keyboard case ought to be able to fit into your lifestyle (and bags!), be light enough to carry around, as well as be portable enough so that you don't have to plan your entire trip around it. This is why we took extra care to look at the size of each case, whether it is lightweight or not, and whether it is easily portable. From a design standpoint, we know you're looking for something stylish that isn't an eyesore and can also accommodate all of your USBs or chargers. For this reason, we did an in-depth dive looking into the various styles (slim or clunky), whether the case comes in more colors than your standard grey or black, and how many ports it has to accommodate your charger, headphones, and any memory sticks you may need to use.
Security and durability were our next concerns. The last thing you need when you are rushing off to a meeting or lecture is to worry about your case not protecting your iPad due to its magnetic properties failing or having your iPad be damaged by liquid damage because your case has frayed after a few uses. The cases we've reviewed are well known for their security features and durability.
Each of the cases we have tested has magnetic clips that allow the keyboard to attach and detach from your iPad comfortably. This property is important because it ensures versatility of use as well as security for keeping your device and case together.
The products we've researched and reviewed are made from different materials, including leather and polyurethane. Your convenience and ease of use were at the top of our minds! When making our picks, we looked at magnetic fixtures to contain your Apple pens and ensure the security of your iPad. Across all of your choices, you'll find versatility and agility for viewing positions and durability to avoid drop or spillage damage. We've kept your differing budgets in mind and are offering a look at the best pick and the most cost-effective cases too.
Care and Maintenance
Caring for and cleaning or maintaining your IPad Pro keyboard case is a delicate process. In terms of care, ensure that your iPad is secure and that its charging ports are not blocked to prevent future damage. Do not force your charger into the ports. Check to see that the charging ports are accessible.
Cleaning the case should be done with the greatest care. Avoid using abrasive cleaning agents. For polyurethane cases, a few drops of mild dish detergent along with a wet sponge and a few gentle wipes should do the trick. For the linen cover, use a lint-free slightly damp cloth to wipe it down and remove any dust or dirt. For liquid spillages on a leather cover, use a clean cloth with some dish detergent. To keep your leather cover plush, gently rub some balm into it.