The Best iPad Keyboard Case of 2023
Whether you're considering a case for the first time or are looking to upgrade to a better keyboard case, here's a quick guide to help you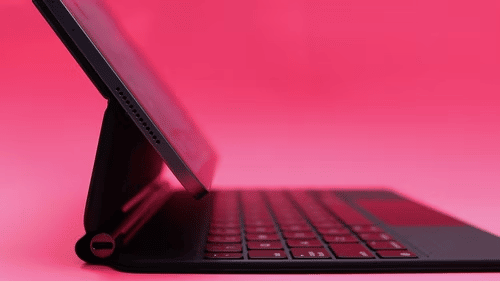 While the iPad screen is stunning, typing on it is a chore unless you have limitless patience. However, adding an iPad keyboard case is a simple way to improve efficiency. Depending on your style and feature preferences, you can find them in many styles and colors, and some have trackpads for added functionality. With the iPad keyboard case market growing more and more crowded, the need for a well-informed purchase decision has never been greater. There are several to-be-avoided options out there, but there are also some excellent choices. We've researched the top-selling options, put them through their paces, and put together a list of our favorites.
How We Picked
Secure Fit

A good keyboard case should fit your iPad just right. An oversize keyboard will interfere with ergonomics while making the whole setup look off. We ensured that our cases offer a great fit and a secure typing experience.

Lightweight

You can find some pretty amazing keyboard cases that won't encumber your lightweight tablet while still offering some protection and functionality.

Style and Design

While protection and performance are vital factors, the aesthetics of an iPad cover are equally significant. Style is a matter of preference, but the design has to support an efficient typing experience.

Cost-Effectiveness

An excellent keyboard case does not have to be expensive. Several popular cases provide the most bang for your budget.
Our Top Picks
Our Top Pick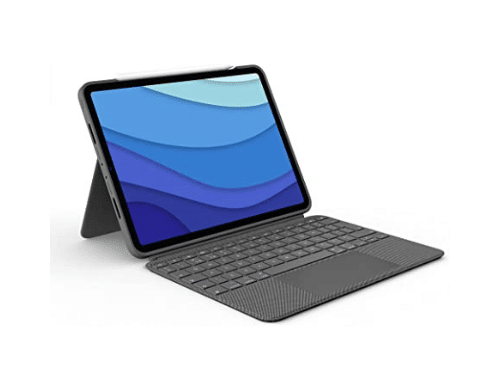 This keyboard case's thin, elegant form matches the aesthetics of the iPad Pro perfectly.
This keyboard case adds new levels of adaptability. Type, view, doodle, and read on your iPad whilst keeping the front, rear, and corners tight and protected. This laptop-like keyboard from Logitech features a click-anywhere trackpad and Logitech's trademark keyboard that gives you easy access to everything you need to do your job.
This iPad keyboard case boasts a responsive and dependable trackpad.
Our Runner-Up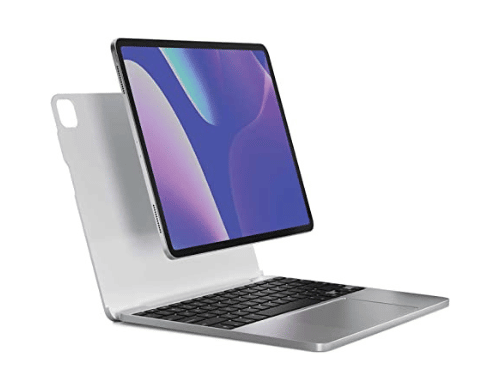 It includes configurable backlit keys and a battery life of up to three months for a dynamic workflow.
The Brydge iPad keyboard has an all-in-one case that isn't only meant to perfectly match your iPad and protect it. This case clamps to the magnetic back cover to firmly provide the ideal productive environment - irrespective of whether you're on the move, at work, in the classroom, or at home.
The new 12.9 MAX+ pushes the boundaries between tablet and laptop in unprecedented ways.
Most Cost-Effective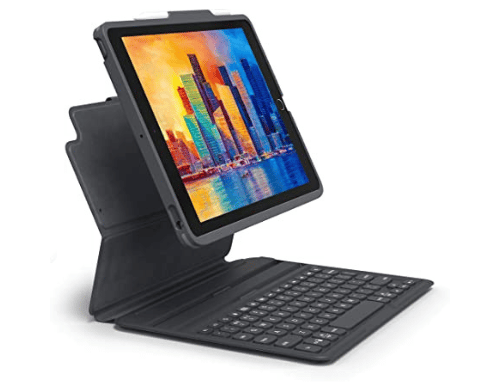 This case is constructed from polycarbonate material with rubberized corners, button covers, and edge bumpers.
With the Pro Keys wireless keyboard and removable case, you can maximize your tablet's productivity. It includes everything you require to turn any surface into an efficient workstation. Other extras for an optimal user experience include forward-facing speaker cutouts, backlit keys, and an adjustable stand.
With an adjustable kickstand, it can convert your iPad into a mini laptop.
Everything We Recommend
Our Top Pick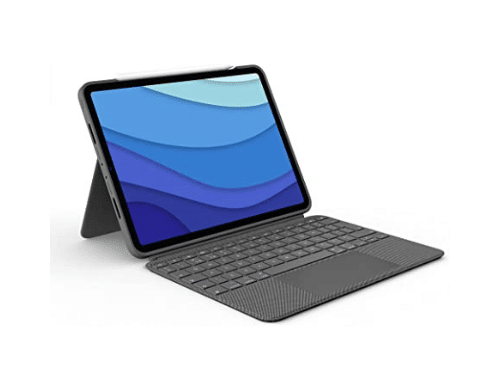 This keyboard case's thin, elegant form matches the aesthetics of the iPad Pro perfectly.
$169.99
Our Runner-Up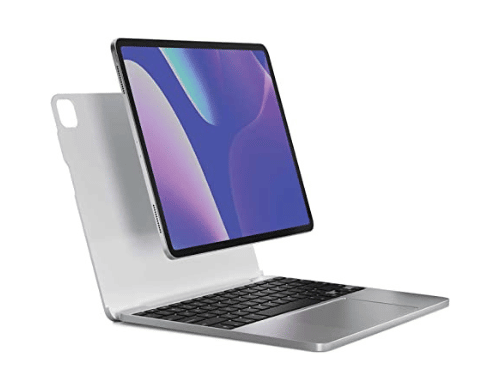 It includes configurable backlit keys and a battery life of up to three months for a dynamic workflow.
Most Cost-Effective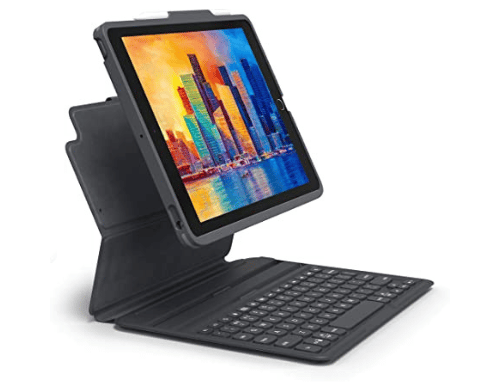 This case is constructed from polycarbonate material with rubberized corners, button covers, and edge bumpers.
$81.36
Who This Is For
If you've ever thought to yourself, "I don't enjoy tapping on this iPad screen — I wish I had a real keyboard," you'll certainly benefit from a keyboard case. You can significantly enhance your iPad productivity with actual, tactile keys that allow you to type (nearly) as rapidly and with almost as few mistakes as you do on your PC.
Do I really need a keyboard case?
It doesn't take long for you to realize why an iPad keyboard case is a necessary accessory when you try typing anything longer than a couple of sentences. A keyboard case combines a physical keyboard's functionality with a protective case's benefits. Rather than carrying a separate keyboard, you have a keyboard incorporated right into a case identical to the one you're probably using.
Furthermore, many keyboard cases are expressly designed to allow you to type on your lap, just like a laptop, making a keyboard case more portable than an iPad with a detachable keyboard and stand.
Smart vs. Magic keyboard for your IPad
Smart and magic keyboards have emerged as the most popular solutions, yet many users are still unsure which to select. When purchasing one of the two, there are numerous factors to consider.
To begin with, the Magic Keyboard features a trackpad, but the Smart Keyboard does not. That is a significant advantage for the Magic Keyboard, as you will need to connect an auxiliary mouse or trackpad to accomplish the same function as a smart keyboard.
The smart keyboard provides both front and back protection when you need a keyboard. The Magic Keyboard can be magnetically attached and adjusted to your preferred viewing angle, featuring a floating cantilever design.
The Magic Keyboard case is substantially bulkier than the Smart Keyboard, adding significant weight to the iPad. If you plan on bringing your iPad with the keyboard, this is a consideration to think about. With the Magic Keyboard added, your iPad resembles a laptop more than a tablet.
On the question of which one is better, Well, the Smart Keyboard and Magic Keyboard offer distinct solutions to the same problem. The Magic Keyboard is not simply a replacement for the smart keyboard.
Why You Should Trust Us
There is now more demand than ever by audiences for the media to be accountable, transparent, equitable, honest, and of integrity. We take pride in our sincerity, objectivity, and topic expertise. Our product review crew has years of experience with the goods they review.
We completed a variety of industry standards and tests for specific specialized evaluations, such as iPad keyboard cases, to establish a device's power, dependability, performance, efficiency, and more. Each device is tested under the same settings, using the same criteria, and with the same configuration to ensure precise and uniform results.
How We Picked
Size
It should go without saying, but while looking for the greatest iPad keyboard case, make sure it fits your tablet. In the case of the current iPad, you'll need a case that fits a 10.2-inch tablet from the 7th, 8th, or 9th generation.
Security
The amount of coverage provided by a keyboard case is one of its most important features. Some iPad keyboard cases only protect parts of the device, such as the screen or the back. Other cases are intended to completely protect the gadget by encasing it. Accidents could happen at any moment and any place. By cushioning the force of any drops or bumps, choosing a case with a hard covering lowers the risk of damage and keeps the device in good shape.
Fit/clips to IPad
You must choose a keyboard case that is compatible with your iPad. To keep it from slipping out, it should be a tight fit.
Lightweight
Your keyboard case should be lightweight but also durable. If you move around with your iPad a lot, you want something that isn't strenuous to carry after a while and provides you with the necessary protection.
Portability
Portability is key if you're going to be traveling with your iPad. The keyboard case you go with should not make carrying your iPad a hassle by adding unnecessary bulk. It should fold up fully to fit in your backpack or briefcase.
Durability
iPad keyboards are designed with portability in mind. This results in them looking cheap, feeling cheap, and functioning poorly at times. Typing on an iPad keyboard should feel great, and the construction should last a long time, or at least until you have to update your tablet.
Style/Design
Some keyboard cases just provide one or two color options per brand. However, the more fashion-forward ones experiment more by incorporating mixed hues, textured patterns, and personalized labels into the mix. You can often tell something about your personality through your technology, so why not have fun?
Aesthetic
Though the objective of a great iPad keyboard case is to provide unrivaled protection and typing convenience, it may also be as fashionable as it is practical. In a corporate context, safeguarding devices with a premium, visually pleasing case indicates respect for quality, which may reflect favorably on a company's image. Thankfully, numerous stylish choices are on the market now, enabling users to show their individuality while protecting their iPads.
Accessible ports for charging and headphones
A keyboard case's primary role should be to assist users in typing, but it should also give easy access to the device's components and promote ease of operation. Some cases, for instance, contain slots that allow access to the iPad's ports without having to remove the case. Ideally, you should look for a case that does not block the Lightning port or dock connector.
Price vs. quality
The price of the iPad keyboard is essential, but the quality is much more crucial. Many iPad keyboards also function as cases, with some offering considerable protection. Others are just keyboards and nothing else. Both have their uses, as long as the price is reasonable.
Easy to clean
Dirt can cause irreparable damage to iPads and keyboard cases. However, depending on the material, the case should be easy to clean and with minimal effort, helping to extend the life of the tablet and the case itself.
Care and Maintenance
If you're worried about scratches or abrasions, use one of the many cases available. To keep your iPad looking good, handle it carefully. Ensure the iPad is securely in the case to avoid slips and drops. Ensure all cables are unplugged and the iPad is turned off before cleaning it. Make sure the cloth is soft, slightly damp, and lint-free. Moisture shouldn't get into openings.
Take the iPad's keyboard cover off before cleaning it. Use a lint-free, soft cloth that is slightly moist to clean the interior and the front. Avoid using solvents, ammonia, abrasives, aerosol sprays, home cleaners, window cleaners, or cleaners with hydrogen peroxide. Alternatively, you might use Clorox disinfecting wipes with 70% isopropyl alcohol.
Use a clean cloth soaked in warm water and mild hand soap for mild leather cleaning. To remove dirt, wipe the exterior and interior with a gentle, lint-free cloth. You may also use a gentle cleanser and a dry clean towel.
Mild cleaners or conditioners can assist in removing certain stains, but they may also affect the color of the leather. Keep your iPad leather cover/case out of direct sunlight, heat, and humidity for extended periods. Tanned leather can be stained by water, oil, cosmetics, and colored fabrics (such as denim).