The Best In-Wall Smart Outlet for 2023
In-wall smart outlets appear to be an excellent place to start when converting your home to a smart home.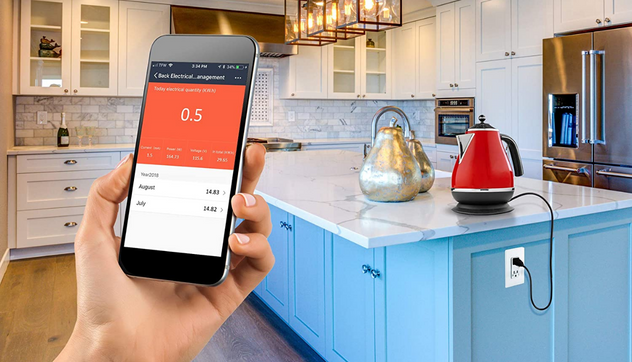 Replacing your regular outlets with in-wall smart outlets is a good starting point for your home automation journey. Smart wall outlets provide several conveniences, versatility, and power savings by intelligently and independently interacting with their linked plugs.
These gadgets are mounted on your wall and function as power outlets. While this appears to be a lot of fun, purchasing a new innovative outlet isn't straightforward. Anyone looking for these devices may be overwhelmed by the infinite number of available options and models. So, to assist you in navigating this cluttered market, we'll go through some of the top intelligent wall outlets.
How We Picked
Scheduling Capabilities

Scheduling allows your gadgets to come on and go off automatically at predefined times. It might be an on-off, recurrent schedule, or an automated one that begins at 7 a.m. daily.

USB Ports

Your home has a limited number of outlets that you can use to charge and power your devices simultaneously. Replace the high-traffic electrical outlets with smart wall outlets and USB charging ports to maximize their use.

Remote Controllable

Smart outlets must work with a variety of control platforms, including Amazon Alexa, Google Assistant, Microsoft Cortana, and Apple's HomeKit. You should be able to send commands to your outlet from anywhere in the home.

Price

You can find smart outlets in various price ranges depending on your budget. Some low-cost versions are best suited for simple purposes and lack the complex capabilities found in other models. There are also mid-range models with peripheral ports and surge protection. If you don't mind spending a little more, you should be able to get a decent outlet.
Our Top Picks
Best Pick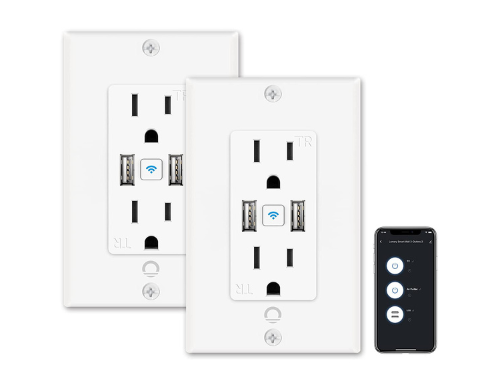 Installing this unit is as simple as changing an outlet.
With this outlet, you only need to make sure that your wall box is of standard size.
With the timer and group functions of this smart outlet, you can create a schedule that meets your needs. You can simply set a daily time for charging your devices. Doing this allows you to always have a fully charged device available whenever you need it.
Runner Up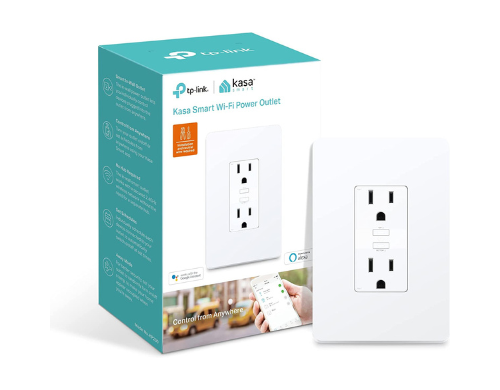 You can use easy voice commands to control your smart wall outlet.
This outlet is tamper-resistant, easy to install, and only slight in-wall wiring is required.
The Kasa Smart app allows you to integrate devices for unified control with a single swipe on your smartphone. Combine the light fixtures, outlets, and switches in your living room for simpler access and smartphone control fro
Most Cost-Effective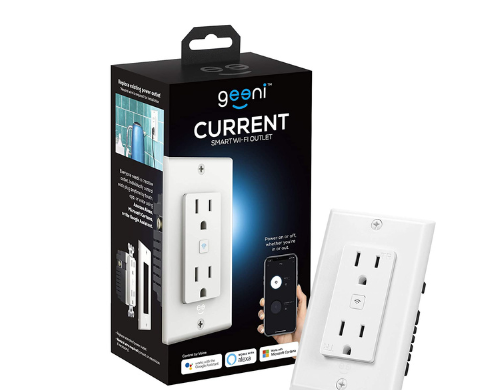 This in-wall smart outlet connects to your home Wi-Fi network without a hub.
You can control your home from your smartphone using the Geeni app, which works with all Geeni smart home devices.
With the Geeni smart outlet, you can control your outlets from anywhere with your home Wi-Fi. Give each outlet a different name and use it individually. Too exhausted to get out of bed? When it's time for bed, tell Alexa to turn off the lights in your bedroom.
Everything We Recommend
Top Pick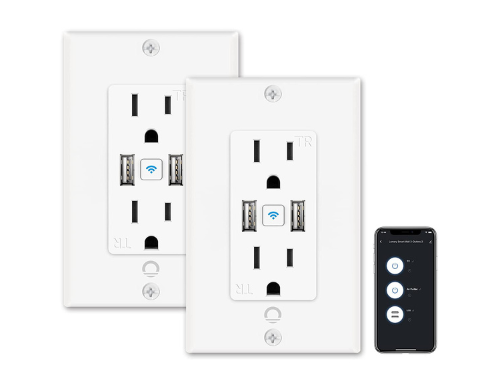 Installing this unit is as simple as changing an outlet.
$39.27
Runner Up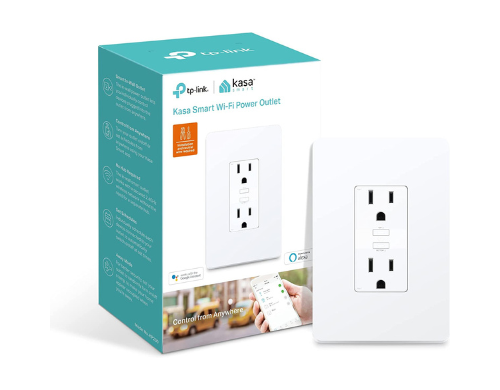 You can use easy voice commands to control your smart wall outlet.
$19.99
Most Cost-Effective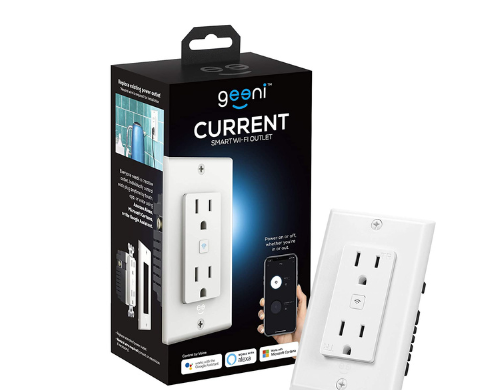 This in-wall smart outlet connects to your home Wi-Fi network without a hub.
$19.99
Who This Is For
Most homeowners recommend smart wall outlets because of their ease and power efficiency. However, most of them don't know how to buy these products. There are several models to pick from, and not all give an excellent user experience. That being said, this buyer's guide will provide you with some information regarding smart wall outlets and educate you on practically everything you need to know about them.
Smart plug vs. smart outlet – what's better?
Although both names are used interchangeably, an outlet and a plug are distinct. A smart plug is a gadget that plugs directly into an electric socket and allows you to control any electronic equipment that is plugged into it through an app. A smart outlet works the same way as a standard outlet, except it is hardwired into the wall.
Is it worth splurging on?
Smart homes of the future are becoming a reality today. Smart outlets are roughly 50% more expensive to install than conventional ones, but having them has benefits beyond advancing the network of smart devices.
Besides strengthening a smart network, smart outlets will let you automate and remotely control devices like lamps and space heaters and give you feedback about their power status. They are installed similarly to standard outlets and are controlled and monitored by a smart hub. Although smart outlets are more expensive than standard outlets, the benefits outweigh the additional cost.
Do I really need one?
Smart Wall Outlets are the most effective approach to making your home a permanent smart home solution. You can use your smartphone or voice commands to operate your appliances, lights, fans, heaters, and other electrical items. You may turn your Smart Wall Outlets ON and OFF from anywhere using your mobile application, Google Assistant, or Amazon Alexa voice assistants.
Why You Should Trust Us
Audiences want accountability, openness, equality, honesty, and integrity from the media now more than ever. It is essential that we provide you with accurate information about any transactions you make. This is why we strive to test as many items as possible personally. We do this by looking at how the products operate not just out of the box but also after some use.
How We Picked
Scheduling capabilities
Smart wall outlets come with varying customizable options. As such, you should pay attention to the features such as scheduling capabilities. Schedules, among other things, enable you to program your appliances or lights on and off hours. Our selection contains smart outlets with scheduling functions to ensure that your electric devices are always turned on when needed.
USB ports
It is possible to directly charge your devices without an adapter by using wall outlets with USB ports. We've included several smart wall outlets with these ports on our list. These outlets are equipped with smart chips that optimize charging speeds according to your device's battery status. These chips also protect your devices from overcharging or electrical surges, which is cool.
Remote controllable
Using smart outlets, you can control anything in your home using an app. You can remotely turn your lights, ceiling fans, or appliances on or off with them. Even better, you'll have the option of setting a timetable for when they turn on and off. Your numerous smart outlets may be controlled via apps, which is convenient and economical.
UL/ETL certified
The ETL mark was created by the Intertek Group, a global firm that does product quality certification, and it serves as a symbol of product conformity with North American safety requirements.
With this seal, you are assured that the product has been rigorously tested, including the safety guidelines for the equipment used in the manufacturing process, facility assessments, etc. In other words, ETL certification assures you that the smart outlet you purchase won't blow up in your face.
Design/style
A basic outlet is straightforward in design. However, there are other types with unique characteristics. Since many countries prefer to develop their plugs, there are no fewer than 15 different types of wall outlets. We have included some of these designs in our list, so be sure to choose an outlet that works with your system.
Durability
Although smart outlets have a limited lifespan, many homeowners are unaware of their need for replacement. The average lifespan of an outlet is 15 to 25 years. However, some might break down just a few years after installation. Only outlets that can accommodate a range of appliances and power levels are included in our list. Since air conditioners, heaters, and freezers have high power requirements, some smart outlets are not designed to handle such equipment. This might result in accidents or unintended electrical harm to your gadgets.
Warranty
A smart wall outlet still runs off electricity to run. A tripped circuit breaker, a failed internal socket connection, or lost connections within the circuit breaker box can cause a smart wall outlet to stop working. In our list, you can find some smart outlets with warranties.
Smart home compatibility
Choose a smart outlet that is compatible with your current automation platform. Stick with smart outlets that are broadly compatible if you lack a smart home hub to avoid future compatibility concerns.
Energy monitoring
Smart outlets also come with energy monitoring logs, which allow users to view how much energy is consumed. A gadget that consumes a lot of energy can be identified and replaced to save on energy costs. You can also improve your energy usage habits at the same time.
Size
Size is an important consideration if you want to replace old outlets with smart ones with USB charging ports. Smart USB-enabled outlets are deeper than conventional receptacles. This may necessitate the purchase of a new in-wall box to match its increased size.
Easy to install
Can the smart wall outlet be set up and used easily? We looked at the setup instructions, online and phone assistance, mobile applications, and everything else that may affect how you use the outlet. It takes some technical skill to install a wall outlet. Therefore, check if the instruction manual is comprehensive and useful.
Price
Smart outlets are not as expensive as they were before. Typically, a smart outlet costs $20 or less. To help you get the best bang for your buck, we have compiled a list with outlets of various costs.
Care and Maintenance
You may not give much thought to the outlets in your home, but your home's electrical system is rather complex. Like any other item, your home's outlets require periodic maintenance to perform correctly. A well-maintained outlet is not only an issue of working gadgets but also of safety. Damaged outlets can cause sensitive equipment to fail, shock someone, or even spark a fire. Nobody likes to deal with electrical hazards; fortunately, you don't have to.
Checking your outlets regularly is the simplest approach to preventing harm and detecting an electrical problem early. Examine how your appliances work when connected to each socket. If the lights flicker when you use an appliance, your home's wiring may be faulty.
Outlet testers are inexpensive and available at your local hardware shop, making testing your home's outlets simple. These testers are typically three-prong plugs with lights on each prong. When plugged in, this gadget will alert you if there is a problem with your outlet. To avoid electrical hazards, inspect all of your home's smart outlets at least once per month.
Even though outlets and light switches aren't at the top of the list of home cleaning chores, they can subtly age and make your home look dirty. Cleaning an outlet cover is comparable to cleaning a light switch cover. To begin, switch off the electricity to the outlet by removing the appropriate fuse or breaker. Take out the outlet cover from the wall next.
Once you've removed the plugs, clean the outlet cover with soap and water. Instead of using soap and water to clean the outlet, you'll need to be a little more delicate. Therefore, gently use a dirt cleaning spray and a cotton ball to wipe away any collected grime. Finally, if everything seems to be clean and dry, reinstall the outlet cover and re-connect the power.