The Best Ice Scrapers for 2023
You + your new ice scraper - a winter love story.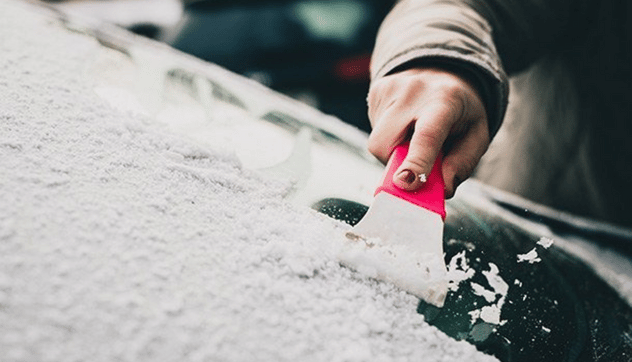 In the United States today, 82% of homes have a two-car garage or larger, but only 15% use them to park cars inside. This means a whopping 85% of Americans park their vehicles outside within the reach of the sun on summer afternoons, rain during spring, and snow in the winter.
Winter is slowly approaching and you will soon be faced with a common extra chore — getting ice off your vehicles.
Nobody likes chores, so the better the ice scraper you use is, the quicker you can be done.
From traditional handheld scrapers to the newer, more advanced ones, there's a long list to choose from depending on preference or need. Homes in heavily snowing areas need higher grade scrapers than their counterparts in areas that see lighter snowing volumes.
We've put together a list to help you make an easy choice when it comes to ice scrapers for your home this winter.
How We Picked
Ease of Use/Grip

You want a scraper that doesn't slip out of your hands or leave you in more pain or discomfort than you were in before beginning the chore.

Long Reach

Your arms can only reach so many places. Longer scrapers take some pressure off you and reach tall and hidden corners easily.

Teeth/Blade type

You want material that can get ice out quickly and easily without damaging your windows or scratching the paint.

Cost-Effectiveness

More expensive doesn't always mean better. Finding that sweet spot between overpriced and too cheap-to-be-any-good is the goal.
Our Top Picks
Best Pick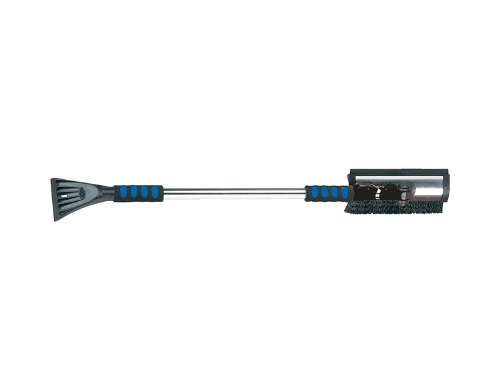 Reaches every nook and cranny
Coming in at an impressive 60", the Hopkins SubZero 80037 cuts your time outside on cold mornings significantly.
Long and strong with an adjustable head. Everything you want your ice scraper to be.
Runner Up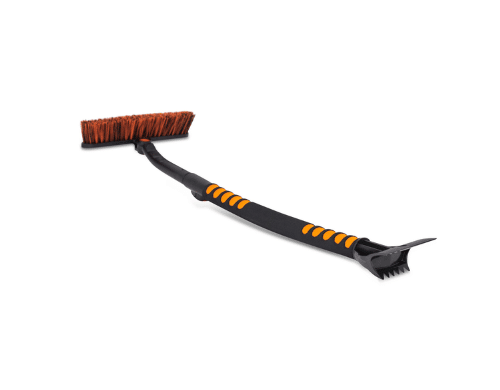 SUV owners, assemble
This BirdRock home Snow MOOver is orange and black, easily extendable and collapsible, and has a soft foam handle to keep your hands from getting frozen while you work.
Biased towards pretty tools that still get the job done? Look no further.
Most Cost-Effective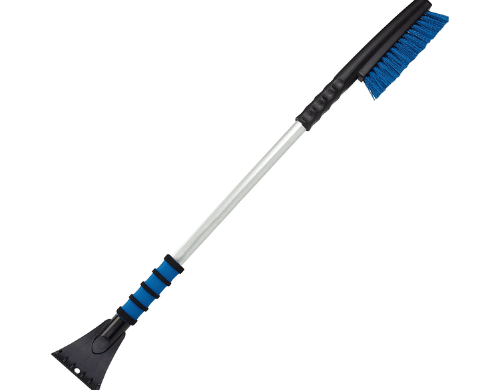 Day or night, your choice
This ice scraper is not a discriminator against height or car size. No amount of ice is too large or too hard to reach.
Proof that world-class doesn't have to leave you bankrupt.
Everything We Recommend
Best Pick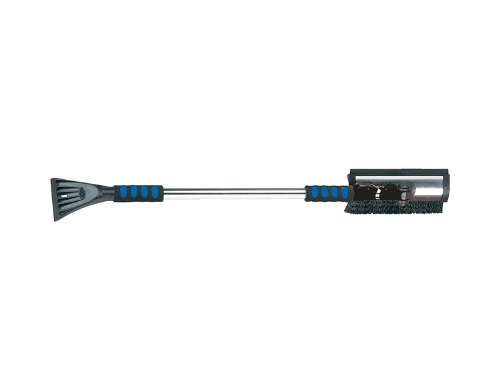 Reaches every nook and cranny
Runner Up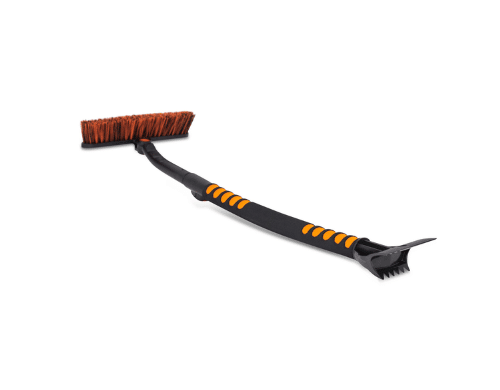 SUV owners, assemble
Most cost-effective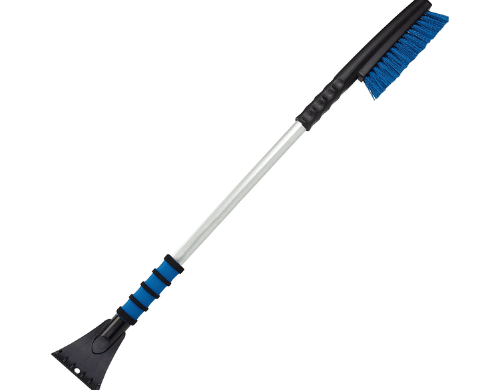 Day or night, your choice
$13.71
Who This Is For
These ice scrapers are for anyone who's prepping for winter and wants to spend less time cleaning up ice and more time doing other stuff.
Why You Should Trust Us
There are no wrong ways to get ice out of your way. Some methods and tools just make your life so much easier and we've found them for you.
How We Picked
Ice scraping tools all serve the same purpose. Some help you work faster and easier and others come with brushes and squeegees that help you clean up after you break and scrape. Some, however, are extendable and collapsible, mitten-compliant, and sturdier than others and that makes them easier to use and more satisfactory for users like yourself. We observed these features, compiled customer experience statements, and made straight height and weight comparisons in our bid to find tools that provide you with the best working experience.
We checked if the handles were made of soft foam to give you a strong, comfy grip and block direct contact with cold aluminum and plastic surfaces or not. Glove and mitten compatibility was a strongly observed metric.
Windshields are expensive to fix and replace so we quickly disqualified scrapers that were most likely to cause damage in this regard. Some scrapers can find a good spot in your car trunk and others have to stay in your garage till it's go time. Some could fit in your glove compartment and others in your toolbox. We made sure our list is filled with scrapers that don't compromise on functionality for any less important feature so you can trust us to present you with a host of ice-breaking tools that are worth both your time and money.
Care and maintenance
To avoid damage to your vehicle windshield or paint whenever you use an ice scraper, here are a few things you should take note of.
Always ensure that you use little or moderate pressure when getting the ice off. If that doesn't sound too exciting for you, you could try plastic scrapers or simply use the brush attached to any of the scrapers we've covered.
Some ice scrapers are small enough to fit into your glove compartment. Others can go in your trunk and some need to be stored in cool, dry places like a nice box or good surface in a garage or room. Ensure that all ice and dirt are cleaned off after each use and the ice scraper is collapsed before keeping away if it so happens to be collapsible. If not collapsible, be sure to keep it either rested in a corner or flat on the ground.
There's no official timeline or life cycle for scrapers. However, you need a new ice scraper the moment you start to notice serious bluntness in your current one preventing it from doing a clean job or even doing a job at all.
Electronic safety
Hated ice scrapers can get hot enough to burn you. To prevent this, ensure you always have thick gloves or mittens on when using them. Also, be sure to keep away from the skin and rubber when heated and from children at all times.