The Best Hybrid Mattresses of 2023
Top three hybrid mattresses for a bouncy and cushy bed.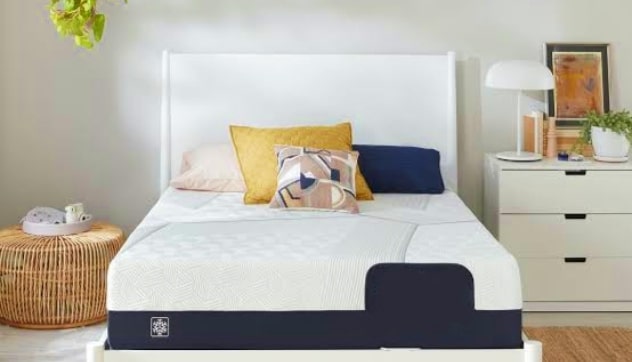 A hybrid mattress is a multi-layered mattress that combines springs and memory foam, latex, or gel layers for ultimate comfort and vitality. It is built to satisfy a range of body types and sleeping positions and offers the sensation of sleeping on an innerspring mattress with a sinkable cushier top.
When it comes to making a general choice, a hybrid may not be the perfect mattress choice for everyone, but it can be a good place to start for anyone unsure of their preferences.
If you are someone who desires something between an innerspring mattress and the cozy feeling of a memory foam mattress, we have got just the right options for you to choose from.
How We Picked
Size

Finding the right hybrid mattress size is important to ensure that it's a perfect fit for your bed and that you have enough sleeping surface. Luckily, these mattresses are available in a range of standard sizes and some even have options to customize.


Comfort + Support

A good hybrid mattress should offer a fair balance of pressure relief, comfort, responsiveness, edge support, and temperature regulation. Among our picks, you will find mattresses that offer excellent support and comfort and come with extra features such as cooling and athletic recovery.

Durability

Compared to other all-foam mattress types, hybrids are significantly more durable, with an average lifespan of seven to nine years. Purchasing one made out of high-quality materials and with good interior construction is a great way to get value for your investment.


Price

Hybrid mattresses are typically more expensive than all-foam mattresses. Their cost depends on different factors such as the quality of materials used, the thickness of the mattress, and so on. Keeping in mind that this is not a cheap purchase, we put quality above anything else.


Our Top Picks
Best Pick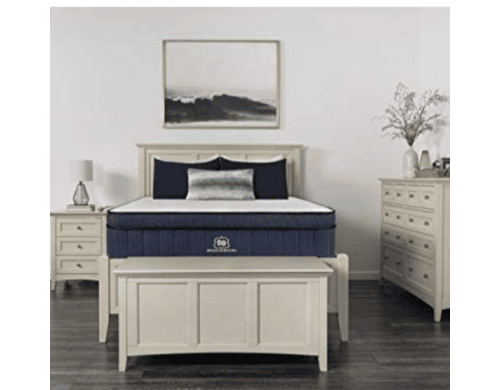 Thick memory foam layers that will cradle the body for excellent pressure relief.
It's available in soft, medium, or firm comfort levels to fit diverse preferences.
We discovered that the Brooklyn Aurora offers outstanding contouring and pressure relief for areas like the shoulders, hips, and spine. The bed also uses the most advanced fabric on the market to deliver cooling benefits on its expertly crafted mattress with breathable materials.
Runner Up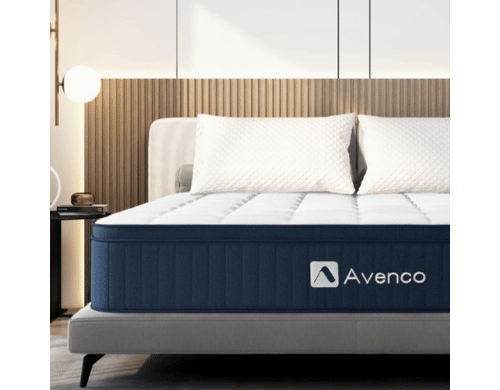 Coolest take ever on luxurious comfort hybrid mattresses.
Constructed with organic, natural, and sustainably sourced materials.

Enjoy skin-friendly Tencel fabric that offers a cool touch and feel. The open-cell latex feature enhances better airflow and breathability. With three layers of high-density bamboo charcoal comfort foam, Avenco is set to prevent odors, regulate temperature, and prevents overheating allowing you to get a peaceful, deeper sleep.

Most Cost-Effective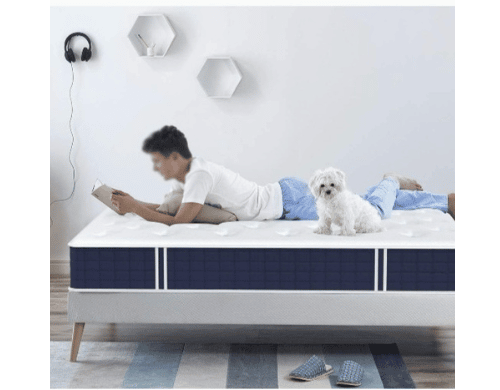 Prepare to bask in a memory foam top layer that offers a pressure-relieving hug.
Notable pressure relief with a sturdy feel at a very affordable price.
With an extensive line of hybrid mattresses produced by Coolvie for just about all types of sleepers in terms of position and body type, this affordable price-point Queen sized provides plenty of pressure relief and contouring with coils that offer a great deal of support.

Everything We Recommend
Best Pick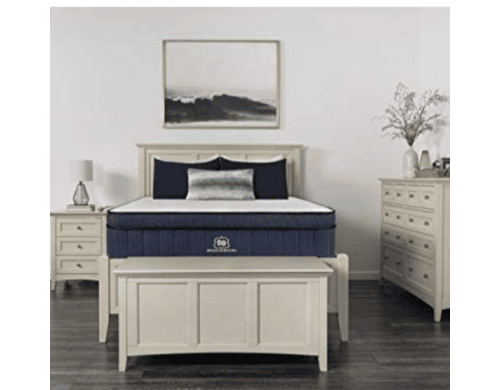 Thick memory foam layers that will cradle the body for excellent pressure relief.
$1,799.20
Runner Up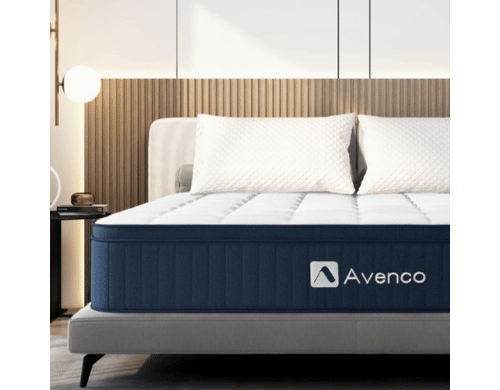 Coolest take ever on luxurious comfort hybrid mattresses.
$639.99
Most Cost-Effective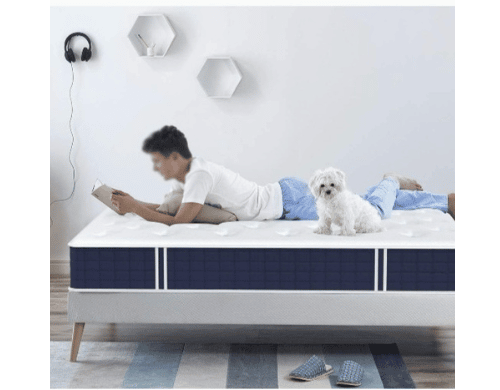 Prepare to bask in a memory foam top layer that offers a pressure-relieving hug.
$368.12
Who This Is For
The products advertised here are for anyone who wants the sensation of an innerspring mattress but with a cushier top. They can sink because hybrid mattresses combine layers of foam or latex with at least one layer of spring coils.
Hybrid mattress vs. memory foam
Memory foam mattresses are typically made up of a high-density polyfoam core. Hybrid mattresses, on the other hand, use a coil system that offers more support structures than memory foam mattresses.
When it comes to choosing between the two, you should note that memory foam was built to provide a distinct feel that offers pressure relief by conforming to your body shape. It is soft, affordable, and isolates bed movement, decreasing the chances of disturbing a sleeping partner if you move around, but it's not durable.
Though some people like the sunken-in sensation that it gives, others say the sensation is akin to feeling trapped in quicksand, so if you are claustrophobic, memory foam is not the mattress for you.
Hybrid mattresses, on the other hand, are more durable than other all-foam mattresses and have more support structures. The coils in them work to prevent sinking, which occurs with memory foams, making them suitable for multiple body types.
The only drawback might be the high cost, but you will be getting more support and better durability. Before making a choice, think of factors such as your budget, your sleeping position, whether or not the thought of sinking into your mattress appeals to you, and how much you weigh.
Finally, after you make your purchase, don't be afraid to return a mattress that doesn't feel right when you sleep on it.
Are hybrid mattresses more comfortable?
Depending on your body type and weight, your definition of mattress comfortability might vary, and while it's true that memory foam mattresses are softer than hybrids, this doesn't automatically make them more comfortable.
For instance, people with higher body weights will find a firm bed comfortable and cozy, while someone with a lower body weight will not. You should note that the foam in a hybrid mattress can be of any type, including gel, memory, or latex foam.
Many people have found them more comfortable than memory foam mattresses. Especially people who prefer to sleep on top of their mattresses rather than sink into them.
Are they pricier?
Hybrid mattresses are generally more expensive than other all-foam mattresses, so if you are low on budget, they might not be right for you.
Best for what kinds of sleepers?
Since hybrid mattresses use coils, an added level of support is provided, so they can conveniently handle heavier weights and offer more support for back sleepers, and they are ideal for stomach sleepers too.
Why You Should Trust Us
There is a wide selection of hybrid mattress models on the market today, which might make it difficult to navigate one that combines the best of coils and foam to create a breathable, supportive, movement-free atmosphere.
As such, we have picked the best hybrid models based on their performance that will offer you a high-quality and luxurious feel.
How We Picked
Hybrid mattresses are considered the perfect blend because they offer sleepers an opportunity to experience both the cozy pressure relief feeling of foam mattresses and the sturdy feel that comes with sleeping on a spring mattress.
The best hybrid mattresses should provide all the benefits that come with using memory foam and innerspring mattresses.
The top of the mattress foam should contour to you and ease pressure points. While the coil support should be bouncy and shouldn't carry movement across the surface.
Based on the quadrants we picked above, we scoured over thousands of previous users' experiences with different brands and evaluated their performance based on the criteria above.
Among our picks, you will find beds of a variety of mattress sizes (so be certain of the amount of space available to you when opting for any of them), that are durable, offer a warranty of up to ten years, come with exceptional breathability and temperature regulation, apply latex with the coil base to offer a breathable build with good airflow, and also have bounce and hypoallergenic attributes.
You should note that hypoallergenic mattresses include dust mite-resistant materials with anti-allergy covers that work to prevent dust mites from penetrating your mattress.
We recommend you go for hybrid mattresses with support layers that aren't too thin. The support layers feature pocketed coils with a foam base for the coils to rest upon. They are designed to support you and the mattress and can help to safeguard your body's health by offering great support for your back and spine.
This will ultimately promote good posture and healthy spinal alignment, which is why we included hybrids with support layers that take up at least 50 percent of the bed. Hybrid mattresses are pretty expensive because each layer is different.
On average, hybrid mattresses cost between $900 and $2,500 for a queen size, so shoppers on a tight budget might want to seek other affordable bed options.
Care and Maintenance
After you begin to use your hybrid mattress, you ought to rotate/flip the mattress every 3 to 6 months, as regular rotation will prevent premature wear and tear.
It is okay to use a mattress protector to preserve the look of your hybrid mattress if you wish, but be sure to wash duvet covers at least once a month, comforters and blankets once every two to three months, and pillow inserts every three to six months.
To clean your mattress, strip it of all sheets and vacuum it thoroughly. Spot-clean spills where needed by using a dampened piece of cloth with water and detergent. Wait for it to be properly dried before spreading the washed sheets and bedding over it.
You can choose to clean once every four to six months or as often as necessary. To prevent stains, use a liquid-resistant mattress protector and replace your mattress as soon as it becomes uncomfortable, becomes saggy, or aggravates your allergies.