The Best Humidifier for 2023
Improve your room's humidity levels with these useful little devices, perfect for relieving skin dryness, sinuses, and other discomforts.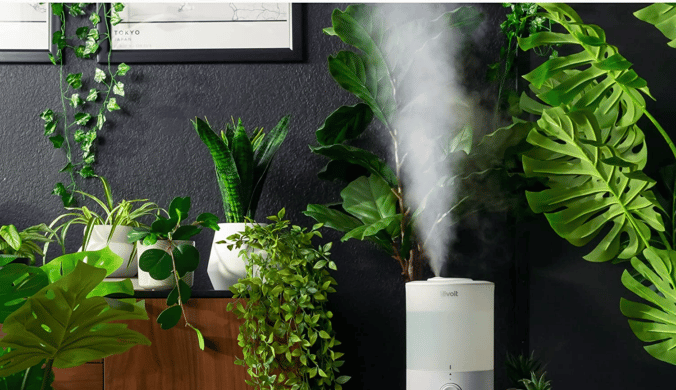 Humidifiers are an essential addition to your house especially if you live in a dry area. As cliche as it may seem, dry air can cause or escalate health problems. Adding moisture to the air helps relieve dry skin, congested sinuses, dry coughs, irritated vocal cords, and more. Once you breathe in dry air, it absorbs moisture along the respiratory system causing dryness.
To solve these problems, you need to increase the humidity levels in your house. The easiest and most effective way to increase air moisture is by using a humidifier. It will balance the moisture levels in your room air to healthy amounts with just a click of a button. Read on to find more information about humidifiers as well as the best picks on the market today.
How We Picked
Size and Capacity

Humidifiers come in different sizes and capacities. The physical size determines whether the humidifier will fit in the intended space comfortably. Its capacity determines whether it will supply enough moisture to your room air within a reasonable period.

Ease of Use

The features of a humidifier determine its ease of use. The ideal humidifier should be simple to turn on and off, as well as adjust to various settings. An easy-to-use humidifier will serve you well because you will be able to operate it quickly and accurately.


Effectiveness/Efficiency

The best humidifier is one that delivers the expected results. To be effective, a humidifier has to have all the necessary features. Therefore, examine the features of a humidifier and only choose one with the features and functions you desire.

Cost-Effectiveness

Different humidifiers have different features and capacities and therefore cost differently. Different humidifiers require different amounts of money to use and maintain. Choose one whose buying price and maintenance cost do not surpass your budget.
Our Top Picks
Our Top Pick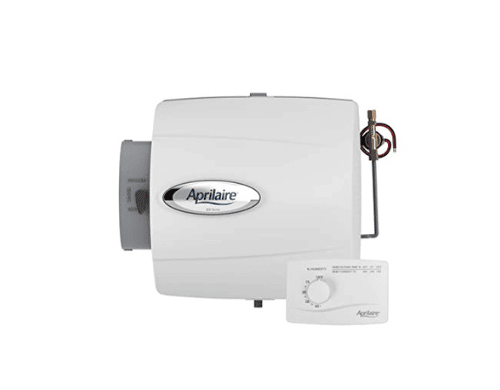 With a single built-in sensor, this humidifier monitors the humidity levels in your indoor area and increases them to the required level.
This compact humidifier can be installed in a very tight space but still humidify a large room. Even though you have to manually set the right humidity, you get a nice digital display and control panel to help keep track of your settings.

A trusty humidifier that allows you to manually set the ideal humidity for your space.
Our Runner-Up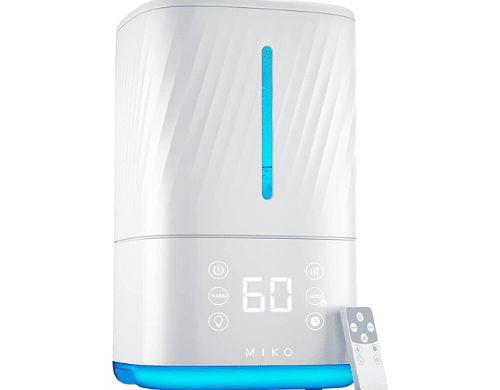 Besides being relatively quiet, this humidifier has a little tray for adding your essential oils.
If you love ultra-modern appliances, you are in absolute luck. This humidifier comes with an Auto Mode that helps regulate humidity levels automatically. It's also pretty quiet; you can have it beside your bed and sleep through the night. Also, you can easily detach the water tank from this humidifier for easy cleaning and refilling.

Miko humidifier increases your room humidity using warm and cool mists.

Most Cost-Effective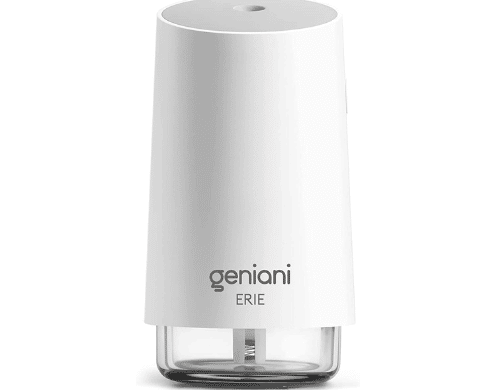 It features a quiet function so you can use it anywhere, and a nightlight feature which makes it ideal for use in a nursery.
To put things into perspective, the GENIANI is so small that it can fit in your car's cup holder. It runs for close to eight hours on a single charge and can be recharged from any device with a USB A port.
A small and light humidifier that is ideal for use in the office or in the car.
Everything We Recommend
Our Top Pick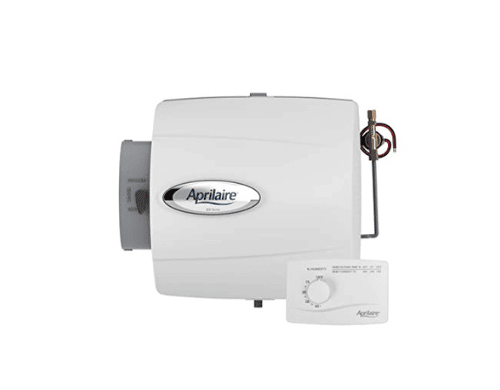 With a single built-in sensor, this humidifier monitors the humidity levels in your indoor area and increases them to the required level.
$148.79
Our Runner-Up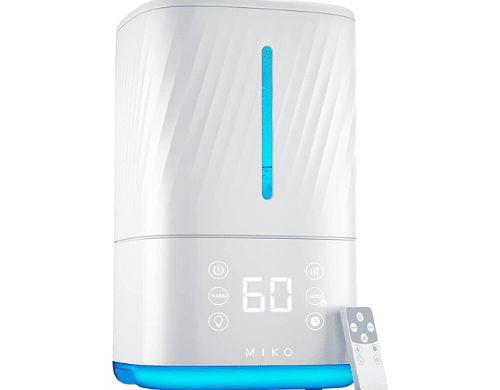 Besides being relatively quiet, this humidifier has a little tray for adding your essential oils.
$69.99
Most Cost-Effective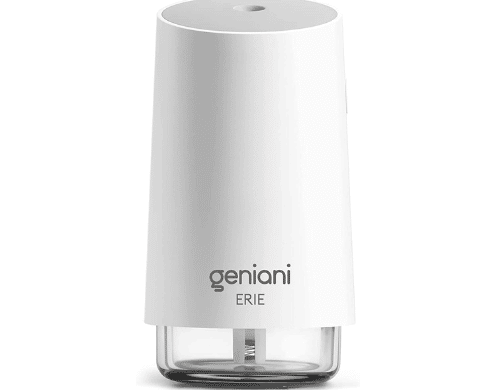 It features a quiet function so you can use it anywhere, and a nightlight feature which makes it ideal for use in a nursery.
$29.97
Who This Is For
Who This Is For
The humidifiers reviewed here are ideal for use by any person, irrespective of age, gender, or medical conditions. However, they have different sizes and capacities and should be installed in rooms of different sizes. We have also listed different types of humidifiers that are positioned differently. Therefore, our picks are ideal for use by different users with different preferences.
What Are Humidifiers And How Do They Work?
A humidifier is an electric device that improves air moisture levels. It contains water, which is in direct contact with the motor and humidifying surface. The water has to be up to a certain level all the time. Therefore, a water source such as a tank needs to be connected to the device.
Water is directed to the humidifier surface where it is heated up and evaporates. The steam is then directed out into the air. Consequently, it increases the air moisture levels and balances to a healthy amount.
5 Different Types Of Humidifiers
Humidifiers are categorized based on where they are installed and the technique they use to humidify your room. Below are the different types of humidifiers:
Central Humidifiers
Central humidifiers are installed in the air conditioning unit. While the AC heats or cools the air in your room, the humidifier adds and balances air humidity levels. This type is the most expensive but is also the most effective. Central humidifiers are particularly useful if you want to control air humidity in your entire house. They are also safe since they do not emit steam and cannot, therefore, cause scalds.
Evaporators
Evaporators add moisture to the air in your room through a moistened filter. They are powered by fans that expel humidity from a single-unit system. Evaporators are less expensive to buy and install than central humidifiers and are therefore better if you are on a budget. However, they do not balance air humidity levels. They may expel too much moisture which can be problematic for people with respiratory issues.
Impeller Humidifiers
Impeller humidifiers use rotating disks that run at high speeds to create a cool mist. The mist is expelled into the air to increase the humidity levels. They are only ideal for single rooms, unlike central humidifiers. They are however less expensive and the best choice if you intend to improve the humidity of one room.
Steam Vaporizers
These are electric humidifiers that heat water, cool it then expel it into the air. They are portable and thus ideal when you need to humidify one room at a time. However, the steam can cause scalds and should therefore be positioned in out-of-reach spots.
Ultrasonic Humidifiers
This type of humidifier uses ultrasonic vibration to produce a cool mist. The mist is then expelled into the air to improve the humidity levels. You can choose a version with cool or warm mist depending on your preference. Your choice should be influenced by the area you live in. Cool mist versions will be the ideal choice if you live in a hot area. Hot mist versions are ideal for cold areas.
Why You Should Trust Us
Our picks are influenced by consumer reviews. We have only listed humidifiers with the best consumer reviews. We have also examined different features in different humidifiers and picked the most effective ones.
How We Picked
We examined different features to reach our top picks. Our top picks consist of humidifiers of different sizes to fit in different spaces. Choose one whose capacity is big enough to humidify your intended area. It should also be small enough to fit in the designated space. We also picked different humidifiers that require installation in different areas to accommodate users with different preferences.
All our picks are easy to use and do not require professional expertise to operate. They have all the necessary features to ensure effectiveness. However, other than the basic features, they all have different extra features. Therefore, examine all the features to find one with your desired features.
Due to the difference in features, sizes, and types, our picks have different prices. However, they are all affordable with costs that correspond to their effectiveness. Our top choices have different mist types to ensure that we accommodate users with different preferences. Mist type refers to the technique that humidifiers use to increase air moisture levels. They include cool, warm, evaporative, and ultrasonic mists. Some of our picks also have a mist adjustment feature that allows you to use different types of mists.
All our picks have stylish designs and will improve your room decor. They have low-decibel motors and operate silently to avoid unnecessary disruption. We have also considered power consumption to ensure that it will not cost you too much money to use and maintain your selected humidifier. Therefore, we have selected energy-efficient humidifiers with minimum power consumption. Some of our humidifiers have a night light feature that illuminates your room at night. The night light also makes it easy for you to change the settings on the humidifier even when your lights are off.
Care and Maintenance
Humidifiers use a combination of water and heat to humidify your room. The combination can be hazardous if not properly taken care of. They require proper airflow to serve you safely and efficiently. Therefore, do not cover the device to ensure that air flows from the fan and through the filter with no distractions. If covered, steam can build up and come off explosively once the humidifier cannot hold it any longer.
Regularly check your humidifier to ensure that it does not overheat. Modern humidifiers have automatic features that combat overheating. If it overheats, a humidifier can damage its interior components and in extreme cases, cause fires. If yours does not have this feature, check it regularly to avoid such hazards.
Examine the cord regularly to ensure that it is in the best working condition. The entire cord should be insulated to avoid short-circuiting and electrocution. If you notice any naked parts, use a binding tape to insulate them.
The humidifier tank requires cleaning at least once a week to prevent the growth of molds. Cleaning the tank also prevents the buildup of minerals that slowly block the steam outlets. You can also prevent the growth of molds by adding a little white vinegar every once in a while. White vinegar is a natural antibacterial and antimicrobial solution and is safe to use in a humidifier.
Check the moisture outlets to ensure that they are open to allow easy flow of mist. The outlets can be blocked over time due to mineral build-up. In such cases, clear the blockage by adding vinegar and then heating it to dissolve the clog. You can also unclog the outlets using a blunt wire or paper clip to clear the buildup. Using distilled water in your humidifier will also prevent blockage since it contains no minerals.