The Best Hose Nozzles for 2023
Hose nozzles are a vital item for yard maintenance, whether you're tending to your garden or cleaning up your patio.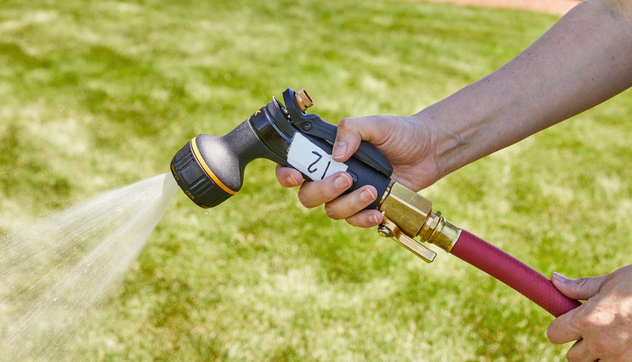 We get excited when we imagine how different you would feel and think if you had a beautiful lawn, a flourishing garden, and a spotless car parked outside your property, all because you had the proper hose nozzles that allowed you to water and clean them perfectly.
Finding the proper nozzles for your hose might be challenging, but with our assistance, you will be able to get that unique garden hose nozzle that will assist you in watering your garden most practically and efficiently while also managing various watering tasks for you and reducing frustration.
We took on the task of finding, testing, and retesting the best garden hose nozzle for your fruitful watering experience, and this list is sure to make your decision quick and easy!
Who This Is For
The garden hose is ideal for men and women who enjoy gardening and car washing. A garden hose nozzle helps spread water more evenly than a garden hose alone. A garden hose's constant flow isn't always ideal for jobs like watering fragile flowers or washing a car. The various spray options of a nozzle allow you to tailor the flow to your specific task.
Water wands vs. hose nozzles
Although they serve different purposes, watering wands and spray nozzles can provide the same amount of water. Both distribute water, but only one creates the appearance of rain, while the other creates a pressured stream. When it comes to watering plants, water wands work better because they are made with plant watering in mind and let you swiftly water several garden plants without creating a mess or wasting water. Water wands are essentially longer nozzles for spraying water; this is how they got their name. They may also be called spray wands, plant wands, or watering wands. They make it simple to moisten the soil underneath plant foliage while keeping the leaves dry.
The water wand is simple to move and manipulate; however, inexpensive wands sometimes leak from their trigger mechanism, making the handle uncomfortable and constantly damp.
A watering wand is your best bet for cleaning or watering difficult-to-reach locations. They reduce hand fatigue, are strong but lightweight, and are simple to use.
A spray nozzle is an accessory for a water hose that resembles a rifle and lets you shoot water "on demand." Spray nozzles come in various styles, from those that produce a forceful, high-pressure stream to those that produce a wide, low-pressure shower. To shower, spray, or sprinkle water in your garden, you can attach spray nozzles — similar to showerheads — to a garden hose. While some spray nozzles only have one watering setting, some have as many as 10. Many people prefer a spray nozzle since wetting leaves typically doesn't hurt plants. However, large water droplets can act as lenses and focus sunlight, causing tiny burn zones.
Do I need it? Is it worth it?
If you enjoy a beautiful and tranquil garden, we say yes; you need it, and it is completely worth it. It is an extremely helpful tool for yard work and is relatively inexpensive. Without a nozzle attached to your hose, you must walk back to your spigot every time you want to turn the water on or off or modify the water pressure. That might be exhausting, especially if you're working outside in the summer. A hose nozzle also makes it easier to water plants. Many plants benefit from a rainfall spray rather than a standard spray. Most hose nozzles have this rainfall spray, so connecting it to your hose could save you many trips to refill your watering can.
What purposes can one use it for?
These hose nozzles are multifunctional. They are perfect for:
Watering the garden, lawn, grass, park, saplings, and flower beds.
Excellent for car washing.
Sand washing
Window washing
Pet bathing.
And horticulture.
Why You Should Trust Us
Several hose nozzles for sale aren't worth the money. They leak and have clunky nozzles, which makes the situation worse. They are not of a high enough quality to meet your needs for watering and other multipurpose uses. To find the best garden hose nozzles for you, we've undertaken the work of searching the market. We conducted particular tests with various gardens at different times and derived our test findings from a sizable number of prior consumers who had bought and utilized each of these products.
How We Picked
Together with user reviews, we considered the following factors:
All-purpose
Your watering requirements will determine how many spray settings you need. There can be up to 10 spray settings on some hose nozzles. You don't need to acquire a hose nozzle with several spray settings if you only intend to use it for cleaning. The standard spray will do. However, you'll need something with spray settings that includes a rainy spray setting if you're watering plants of any type. This is because, with the exception of trees and bushes, typical, single sprays are too strong for many plants. To ensure that they are all-purpose and meet your needs in every way, we made certain to select the best options with different spray sets.
Durability
We looked at the overall construction quality and durability of each material used. We do not want you to buy things of poor quality that will corrode and break when dropped. After testing a few nozzles that showed scratches and early symptoms of wear and tear, we only accepted ones with sturdy metal construction.
Comfort
Whether you're using your hose to wash your car or water plants, you need to be comfortable if you plan on using it for extended periods. The hose nozzles with ergonomically shaped handles are the most comfortable. This consists of padding, ideally rubber, and finger grooves. Others provide a straightforward on/off switch or lever to operate the hose nozzle. If your hands become tired easily, avoid pistol hose nozzles, which require you to hold down the handle while spraying to keep the hose on.
Price
Budgeting should always be a concern, and the temptation to purchase low-quality hose nozzles that do not fit your purpose should be avoided. We looked for the best with the highest end cost and the lowest costs to accommodate every other prospective customer. In other words, the prices are reasonable and appropriate for the products.
Material
The ideal materials for hose nozzles are metal and rubber since they can withstand the elements outside. Many metals don't corrode over time and are resistant to rust. Rubber, meanwhile, is soft to the touch and impervious to wetness. Although it's not as sturdy as metal, plastic is still a good option. This is because plastic degrades poorly in direct sunlight and may even shatter. Make sure there is a mixture of other stronger elements, such as metal, in a hose nozzle made of plastic. We made sure to pick nozzles made of durable materials.
How We Picked
All-Purpose

Gardeners will appreciate the versatility and convenience of an all-purpose garden hose nozzle. You can switch from a gentle mist for watering delicate plants to a powerful jet for cleaning hard surfaces using its adjustable spray settings.


Durable

Nothing is more upsetting than a beautifully designed hose nozzle rusting and breaking while in use. To avoid this, we looked for nozzles made of robust materials that would not break if dropped.


Ease of use

We understand the value of using a tool with ease, which is why we looked into nozzles with anti-slip hose handlebars that provide a comfortable hold grip for an accurate and consistent target and handle. These garden hose nozzles will make your job much easier.


Price

Nobody wants to spend a lot on a garden hose. As a result, we made certain to select budget-friendly models of high quality to meet your diverse needs.

Care and miantenance
How to clean
Cleaning your nozzle regularly will ensure that it is clear of debris that could affect water distribution, such as dust, dirt, road grime, and brackish water. To clean, follow the following steps:
Fill the bucket with an equal solution of vinegar and hot water. Heat the water for five to 10 minutes on the stove. Ensure the water is not boiling.
Unscrew the nozzles from the water hose. Loosen the nozzle from the hose gently to prevent cracking and bending of the nozzle and the washer that holds the nozzle in place.
Soak the nozzle in the mixture of vinegar and water for 10 minutes. Soaking the nozzle loosens caked-on hard water and calcium buildup from inside the nozzle.
Remove the nozzle from the bucket. Wipe away any excess vinegar and water from the surface of the nozzle.
Dry the nozzle with a washcloth or place it in the sun for five to 10 minutes. Drying the nozzle allows for easy attachment when you re-attach the nozzle to the water hose.
Re-attach the nozzle carefully to avoid bending and cracking the nozzle. Firmly tighten the nozzle to prevent leaks when using the water hose.
How to inspect for damages:
After turning off the water and disconnecting the hose, dry it off with a rag and fill any minor holes with electrical tape. With a marker, mark the pierced portion. Then, wrap electrical tape around the designated section, overlapping it many times for good adhesion. Be cautious when wrapping so the hose doesn't wrinkle, as this could prevent water from flowing. To be sure you've fixed the issue, reattach the hose to the spigot or a spray nozzle and turn on the water.
Use a hose mender to patch up significant tears: turn off the water, unplug the hose, then cut out the damaged area with garden shears or a hose cutter. Connect the hose's cut ends to the connectors on the hose mender, then tighten them by turning the two collars on the mender counterclockwise. To ensure there are no leaks, reattach the hose to the spigot or nozzle and turn on the water.
Replace the hose gasket on a leaky coupling: Disconnect the leaky hose end, use needle-nose pliers to remove the coupling's existing gasket, then turn off the water. To insert the replacement gasket into the hose coupler, use your fingers. O-ring gasket thickness affects how waterproof the seal is. Flat gaskets don't conform to coupling curves as well. To make sure the coupling is leak-free, reconnect the hose to a spigot or nozzle once again and turn on the water.
A new hose coupler should be used to replace a bent one: The leak can be permanently fixed by changing a bent coupler with a new, functional one. There are two kinds of couplings: the male attaches to a nozzle or sprinkler, and the female connects to the spigot. Additionally, make sure the connection you select has the same diameter as your hose (e.g., a 5/8-inch coupling for a 5/8-inch hose). The packaging will specify the coupling type and diameter.