The Best Home Weather Station for 2023
Install a home weather station to receive accurate real-time forecasts from the convenience of your home.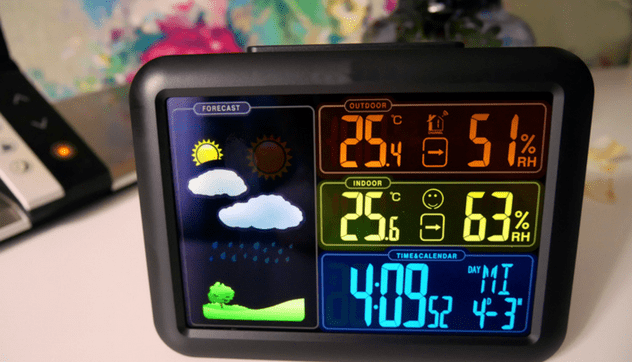 Each and every day, there are plenty of reports on the weather. Your phone provides a forecast for the day, and you can find additional information in newspapers and on television. However, we have the impression that these reports are not always accurate and precise in relation to our location.
A weather station basically gives you accurate and highly precise results and a forecast for your area. This definitely helps you make wiser decisions based on what you note.
If you are a farmer or generally a person who is quite intrigued by the weather, then a good home weather station will serve you quite well. You might not be sure of what you want yet. There are quite a lot of options in the current market, and it might seem overwhelming at the moment. There are plenty of factors to consider and what better way than to take a look at this list we have taken time to tailor just for you
How We Picked
Range of Analysis and Functions

Different weather stations have different ranges due to the features of the station itself or even the brand. This also means that they have different functions and designs. As much as a station might provide a basic summary of all aspects that you need to track or measure, specific functions might help you make a better interpretation of these readings.

Durability and Weather Proof

It is true and obvious that you will need to leave your weather station outside in order to take accurate readings. As a result, you must consider the fact that this station will be exposed to the elements on a daily basis. It would be wise to consider the durability of the station you pick. It should be weatherproof to ensure it still properly functions even in harsh weather.

Display and Software Connectivity

The display of a weather station is the most important part of it all. If you do not have a display, you cannot get any readings, rendering the system useless. You should consider having a display that is user-friendly, easy to read, and easy to interpret too. If the system has a digital app that allows you to monitor it from your phone, the connection should be stable.

Cost-Effectiveness

No matter the choice you make, it is paramount that you get value for your money. We all have different budgets and spending limits, and this list has something for everyone depending on the price range they are looking for.
Our Top Picks
Best Pick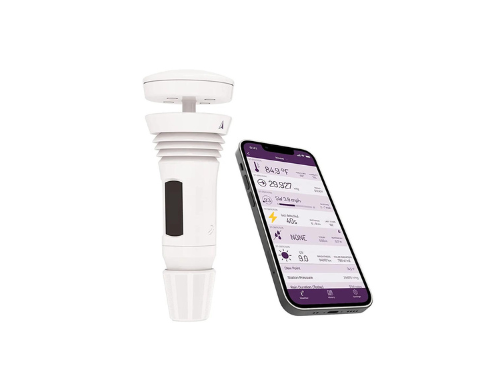 This small and compact weather station is still highly accurate and effective when it comes to making forecasts and monitoring the weather.
This solar-powered option can easily send you notifications in real-time to your phone, making sure that you are always in the know about how the weather is back at home.
This weather station has a long range of connections; it can be up to a thousand feet away from your home's display hub, so you can always rely on it. It has no moving parts, making sure that your maintenance cost is at an all-time low. It still offers you a wide range of readings that give you insight into what to expect.
Runner Up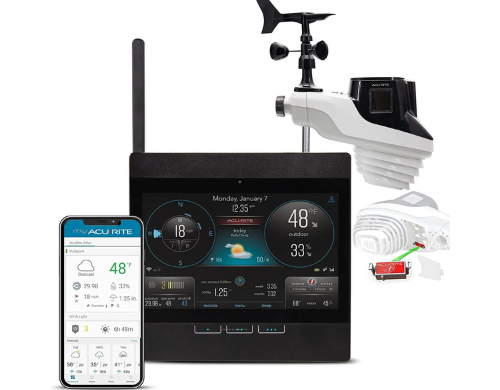 You can share your data with thousands of other people with the same setup in different corners of the world in real-time.
This highly effective option can be relied on to give a twelve-hour forecast of the weather and detect the probability of lightning activity, and what's even better is that it connects to Wi-Fi.
Its display is backed up by a battery to ensure your data is saved in case of an emergency blackout. It is highly accurate with an app on your phone, which basically allows you to keep track of any changes from wherever you are. It even shows the probability of a lightning storm happening.
Most Cost-Effective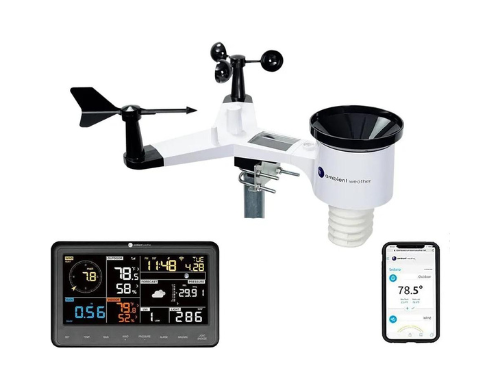 This solar-powered and highly efficient home station is the perfect choice for you if you need dependable and highly accurate results and analysis.
With its 10 sensors packed into a small and reasonably priced package, this option makes it to the top of our list. It has Wi-Fi and works with both Alexa and Google Assistant.
This home weather station unit has highly accurate sensors and offers you the chance to add additional sensors if your needs change over time. It has one of the best display consoles available on the market and is very easy to set up and use for anyone who has never had a home weather station before. It is quite accurate and highly customizable.
Everything We Recommend
Best Pick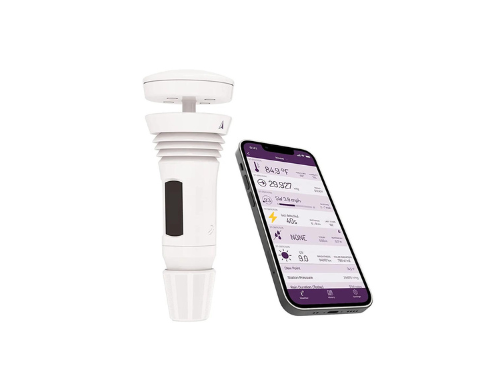 This small and compact weather station is still highly accurate and effective when it comes to making forecasts and monitoring the weather.
$329.00
Runner Up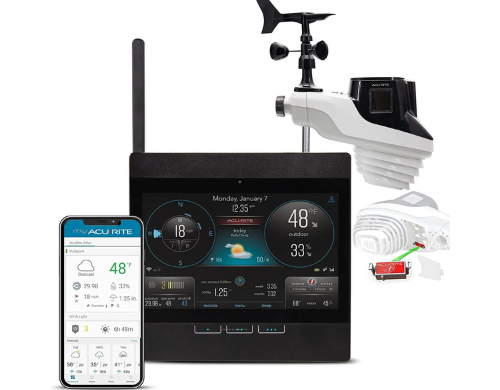 You can share your data with thousands of other people with the same setup in different corners of the world in real-time.
$249.98
Most Cost-Effective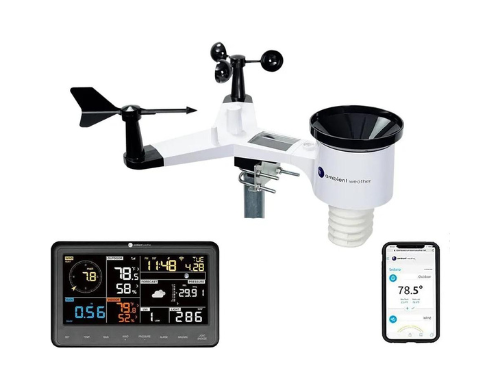 This solar-powered and highly efficient home station is the perfect choice for you if you need dependable and highly accurate results and analysis.
$189.99
Who This Is For
This review is for anyone and everyone looking to purchase a weather station. It might be for personal use or just an intriguing topic for you, but the options on this list are guaranteed to have what you are looking for.
What is a home weather station?
A home weather station is a set of weather-measuring instruments that you can install at your own home or business. The number of instruments in the unit you purchase can vary, but most personal weather stations include instruments to measure temperature, relative humidity, pressure, rainfall, and wind speed and direction.
Can you forecast the weather with an at-home station?
Most recent home weather stations come with a digital display and even an app that monitors various parameters. The air pressure, wind chill, heat index, and dew point are just some of the values that help in making an accurate prediction. Most of them work in a similar manner to give a prediction of the coming hours of weather.
Why You Should Trust Us
We spent time reading many reviews and customer comments to better understand and have a clear perspective on the information about the products we have listed for you. We compiled a list of home weather stations that are well worth your money by taking into account their accuracy, durability, ease of use, and cost-effectiveness to make sure you get nothing but the best.
How We Picked
Functions
In simple words, a unit or station that will offer you a wider range of functions is better than one that offers fewer functions. It offers you more insight when you can measure or monitor more elements of weather. With a wider range of functions, it follows that you get a wider range of analysis.
Range of analysis
Recent weather stations are highly digitalized, and unless you want to perform the calculations manually, there is an app that displays the results of the previously performed analysis. This is only possible if your station is digitalized and can be connected to an app on your phone. Your station should also have a wide range of functions in order to carry out a wider range of analyses.
Durability
Bearing in mind that your station will be placed outside, it needs to be a durable option that will not break down in a matter of months. A durable unit will serve you well through the years and still provide readings and measurements even in the harshest of weather conditions.
Weatherproof
A weather station can withstand the harshness of the elements while providing many years of service without fail. However, you will need to make sure that you only purchase a reliable and accurate station from one of the leading manufacturers or producers of these units and avoid the cheaper imitations because such units won't last. Cheap is expensive!
Display
The display is mostly separate from the unit itself since you will place it in the house as opposed to the actual instruments. It should be easy to use and understand.
Easy to read
When your display is easy to read and interpret, there are considerably fewer mistakes and misunderstandings. Luckily, with an app on your phone, you now have an added display that is even more versatile compared to the one on the station itself. Clearer labels and units are definitely better.
Software connectivity
Your instruments and station should have stable software that offers connectivity, whether wireless or wired. Wireless stations tend to have a maximum range at which the display screen can still receive stable readings without disconnection.
Style/Design
Depending on where you want to place your station, a specific design might favor you. Either way, they should always be placed in an open area and away from any trees that might block them. Some designs can even harbor birds if they are not properly and regularly checked and monitored.
Size
The size of your home station majorly determines where and how you will place it. The lightweight stations are popular since they can be erected on the roof of a house and still function properly without any damage.
Additional Features
Barometer
A barometer measures the air pressure, which is the most important aspect to measure in order to make accurate forecasts.
Clock/time and date
A clock and date display on the screen is important as it makes your work easier. In case you are manually recording the readings to make an analysis.
Thermometer
A thermometer measures the temperature of the surrounding air, which is important in the making or calculation of an analysis.
Humidifier
The humidifier measures the relative and absolute humidity of the surrounding air.
Wind measure
This helps to detect approaching hurricanes or even tornadoes. It also helps with further analysis.
Care and Maintenance
How to set up
Each weather station has an independent manual on how to set it up. This is normally in the shipment package or can be accessed on the internet via a specific QR code on the package.
Some options already come assembled, while others require manual setup. All in all, the instructions should be easy to follow and implement. If you encounter any trouble, you can always get professional help or contact the customer support team.
Calibrating all the equipment
The user manual always has clear and precise instructions on how to calibrate the weather station. It is important that you follow these instructions carefully and to the letter.
Failure to do so might result in inaccurate readings and analyses that are way off the charts or even the current prevailing conditions.
How to keep the equipment functioning
As long as you have set up your weather station correctly and securely, keeping it functional is just a matter of regularly checking if it is actually functioning. When the time comes and the battery is drained, all you have to do is replace the old ones with a fresh pair to keep them functional.
Checking for damage
Every once in a while, make a point of checking if your weather station is in perfect shape. A small crack may make the instrument faulty, causing you to get inaccurate readings. You can also lower the anemometer and wind vane to inspect for any damage, especially in the moving parts.
Connecting to an online display or setting up
Make sure that the setup you purchase can be connected to your device if this is an important factor for you. If it is, then setting up a connection just needs you to log in and link your hub with your phone to get real-time readings and forecasts. Some weather stations can only display certain analyses in the app or on the website.