The Best Home Security System for 2023
Click here to find some of the best home security options available on the market to help put your mind at ease.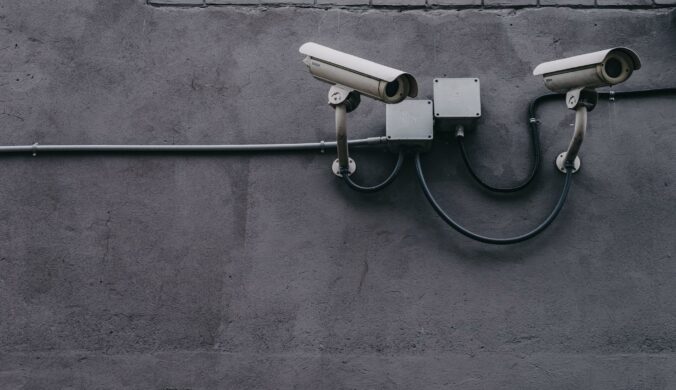 Knowing that your home is safe is intrinsically related to your peace of mind. You can sleep better and perform better, and even take long vacations knowing that your home is safe. With modern home security systems, you don't even have to worry about fires, floods, temperature swings, and other hazards that could sneak up on you.
An added advantage is that when these security systems are integrated into your phone, control of your home is at the touch of a button. You might be calculating the expenses attached to making your house secure. The good news is, you don't have to be as wealthy as Bruce Wayne to use his technology. Our review of the best home security systems provides you with the best and most cost-efficient options. So, make your pick and watch your home come alive with smart security technology.
How We Picked
Cameras with Additional Features

Security cameras that record, zoom, track motion, and take snapshots are excellent choices for home security. We based our choices on these qualities.

Motion Detection

We considered the motion detectors that came with each security system and how well they worked, along with their ability to only send notifications for what they were intended.

Power and Battery Life

How long the security system lasts and how it functions in the event of a power outage was something we put into consideration, along with the life of the backup battery.

Cost-Effectiveness

We chose the best security options while prioritizing those that were affordable for almost all classes of people, ensuring that their least expensive packages met the requirements of both quality and affordability.
Our Top Picks
Our Top Pick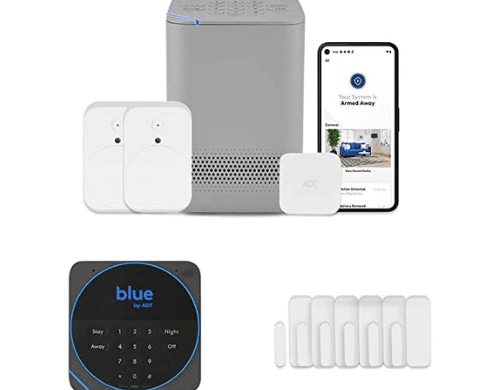 Get protection on your terms.
This do-it-yourself home security package includes 12 components that may be used to protect any home or apartment and can be easily relocated if necessary. Everything necessary to secure a 3 to 4-bedroom home or apartment is included in the 12-piece set that comes with one base system, 6 entrance sensors, 2 motion detectors, a keypad, a flood and temperature sensor, and a yard sign.
ADT has both wireless and hardwired options, making it a highly adaptable system. Smart home features can also be added to any of their indoor, outdoor, or doorbell cameras.
Our Runner-Up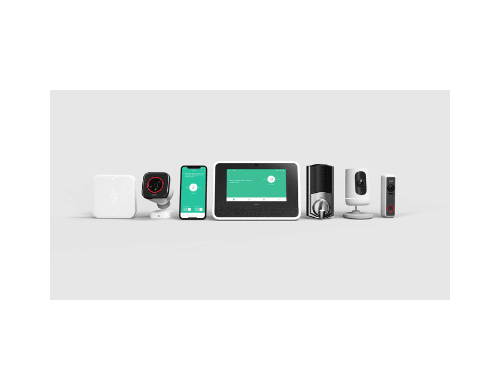 Smarter security, professionally installed.
Vivint's cameras are set apart from the competition by features like video analytics and 4K image sensors (as well as more standard fare like motion detectors, two-way audio, and night vision). With Vivint home security, you can automate everything from the locks on your doors to the lights by your bed. They also offer comprehensive smart home support and professional installation.
This smart home security system is a state-of-the-art wireless solution that includes indoor and outdoor cameras. You also have complete control over your home with their smartphone app.
Most Cost-Effective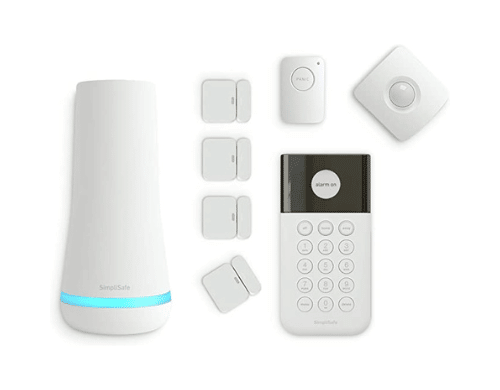 Keeps watch outside; keeps you safe inside.
The Essentials package, which includes a single base station, a keypad, a motion sensor, and three entry sensors, is the most popular choice for installing a SimpliSafe system. There are various customizable options, including cameras, doorbells, key fobs, and "build your own" packages for the do-it-yourself types.
SimpliSafe is the best option if you need great security at an affordable cost and is also an excellent security option if you're a renter.
Everything We Recommend
Our Top Pick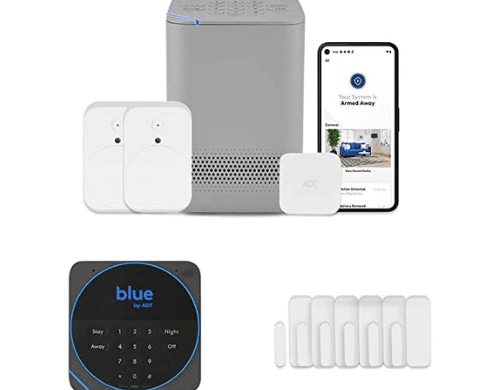 Get protection on your terms.
$279.99
Our Runner-Up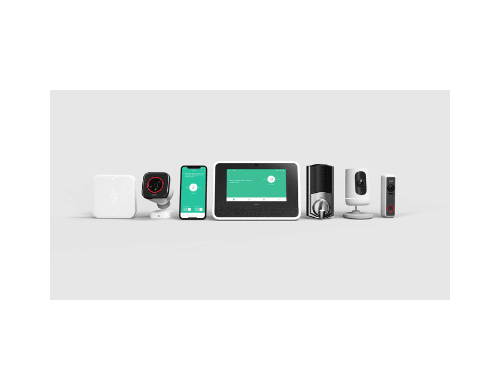 Smarter security, professionally installed.
Most Cost-Effective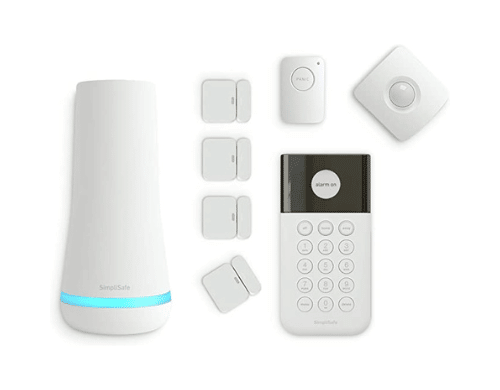 Keeps watch outside; keeps you safe inside.
$221.15
Who This Is For
A security system is helpful if you want to feel more at ease about the protection of your loved ones and your possessions and if you want the assurance that someone will contact emergency services if they are needed. It's important to remember that security systems have other uses besides keeping the public safe. Most now come upgraded with sensors that detect fire, water, and temperature to further ensure your family's safety. You may also use them to monitor your elderly parent's or grandparent's activity levels and see whether they've left any doors or windows open with the help of certain sensors. Not only that, but a lot of these setups are compatible with other smart home technology as well.
Home security vs. burglar alarms
A burglar alarm and a security system are two distinct pieces of equipment. While burglar alarms are excellent at notifying you of a break-in, they do not provide absolute safety. You need a security system if you want comprehensive and failsafe safety from harm. As an example, a burglar alarm is rudimentary compared to a full-fledged security system and provides less than 50% of the service provided by a security system. In addition, a traditional burglar alarm also lacks the extensive use of cutting-edge technology provided by home security. Finally, unlike a single-purpose burglar alarm, home security is multipurpose and consists of multiple parts that all work together.
Are home security systems a waste of money?
It's important to note that security systems do make a difference in terms of loss prevention from burglary. Research has shown that homes without security systems are, on average across the country, three times as likely to be burglarized. The research showed that eighty-five percent of convicted thieves claimed they check for alarms before breaking into a home and that if present, they move on to properties without any kind of security system.
How many elements compose a full home security system?
Motion detectors, indoor and outdoor cameras, glass break detectors, door and window sensors, yard signs and window stickers, smoke alarms, and carbon monoxide alarms are all parts of a comprehensive home security system. Each part of your security system contributes to its overall effectiveness in protecting your family from various forms of potential harm.
Why You Should Trust Us
To make our recommendations, we compiled reviews and ratings from reputable expert and consumer review websites. We then asked ourselves the questions you would need to guide you on your journey to purchasing a security system, such as is it easy to contact the company when you need help? What kind of quality can we expect from their products? If power outages are prevalent where you live, do they provide battery backups? We also searched for the pros and cons of each security system and the company, so that you can be aware of which disadvantages you may expect and make your purchase according to which ones you can deal with. Overall, we tested each system to make sure that it was worth the cost and interviewed users of each with several subscription packages to provide us with deeper insight before making our recommendations.
How We Picked
Cameras
We considered the type of cameras that the security system provides and how many there are. You should know that, for optimum safety, cameras should be set up both inside and outside the house. Cameras installed indoors can be equipped with infrared lighting and motion sensors to notify the owner immediately of any suspicious activity. Many outdoor cameras also feature motion-activated floodlights and are designed to withstand all types of weather. Some models can even capture hours of footage and stream it in real-time. Added to that is the fact that the mere presence of a camera is sometimes enough to deter a would-be intruder.
Nightvision
In addition to being able to see during the day, a camera should also be able to do so at night. There are two types of night vision technology: infrared, which uses LED sensors and generates black and white footage; and color, which uses powerful white illumination. We checked out various options to make sure that the cameras, which are the core of your security, are capable of all-around vision.
Number of cameras
The size of your property and the level of protection you feel you need will determine how many security cameras you should install. It is advised that you install a camera at your home's ground-level entry as a bare minimum. Extra security cameras should be installed on the ground floor and in any rooms used frequently or used for entry and exit. Main halls on the second and third levels are also ideal locations for security cameras. However, due to privacy concerns, we do not advise installing cameras in private spaces like bedrooms or bathrooms.
Quality of picture
We checked the quality of pictures provided by the security cameras and found that most state-of-the-art surveillance cameras now offer full 1080p HD quality, an upgrade from the standard 720p HD. The resolution of modern cameras, at 2K or 4K, is double that of 1080p HD, allowing for a much clearer and more detailed image. Therefore, we made sure that our picks were upgraded systems that provided pictures of high resolution.
Storage and recording capabilities
Local storage and cloud storage are the two main types of data storage. A micro-SD card or an external hard drive provides local storage for most cameras. The film is recorded locally on a card or hard disk, while in the cloud, it is uploaded to a server and stored there, which may or may not require a subscription. We recommend cameras that can store data in the cloud as well as on the device itself, just in case.
Motion detection
For maximum coverage, these are typically installed in the upper corners of the ceiling in a room. Motion detectors can be set to alert you to any suspicious activity even when you're not there. These can be adjusted to disregard individuals or objects below a given weight, such as your pets.
Connection to smart devices
We also considered the security system's ability to connect with smart devices to provide you with a fully integrated security system and allow you to control your security hub from an application on your phone.
Notifications
What good is a security system if it doesn't tell you when it's spotted someone? When the security cameras we tested were activated, the vast majority of them alerted us to either motion or a human, depending on their level of sophistication, and if connected to our phones, they sent a notification on the application.
Power
Is your camera powered by batteries or a wall plug? This is a crucial query to answer before making a camera purchase, and the answer may come down to individual taste, as there are benefits and drawbacks to every option. Wired cameras, which are more common indoors, have the advantage of never needing new batteries because they are either hooked up or hardwired into your home's electrical system. Since wireless cameras are simpler to set up than wired ones, we prioritized their convenience.
Battery life
We also considered the base and camera battery life, and we found that a year was a good average for most of them. We also found that while some batteries can be recharged (sometimes with additional solar equipment), others require regular replacement.
Wired or wireless?
Your alarm sensors and other devices can't keep in touch with your base station if they lose their connection to the internet. It's also what keeps your system connected to the monitoring center for a swift response if you sign up for 24/7 expert monitoring. Since cellular signals are more stable than Wi-Fi and landline connectivity, they are typically our top recommendation for home security systems. Wi-Fi with a cellular backup is the foundation of most do-it-yourself systems today, and it performs admirably.
A hardwired network is another option. Connecting a security system to your home's electrical system provides a steady flow of electricity, making it ideal for 24/7 monitoring. If you can afford Power over Ethernet (PoE), you'll get a connection that's both fast and stable. Power over Ethernet (PoE) supplies energy and sends data to your devices at the same time.
Price vs. quality
Home security system providers are constantly competing with one another, sometimes by expanding the number and variety of services they provide, while others compete based on pricing. We made this list to make sure you can discover an awesome security solution that works for you no matter what your budget is like.
Ease of set-up
Smart home systems and voice assistant gadgets are all the rage in the modern household. If you are a homeowner who has come to rely on any of these convenience items, you must invest in a security system that is compatible with what you already have and that can be installed without much stress by you or without the installation company stressing you during installations.
Internal or external set-up only
One cannot overestimate the value of having solid internal and external security measures in place for one's home. We considered the setup of each security system along with the ease of setup to make sure that the choices we made were convenient. We chose options that used a combination of both set-ups to ensure efficient security measures, as this was the best approach.
Style/design
Although cameras are all tech, white, black, glass, and plastic, we didn't want to select cameras that looked awkward or made you think of a hooded owl. Fortunately, although our picks were selected based on how we prioritized other selection criteria, they had great styles and amazing designs.
Care and Maintenance
Setting up your home security system
To set up your security system, install the panel in a visible location near your main door and near a working electrical socket. It's not uncommon to install a panel by just nailing it to the wall. If you can't make any kind of hole in the wall, you can always use double-sided glue. Standard door and window alarm sensors, as well as potential motion detectors, will be part of your system. Make sure your sensors are set up in the most effective locations by following the instructions provided with your system. Test the alarm system and verify that it is functioning properly by following the steps specified in the security system's user manual.
Where to place the cameras
Doors and windows on the ground floor, particularly the main entrance and any side or rear doors, are prime locations for security cameras. Many burglars, hoping to remain undetected, will focus on your home's most obvious access points. The best place to start is by installing cameras outside, covering all ground-level windows and doors. It's also a good idea to install cameras inside, with coverage that extends to the doors; these can record from a different vantage point and may be able to catch the intruder's face or other features.
Field of vision
Lenses in cameras are designed to strike a balance between the camera's focal length (how far it can focus) and the scene's size (the field of view). If the focal length is longer, the field of vision will be smaller. That's why it's recommended to use a camera with a narrower field of vision for better long-range performance.
When it comes to safety, a wide-angle lens is usually the way to go. Normal viewing angles for wide-angle cameras range from 60 to 110 degrees. Today's smarter cameras typically have a wider field of view than the traditional 110 degrees. These cameras are ideal for use as smart security cameras, as they can see a large area from a great distance. Take into consideration your desired viewing angles and locations for the cameras. Do you care more about capturing a wide, panoramic view down the side of the house and being alerted to any motion or activity there than you do about getting clear, close-up shots of whatever it is you want to see?
Connecting to smart devices to receive warnings or notifications
Your security system can become the center of your smart home by adding interactive smart devices. This paves the way for the installation and management of numerous smart home features, such as locks, thermostats, door openers, lighting, and more, with your smartphone. You'll also have instant access to their respective controls. With your smartphone connected to these smart devices, you can receive real-time notifications. To connect your phone, simply follow the instructions provided by the security company and contact them if you have any inquiries. The process is usually easy and does not take time.
Cleaning camera lenses
To clean camera lenses for better viewing, start by turning off the security system. Have a compressed air can on hand to remove any stray dust or dirt particles from the camera's lens. If you can't find that, just blow air out of your mouth onto the lenses. Next, clean the lens by wiping it with a damp microfiber towel and applying very light pressure. Then, spray a tiny bit of lens cleaner solution onto the microfiber cloth and use it to wipe the lens of the camera. On the other hand, you may exhale on the lens of the camera to create moisture, and then wipe it clean with the microfiber cloth.
Creating a storage system for recordings
Having a backup storage system is great, especially when you do not subscribe to 24/7 professional security. The best way to ensure that your data stays safe would be to use a storage device like a hard drive or disk to store security footage. While this might be expensive, we contrasted it with enlisting the services of cloud services and found that the cost for some was mostly the same, and in some cases, it was better to opt for hard storage than cloud services.
Connecting to home's internal power system
Basic alarm system wiring is required for main panel functionality in hardwired home security systems. This allows the backup battery to be charged, the system to be armed and disarmed, alarms to be sounded, and two-way communication to be established. While it's most convenient to wire in a home security system when the house is being constructed, this can be done in an existing home as well. Most of the time, all you have to do is plug the hub into an electrical outlet and let it work. However, others need wiring and might need the services of a professional. If you choose to do the wiring yourself, we strongly urge that you read the user manual thoroughly before you begin.