The Best Home Printers of 2022
This list gives you the best picks available on the market to meet all your printing, scanning, faxing, and copying needs!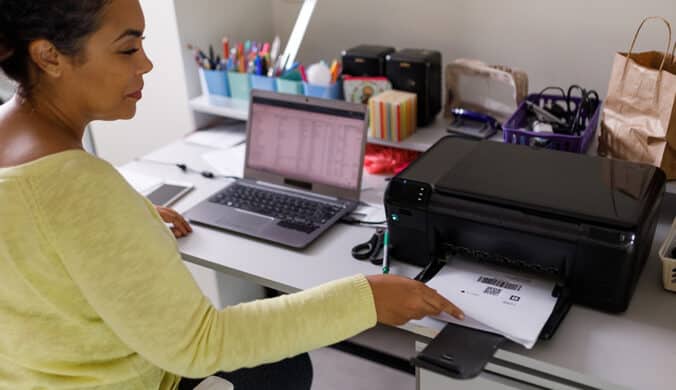 Printers are one of the most versatile and handy tools ever created in the tech space. Whether you are getting school or office work done, sending important documents to someone across the globe, or capturing precious memories, these devices are always ready to serve and come through for us.
If you are an active user of printers or have loved ones that make use of their resources often, then you may understand how difficult it can be to get the job done when you don't have easy access to one of these devices. That's exactly why this article is so important!
Home printers allow us to get all our school/office work done, scan documents, and even print pictures right from the comfort of our homes. We have done some thorough research and several tests to bring you the best home printers available on the market.
How We Picked
Print and Color Quality

One of the most disappointing things that can happen when using a printer is getting a dull or blurry output that falls below expectations. That's why we have picked printers that give the best quality of color and print.

Speed and Noise

It can be very frustrating trying to accomplish tasks, especially within a tight deadline, using a device that takes forever to get the job done. We selected products that print quickly and efficiently without interrupting your quiet.

Ink Capacity

Ink or toner cartridges can be used in printers. One of the factors that prevents people from purchasing their own printers is the constant need to refill cartridges. However, this task does not have to be difficult or frightening, as evidenced by our selections for today.

Cost-Effectiveness

The major cost that comes with running a printer is the price of ink or toner cartridges. We were keen to choose printers that will offer you the best value for your money for many years to come to.
Our Top Picks
Our Top Pick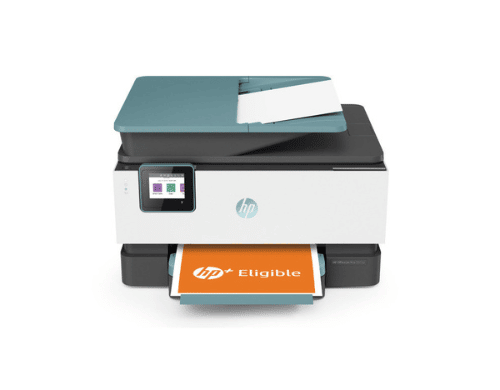 Offering all your printing, scanning, copying, and faxing needs in one compact, attractive device.
Out of all the printers we tested and reviewed, the HP OfficeJet Pro 9015e came out on top by a mile. This device is an all-in-one black and colored printer that is great for home use. It gets the job done in a matter of seconds, with low running costs, at top quality, all for a mid-range price. The best thing about it is that it is more than just a printer, allowing us to make copies as well as fax and scan documents.
The best all-in-one printer suitable for your home, office, and family needs.
Our Runner-Up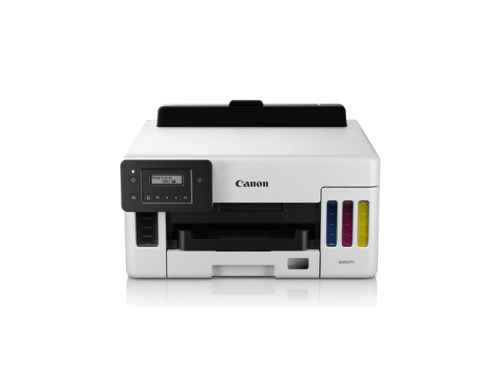 One of the best print qualities you would ever come across, backed by a long-term warranty.
Although the Canon Maxify GX5020 may be a single-function printer, it takes its job very seriously and gets it done effectively. It prints in both black and white and colored, and produces a high page yield. The most attractive features of this device are its low cost per print, warranty time, and refillable ink tanks. This device also allows you to print a wide variety of media types like banners and images, as well as print onCartridgeike labels and glossy paper.
A compact and powerful printer that gets the job done with little to no effort.
Most Cost-Effective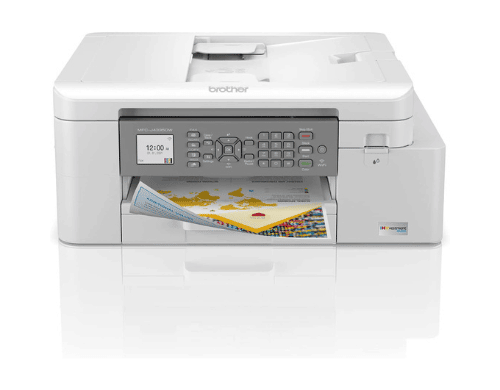 One device that can do it all at a budget-friendly price, with a low cost per page and duplex printing.
The Brother MFC-J4335DW is yet another all-in-one pick. This device not only prints, but also scans, copies, and faxes at a low cost per page. It's wireless, supports Bluetooth connectivity, and allows duplex printing. This device prints in both color and black and white, and its compact size makes it a decent choice for home or family use. The price of this printer is considerably affordable for all the awesome features it offers.
A budget-friendly inkjet choice that can do it all right from your home office.
Everything We Recommend
Our Top Pick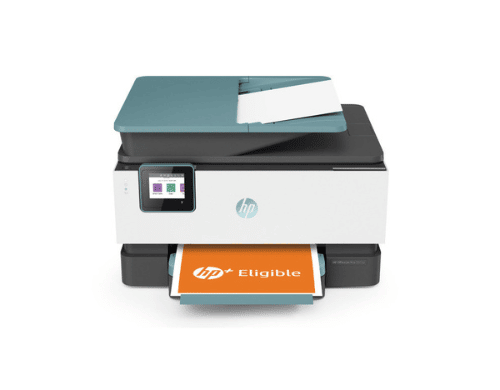 Offering all your printing, scanning, copying, and faxing needs in one compact, attractive device.
Our Runner-Up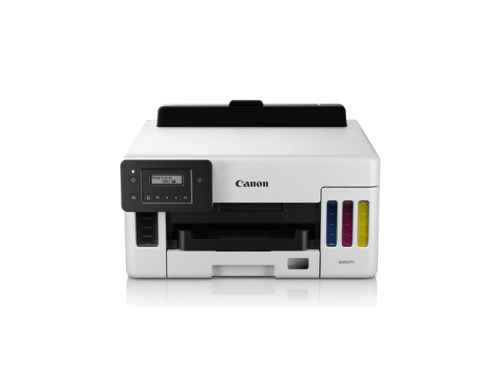 One of the best print qualities you would ever come across, backed by a long-term warranty.
Most Cost-Effective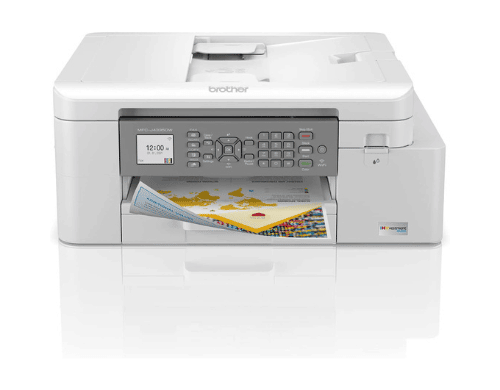 One device that can do it all at a budget-friendly price, with a low cost per page and duplex printing.
$179.99
Who This Is For
In summary, these devices are for anyone who always has a ton of 'paperwork' to do. Home printers are for individuals looking to ease the worry of figuring out where to sort out their printing needs sorted out by providing a solution that lets them do it right from the comfort of their home.
Different Types Of Printers
Deciding you want a home printer is one thing, but knowing the exact type of printer that will suit your needs is another. We have put together a list of the different kinds of printers and their uses to help you make better, well-informed decisions.
Inkjet Printers
These are the most common type of printers. They use liquid ink to print and are perfect for people who don't require so much printing duty. These printers also offer the largest range of capabilities than any other printer.
Laser Printers
As the name implies, laser printers use a laser beam to heat a toner material that embeds itself onto the paper. They are ideal for higher volume print jobs as they are faster than inkjet printers, and produce a better quality also.
LED Printers
These printers are similar to laser printers, but rather use a light emitting diode to create prints as opposed to a laser beam.
All-In-One Printers
Just like most of our picks below, these printers take their functionality a step further by usually combining printing, scanning, faxing, and sometimes copying in one device. They can use either inkjet or laser print technology and are larger than typical printers. Their multipurpose functionality also makes them perfect for home or office use.
Supertank Printers
These are all-in-one inkjet printers that use large refillable tanks as opposed to cartridges. They are an eco-friendly option that performs well with high-volume tasks.
Dye-Sublimation Printers
If you need to print on particular uncommon surfaces like plastic or clothes, then this should be your choice of printer. They use thermal print technology to embed the ink onto the chosen object to prevent the prints from fading out.
Dot-Matrix Printers
The elders of printers, dot-matrix printers use a pin or wire print head to press an ink ribbon against a piece of paper.
3D Printers
These are the most modern, futuristic type of printers. They use layering and slicing to produce 3D objects based on digital models created in your choice of software. These 3D objects are usually in plastic, and these printers are perfect for engineers, designers, or other kinds of creatives.
Environmental Impact Of Printers
The use of printers can be a double-edged sword. Although these devices are unarguably resourceful, we should be aware of the possible harm they can cause to our environment.
Energy Usage
When in use, printers can consume a lot of energy, with an average Inkjet consuming 30 to 50 watts, and up to five watts when on standby. To reduce your printer's energy consumption, you can put small practices in place like unplugging when not in use, powering your printer down as opposed to leaving it on standby, using an energy calculator to keep track of how much is being consumed, and planning out tasks beforehand to prevent stalled usage.
Paper Usage
The use of paper is the top environmental hazard printers present, with an estimate of over 26,000 tons of printing paper products being produced in the US each year. The average office employee uses about a full tree of paper each year, and a single sheet of A4 paper requires half a liter of water to produce. Reduce your eco-footprint by eliminating wasted printouts by all means necessary. Think before you print, and carry out double-sided (duplex) printing whenever it's possible.
Ink Cartridge Disposal
Another way printers harm the environment is the use and disposal of ink cartridges. Printing ink by itself is toxic for us and the environment, and the effects of tossing out your used cartridges are even more harmful as they take centuries to degrade and the ink causes land, water, and air pollution. Reduce these effects by recycling your cartridges when possible or opting for a printer with refillable ink tanks.
Why You Should Trust Us
We understand the need for ease and comfort, and also the need to get your printing needs to be done conveniently and effectively. We also do not shy away from the environmental harm these devices may cause, and have carried out thorough research and tests to ensure we pick the most efficient, eco-friendly choices of printers in the market.
How We Picked
Here are the important factors we considered before making our list of the best printer options, recommended just for you.
Print Quality
The whole point of getting a home printer is fulfilling your printing needs without having to leave the house. You shouldn't have to sacrifice the quality of production in place of extra comfort, and that's why our choices provide the highest print quality you would come across.
Color Quality
With most printers, you usually have to pick your battles — reduced monochrome quality or reduced color quality. However, this is not the case with our top picks. Our choices print in both black and white, and color, and get both jobs done equally well.
Speed of print
Don't you just hate having to wait so long for a printout and even more so when you are carrying out high-volume jobs? Our selected printers boast of fast printing times with no delays.
Noise
You know that tired office printer that distracts everyone when being used? Well, we're swapping that out for quiet printers, that are powerful and perform well without waking the whole family up.
Ink Capacity
In an effort to reduce our environmental footprints, we chose printers that have large enough ink capacities to meet your needs for extended periods, thereby reducing waste and cost per page.
Type of Ink Used
Clarity is the game when it comes to printers. Our chosen printers use high-quality ink that produces the best print in any color.
Refill Style
One of the hassles of owning a printer is figuring out how to refill your ink once it's maxed out. You want a printer that is easy to refill and doesn't require many procedures.
Price vs Quality
Giving you the best value for your money is something we will always stand by and strive for. We chose devices that offer the best quality at worthwhile prices.
Style/Design
We all love a product that blends seamlessly into any location it is placed, and that is exactly what your top picks do.
Size
Just because a device carries out multiple functions doesn't mean it has to take up all the space while at it. You want a printer that is easy to move around and fits into your home without hugging all the space.
Placement
Does your printer put everything where it needs to be on your printouts? Well, our top picks do! Eliminate the worry of not knowing how your print is going to turn out on paper by choosing from our best selections.
Additional Features
Are you looking for a multi-functional device that does more than just printing? We've got you! We understand that some individuals also require the use of copiers, faxers, and scanners, and we will save you costs by suggesting all-in-one devices that do it all.
Easy to Install
People avoid purchasing bigger technical devices because of the fear of setting up and installing. We're giving you one less thing to worry about by only suggesting printers that can be installed with minimal stress.
Wi-Fi or Bluetooth Connectivity
As we all know, the world is going wireless. This applies to your printers too! There are now printers in the market that offer you a variety of wireless connectivity options such as Wi-Fi and Bluetooth.
Easy to Use
Imagine spending your hard-earned money on a device and not having the first clue on how to use it. The choices below are user-friendly and easy to use, and if you ever get stuck, their straightforward instruction manuals are there to help you along the way.
Care and Maintenance
Taking proper care of your printer can be the difference it needs to stand the test of time, and just as with most devices, they require routine maintenance to produce optimal results. Here are some important things to do to ensure your printer is properly cared for:
Changing and refilling the ink cartridge
A poorly maintained cartridge is the quickest way to fast-track the breakdown of your printer. When it is time to change or refill your cartridges, ensure that you use the right kind. There are a lot of options to choose from that are either original and made by the printer's manufacturer, or compatible which are made by third-party manufacturers from recycled cartridges. Deciding what type of cartridge to get and what make, goes a long way to preserving your printer's lifetime. Another important way to maintain your cartridges is to avoid clogged ink nozzles caused by dried-up ink. You can prevent this by using your printer frequently or printing a test page every few weeks to lubricate the system. Also, don't be in a rush to load your cartridges as this can damage your device. Take your time to replace your cartridges and carry on with your printing.
Cleaning your printer heads
A build-up of dust and ink in ports leads to a less effective printer. You can tell when your printer head is due for a clean-up if you start noticing white or colored lines running across your freshly printed documents. Refer to your user manual to know the brand-specific way to clean your printer head. Most printers have a self-cleaning functionality, but if you wanna get more hands-on, a general rule of thumb is to hand vacuum the ports to remove dust and go in with a slightly damp, lint-free cloth and a cotton swab. Dry it with a cloth and leave it out to air-dry thoroughly before replacing it.
Resolving mechanical errors
Coming across mechanical errors like jammed paper or ports now and then is not strange when you own a printer. The way you go about resolving these issues is very important as it could make or break your device. Never force open ports or force out the jammed paper as such components are fragile and could be easily damaged. Rather refer to the instruction manual to see what you can do when you're stuck in a jam.
Where to place your printer
Put your printer on a leveled surface that is not prone to dust, to give room for proper ventilation. Your device is not a table so refrain from placing things on top of your printer.
Routine cleaning and maintenance
Some printer manufacturers sell cleaning kits specially made for their printers. If you don't have access to one, you can carry out routine cleaning on your device by wiping it down with a slightly damp lint-free cloth, and drying appropriately. Avoid leaving your printer in standby mode and using low-quality paper to print. Unplug your power cord and keep it away when not in use, and also wipe it down to avoid dust build-up. Clean the inside of your printer by using a hand vacuum to get rid of dust, lint, and mites.