The Best Home Bluetooth Speakers for 2022
Cut the cord, and enjoy all your favorite music on your own terms with a dependable home Bluetooth speaker.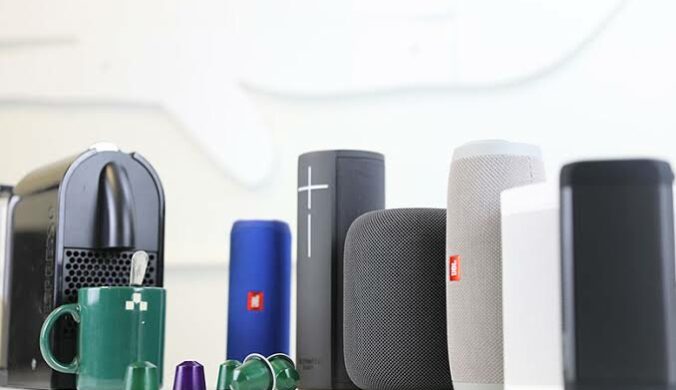 Whether you want to listen to music, watch a movie, or stream a podcast, a home Bluetooth speaker is an amazing addition to your entertainment gear. And, as the desire to go wireless grows, so is the demand for accessories that support wireless convenience.
With more music services emerging on the market and more devices ditching the traditional audio jack, it's about time that you finally take the plunge and invest in a good Bluetooth speaker. And, an investment in one of these bad boys will be a decision you'll never regret making — trust us.
How We Picked
Audio Quality

It is important to consider the audio quality of your speaker if you want a satisfying listening experience; otherwise, sound production will be erratic in clarity. Ideally, you want a speaker with rich bass and a wide soundscape.


Size

Large speakers are more powerful because they can accommodate larger and better drivers. Furthermore, if you intend to use the speaker outside, a more powerful option is preferable. Otherwise, a speaker of medium size should suffice.


Connection Capabilities

Your Bluetooth speaker should be able to pair with a number of devices for convenience. We also looked at speakers with decent connection ranges because this does affect the audio quality.


Price

Bluetooth speakers with more technological features or smart capabilities are typically more expensive. However, we did include a budget option in case you want a no-frills option which still sounds great.

Our Top Picks
Our Top Pick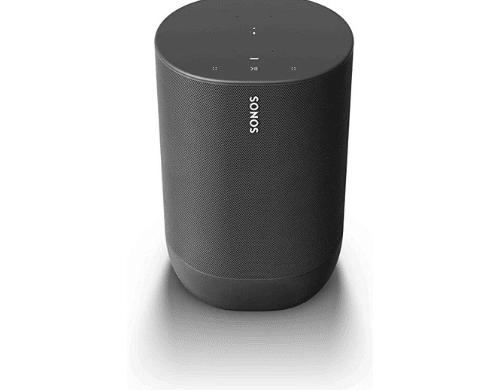 The Sonos Move's components are robust and shielded by durable, shock-proof housing.
Sonos has always prided itself on the ability to create a seamless and easy to use home sound systems. And, the Sonos Move is no exception. This portable, amplified smart speaker lets you play music at the press of the button so you can enjoy room-filling sound.

This smart speaker is battery-operated and very sturdy.

Our Runner-Up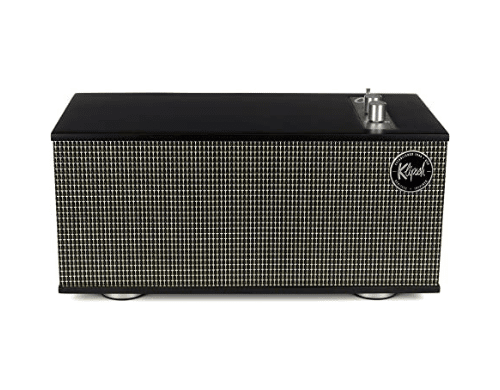 The Klipsch features two knobs for volume control and input selection, as well as a button to turn the speaker on and off.
If you love to keep things classic around your home, the Klipsch Bluetooth speaker is a great choice. However, like a true classic, this speaker lacks tone settings and an app for sound adjustment. If you want a little more bass, you can add it using the equalization on your phone or tablet. It features only an on/off switch, a volume knob, and a source selector knob.

Great boxy design and is very simple to use.

Most Cost-Effective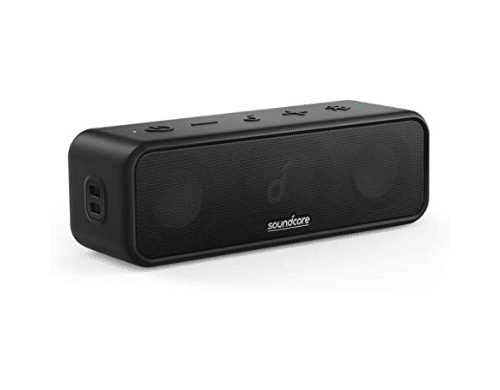 The internal speaker components of this Anker model are safeguarded by a waterproof housing.
Similar to the Anker Soundcore 2, the Anker Soundcore 3 is a compact, rectangular Bluetooth speaker. It is simple to carry in one hand due to its compact and lightweight construction. Even a removable carrying cable is included to make moving it easier when you're on the go.

Up to 24 hours of playtime and very affordable.

Everything We Recommend
Our Top Pick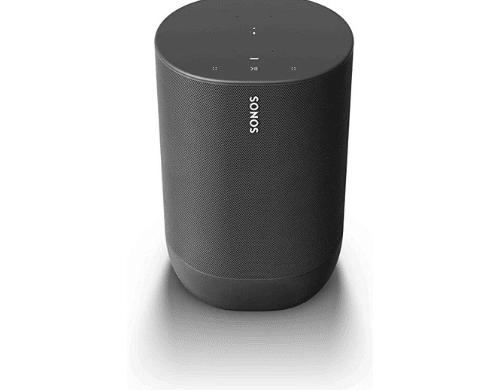 The Sonos Move's components are robust and shielded by durable, shock-proof housing.
$398.00
Our Runner-Up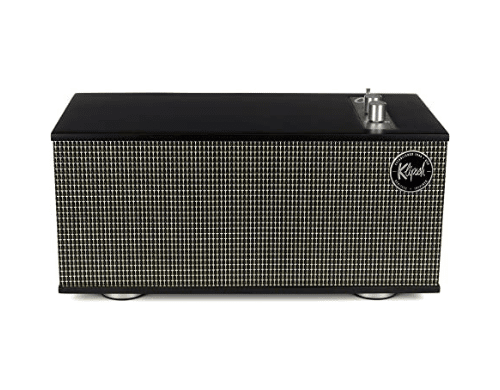 The Klipsch features two knobs for volume control and input selection, as well as a button to turn the speaker on and off.
$299.00
Most Cost-Effective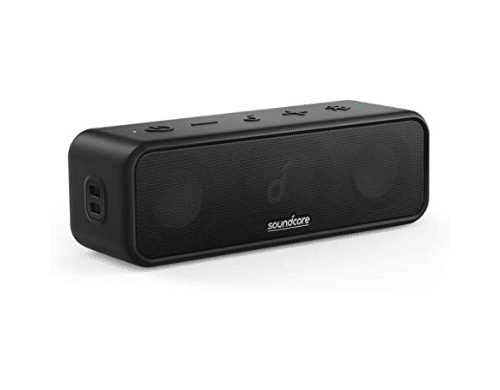 The internal speaker components of this Anker model are safeguarded by a waterproof housing.
$50.99
Who This Is For
Who this is for
You can connect wirelessly to the Bluetooth speaker as long as you enjoy music, preferably loud music, and the gadget in your hand supports Bluetooth. In addition, it is lightweight and small, making it portable and convenient for usage in any setting. Additionally, a Bluetooth speaker can be used if you want to listen to music with superb sound but cannot find your earbuds since your hands are occupied at home.
Bluetooth Speakers vs Soundbar
Standard speakers are substantially narrower than soundbars, which are made to match the length of a television. Multiple speakers are integrated into a single soundbar, which typically also features a subwoofer that is either built-in or an extra component. Soundbars produce good sound quality and come with a single wire connected to the television. While they are smaller than regular speakers, they are also cost-effective.
On the other hand, Bluetooth speakers also offer good sound quality as soundbars. Bluetooth speakers come in a variety of shapes depending on the purpose of use and the space available. Unlike soundbars, you don't need to worry about connections of wires as all connections are made via Bluetooth. Bluetooth speakers are a little bit more expensive than soundbars but have better sound quality in a given space.
Is It Worth Splurging On?
In particular, if you only require music in an area of your home without a stereo system, getting a Bluetooth speaker is a wise investment and one that is well worth purchasing. Perhaps there isn't enough place for anything larger in the small room, or perhaps you don't want to spend as much money. For a reasonable price and with little additional space required, Bluetooth speakers can transport full-range audio into any room in your house. The most adaptable speaker you can possess is a Bluetooth one, without a doubt. You have a quick and efficient method to make music available whenever and wherever you need it.
Why You Should Trust Us
We are experts in offering recommendations on technology, especially the ones used daily. For this guide, we made noted some core factors that make a good Bluetooth speaker and we put them into consideration. Some of the factors we were considered price design and audio quality. Furthermore, we selected about 20 models of Bluetooth speakers, conducted research, and tested them. After many hours of intensive evaluation and collection of reviews from regular users, we arrived at the models that met our criteria.
How We Picked
Audio Quality
Larger speakers typically produce a fuller sound, but carrying a weighty speaker around while you're on the road can rapidly become annoying. For this reason, if you want to transport your Bluetooth speaker somewhere else, you'll need to strike a compromise between size and music quality. The frequency response, sensitivity, and impedance of a speaker are only a few of the variables that affect its audio quality. Some speakers have a better frequency response than others, which frequently makes them sound better. Bluetooth speakers typically have frequencies between 100 Hz and 20 kHz. The low frequency is 100 Hz, and the high frequency is 20 kHz. The top frequency is not as significant because most people, especially as we age, are unable to hear up to 20 kHz. The bass level is indicated by the low-frequency point; the lower it goes, the better.
Size
Bluetooth speakers come in a variety of sizes. So, before buying one, you must consider the available space for which you want to place it. If you have enough space, you should consider buying a big size model, if not a small size is recommended. It is also important to note that large-sized Bluetooth speakers have better audio quality than smaller ones.
Bluetooth Capabilities
Most Bluetooth speakers are capable of pairing with as many devices as they can, but only one device can connect at a time. Your Bluetooth speaker should be able to connect to a device comfortably and play audio from a distance of 8 to 10 meters. Also, whenever a call comes through, it should be able to allow you to send and receive voice commands clearly without needing to disconnect from your smartphone.
Design/Style
For Bluetooth speakers, there is a wide range of available designs. Modern Bluetooth speakers can be used anywhere because they are made of materials that are waterproof and resistant to dust. According to how or where you wish to use and keep your items, you can choose the style that best meets your needs.
Weight
A Bluetooth speaker's weight is frequently determined by its size. This is because the size and weight will grow to produce a stronger and higher audio quality. A Bluetooth speaker's purchase also depends on how it will be used. For instance, a heavyweight model is not a bad choice if you want your Bluetooth speaker to be stationary or you have no plans to move it around your home since it will be balanced enough on the surface to endure small external forces.
Price
The reason you want a Bluetooth speaker is a common deciding factor, but your budget is more important. This suggests that devices with lower price tags won't be as intelligent or high-quality as those with higher prices. However, anyone on a tight budget will love our "Most Cost-Effective" pick.
Overall Build Quality
Your Bluetooth speaker doesn't need to have all the latest technology or an eye-catching appearance, but it does need to be strong and produce excellent sound. Additionally, you shouldn't forget to take durability into account when making your decision.
Care and Maintenance
How To Keep Clean
If your Bluetooth speaker isn't water-resistant, avoid using it in the kitchen, bathroom, or any other area where there is water. Additionally, it is not dustproof, therefore you should avoid using it or placing it in a dusty area.
Regardless matter whether your Bluetooth speaker is waterproof or dustproof, you still need to clean it. To do this, never use cleaners, chemicals, or alcohol- or abrasive-containing cleaning solutions to clean the speaker. Instead, use a soft, damp cloth to wipe out any dust from the speaker's surface. Any liquid cleansers should not be sprayed directly onto the surface of the speaker; instead, use a soft cloth and an ammonia-free window cleaner to remove dirt and other debris.
Where To Display
When utilizing a Bluetooth speaker, make sure there is enough room for it to be placed and try to avoid setting it up at a very high level. This is to avoid damage as it may fall when it is playing at its highest volume.
Where and How To Store When Not In Use
Keep your speaker away from windows, patios that receive direct sunlight, and yards that receive direct sunlight. Loudspeakers can overheat from prolonged sun exposure, partly because of their small size. To keep the speaker cool while it is being used, make sure there is enough airflow around it. We recommend you store your Bluetooth speaker in a cupboard, or shelf, or even put it back in its box.