The Best Hiking Backpack for Kids for 2023
Help your kids enjoy outdoor adventures with the best kiddies' hiking backpacks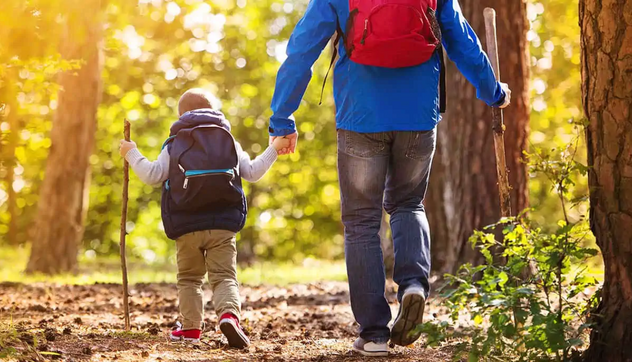 Kids can also have a lot of fun hiking and scouting expeditions with their parents. Like many other hike-enthusiasts, you'll agree that getting your kids their hiking gear makes a big difference in the quality of their hiking experience. This is why it's great to consider buying your kids hiking backpacks.
Now, apart from having a limited range of kids' backpack options to choose from (compared to the wide variety available for adults), making a selection can also get rather confusing. You'll also need to know the right things to look out for when picking out a hiking backpack for kids.
You're in luck because we've created this guide to make your selection much easier. Take note of all the helpful tips, brand suggestions, and purchasing criteria we've included in this guide, and we're sure you'll be pleased with your final choice.
How We Picked
Size, Weight, and Capacity

It is important to consider size, weight, and capacity when selecting a hiking backpack for kids so that you can make sure it contains the necessary hiking gear without hassles. This is why we recommended options that have sufficient sizes and capacities, and are still comfortably lightweight


Durability and Strength

A good hiking backpack should provide long-lasting usage and have enough strength to support its contents through the hike. This is why we considered options that are durable and strong, and that guarantee satisfactory use.


Easy to Wash

Cleaning up after kids during or after a hike is not the easiest of chores, so it is important for a hiking backpack to be easy to wash. This is why we recommended options that can be easily cleaned by hand without much stress.


Cost-Effectiveness

Apart from quality and functionality, price is also an important factor to consider when selecting a hiking backpack, so we made sure to recommend options that offer great features and value, and are also very affordable.

Who This Is For
If you're an avid hiker who is looking to introduce your kids to the activity, you'll need to get them suitable hiking backpacks to make the experience more fun for them.
How big does a hiking backpack need to be?
The size of the hiking backpack you get should typically depend on how much stuff you plan to carry on your hike. Keep in mind, though, that you should carry only the essentials, so as long as your backpack has enough capacity to hold these things, it's big enough.
The things you should typically expect to need on your hike include food items (and lots of snacks and toys for the kids), water (with a water filter), a first-aid kit, a bathroom kit, sun protection, and insect repellent cream, daypack with rain cover, rain jacket, headlamp, weather-appropriate clothes, hiking shoes or boots, a hat with a brim (in case there's extreme sunlight), thick socks, a lighter and/or waterproof matches, and a whistle, among other things. If your backpack has enough space to hold these, then you can consider it big enough.
Why You Should Trust Us
While compiling this guide, we consulted several sources that provided expert guidance on the right things to look out for when purchasing hiking backpacks. We made sure to verify the credibility of our sources and only included information from expert authorities on matters of hiking and relevant gear. We also consulted online user reviews to check how satisfactory our top picks are for current users.
How We Picked
After an extensive, in-depth review to determine the necessary criteria for judging quality hiking backpacks, we narrowed down the most important ones to include the following:
Size
Hiking backpacks come in different sizes. As such, you'll need to consider which size to get for them depending on how old your kids are and how big a backpack they can carry. This is why we recommend great hiking backpack options that come in different sizes.
Weight
Keep in mind that children tend to tire out faster than adults, so it may not be a good idea to buy a heavy backpack if you'd like to take your kid hiking. This is why we recommend backpacks that have a reasonable capacity without being bulky or having a high chance of weighing down the bearer.
Capacity
The duration and distance of your family hikes will typically depend on the age and capabilities of your kids. Depending on how long you plan to spend on your hike, your child may need to bring their own snacks, water, and a few additional items they deem necessary in a smaller backpack if they are just starting out.
However, you should consider a somewhat larger backpack for preteens and older children so they have room to grow and carry more gear as they start hiking farther distances. Basically, it's important to consider how old your child is and what weight they'll be able to carry, and then use that information to buy a backpack with the right capacity.
The thickness of Straps
When buying a hiking backpack for kids or adults, it's important to ensure that the straps are strong and thick enough to support the backpack's weight as well as secure the pack safely on the user's back.
So, we recommend that you look out for this when making your selection. You'll find that the options we've reviewed in this guide are not lacking in this aspect, and they come with straps strong enough to get the job done properly.
Durability and Strength
The majority of children's hiking backpacks are made to grow with the child, saving you from having to buy new ones each time they have a growth spurt. To extend the life of the backpack, ensure to look out for adjustable straps (such as sternum straps) that can grow with the user.
A good backpack should be designed to be strong enough to handle a reasonable amount of weight. This is therefore an important factor to consider when making your selection.
Material
It is also important to make sure the backpack you select for your kids is made of sturdy materials that can handle repeated use and challenging hiking weather and conditions. The material will also determine how easy the bag is to clean, so make sure to keep this in mind.
Comfort
One major issue with backpack use is the possibility of causing shoulder and back pain, particularly when worn incorrectly. While this will most often depend on how well you arrange and adjust the backpack, it's also important to select options that allow you to adjust the settings for increased comfort for your kids.
This is why we prioritize options with good-quality straps that allow you to fasten the backpack properly to prevent discomfort for your kids during usage.
Style/Design
Hiking backpacks will score higher points with your kids if they have an appealing design. We understand this, and so we made sure to recommend options that come in appealing colors and designs.
Price vs Quality
For very young hikers, it's more important to make the experience enjoyable and boost their confidence as they start. As such, you should concern yourself with getting a backpack that is affordable, lightweight, and durable.
You can consider spending more money on purchasing a backpack that will provide greater functionality and comfort for longer excursions when your kids grow a little older and have more hiking experience.
Whatever the choice you make, however, ensure that you select options that offer great value for money. We provided such options in this guide to assist you in making the best decision.
Easy to Wash
Children can be messy when it comes to handling stuff, and their backpacks won't be an exception. As such, it's in your best interest to purchase a hiking backpack that is easy to clean to save you stress. Keep in mind that most backpacks can't be machine-washed safely, so ensure to buy a material that will be easy enough to hand-clean.
Care and maintenance
Be careful not to overpack your bag
When hiking with small children, the main objective shouldn't be to "teach" them to carry weight. Making hiking fun should be the goal, which will not be possible if the backpack is too heavy.
Young children should generally carry no more than 5% of their body weight. Older children could be able to support 10% to 15% of their weight. When hiking, it's very easy to get carried away and overpack your child's bag. We, therefore, suggest that you weigh the backpack before embarking on your hike in order to get a sense of its actual weight.
Knowing what to bring
When packing a hiking backpack, whether, for kids or adults, it's pretty easy to get carried away and even include non-essentials. All that this serves to do is take up space and make the bag feel heavier, and you already know how this might impact your hiking adventures.
This is why it's important to know what needs to be included in your backpack and what doesn't. Some of the most essential gear includes lots of snacks (and some toys for kids), water (with a water filter), a first-aid kit, sun protection and insect repellent cream, a daypack with a rain cover, a headlamp, weather-appropriate clothes, hiking shoes or boots, a hat with a brim (in case of sunlight), a bathroom kit, a rain jacket, good socks, a lighter and/or waterproof matches, and a whistle, among other things.
It's a good idea to do some research to help you figure out the typical necessities when hiking and to plan accordingly. Always resist the urge to take things you'll not need at all, and you definitely shouldn't pack the same for your kids.
Dealing with rips or breakages
The most frequent types of damage to a hiking backpack—which is somewhat comparable to a tent—are typically either a tear in the fabric, a broken buckle or a malfunctioning closure. These issues can all be resolved!
If there is a small tear, it is easy to repair with an iron-on patch. They are simple to operate, and they are frequently supplied as repair kits. There should be a wide variety available, including various designs, hues, textures, and even materials. We advise using a waterproof patch if you frequently use your backpack in harsh weather.
An iron-on patch may not be strong enough if the tear is more significant, especially if it's toward the bottom of the pack. In this situation, we advise taking the item to a shoe repair business so they can strengthen the damaged area.
In the event that a buckle is broken or lost, contact customer care first. For some models, they may have a replacement part and could send it to you. Additionally, some components are standardized and offered for sale separately. As a final resort, try to salvage the same component from one of your other bags or backpacks.
Even if zippers are getting stronger and stronger, sometimes they stop working. A sewing machine is also strongly advised if you need to change a zipper. We advise taking your backpack to a seamstress or a shoe repair shop so the zipper can be promptly changed if you don't have the necessary skills.
How to clean
Check the washing directions on your backpack's label when you decide it's time to clean it, whether it's to get rid of sweat or mud stains. (Keep in mind that packs made of leather or having leather inserts may contain instructions that differ from those in this guide.) Hand-wash your bag in warm water with non-detergent soap. It could also be beneficial to soak it for a short while before washing it. Use a gentle brush to scrub the stains.
Since they come into contact with your body and your sweat, the shoulder straps, the back of your pack, as well as the waist belt, should all be cleaned.
You can also use specialized cleaning and care products designed specifically for technical fabrics to preserve and revitalize the fabric's membrane. Allow your pack to dry outside, in a dry area protected from UV rays.
Note that some types of packs can be machine-washed at low temperatures (see the care instructions on the package), but hand washing is advised because it is gentler.
How often to clean
You might not exactly need to clean your backpack thoroughly after each hike. However, regular maintenance will increase the lifespan of your pack and spare you from having to cope with tough, durable stains. The best thing to do is to empty, clean, and air it out after each hike. Open all the zips and pockets on your pack when you let it air out, and keep it in a dry, open space away from the sun's UV rays. The colors of the pack may deteriorate over time as a result of these UV rays.
Adjusting the straps for the best fit
Multiple straps on your new backpack allow you to comfortably modify the load you're carrying. The goal is to arrange your straps so that the majority of the burden rests on your hips because your legs possess some of the strongest muscles in your body.
Remember that maintaining a good fit on the trail requires constant attention, so when you first acquire your pack, experiment widely with all of the straps to learn how they adjust. Make sure you constantly remember what your ideal fit looks like at home so you can return it to that setting quickly.
The hip belt, shoulder straps, load-lifter straps, and sternum straps are your four main adjustability straps. To relieve pressure areas and aches while hiking, feel free to adjust these straps. You'll learn what works best for your pack and your body through trial and error.
To combat load weariness, it's usual practice to first tighten the shoulder straps and then loosen the hip belt, then reverse those steps at whatever point it feels comfortable.
Preventing back or shoulder injury when carrying backpacks
Incorrect use of a backpack might result in back issues or even damage. For instance, if your backpack is carried over just one shoulder, you might find yourself swaying to one side to balance the added weight. Possible side effects include shoulder and neck strain, as well as lower and upper back pain.
The closer a backpack is to your back and the higher it is, the better. It ought to sit at least an inch above your hips, and it shouldn't go below your waist. To ensure that the pack doesn't swing while you walk and remains solid and firm, tighten the shoulder straps as well. Correctly packing the bag will also help with this. Pack all the smaller objects around the sides after placing the largest and heaviest items closest to the center. This keeps the balance in place.
Make sure the straps are wide enough and have adequate cushioning when choosing the correct backpack so that when you use it longer, your shoulders will feel more comfortable. Wear the chest or waist strap if you're lucky enough to find them in your backpack. While using the waist strap will assist in transferring the weight to the hips and give the shoulders a brief break, attaching the chest straps will help maintain the shoulder straps in place and reduce chafing during prolonged use.