The Best Hiking Baby Carrier for 2023
This list offers the best hiking baby carriers available so you can carry your baby safely and comfortably when hiking.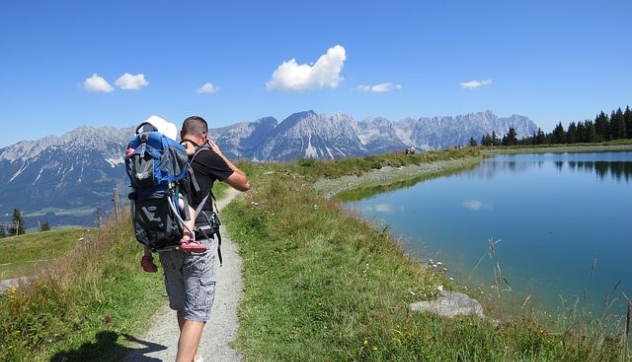 Hiking with a small baby can be frustrating. It can also be hazardous if the necessary precautions are not taken. For these reasons, having a small baby can be a reason why you will not go hiking for a couple of years. However, a hiking baby carrier will save you from boredom and also give your baby a chance for adventure. With a hiking baby carrier, you get to hike safely with your baby. It holds the baby comfortably and snugly. However, since your baby's safety comes first, you must ensure that the carrier you get is safe. It must be made of safe materials and have a comfortable structure and safe design for your baby's health. Read on to find features that make a hiking baby carrier ideal for your baby.
Our Top Picks
Our Top Pick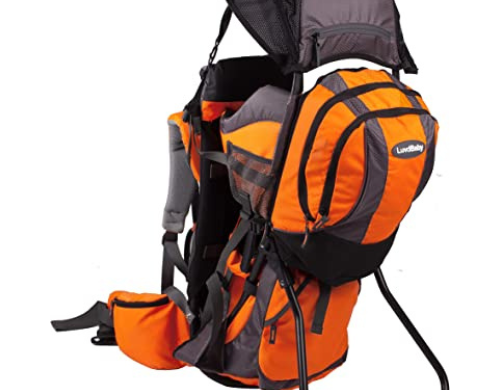 Hike with your baby in style in this stylish and comfortable hiking baby carrier.
$179.90
Our Runner-Up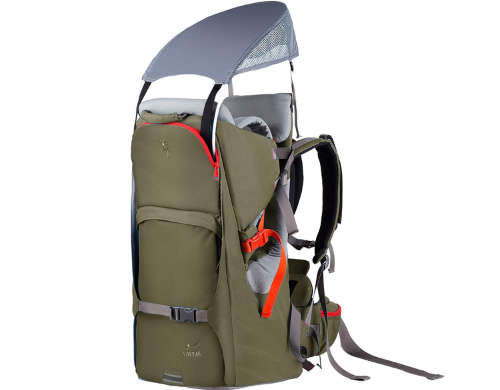 Give your baby a safe and comfortable chance to hike in the WIPHA hiking baby carrier.
$148.98
Most Cost-Effective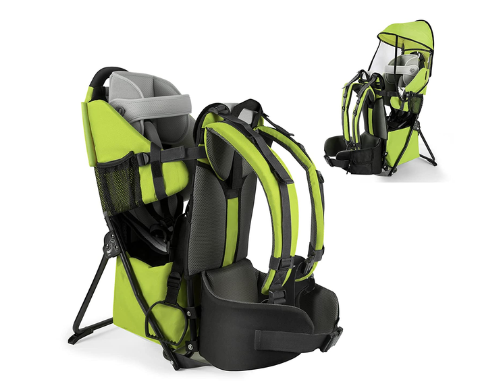 Step into your hike with your baby like a pro using the Besrey hiking baby carrier.
Who This Is For
The hiking baby carriers reviewed here are ideal for babies of different ages, sizes, and weights. They are a perfect choice for parents who love hiking but have small babies who cannot walk for long distances.
Types of baby carriers
There are different baby carriers that you can use depending on your preference and the size of your baby. They include
Wraps:
Baby wraps are traditional baby carriers. They are long pieces of fabric that you use to wrap your baby around your body. You then need to tie the loose ends to secure the baby snugly and comfortably.
Ring slings:
A ring sling is a long piece of fabric with two rings on one loose end. To secure your baby using a ring sling, you wrap it around your waist, just like you would with a wrap. You then fasten the free end onto one ring and tuck it under the second ring.
Buckle carrier:
A buckle carrier consists of padded straps and waistbands that you fasten around your shoulders and waist to secure the baby. It has a panel at the bottom where your baby sits as you carry them around for comfort.
Meh dai carrier:
This type of baby carrier combines the features of a wrap and a buckle carrier. They are soft and structured, with long pieces of fabric that you use to tie them properly around your body. They are also adjustable, and one can be used by different caregivers.
Backpack carriers:
Backpack carriers have the design of a backpack. They are ideal for children old enough to sit unassisted. The baby should have good neck control to avoid hurting their back. These carriers have a framed seat that holds your baby in a sitting position. You carry this carrier on your back and fasten it to your shoulders and waist using the available straps.
Benefits of a hiking baby carrier
A hiking baby carrier is essential for every parent or caregiver who loves hiking and has a small baby. It has various benefits, as outlined below:
Enhances safety:
A hiking baby carrier secures your baby on your back safely. It prevents them from falling off as you hike. It, therefore, keeps your baby safe throughout the hike.
Enhances comfort:
With a hiking baby carrier, you get to carry your baby with no fatigue or discomfort. The carrier relieves your hands off the weight of your baby, allowing you to hike comfortably. It also keeps your baby comfortable by securing them in place as you move and hike.
Allows your baby to have an adventure:
It is impossible to go hiking with your baby if you have to carry them uncomfortably in your hands or use a wrap. With a hiking baby carrier, you and your baby get to hike together without getting too tired or uncomfortable.
Why You Should Trust Us
Our site is neither sponsored nor a marketing platform. We pride ourselves on providing honest reviews and authentic information to our audience. We derive our information from reliable sources and reviews from verified buyers.  
How We Picked
We have gone through the trouble of evaluating different products so you do not have to. We have examined different features in different hiking baby carriers and come up with the most effective. You can therefore be confident that any product you pick from our list will serve you excellently for a long time.
All our picks are made of sturdy materials that will withstand long-term, rough, and frequent use. The materials are also strong and tough. Therefore, you can go about your hiking with no worries that they will break and hurt your baby. They also have multiple features that provide the ultimate support for your baby's neck and back. Support is essential since it ensures that you carry your baby in an upright, healthy position.
No matter which hiking baby carrier you choose from our list, be sure that you and your baby will enjoy maximum comfort. They are all well-padded and soft to ensure that the outer material does not press into your baby's skin. They also have thick shoulder straps and waistbands that will not cut into your skin as you carry your baby.
The breathable materials and vents in the hiking baby carriers listed herein allow proper airflow through the carrier. This way, your baby breathes comfortably even when you cover them with a baby wrap or canopy. They also do not sweat during hot weather, thanks to the cool air circulating through the carrier.
Additionally, none of our picks will expose your baby to toxins and chemicals. They are all made of safe materials that will not harm your baby's skin or introduce toxins to their gut. They are therefore ideal for babies with all skin types.
Lastly, we considered the quality of the hiking baby carriers against their price. Our final picks are durable, effective, and easy to use. They are also reasonably priced and do not require too much money or resources for their maintenance. All our picks are therefore cost-effective.
How We Picked
Durability/Strength

A durable hiking baby carrier will accommodate your baby throughout its young age. The ideal hiking baby carrier should therefore be strong enough to hold your baby's growing weight comfortably without falling out of shape.


Comfort and Support

Your baby requires maximum comfort to allow you to enjoy your hike. The ideal hiking baby carrier should therefore be big enough, made of comfortable materials, and properly padded. It should also provide proper support to avoid hurting your baby's neck and back.


Style/Design

The style of a hiking baby carrier will determine how effective it will be. The style should not only be decorative but also functional. It should be designed in such a way that it provides ultimate safety and comfort to you and the baby.



Cost-Effectiveness

When setting a budget for a hiking baby carrier, do thorough market research to determine the best price. While at it, remember to confirm that it has all the necessary features that ensure safety and comfort.


Care and Maintenance
Your baby's security, safety, and comfort are of the essence. All their tools and equipment should also be kept safe. It is thus essential to care for your hiking baby carrier to ensure that it serves you and your child effectively.
Before using a hiking baby carrier, check that it is safe and poses no dangers to you and your baby. Do not use a hiking baby carrier if it is broken. Rather, fix it as carefully as possible to ensure that it holds your baby securely.
Also, check the straps to ensure that they are secure enough to keep your baby safe.
When picking a hiking carrier for your baby, ensure that it is the right size. A hiking baby carrier too small will not fit your baby well and will be uncomfortable for you and the baby. One that is too big will also be too bulky and will not hold your baby snugly.
The ideal hiking baby carrier should also be strong enough to accommodate your baby's weight.
It will not do your baby any justice if you get them a hiking carrier that they are comfortable in. To them, the hike will be less of an adventure and more of a punishment. Test a hiking baby carrier before purchasing to ensure that the baby's weight balances on their hips.
A dirty hiking baby carrier will expose your baby to allergens and diseases. To keep your baby safe, clean the baby carrier as soon as it gets dirty. You can however sanitize it before every use to kill any germs on its surface.