The Best High-End Bed Pillows for 2023
These lovely bed pillows aren't just for aesthetics; they help reduce neck and back pain.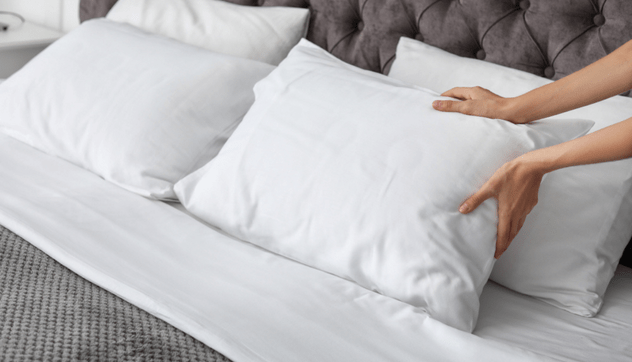 If you have been waking up with strains on your neck and back, it's about time that you tried switching your pillow. It is no secret that looking through multiple brands of pillows can be overwhelming and taxing, given the wide range of options on the market. We understand that the perfect pillow is a combination of firm and soft, providing a cushion for your head, neck, and spine, all in neutral alignment to support the natural curvature of your spine. Different sleeping positions require different types of pillows to maintain a healthy posture. Once we find a pillow that supports a neutral spine depending on your sleeping position, we will look into all the additional little details that satisfy your wants.
As you consider which pillow is best for you, we have prepared and handpicked the best pillows currently on the market to assist you in narrowing down your choices when making this sensitive decision to make the choice quick and easy for you!
How We Picked
Firmness

Firmness will keep your head supported enough to be aligned with the spine, and ensure that the pillow won't flatten throughout the night.


Filling Material

The material a pillow is stuffed with directly affects how comfortable it feels, how much it costs, and how long it will last. Feather-filling material is quite common but not very durable.


Hypoallergenic

Hypoallergenic pillows reduce your exposure to allergens, are much more resilient as compared to traditional pillows, and require less maintenance.


Sleeping Position

Your preferred sleep position will help determine the best type of pillow for you. Back and stomach sleepers should opt for polyester fiberfill pillows, while memory foam pillows are great for neck and back support.

Everything We Recommend
Best Pick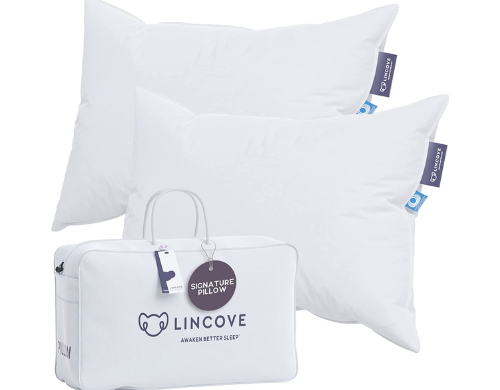 These pillows are perfectly stuffed, contouring your body and providing excellent neck and head support.
$369.00 ($184.50 / Count)
Runner Up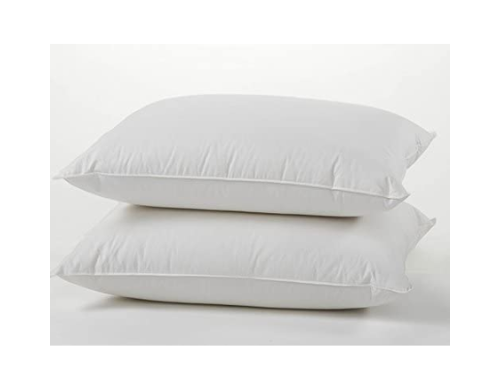 This is a soft and fluffy pillow that is all down and has premium goose feathers!
$299.99 ($150.00 / Count)
Most Cost-Effective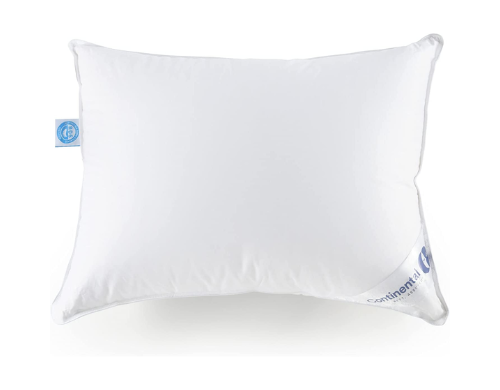 A pillow such as this one, made from pure cotton sateen, will change your sleeping experience for the better.
$209.99
Who This Is For
A pillow is highly personal and should be picked based on individual preferences, stuffing material, and sleep position. Whenever one lays on a pillow, it is of vital importance that your neck stays neutral, as this allows for a restful night's sleep and spinal alignment.
Difference between soft and hard pillows
Soft pillows are more bouncy, squishy, and soft to the touch, and they compress easily as compared to hard pillows that maintain their shape.
Determining the ideal firmness of the pillow for you
The ideal pillow for you depends heavily on your sleeping position. Side sleepers should go for a thick pillow, stomach sleepers for a soft, thin one, and back sleepers for a medium pillow, ideally something between hard and soft.
Are bed pillows recyclable?
Absolutely! The most efficient way to recycle old pillows is to repurpose them. You can also choose to ship them to a textile recycling company, and if you are hands-on and environmentally conscious, you may also choose to compost the old pillow stuffing.
The environment will surely thank you for it!
Why You Should Trust Us
To help you decide, we looked through the many options on the market and considered the many aspects that are a must-have in the perfect pillow for you. From firmness, and filling material to price, these pillows will have you sleeping like a baby.
How We Picked
We considered the firmness of the pillows first and foremost, as it is an important factor in making sure you get the support needed to avoid back and neck pain. The firmness of a pillow directly impacts its comfort level and sleep quality and is measured by how much it sinks whenever you lie on it.
We ensured that all the pillows on the list were hypoallergenic and designed to reduce exposure to allergens. Next, we looked at the filling material in the pillows. Foam was by far the most common filling material in pillows, as it is easily available. Pillows stuffed with foam hold heat and are quite firm for an individual who often sleeps on their stomach. They need regular fluffing, as they tend to go flat with use.
Feather pillows are soft and soothing. They are lightweight and fluffy enough to give you the feeling of sleeping on a cloud, yet they maintain their original shape longer than foam pillows. The structure of the feathers and the softness of the down enable them to support weight and spring back into shape after a long night's sleep.
Polyester-filled pillows are designed to mimic the comfort of feather-down-filled pillows. They cost less and are a cheaper alternative to feather-down pillows; they are also ideal for those who are allergic to down. They are also easy to clean and maintain but lack the insulated warmth during the cold weather that feather-down pillows provide. The right pillow for you will keep your neck in a neutral position, aligned with your spine, and support your head, leaving your body relaxed while you sleep.
Most people prefer side sleeping over any other sleep position, and for them, a high pillow is best, as this will help keep their spine and neck aligned. Back sleepers should go for a medium pillow, as it will mold itself to one's neck's curve all the while giving the needed support. Finally, while sleeping on your stomach isn't recommended, some tend to prefer it, and for those, a thin flat pillow is best. Back sleepers
Care and Maintenance
Pillows are often in contact with your skin and hair, making them prone to absorbing sweat and dead skin, the latter of which tends to attract dust mites, with many of us being allergic to their droppings.
It's recommended to wash a pillow once or twice a year to maintain good hygiene practices and make them last longer. To wash a pillow without damaging it, it is important to read the instructions the manufacturer of the particular pillow provides. When washing the pillow, carefully place the pillow in the washing machine on the gentlest wash cycle. Use a minute amount of detergent, as too much can make feathers clump.
Having a pillowcase over the pillow is a great way to ensure the pillow stays protected from dirt and other stains. Ideally, the pillowcase should be changed and washed once a week to ensure cleanliness. Avoid getting the pillow wet or dipping it in water, as this may compromise the quality of the pillow.
Put the pillow in the dryer for an hour on regular heat once a month to ensure that the mold, moisture, and perspiration that have accumulated evaporate and the pillow retains its fluffy and plump quality for longer.