The Best Hex Wrenches for 2023
Get the most durable and effective hex wrench sets for DIY fixes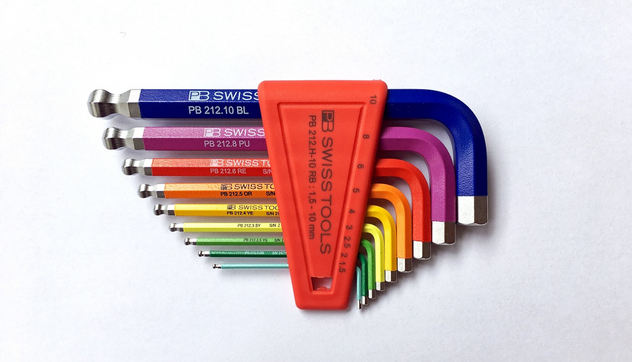 When it comes to household repairs and fixes, there are two kinds of people – those who seek professional repair services and the DIYers. If you belong to the latter category, you should know that hex wrench sets are quite handy around the home.
A household toolbox should contain a good assortment of hex wrenches – also known as Allen wrenches – for tasks like assembling furniture, tightening door handles, etc. However, with the numerous options in the market, it can be tricky to purchase a hex wrench set that is best suited to your needs.
This is why we've created this guide, to guide you during your purchase. We have provided you with the most useful criteria for selecting a good hex wrench set, as well as some helpful brand recommendations. So, take advantage of this guide and you'll be on your way to making the best possible choice.
How We Picked
Style

The style of the hex wrench you choose determines the function it will be able to perform, so it is important to consider style and design when selecting your pick. We made sure to suggest different styles that suit different purposes.

Material

If you want a long-lasting hex wrench set, it's also important to factor the construction material into consideration when making a choice. The material will also determine the strength of the hex wrench and its effectiveness in carrying out tasks.

Cost-Effectiveness

Affordability is another important criterion to keep in mind when selecting a good hex-wrench set. This is why we recommend options that are reasonably priced and offer great value for their monetary costs.

Durability

It's also important to select a highly durable brand when making your choice since such brands will be more long-lasting. It also helps to consider brands that offer extended warranties, so we made sure to include such options in our recommendations.
Our Top Picks
Best Pick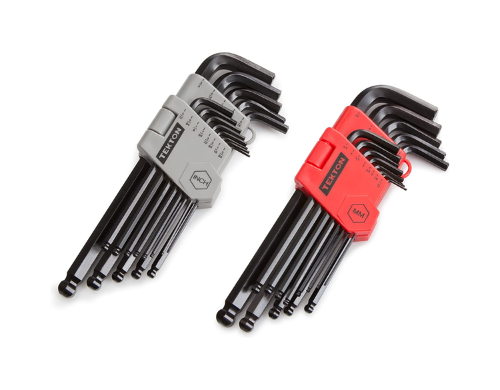 This set outperforms other brands in terms of quality and strength, with simple operation and dependable durability.
The TEKTON Long-Arm Ball Hex Wrench Set's ball end design allows for an entry angle of up to 25 degrees, making it simple to work around obstacles.
The adaptable long arm/short arm configuration enables increased reach and leverage on opposite ends. These wrenches are made of heat-treated chrome vanadium steel, which will perform consistently for many years. The unusual hinged box opens flat to make it simpler to insert and remove wrenches, and it is color-coded, ensuring that you always know the right set to select.
Runner Up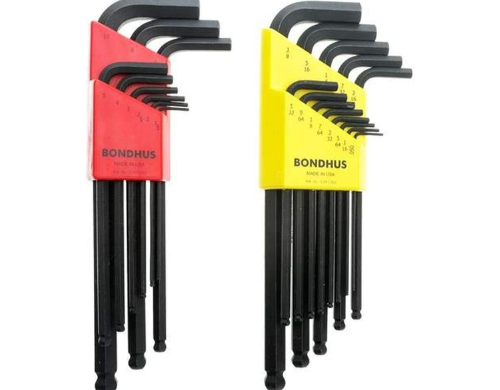 This set offers excellent versatility in function.
When a range of tool sizes is needed, the Bondhus Hex Wrenches, a set of small ball driver L-wrench sets, are ideal.
Each set comes with its own proprietary Bondhex tool case. The individual wrenches fit into the specially defined slots without difficulty and twist to lock firmly in place. The Protanium(R) steel used to make these wrenches makes them the strongest and most durable ballpoint L-wrenches on the market.
Most Cost-Effective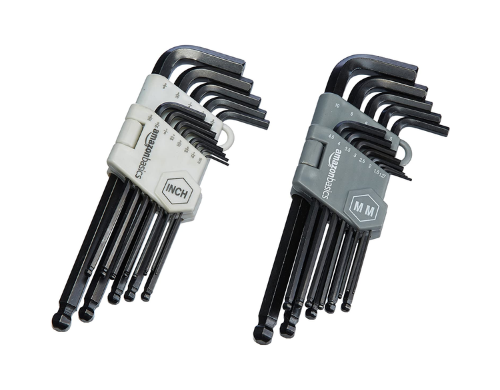 A budget option, offering the same durability and strength as more premium picks.
This set includes a 26-piece long-arm set in both standard and metric sizes for swiftly tightening or loosening screws.
The Amazon Basics Hex Wrench Set is made of chrome-vanadium steel for tough strength, and also comes with a black oxide finish to ward off corrosion and a smooth surface created by sandblasting. The long-arm shape allows for greater leverage and torque, and its beveled ends make insertion simple. It can reach obstacles with ease thanks to its ball-end design, which allows for an entry angle of up to 25 degrees.
Everything We Recommend
Best Pick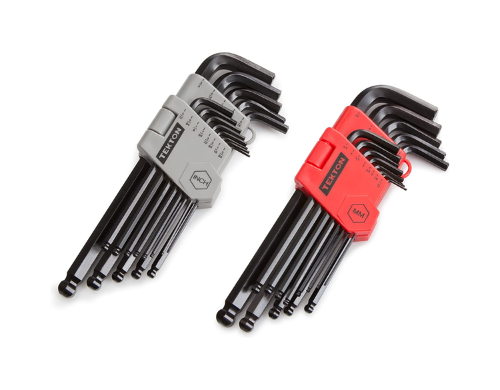 This set outperforms other brands in terms of quality and strength, with simple operation and dependable durability.
Runner Up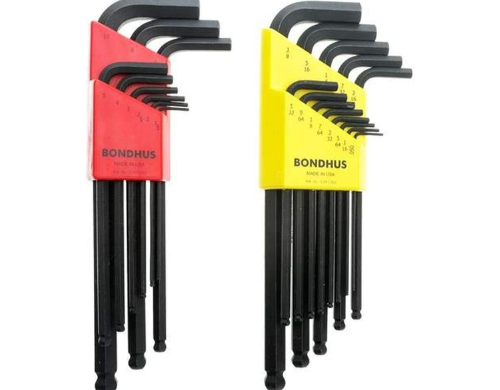 This set offers excellent versatility in function.
$39.99
Most Cost-Effective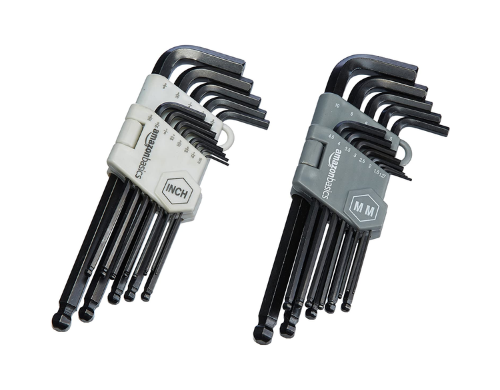 A budget option, offering the same durability and strength as more premium picks.
$14.40
Who This Is For
If you're a DIYer, whether, on an amateur or relatively professional level, you'll find a hex wrench set pretty useful.
What is a hex wrench?
A hex wrench, also known as an Allen wrench, hex key, or Allen key, is a tiny, hand-held device used for using a hexagonal socket to drive bolts and screws. Although they come in a variety of sizes, they always feature the same hexagonal tip. The most common type of hex wrench is a single piece of steel bent into a tiny L shape, though there are many variations on this basic design that can be purchased from a wide range of producers and vendors.
Hex wrenches are available in several sizes, which are determined by across-flats (AF). This is effectively the separation between the flat side's two opposed ends. Choosing the proper size hex key is crucial, since using a key that is too large risks damaging the tool or fastener.
What are hex wrenches used for?
Hex wrenches, a very basic hand tool belonging to the family of general spanners and sockets, are used to tighten and loosen hexagonal bolts as well as other suitable fasteners.
Hex wrenches are fundamental and incredibly adaptable fastening/driving tools, which explains in large part why they are used so frequently today across a broad range of tasks and product categories. They are now so widely used that it has become customary to give away hex wrenches along with bicycles, flat-pack furniture, and other items needing simple, fast assembly.
Different types/styles of hex wrench
There are many different varieties of hex wrenches available today, many of which follow the basic early design pattern extremely closely. However, some producers do include further functions or aesthetic flourishes as an update to the fundamental one-piece, hexagonal shaft steel tool type. These might include slightly more unusual variations of the standard hex wrench, such as folding hex wrenches, straight hex wrenches, and L-shaped hex wrenches, depending on the manufacturer or supplier.
However, to cover the majority of situations, you'll probably only need to choose between one or two noticeable variations of the traditional hex wrench design format. These two variations — T-handle and ball head hex wrenches — are by far the most often used.
Since the T-handle hex wrench provides several user conveniences that ordinary hex wrenches do not, hex wrench sets with T-handles are particularly well-liked among mechanics and auto enthusiasts.
The T-handle design, in particular, offers a more comfortable grip than the conventional L-shaped hex key, but more importantly, it can also enable substantially increased torque (given that the gauge of the hex wrench itself is high enough). This is because the T-added handle's weight acts as a counterbalance, which can help to seat the tool more securely and firmly in the fastener's head.
With good reason—ball head hex wrenches offer a much better degree of flexibility and versatility in terms of gaining access to smaller spaces—a ball head hex wrench set is also becoming an increasingly popular option for both professional and amateur users. They accomplish this by significantly expanding the user's range of standing postures in relation to the fastener they are currently working on.
Instead of the typical flat hexagonal shape, you'll find on most basic models, a ball head hex wrench has a rounded hexagonal ball at the driving end. This design has the benefit of allowing the hex wrench to be put into the hexagonal recess of the fastener at angles other than straight down at a 90-degree angle. This is extremely helpful when there is little room for movement, as is the case with hex head fasteners when trying to access a bolt that is awkwardly positioned in a small opening between two panels.
Why You Should Trust Us
While compiling this guide, we researched and obtained information from many credible sources. We consulted reports from industry experts on the types and styles of hex wrench sets available, as well as the advantages that each style has over the others. We also consulted reports from expert testers to assess the performance of different top hex-wrench brands.
Online user reviews were not left out – from here, we got a feel for how different users found the performance of different popular hex wrench brands. We considered all this information while suggesting our top picks for you.
How We Picked
During our extensive and in-depth research, we consulted expert authorities on hex wrenches to determine the most important criteria for selecting a good hex wrench set. We were able to arrive at the following key criteria:
Style
It's critical to ascertain which hex wrench style will serve your demands best. The L-handle, T-handle, and fold-up sets of hex wrenches are the three most popular types. Compared to other hex wrench variations, the long arm on L-shaped handles creates more leverage, enabling greater torque and improving access to confined spaces.
Due to their simplicity of use and torque control, T-shaped wrenches are employed in low-torque applications. They need quick access to sockets and relatively short wrench lengths. Fold-up sets are useful for performing spot checks on the shop floor because they may fit in your pocket and are practical. The carrying case locks all of the wrenches, preventing the loss of specific sizes. They don't function in applications where there is limited space, and they have limited torque capabilities, just like T-handles. It is important to understand which style of hex wrench will work best for the tasks you'll be performing and then choose accordingly.
Size
The suitability of a hex wrench set will typically depend on the sizes of the hex wrenches contained within the set, just like with any other tool. The entire set will be useless to you for that specific application if the one hex wrench you require is not included in the set.
Hex wrenches need to be the exact same size as the hex screw you are going to tighten or loosen, in contrast to screwdrivers, where you can get around the compatibility issue by going one size lower. Therefore, before choosing, it's important to look at the set's available sizes.
Easy to use
A good hex wrench set will be pretty easy to use, especially if you purchase one that is best suited to the purpose for which you need it and that contains the exact size you need.
Material
The strength and functionality of a tool are influenced by the underlying material from which it was made. Therefore, if a hex wrench set is composed of a relatively brittle material, its uses will be severely limited to basic tasks, and you will need to use such hex wrenches quite carefully.
Instead, choosing an alternative made of alloy steel, carbon steel, or vanadium steel will provide you with a tool with a significantly longer lifespan and higher strength. This is something we kept in mind when recommending our top picks for you, so you get the most out of your hex wrench set.
Strength and durability
Steel, of which the majority of hex wrenches are made, come in a variety of grades and strengths. Hardness, surface treatments, and stress relief are frequently ignored throughout the design and production processes when cheap steel grades are used to make hex wrenches. Hex wrenches suffer as a result, and they tend to have less tensile strength and a shortened lifespan.
Replacement will be necessary more regularly in such cases, which will increase long-term costs and cause annoyance for you as a user. The less expensive option is probably adequate for your needs if you only sometimes use hex wrenches, only use them for low-torque applications, or simply lose them constantly
However, if you have long-term plans and require more strength in your hex wrenches, look for a more robust set with higher tensile strength and a longer lifespan.
Price vs. quality
When it comes to hex wrenches, you're more likely to find that most cheap options have neglected some key procedures in the manufacturing process. This tends to affect the overall quality and performance of the hex wrench set.
In this guide, we made sure to recommend options that don't trade affordability for quality. Despite being made from high-grade, long-lasting materials, our top picks are still in an affordable price range.
Care and Maintenance
When to use a hex wrench
Hex wrenches are mostly underused tools, even though their applications are expanding. With their snug-fitting chamfered ends and near immunity to screw stripping, they exceed the performance of standard screw bits. Additionally, they are the finest choice for securing strong joints in constrained areas. Below are 5 applications for hex wrenches:
Bicycles: The most common tool used for bike maintenance and size adjustments is a hex wrench. This makes it possible for riders to quickly fix their bikes while riding.
Furniture repair: Hex wrenches are a crucial piece of hardware for holding furniture in place and are frequently used in furniture repairs. They let users quickly put together furniture without adding undue weight to the item. They are also discreet in appearance and robust in fastening thanks to their small form.
Cars and motorcycles: Hex wrenches are used by cars and motorbikes — just like with furniture — for accessibility in confined locations. Hex wrenches are typically used in place of nuts and bolts wherever they are unneeded or inconvenient. You will require a hex wrench set even if you are not the kind to work on your car's mechanical components. Hex wrenches are required to gain access to areas under the seat, around and within the center console, and under the dash, such as under the glove box.
Tool maintenance and repair: Hex wrenches are also frequently used for tool maintenance and repair. Hex screws are used to hold drill bits with insertable components in place. Hex wrenches are also required to change blades or make small adjustments on all types of power saws.
Electronics: Hex wrenches are frequently used in electronics, which is a growing trend. Hardware is increasingly using hex screws as electronics become smaller in size. Hex screws on the back hold computers and huge television screens together. And although it might not be as obvious, smaller gadgets like tablets and mobile phones also have a fair number of hex screws inside.
How to use a hex wrench
You can simply use the hex wrench by inserting the short end into the bolt head and turning the bolt by applying pressure to the L's longer side. Don't try to screw in any other sort of fastener with the hex wrench since it will only work on a hex bolt (a bolt that has six sides).
The second most typical use of an Allen wrench is to pick a lock. You can try to unlock a lock with an Allen wrench if you have one that is small enough to fit in a lock for which you have lost the key. Just insert the hex wrench's tip into the keyhole.
Ensuring screws are tight enough
To make sure you're tightening screws sufficiently, install a hex wrench with the short end inside the socket and the long end in your hand. Tighten the screw until the wrench bends or twists around 30 degrees (1 hour on a clock face). The set screw will then be properly tightened. Additional tightening merely increases the chance of breaking the hex wrench, set screw, or both.
Preventing damage or hand cramps while using a wrench
When using equipment for DIY projects, it's crucial to use caution. Make sure your hex wrenches are in good working order. Be cautious of sharp edges, splintering handles, and loose parts. If your hex wrench is in bad condition, you could need to use more force, and you might be more likely to get hurt if the tool breaks or malfunctions.
Also, be sure to maintain a neutral wrist with all of your fingers firmly clutching the handle of the wrench. The muscles that are employed for gripping are able to function most effectively and are less vulnerable to injury and exhaustion in this position.
Where to store when not in use
There are several ideas for storing hex wrenches when you're not using them, so you could choose whichever best suits your needs and preferences. Some DIYers recommend drilling holes in a block of wood, then mounting your set of hex wrenches on the wood block. This is a good way to keep them organized. You could also color-code them or arrange them according to size to ensure that you'll be able to find the ones you need quickly.
Another idea is to arrange them all in a pile, with the ones you need the most at the top. All in all, ensure to keep them in a safe place where kids or pets won't stumble upon them. Also, ensure to keep them away from moisture to minimize rusting