The Best Hangers for 2023
Let your fashion start before clothes hit your body.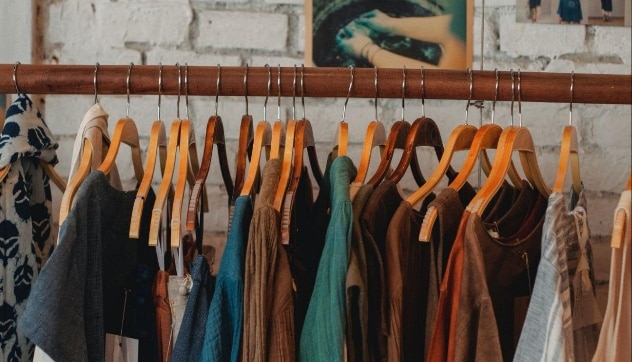 Ever heard of a shoulder dimple on clothes? Chances are you've seen them. The small rough patches around the shoulder areas of clothes, mostly shirts, are called shoulder dimples. They are most commonly caused by the use of wrong, unsuitable, or bad-quality hangers.
It doesn't end there though, stylists opine that the number one hardly known way to ruin clothes is by using bad hangers.
On the other side of the coin, suitable hangers keep your clothes in great condition and can help to save space when sorting out your closet or packing to travel.
Hangers differ in many terms — material, size, rotation, and a few others. All clothes are made from nine major raw materials and over 40 different kinds of fabric so it's only normal that different materials or fabrics suit some hangers more than others.
This list is guaranteed to help you find the hangers for your closet.
How We Picked
Strength of material

Hangers that break or lose their shape over short periods have no place in your closet. For that reason, we opted for hangers sturdy enough to last for a while, while holding decent weight.

Hanger Style

Flatter hangers are space savers and curved hangers are best for keeping clothes in shape. Lucky for you, we have lined up both variations.

Variety in clothing size/type

Your closet likely consists of many kinds of clothing and potentially, of different sizes. Hangers that may ruin fabrics or slack clothes are a no-no for us and you.

Cost-Effectiveness

Except for very high-profile models or designers, it's hard to see any reasoning behind breaking the bank for hangers. Great hangers exist at respectable prices.
Our Top Picks
Best Pick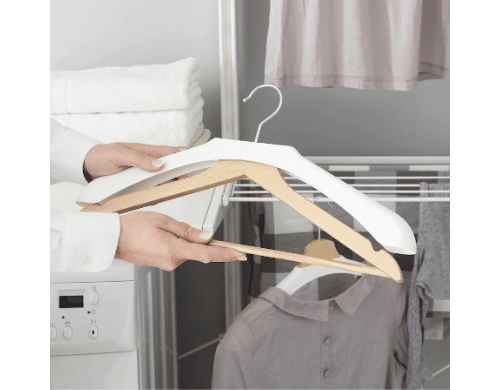 Combines functionality with luxury and sustainability.
The shoulder shaper prevents stretching.
Ikea is known to never compromise on quality and this hanger is another proof of that.
Runner Up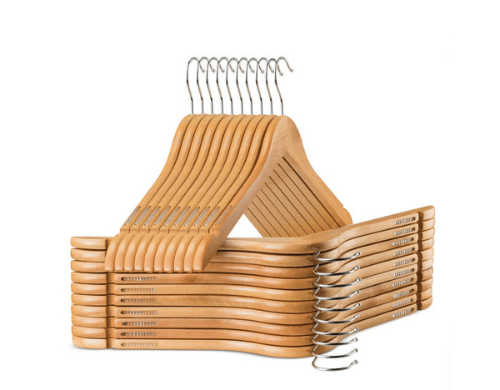 Perfect for clothes with straps.
Strong, aesthetically pleasing, and craftily ridged to keep your clothes from slipping off.
Although called suit hangers, these Zober hangers firmly hold up your other clothes and have a 360-degree rotating head that allows you to scan your wardrobe from any angle.
Most Cost-Effective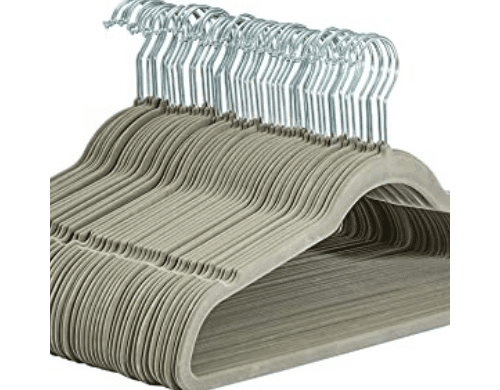 Perfect for kids or large households.
Need something for your entire closet? This hanger is only available for bulk purchases.
This hanger screams simplicity. It's available in multiple colors and has a smooth silky velvet feel that catches your eyes and holds your clothes the right way.
Everything We Recommend
Best Pick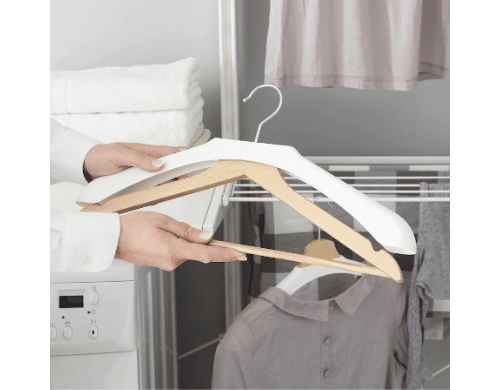 Combines functionality with luxury and sustainability.
Runner Up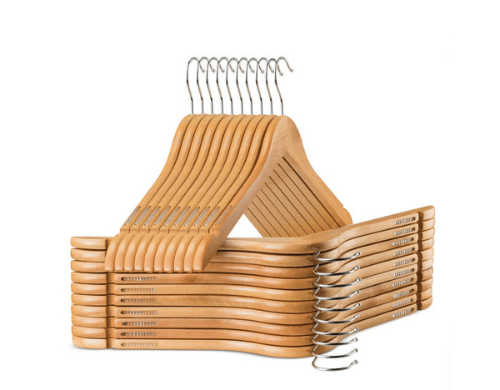 Perfect for clothes with straps.
Most Cost-Effective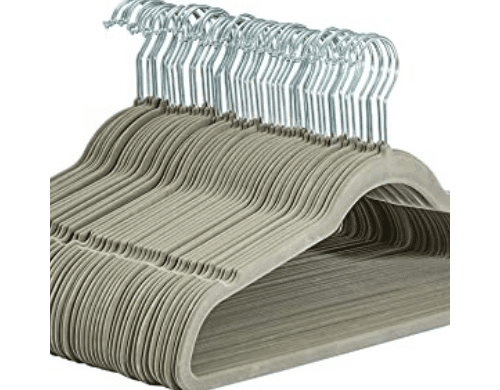 Perfect for kids or large households.
Who This Is For
These hangers are for individuals and designers who want to maintain the quality and shape of their clothes during storage.
Are Hangers Allowed On Planes?
Yes. According to the Transportation Security Administration (TSA), hangers of all kinds; wood, plastic, and wire are allowed in carry-on bags.
Do Hangers Stretch Clothes?
Hangers, when not chosen or used the right way, can stretch clothes. To prevent this, consider hanger and cloth sizes and only use longer/wider hangers for bigger clothes.
In a case where you're worried about the neckline of your outfit, you could use the shoulder shaper or the lower, straighter part of the hanger meant mostly for trousers and pants.
Why You Should Trust Us
Nothing ruins a person's reputation in the first meeting like poor presentation and almost nothing screams poor presentation as quickly as ill-fitting clothes and outfits that have been misshapen by bad hangers.
We want you to wear smart clothes and build relationships and as such, we have found the very best hangers to help you get that result.
How We Picked
Cloth hangers are super easy to find if one simply chooses to care less about potential damage to clothing items – the not-so-great ones have infiltrated the markets and homes.
Over time, people gained more awareness about bad hangers and to help the clamor for better ones, we've searched through clothing stores, modeling venues, warehouses, and homes, and gathered personal and customer experiences to bring you this list.
We know that clothing varies and have accordingly considered material strength and threshold capacity when compiling this list to ensure you get the very best.
We looked out for features that give a little more allowance like fully swiveling heads, a second level for pants, and shoulder hooks.
We considered the average closet size and gave priority to less chunky, more space-saving hangers. We observed materials like wood, rubber, wire, and velvet and have in this list an array of them to suit different items of clothing.
Hangers that have the tendency to get damaged or broken were quickly tossed out of consideration and replaced with stronger, more durable ones that look good, feel good and handle your clothes with complete care.
Care and Maintenance
One general rule for taking care of hangers is to ensure that every hanger in your closet holds no more than the amount of weight it was designed for.
For velvet hangers, keep them away from children and ensure they don't get rubbed on frequently so as not to lose their shine.
Hangers can gather dust depending on where they are kept, so always wipe hangers first with a damp cloth and then a dry cloth so your clothes do not get stained when you put them on the hangers.
Also, remember to keep metallic hangers away from electricity.
Be careful of liquids that get in contact with hangers, especially metallic ones.
Know which hanger materials may bend under weight.
For cloth or wooden hangers, avoid high temperatures or sun exposure as well as any factor that may add to the corrosion of the material.