The Best Hair Dryer of 2023
These hair dryers will help you dry and style your hair with salon-quality results in minutes.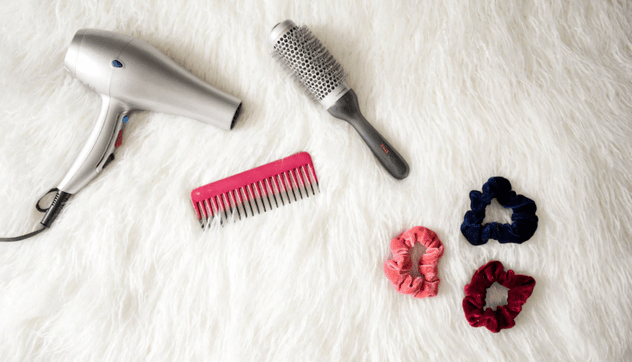 Hair dryers are an essential beauty tool that's used by almost everyone. People with all different skill levels use hair dryers daily, from professional hairdressers and hairstylists to your everyday working mom.
Drying your hair takes up a considerable amount of your daily routine. Choosing the right hair dryer will depend on your hair type, your daily styling routine, and how much time you're willing to dedicate every day to drying your hair. But this can be difficult, as there are countless options available and different hair dryers that are useful for different needs. Luckily, we're here to make the buying decision quick and easy for you.
How We Picked
Heat Settings

For both speed and the health of your hair, heat settings are essential to consider when choosing the perfect hair dryer. We looked at hair dryers with a range of heat settings to suit your unique styling needs.

Cord Length

When it comes to drying your hair, you want the most comfortable user experience possible, and the cord length is at the core of that experience. Whether you have long arms or short arms, or your styling setup requires a specific cord length, we've laid out all the details for you.

Weight

We all know that drying or styling your hair with a hair dryer can be a tiresome and painful experience, especially for people with long and thick hair. This is why we've chosen to compare the weight of hair dryers to make sure you have the most pleasurable experience possible.

Cost-Effective

We all want salon-quality blowouts, but some of us might not be able to afford a hair dryer that can guarantee that. Our list of hair dryers will suit people with a range of budgets and will ensure you always have a quality hair-drying experience.
Our Top Picks
Best Pick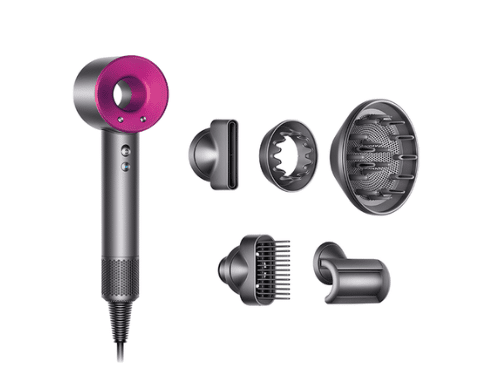 The Dyson Supersonic is also very quiet and easy to control thanks to the handle-based motor.
Dyson promises a totally new experience with advanced technology that drastically reduces heat damage.
The Dyson Supersonic Hair Dryer is engineered to protect your hair by reducing heat damage. With fast drying and controlled styling, this powerful hair dryer helps increase smoothness, increase shine, and decrease frizz and flyaways. The Dyson Supersonic Hair Dryer is fast-drying without the need for extreme heat, which also means that it is expertly engineered for all different hair types.
Runner Up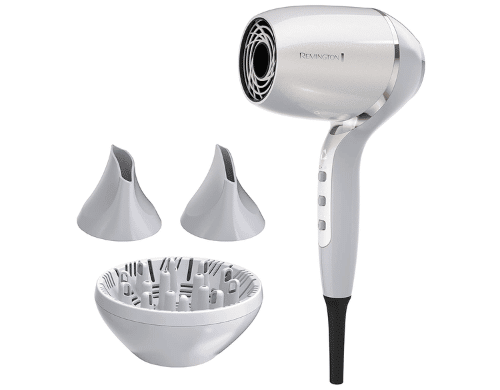 This stylish hair dryer promises expert results with no heat damage.
Remington has created a hair dryer with a modern look and a variety of attachments that can be used for all your styling requirements.
With its HYDRAcare Sensor Technology, the Remington Hydraluxe Pro brings you healthier styling, faster drying, and multiple attachments for a salon-quality blow dry. This hair dryer is a close runner-up to the Dyson Supersonic Hair Dryer because of the versatility it brings to your hair-drying experience. The Remington Hydraluxe Pro has a sensor that continually regulates the temperature of the air directed at your hair. It also has a powerful digital motor that delivers precise airflow!
Most Cost-Effective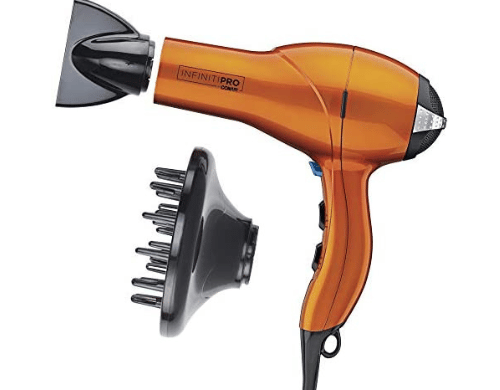 Salon-hair quality from the comfort of your home.
This hair dryer strikes a balance between affordability and performance.
The InfinitPro from Conair is here to save the day. This hairdryer's claim to fame is its 1875 watts of power, which can dry your hair in no time! While Conair doesn't specialize in drying specific hair types like other hair dryers on our list, this dryer can get the job done a lot quicker.
Everything We Recommend
Best Pick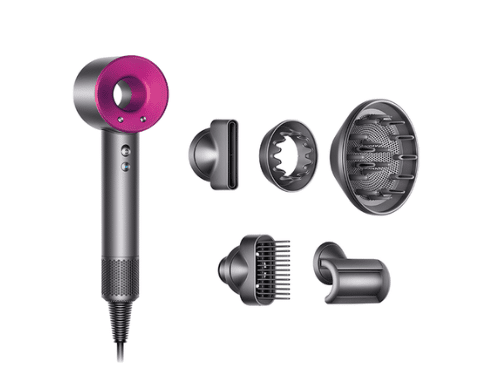 The Dyson Supersonic is also very quiet and easy to control thanks to the handle-based motor.
Runner Up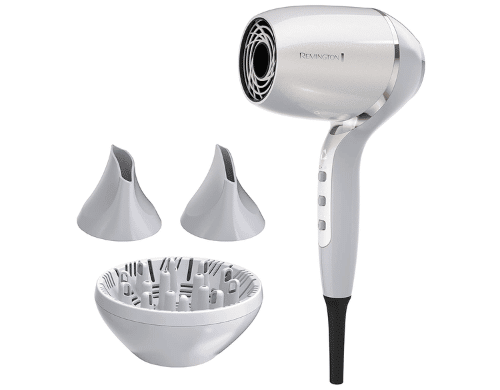 This stylish hair dryer promises expert results with no heat damage.
$128.99
Most Cost-Effective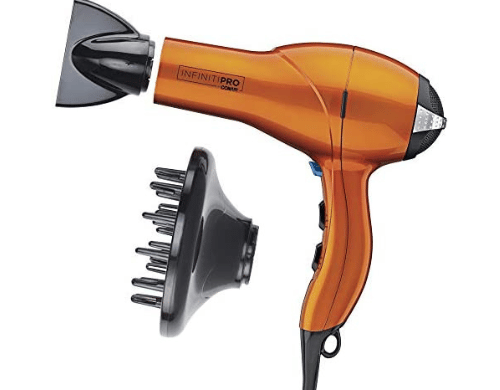 Salon-hair quality from the comfort of your home.
$25.97
Who This Is For
These products are advertised for women with all different hair types who require quick and easy drying and styling of their hair daily.
Hair dryer vs. hair iron
In contrast to hair irons, hair dryers aren't used to straighten your hair, although you can combine them with other beauty tools to give you a beautiful blowout. While hair irons use high heat to straighten and flatten your hair, hair dryers are primarily used to dry and 'pre-style' your hair. For example, you might blow dry your hair as flat and straight as possible before using a hair iron for that perfect salon-quality finish. But while hair dryers can't get your hair as straight as a hair iron, they have other benefits. Our top picks for the best hair dryers help you save time in the mornings by drying your hair quickly and efficiently without causing excessive heat damage. This is the main difference between hair dryers and hair irons: hair irons can cause irreparable damage to your hair because of high heat, while these hair dryers simply dry your hair in the safest way possible.
Do I really need it or can I just air-dry my hair?
Some women, especially women with very curly hair, prefer to air-dry their hair, and while this might work for some, it can cause damage to others' hair. For example, if you have very thick hair, you'll find that air drying takes up most of the day, and this can cause issues for your scalp like dandruff. Hair dryers help you cut down on the time it takes to dry your hair and help you keep your hair and scalp healthy. There are even hair dryers designed specifically for women with curly hair to keep their curls intact while still aiding in fast hair drying. If you're tired of walking around with wet hair or spending hours in the morning drying your hair, keep reading to see our best picks for you.
Why You Should Trust Us
Many hair dryers promise fast drying but end up damaging your hair beyond repair, leaving you with frizzy and unruly hair. Others promise less heat damage but take twice as long to dry your hair. We've found the best options for you that won't break the bank and will still dry your hair within a reasonable time while minimizing damage and giving you a salon-quality blowout every time.
How We Picked
It's not easy to find the best hair dryer for your hair type and specific styling needs. This is especially true when looking at the sheer number of hair dryers on the market today. To make the process easier, we scoured over previous customer experiences with all types of hair dryers and accumulated their opinions on the usage of their hair dryers. These experiences mostly consisted of how fast the hair dryers were able to dry their hair and how good the styling was. With all of these first-hand opinions coming from women with all different hair types and needs, you can trust our methods and find the perfect hair dryer for your unique hair needs.
We searched through various products with differing types of technology, heat settings, attachments, and drying times. When making our picks, we looked for hair dryers with various heat settings, so you can adjust the temperature as you see fit! We also looked at what technology each hair dryer uses to ensure you have a minimized risk of heat damage while still being able to use these hair dryers on a daily basis. Cord length and weight are also important factors, as this affects how comfortable the hair dryers are to use, and it also affects how portable these hair dryers are to take with you when you travel.
Besides these factors, we also considered price, and our picks range from expensive to extremely affordable to fit your wallet. Durability is another important factor, as you want something that will last you a long time and consistently give you the results you want. Lastly, we looked at any additional features that make these top picks stand out above the rest.
Care and Maintenance
All of these hair dryers have basic maintenance needs that, when done right, will ensure your hair dryer lasts a lifetime. Starting with the cord, you should make sure that you prevent tangles by storing it properly – this means not wrapping the cord around the hair dryer, but rather folding it neatly and storing it in a safe place. It also helps to keep the cord clean and intact by keeping it off the ground when the hair dryer is not in use.
Cleaning the hair dryer itself is also important to avoid fire hazards. You can do this by gently brushing any dust and loose hair off of the back filter with a toothbrush. Lastly, be sure to store your hair dryer in a place where there is minimal dust, foot traffic (so not on the ground), and somewhere where it won't fall to the ground. Somewhere like a small cupboard by your styling area might be ideal.