The Best Hair Clippers for Home Use for 2023
Hair clippers for home use are just as effective as professional options, but they come with a much more affordable price tag.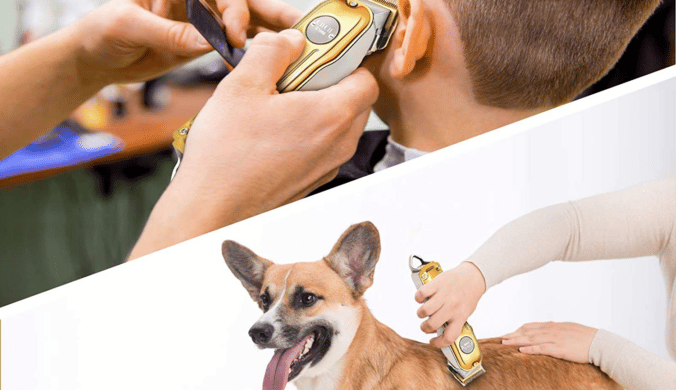 It is common for people to have their hair cut in a barbershop or beauty parlor. These are places where you have to pay to get a haircut. You, therefore, need to spare some money to get groomed and appear presentable. However, with the introduction of hair clippers for home use, this does not have to be part of your bills.
With home clippers, you can shave your hair from the comfort of your home. You also get to explore different styles and enjoy using a hair clipper alone or with close family members. It is however essential to be knowledgeable about the factors you need to consider when choosing a hair clipper. Read on for further enlightenment.
How We Picked
Blade Sharpness

The sharpness of the blade determines how fast, safely, and effectively a hair clip will shave your hair. It should be sharp to avoid causing nicks on your skin. It should also be of high quality and retain sharpness for a long time.

Cord or Cordless

Whether the ideal hair clipper should be corded or cordless is entirely based on your preference and where you intend to use it. A corded hair clipper is ideal for rooms with a power outlet. On the other hand, a cordless hair clipper can be used indoors and outdoors.

Easy to Use

Shaving your hair should not be hectic and should only take a few minutes. Therefore the ideal hair clipper should be easy to use. It should be user-friendly and have a well-detailed manual.

Cost-Effectiveness

A cost-effective hair clipper is one whose buying and maintenance costs resonate with the quality of its structure and its effectiveness. Ideally, the costlier the hair clipper, the more durable and effective it should be.
Our Top Picks
Our Top Pick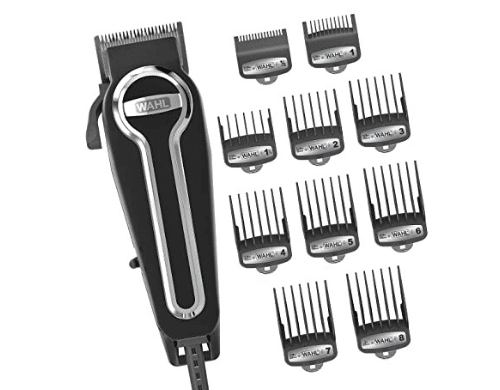 The low-decibel powerful motor provides superior performance.
Forget about hand fatigue when grooming yourself once you get this hair clipper. It is lightweight and small-sized and will not, therefore, weigh your hand down. It also has a powerful motor and will work on your hair within no time. You will not cause disturbances around the house since this motor is also quiet.
Groom yourself fast in the comfort of your home using this lightweight unit.
Our Runner-Up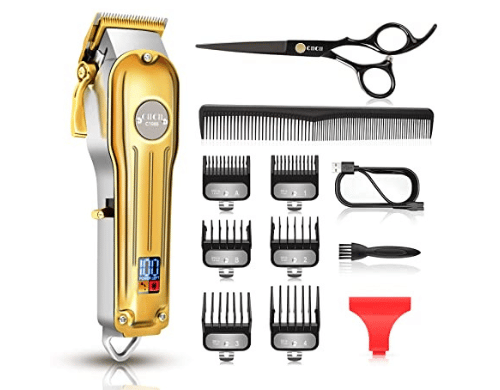 A stylish clipper with an LCD screen that displays the battery power and a charging indicator.
This hair clipper has an adjustable cutter head that you can adjust from 1mm to 3mm depending on the results you need. You do not, therefore, have to buy different clippers to achieve different haircut densities. The clip also has high-carbon cutting blades that do not break or dent easily. They also maintain sharpness for longer.
Get this cordless home hair clipper and never have to worry about dealing with clutter.
Most Cost-Effective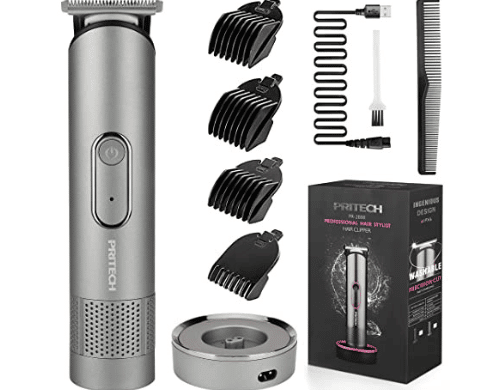 This clipper's R-shaped, rounded edge blade design shaves smoothly without causing irritation to the skin.
With chamfered head edges, this hair clipper shaves your hair without scratching your skin. As a result, your skin does not kick or develop wounds after shaving. The blades are removable allowing for easy replacement once they become dull. They are also washable to get rid of stitch hair, dirt, and germs.
Use this hair clipper for long periods, thanks to its durable Acrylonitrile Butadiene Styrene material.
Everything We Recommend
Our Top Pick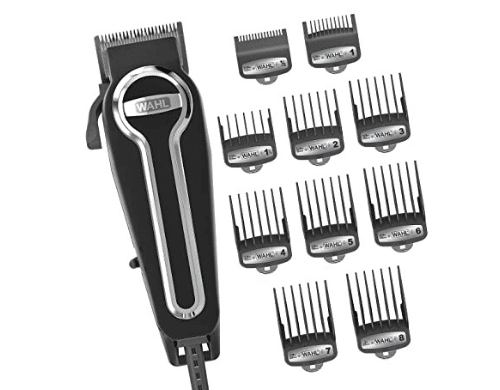 The low-decibel powerful motor provides superior performance.
$59.99
Our Runner-Up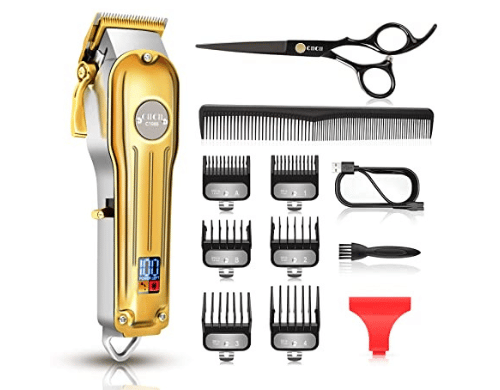 A stylish clipper with an LCD screen that displays the battery power and a charging indicator.
$39.98
Most Cost-Effective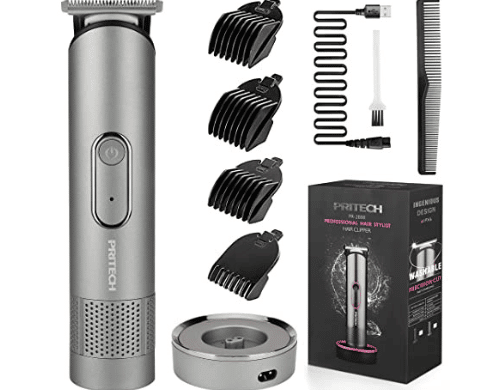 This clipper's R-shaped, rounded edge blade design shaves smoothly without causing irritation to the skin.
$24.99
Who This Is For
The hair clippers reviewed here are designed for home use. They are ideal for men, women, teens, and children of all ages. They are also perfect for all skin types including sensitive types.
Are hair clippers good for first-time users?
Hair clippers are easy to use and do not require too much expertise to use. They are, therefore, good for first-time users. However, the beginner needs to read the manual or watch instruction videos to seek relevant knowledge.
Different types of hair clippers
There are different hair clippers on the market with varying features. While some will be suitable for your hair type and desired hairstyle, others will not be your ideal choice. They include;
Detachable blade clipper
This is the most powerful hair clipper on the market today. It has removable and replaceable blades that you can remove for sharpening and replacement. The clipper also has blades of different gauges that range from 3 ¾ to 00000. You can change these blades depending on the length of hair you need to leave on your skin. The smaller the gauge, the shorter the hair left on your skin. This type of hair clipper has a powerful motor that cuts through long, thick, and wet hair effectively.
Adjustable clipper
This is another popular type of hair clipper. It features a lever on one side of the handle that adjusts the blade length. Once you open the lever, the blade cuts the hair longer and shorter once you close it. It also has plastic attachments referenced with numbers from one to five. The attachments also cut your hair to a longer length depending on the length of the index. However, although the plastic attachments can cut any hair type, they are best suited for thin and dry hair.
T-blade trimmer
The name of these clippers gives away their appearance. It has a blade at the top that sticks out from both sides for the handle to form a T-shape. Since it is very powerful, only use it to cut shorter and thinner hair. It is best suited for cleaning hair edges and cutting line designs.
Why You Should Trust Us
We are an autonomous site that takes pride in providing our readers with credible information. We pick products not based on the popularity of the brand but on their effectiveness. Therefore, the hair clippers listed here are high-quality, effective, and durable.
How We Picked
To provide the best hair clippers, we examined different factors that determine quality and effectiveness. All the trimmers listed here have different numbers of blades, the highest being ten and the least being four. They, therefore, cut your hair to different lengths depending on your preferred style. All the trimmers are high-quality blades that do not dull easily. Some of our picks also have self-sharpening blades that will never dull as long as they are in use.
Additionally, some of our picks have a pivoting head that oscillates to face the direction that you need them to. All their heads are pressure-resistant to protect your scalp and skin against nicks and cuts. They are all easy to use and only require the user to have basic knowledge of how to use a hair clipper.
No matter which one of our top picks you to choose, you will never have to worry about introducing allergens to your skin. They are all easy to clean, allowing you to get rid of dirt and germs fast and easily. We have also provided corded and cordless options to accommodate users with different needs and preferences. Our cordless trimmers are fast-charging with a long-lasting battery.
All our picks further have different head attachments that allow you to adjust the shave length. With low-decibel motors, all the hair clippers that we have picked operate silently and cause no disruptions. They are also a stylish and exquisite addition to your grooming desk. With a thoughtful, streamlined design, our picks steer comfortably along your skin without hurting you. They are also cost-effective given that their buying and maintenance costs are proportionate to their quality and effectiveness.
Care and Maintenance
When cleaning or putting your hair clipper apart, ensure that you turn it off. Working on the trimmer with power on can cause electrocution and even death in the extremities.be careful when cleaning the blades to avoid cutting your skin. Dispense the blades in a dish and remove as much hair and grime as you can using a large brush. Use a smaller brush to remove dirt from hard-to-reach areas. Be careful not to submerge any other part apart from the blades in the water. Turn your clippers on for about 20-30 seconds to remove stuck hair and grime.
To clean the clipper heads, turn the clipper off and disconnect it from the power outlet. Use a brush to remove stuck hair and dirt. If it is a pivoting head, oscillate it to reach all the parts of the clipper head. When charging a battery-powered hair clipper, be careful not to overcharge it. Overcharging reduces the battery life and slowly ruins the battery.
If after cleaning, you still have blocked hair on the blades, remove the blades carefully and remove the hair. When replacing the clipper head, ensure that you place it on the right spot before screwing it in to avoid damaging it.
Be gentle when trimming hair to avoid cutting and breaking the scalp and skin. Also, remember to check the cord regularly to avoid exposing yourself to danger. Insulate any naked parts on the cord to avoid electrocution. If the cord is severely chapped, replace it or have an electrician do it for you.
Sources and Research