The Best Gym Bag for 2023
Fitness is a big commitment; you'll need a gym bag that's up to the task.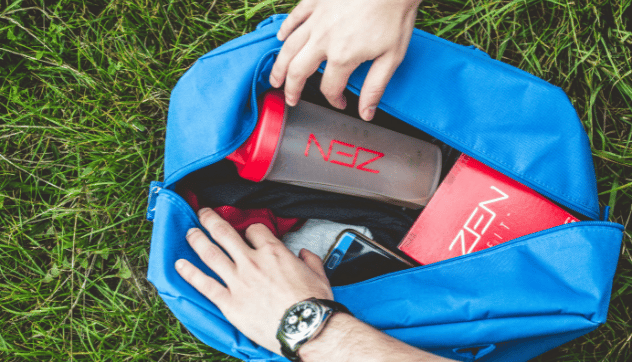 You don't have to be a fitness enthusiast to feel the need for a high-quality gym bag. Whether you're a professional athlete or you happen to work out regularly, you need a convenient way to carry all your workout essentials.
While gym bags are made to be strong and durable enough to withstand months of use and abuse in the gym, it's also acceptable to choose something fashionable that can be used outside of the gym. We've compiled a list of the best gym bags that are fashionable and functional enough to be conversation starters.
How We Picked
Material

The material used in making the bag determines how long it lasts and what items you can use it for.

Capacity

Generally, nobody wants to bring a lot of stuff to the gym. However, it's better to have a bag with a sizeable capacity for the few times you may need to carry lots of gear.


Durability

It doesn't make sense to spend time reading about the best gym bags if the durability of the bags does not matter to you. So we also looked at their durability through our review.

Price

The price is important, if not for anything so that you won't feel cheated when you get to the gym and others have better bags at lower prices.
Our Top Picks
Best Pick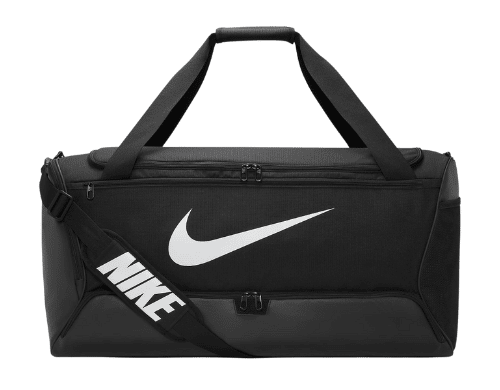 A stylish gym bag for anyone who takes fitness serious.
This large and fashionable bag with a dedicated shoe compartment can hold all your gear in one go. With its 95-liter capacity, it makes a great choice for couples or gym partners who don't mind sharing a bag.
This bag is by no means a typical gym bag; it's a fashion statement. If there is one bag that can double as a gym and a travel bag, it's the Nike Brasilia 9.5. It comes with a decent number of inner and outer pockets to help keep your essentials within reach and a dedicated shoe compartment. You don't have to worry about sweat-soaked clothes ruining the interior because the bag is made of recycled polyester. It'll be as good as new after a quick wipe-down.
Runner Up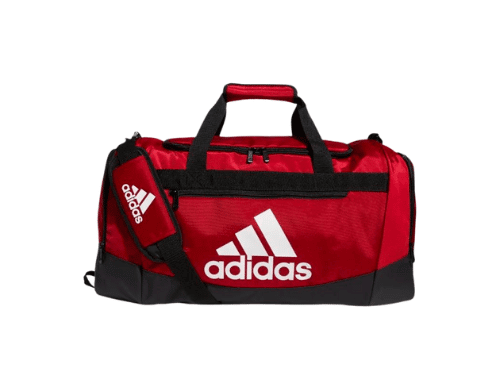 This medium gym bag is perfectly rugged for the everyday fitness fanatic.
Following a workout regimen regularly is no easy feat. That's why this Adidas Defender is built with durable materials rendering tough enough to see you through those rough gym days.
Available in six different colors, this pick has all the bells and whistles of a modern gym bag. This medium duffle bag should be a staple in every gym bunny's closet. It's tough enough for everyday use and has plenty of pockets for organizing your workout gear. The bottom of the bag is water-resistant to help combat the wet conditions found in most gyms and sports facilities. And if being stylish boosts your workout moods, you get six vibrant colors to choose from.
Most Cost-Effective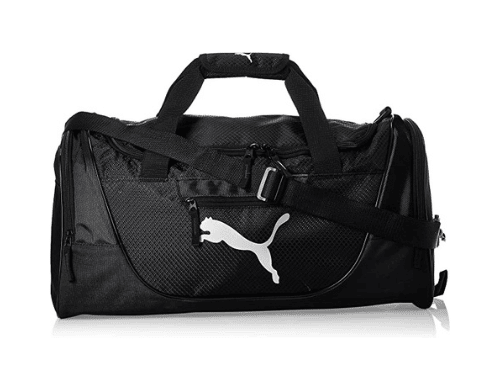 Packs all the bells and whistles in a compact package complete with a shoe compartment.
If you prefer a smaller gym bag, you are in luck. The Puma Evercat is a worthy contender because its design is not limited by size. You still get all the other amazing features offered by bigger bags.
Our budget contender allows you to pack all you need without breaking the bank. Cheaper does not always imply inferior quality. The Puma Contender packs a punch in a compact design without sacrificing style or quality. It's especially useful for anyone who doesn't need to bring much to the gym. Even though it's smaller, it still has a dedicated shoe compartment.
Everything We Recommend
Who This Is For
Going to the gym has this cool vibe to it especially when you are kitted up in full gym regalia with your shoes, shorts, and t-shirts, topped off with a great gym bag that accentuates your style. We recognize though that style should not be the most important thing to look out for and that's why we write this review to include everything you would be considered in a gym bag. So this is for people who want to get the most experience for as long as they can from their gym bag.
Gym Bag vs Duffel Bag vs Backpack
A gym bag is a kind of duffel bag specifically made for the rugged nature of the gym. It is made bearing in mind the specifications of the gym's needs and usage. Things such as sweat, different kits, and different sports tools. They are made from sturdy materials, have extra compartments, and have hard bottoms with rectangular bases.
A duffel bag on the other hand is a general-use bag more rounded at the base and smoother exterior. It has an open structure with a zipper on the top in most cases and was named after a town called Duffel, near Antwerp in Belgium. It is used for travel, hunting, gym, exercise, and even in business environments.
A backpack is quite different from these two because it is carried on the back with the bag on your back while the duffel and gym bags are carried on one hand with the bag hanging on one side of the carrier.
Why You Should Trust Us
We independently research the options available without affinity to any particular but beyond that, we understand that nobody wants to buy a gym bag and regret their purchase so we lay it all out for you so you always make informed decisions in your purchases.
How We Picked
We start by evaluating the materials used in making them because it needs to be rugged and strong while also giving allowance for the air to ventilate the bag, removing the sweat and fluid that can enter the bag.
 This means that things like leather cannot be used because while they are strong and last long, they retain water. The best material for making bags has to be nylon or polyester. We also look at the straps and clasps used for the bags so that you don't have a durable base but a weak hold. 
Then we also look at the capacity. We consider if it can carry different sports gear like a tennis racket. On average, gym bags are around 30-40 decimeters; big enough for your equipment, yet small enough for air trips should you need to use them as such.
The price is also under review. In your search, you will find out that it's easy to see bags that are unnecessary costs without offering anything more than the medium-priced ones. Needless to say that we discarded those for the medium-priced bags that offer you the same as the big prized bags. Sometimes even more.
Lastly, we look at the exterior features. The ease of usage and durability of the zippers, the different compartments bearing in mind their allowance for wet and dry things, and the designs. Our picks include bags ranging from simple and unassuming to embellished and adorned.
Care and Maintenance
There are four things to remove while cleaning your bag; dirt, dust, stains, and sweat odor.
To get rid of loose dry particles you can use a handheld vacuum, a lint roller, or turn the bag upside down and give it a nice shake. After this, you can some antibacterial wipes to clean out the inside of the bag. If the bag needs a little deep cleaning, start by using a scrub brush adequately soaked in a water and detergent mixture to thoroughly clean the outside of the bag and rinse away the foam gently. You don't have to soak the bag in water, especially for a quick clean.
For stains in any part of the bag, use a stain remover. For smelly bags, after cleaning the inside with the soapy scrub brush, you can let them air dry in an open space. Also, add moisture-absorbing packs and deodorants to clear the stench while in storage.
If you will prefer to use a washing machine, remove the straps and any item that can damage the inside of the washing. Turn it inside out, put it inside the machine, and wash it delicately on cold. You can also put some vinegar into the machine to help fight the stench. After all, do not forget to adequately dry outside.
When you are not using the bag, store it in an aerated place and do well to sundry it in between times of use.