The Best Grater for 2023
Shred cheese, zest citrus, or grate any food in a sweetly reliable and versatile style with any one of these quality graters.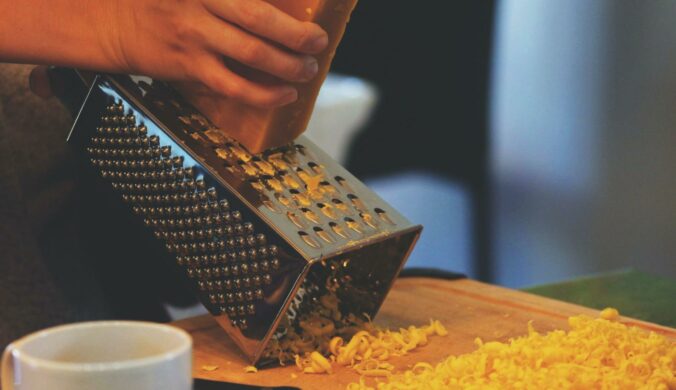 The kitchen is the place every human turns to, no matter how they feel or whether they like their things piecemeal or not. A knife can do the cutting; the slicer may handle the meat, but what about shredding? The best tool for reducing those large pieces of shreddable food to manageable sizes is the grater.
Although many assume they know, a grater will cut down large chunks of cheese, reduce bitter orange and lemon peels to smaller bits, grate coconuts in hot and humid tropical areas, and in Indo-European cuisine, it facilitates the grating of potatoes!
Despite being invented in France, graters are common and we can bet that a buyer will find a ton of them online, making it hard to choose one! So, this review is especially dedicated to the people who need a grater as soon as possible, if not later on.
How We Picked
Sharpness

Time takes away sharpness, and it's challenging to sharpen a grater; the ability to remain reliable for a long time was a viable criterion used.

Easy to Use and Clean

Graters that are razor sharp are easy to use but hard to hand-wash. However, graters that are dishwasher safe may accommodate the sharp blades, eliminating an expected trade-off in top graters.

Versatile

The ability to use the graters for shredding diverse types of foods is a positive aspect, thus making this attribute a favorite in the listing of top graters.

Cost-Effectiveness

With a fine line between cheap products and low quality, the price came as a point of reference for verifying the graters' provision of value for money.
Our Top Picks
Our Top Pick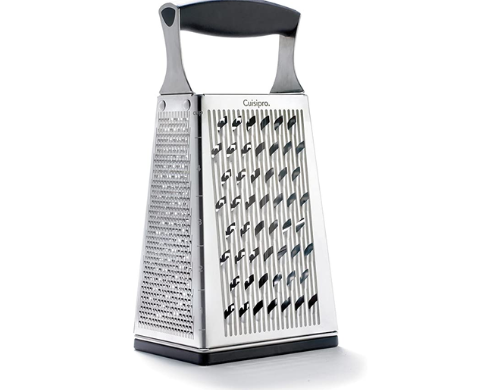 The Cuisipro Four-Sided Box Grater uses awesome surface glide technology.
Our best grater is suitable for grownups who can handle sharp items carefully. The grooves on its side are efficient enough in cutting down various types of food. The large volume shouldn't worry the chef as stability is activated by the attached non-slip handle and a good base. The Cuisipro four-sided box grater is excellent, but it is difficult to clean.
It is adequately sharp for all types of shreddable foods but hard to clean.
Our Runner-Up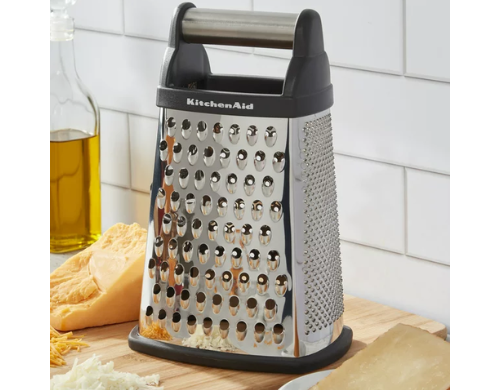 This product has hassle-free after-purchase support making it, the Kitchenaid Box, a product to depend on.
Grate with modern appliances in mind for integration and parallel utility with this gadget. This tool is backed up by a warranty and a valid replacement period to give the buyer peace of mind. For the willing, a dishwasher can clean it safely without any anticipated accidents. These attributes make the KitchenAid Box Grater an adorable option.

A durable product that the manufacturer promises to have the user's back—for a lifetime!
Most Cost-Effective
Save money while utilizing the Cuisinart Boxed Grater to shred away all types of cheese and vegetables.
Although many think it's a straightforward product, it's one that minimalists would choose. Besides the low price, it weighs nine pounds for ease of handling. Cuisinart attempted to provide all of the necessary features for effective food shredding with its grater. Select this grinder to save some money.
Amazon's choice from Cuisinart is affordable, light, and versatile; all in a functional product.

Everything We Recommend
Our Top Pick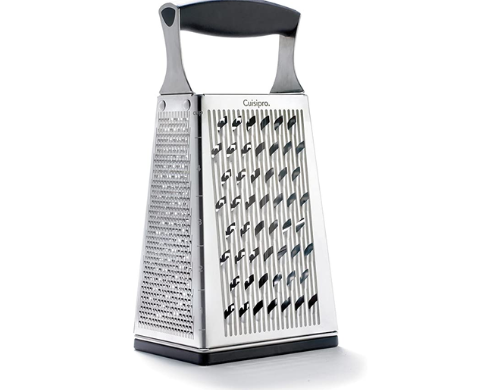 The Cuisipro Four-Sided Box Grater uses awesome surface glide technology.
$38.96
Our Runner-Up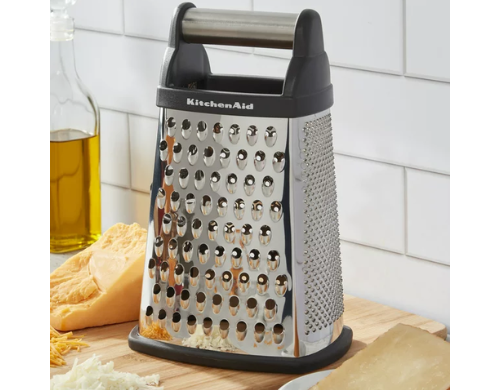 This product has hassle-free after-purchase support making it, the Kitchenaid Box, a product to depend on.
Most Cost-Effective
Save money while utilizing the Cuisinart Boxed Grater to shred away all types of cheese and vegetables.
$12.49
Who This Is For
This review is for people wanting to grate food at the moment or after a few days who require recommendations for the best graters that would serve them for life!
Box vs flat vs rotary vs rasp
Graters come in various varieties, and these are some of the types of graters:
Box grater
The box grater is four-sided, often with a handle and a base. It is the largest of all graters and it offers different-sized holes for each side to assist in a fine, coarse, and moderate grating and shredding. This grater also allows for slicing food!
The best three products in our review are box graters, namely the Cuisipro 4 Four-Sided Box Grater, the Cheese grater by KitchenAid, and the Cuisinart Boxed Grater.
Flat grater
A flat grater is a grater that offers only a single flat plane or side for shredding food. It's often supported by a single hand and may offer only a single fineness of grating food. Due to its amazingly easy-to-store size, while in use it can grate right into a bowl and it may come with a base made of rubber.
Rotary grater
The rotary grater is a grater that shreds food in a rotating motion. It uses a turning crank to grate food using its grating drum. It's good for tackling hard and aged cheese.
Rasp grater
The rasp grater is slender and long. The tool has a single grating side that is slightly longer than an inch and 12 inches long. Grated foods appear on the back side of the grater where the curled ends of the grating plane are.
This review featured the Microplane 46020, a good rasp grater.
Is it an essential kitchen item?
Cooking can involve chopping food, especially garlic and other spices or vegetables. However, when it comes to the shredding of food to evenly distribute it, the food grater is essential for use in a typical kitchen setup.
Why You Should Trust Us
Most graters tend to be marketed for extravagant shredding purposes, such as chocolate and other exotic foods, while those targeting traditional zesting, cheese shredding, and vegetable grating are of questionable quality, even though they seem like standard graters. This motivated us to search for the highest quality graters while still considering other factors in coming up with the list of the best graters.
How We Picked
Our search was an amazing learning experience as we learned that many manufacturers are willing to sell graters. The choice of the best graters was customer-based, mainly focusing on the product reviews and attributes and overall rankings. Some of the experiences that we discovered in customers on the graters included: finding the graters great for side-dressing; finding an easy-to-clean by-hand product despite having 'Shrek'-sized hands; and cracking and retiring a three-sided grater. We hope that the buyers will place their trust in the review as we used similar information and data to inform the list of the best graters.
The search for the best grater involved the scrutiny of the physical attributes of the grater, which included the sharpness of the blades of each grater and its self-contained feature. We also evaluated the qualities of versatility, ease of cleaning and use, and durability of the graters. Lastly, as e-commerce is all about pricing theories, we had to look at the cost of purchasing the graters while matching the values of the stated prices to the quantified quality derived from the graters.
Sharpness
With few reported as dull, the sharpness of a grater lies in the blades of the grater. The sharper the blades and the better their positioning against the corresponding grooves, the higher a grater ranks.
Versatile
The ability to shred different types of food in a single unit of a grater was highly appreciated and ranked the graters high according to their versatility.
Price
The lowest prices on graters were scouted for and the outcome used in the research of the best graters. Value per unit price was a critical factor in graters.
Self-contained
A self-contained grater has to be completed, requiring no subsequent tool to be used to further grate and shred the respective foods. This attribute helped us in choosing graters that offered as many features as possible in a single package to ensure that not only do the buyers get value for money but also that they can perform grating of any type of food and in any manner possible on a single product.
Easy to use
Graters that had different shredding gauges and were simple to use were thought to be better for both home chefs and professional cooks.
Easy to clean
Grater blades can cut deep if undetected, ignored, or assumed, and grater blades are no different. They hindered the cleaning of graters, but the capability of dishwashing the graters safely helped such graters to emerge as kitchen product market leaders.
Durable
Since graters are mostly hand-held, non-electrical, and, except for the rotary grater, have no moving parts, a grater when purchased by many is believed to be a lifetime purchase. Thus, honoring this stand, we focused on the length of efficient use aspect of these graters.
Care and Maintenance
To clean a grater, brush off the remnants of the shredding using a pastry brush while making sure your hands don't brush against any blade or unfinished edge of the grater. It can then be cleaned by hand or in a dishwashing machine. Ensure that the food grater is dry while storing it to prevent the stainless steel from deteriorating in quality and rusting. The kitchen design may affect where and how to store a grater, but if a drawer or cabinet is available, the grated can be placed in a compartment of a drawer divider or hung on a hook by the handle.